Neysa Sanghavi, who is only 17, has been recognised for her work with Rwandan genocide victims.
Sadiya Upade reports.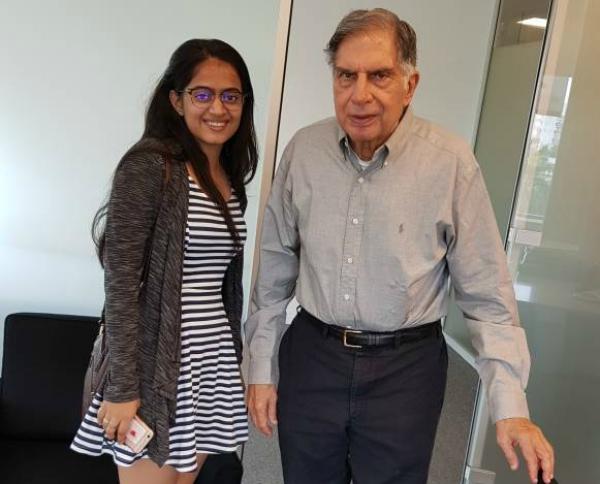 As Rwanda's brand ambassador in India, Neysa Sanghavi has already met Ratan Tata.
Photograph: Courtesy neysasanghavi.wordpress.com.
Modern African literature has much to thank Chinua Achebe for. His seminal Things Fall Apart has inspired writers over the decades and it continues to spark conversations about the continent to this day. Sometimes, it can even lead to a life-changing journey.
"The book got us discussing African culture and colonial influence in school. The picture that emerged though was different from the one that I had in talks with my mother, who had visited Rwanda earlier. That's when I decided to visit for myself and see," says 17-year-old Neysa Sanghavi, who was recently appointed the brand ambassador of Rwanda in India for her work with genocide victims and refugees.
Her first visit in September 2016, along with her homeopath mother, was aimed at familiarising herself with the country and its history, and to equip herself with the means to demolish the image back home of Rwanda being merely "violent" and "under-developed".
Clarence Fernandes, India representative of the Rwanda Development Board at the time, and a friend of Sanghavi's mother, was instrumental in introducing the young girl with a questioning mind to Rwanda.
Alphonsine Mukamfizi, who survived three attempts on her life and had to fake death in order to survive, in a small town outside of Rwandan capital Kigali. The rest of her 11 family members were all killed on those occasions during mass killings in the 1994 genocide.
Neysa has met many women and children who survived the genocide that killed an estimated 800,000 people.
Photograph: Noor Khamis/Reuters.
Once in that country, a visit to the Kigali Genocide Memorial turned curiosity into commitment.
Sanghavi was introduced to Avega Agahoza, a non-profit that works with widows of the 1994 genocide.
"Their stories were harsh. These women had lost their husbands and children. They had a lot of scars, both physical [from the machete], and emotional," recalls Sanghavi, who visited one of the NGO's centres, located some four hours from capital city Kigali. "Valerie Mukabayire, the president of the NGO, lost her husband in front of her eyes."
While Sanghavi admits that her mother had some misgivings about her meeting genocide victims, given her age, she herself feels it was important that she did. Clearly a case of an old head on young shoulders.
"The centre was like a second home for them. The women, 18 to 20 of them, were very close-knit and were always helping each other forget their woes," she says.
The kids went to a public school, initially set up by the NGO, but were unenthusiastic about health checkups.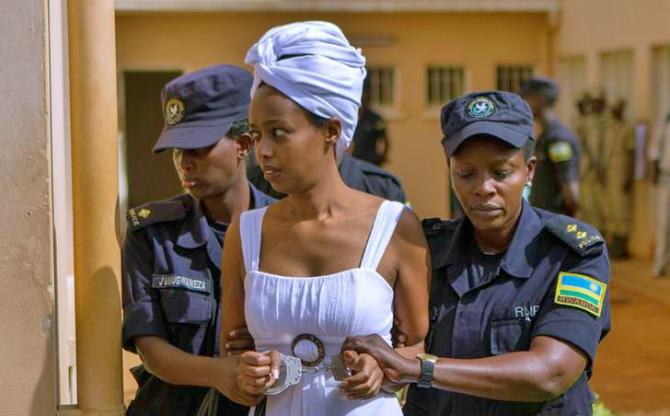 Diane Shima Rwigara, a prominent critic of Rwanda's president Paul Kagame, is escorted by police officers into a courtroom in Kigali, Rwanda in October.
Her arrest after she challenged Rwandan President Paul Kagame in the election this year underline the suspicions about the nature of the Rwandan leadership.
Photograph: Jean Bizimana/Reuters.
It was a similar situation at the Mahama refugee camp, which Sanghavi visited in June 2017, with representatives of the United Nations High Commissioner for Refugees.
The camp is the largest for Burundian refugees, housing about 55,000 men and women fleeing political turmoil.
A biology major, Sanghavi decided to do an observational study on malaria, which is rampant in Rwanda: "About 50 per cent of the patients that came in tested positive."
The camp itself is located by a large swamp, ideal breeding grounds for mosquitoes. Yet the refugees were reluctant to use mosquito nets.
"I always thought malaria was a scientific problem, even financial, but there were cultural barriers to be overcome here. They wouldn't go to doctors for treatment, but just self-medicated," she says.
The UNHCR representatives have made suggestions in this regard to Rwanda's Ministry of Disaster Management and Refugees.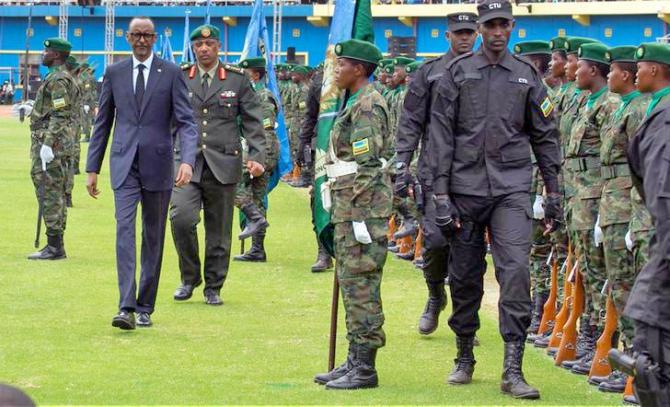 Rwanda's President Paul Kagame inspects a guard of honour at his swearing-in ceremony in Kigali in August.
His election was widely considered one that only gave an illusion of choice.
Photograph: Jean Bizimana/Reuters.
Another issue was employment.
"The refugees wanted to find ways to start working again." she says.
Sanghavi's suggestions included using the local red soil to make cosmetics and creating a manufacturing industry around pottery and incense sticks.
"There are large banana plantations near the camp that could be used for organic manure. A market for paper products, which they [the refugees] are quite talented at, can also be created," she says.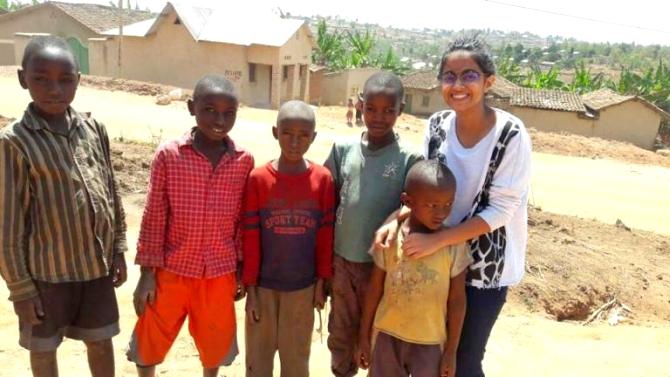 Neysa in Rwanda.
Photograph: Courtesy neysasanghavi.wordpress.com.
Back home, this interest and commitment resulted in a visit from Ernest Rwamucyo, the high commissioner of Rwanda, who then appointed her brand ambassador for Rwanda in India.
The remarkable girl also had a meeting with Ratan Tata.
What immediate plans as brand ambassador?
"The first thing that comes up when people say 'Rwanda' is the genocide. I want to use photography to change people's perspectives," she says. "I want them to see the development I saw, and the passion and thoughts of Rwandans."
But till she formalises plans with the Commissioner later this month, she's back to being a "normal" girl, busy with what most other children her age are busy with: exams. Future plans include a major in general biology, but no surprises for guessing what she wants to minor in -- international relations, of course.