Scaling the perilous Mt Kilimanjaro with a group of eight other amputees put Mona Patel in the spotlight as a feisty social worker for amputee patients.
This year, she was one of CNN's 10 Heroes of 2017.
Chandrima Pal hears her incredible story.
In case you missed it: Why a cafe owner is CNN's Hero of the Year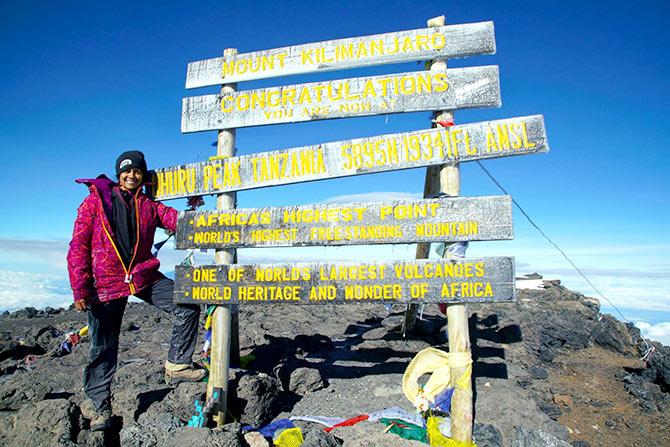 Mona Patel was a 17-year-old college student when an accident resulted in her needing an amputation. Among her many achievements since then has been climbing Mt Kilimanjaro.
Photograph: @saamputeefoundation.org/Facebook.
Accidents and perseverance have always played an important part in Mona Patel's life.
The 44-year-old amputee from Texas, would have been married, raised a large family, and happy turning out perfect Theplas for her conservative Gujarati family, had it not been for that fateful day when she was knocked down by a speeding car. She was only 17 then.
It made her parents willingly take the pressure of an arranged marriage off her.
Patel fell in love, got married against opposition from the groom's parents, got divorced and is raising two beautiful daughters. But she also achieved the improbable in 2015 -- scaling the perilous Mt Kilimanjaro in Tanzania with a group of eight other amputees from her state. A feat that put her in the spotlight as a feisty social worker for amputee patients and an Asian-American woman who defeated the odds to stand on her own feet -- albeit with a little help of a cast and plenty of grit.
The expedition to Kili was not an easy one.
Not only did Mona have to keep herself motivated through the physical challenges -- no amount of prep is enough at that altitude and rarefied environment when the body reacts unpredictably to the terrain, the air and everything else -- she also had to keep her mind in perfect shape as the leader of the group. There were moments during the climb that she was on the verge of a meltdown, as were other members in the group who were fighting their own demons.
Some of her colleagues and fellow amputees call her a 'beast' out there, and it is not difficult to see why. In the end it was a triumph of will, resilience and grit that saw her pull herself and her mates through to the summit of the dormant volcano.
As she says in the video documenting the climb, 'It was probably the toughest thing I had ever done.
Patel share the story of her incredible life
Excerpts from the interview: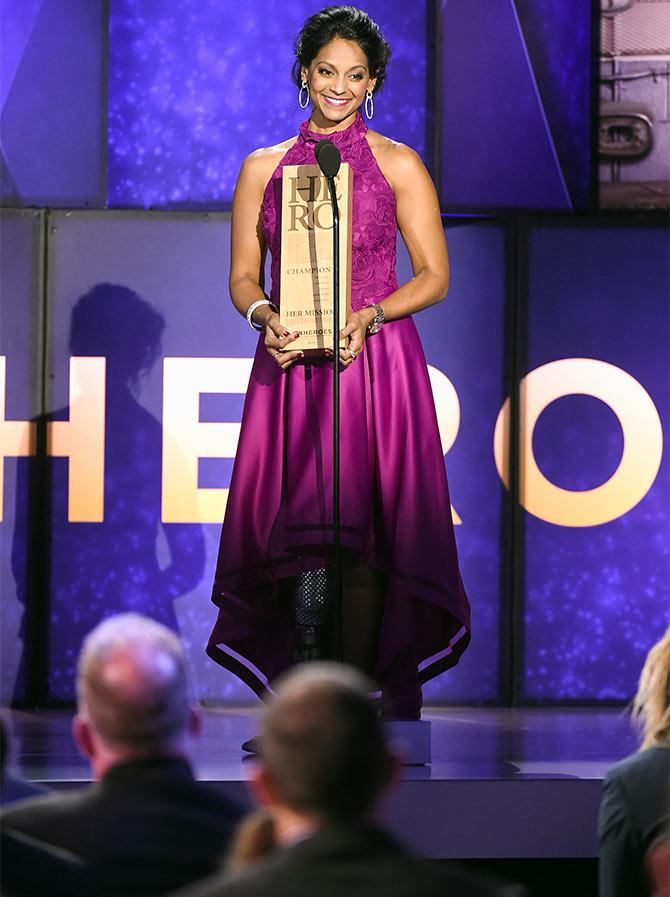 Patel at the CNN Heroes 2017 ceremony in New York City on December 17.
She was honored for creating 'the San Antonio Amputee Foundation, which offers peer support, education and recreation, as well as financial assistance for prosthetic limbs.'
Photograph:

Michael Loccisano/Getty Images

.
What was it like growing up in a traditional Gujarati family in New Jersey?
I had a good childhood, although a traditional one.
My mother had the primary responsibility of parenting my elder brother and me.
I was born in NJ and raised in California.
Gujarati was my first language, as that was the only language spoken in the household. I learned English only when I entered primary school.
Our weekdays were consumed with school and homework. Weekends were all about spending time with cousins and extended family.
Upon entering school, my parents were very leery of non-Indian friends. As an adult, I understood that it was important for them to protect my 'pristine image and reputation,' to maintain chances of being married into a good family. I was not allowed to have sleepovers or go to sleepover birthday parties.
I was allowed to join the Girl Scouts, but ended up dropping out because I could not participate in any of the outings.
Academics was the main focus of my childhood -- lots of pressure to get straight As. No room for error!
I remember lots of great family vacations! My dad took us out of the country every summer forthree to four weeks. Europe, Asia, Carribbean Islands, Hawaii, Canada, South America. This has greatly influenced my desire and huge interest in travel.
I think I've had a desire for adventure/challenges, but was never acted upon because of my culture. 'Girls should not be running track,' etc.
What were your interests as a student? Did endurance or extreme sports ever figure on your list of career interests?
My career interests always entail something towards helping humanity. I've always been drawn to people, always smiling, always wanting to be helpful to others, always doing something to make it a bit easier for people.
I learned this from my mom.
Growing up, I saw her selflessness towards others, especially towards my brother and me. As you well know, Indian moms dedicate their lives to their families, especially their children. My mom was no different.
I was always taught to be selfless by her example. I've come to realize as an adult, it was sometimes to a fault. Mom would frequently sacrifice her own emotions or desires for others.
This was a trend in my marriage as well until I decided to end the marriage after 15 years.
At the time of my accident, my major was Behavioral Science. I continued on that path even after my accident. Earning a bachelor's degree in Behavioral Science with a minor in Criminal Justice.
Later, I obtained a Master's degree in Psychology from Pepperdine University, then a second Master's degree in Social Work from Southwest Texas University.
I started college at the age of 16... A college education was so vitally important to me.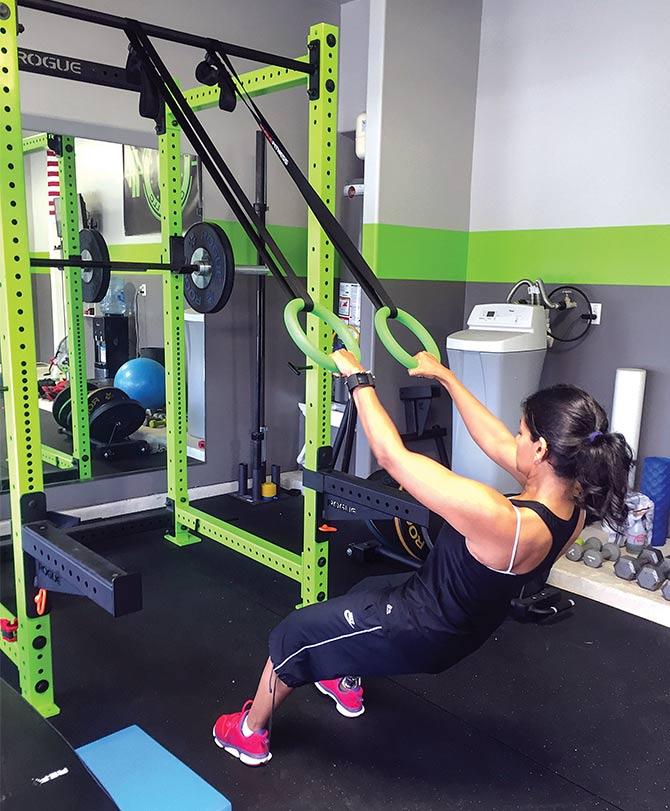 The accident that changed your life brought about a change in your relationships as well. You married your fiancé despite opposition from his parents. How difficult was it to find yourself in a very 'Indian situation' in the US?
Up until the time of my accident, my parents wanted me to have an arranged marriage.
In the hospital, they were distraught and devastated over their child's suffering. They were very concerned about my prospects for a future husband. They knew that now that I was no longer perfect, I'd have to settle for someone 'less than' in some way as well. Perhaps, a boy from a family with a less than stellar reputation, or had a medical condition, or was divorced, or dark complexioned.
So, they told me they no longer expected me to have an arranged marriage, and gave me freedoms to find my own husband. They hoped that he would still be Indian and from the same caste.
My now ex-husband was actually the son of a close family friend.
My mom and his father were extremely close, a friendship that had dated back 30 years -- she had convinced my ex father-in-law's parents to agree to his marrying my ex-mother-in-law. So, I'd known them my whole life and endeared them as my 'Mamamother's brother] and 'Mami'[mother's brother's wife]. And they loved me like a daughter.
I met my husband [their son] at my brother's wedding reception. A few weeks later, her asked his sister for my phone number and called me.
My mom and dad were so excited at the prospect that we'd get alog and perhaps get married. He lived in Austin [Texas, Pharmacy School] while I lived in California [Masters Program in Psychology]. We maintained a phone friendship for six months, before he convinced me to fly to Texas to see how we got along in person.
All the while, his parents had no idea we were 'phone courting.' We kept it from them because we truly thought they would be thrilled and pressure us to make a decision quicker than we'd be ready for.
I flew out to Texas and within 10 days, we decided we were compatible for marriage. He dropped me off at his sister's house and went to his parent's home to give them the good news that he had found his bride.
To our total dismay, they voiced their disapproval and presented him with an ultimatum -- us or her. I was loved and accepted as their best friend's daughter, but not as their daughter-in-law. They labeled me as a cripple and felt I would be a burden to him and them.
My ex-husband never had a close relationship with his parents and was always a black sheep of the family. So, the decision was not difficult for him. He chose to marry me.
His father forbade all the family from attending our wedding. He faced about 700 of my guests with about a dozen of his friends.
At the time of our marriage, only half of my foot was amputated. It was not until two years into our marriage that I decided to amputate higher.
Was the reaction difficult for you handle?
Yes, their judgment was a difficult pill to swallow. To be judged by the people who you thought loved you was very devastating. And to be labeled as a cripple devastated my parents.
My ex-father-in-law was a very influential and powerful man, to a fault. Years later, the rest of his family regretted not attending the wedding to support us.
For seven years, I tried everything I could to win them over. They resumed their relationship with their son, but I was invisible to them. They would come over to our home, I'd open the door, greet them, offer food and drinks… silence as if the door opened on its own and there was no one speaking to them.
It was difficult and hurtful, but I continued out of love and respect for my husband.
Anaya, our eldest was born seven years into our marriage. They were called and invited to come meet their first granddaughter. Very bittersweet -- they did not come.
It was not until about eight years into our marriage that they began to accept me as a part of their family. They started to realize that I was not a bad person. They began to notice the community service I was doing and the effect I was having on others.
After successful leadership on legislative action for insurance mandates for amputees, there was a television news story, which my father-in-law saw. The next day, he sent me an email -- by far the most important and meaningful email I have ever received. The email simply said, 'I am proud of you'.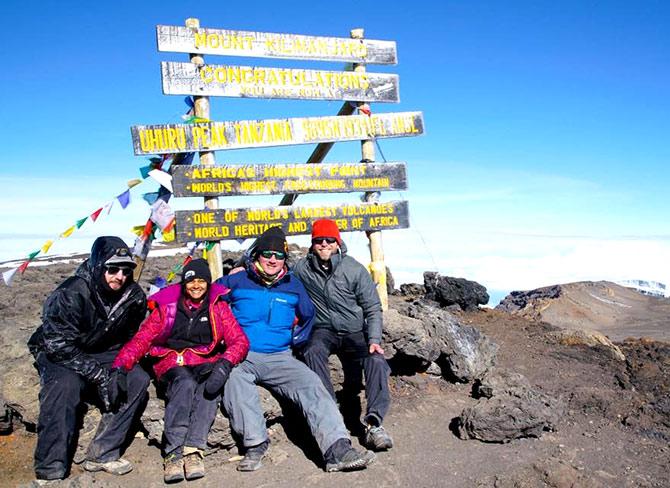 Patel says the most difficult part of leading a group of amputees to the Mt Kilimanjaro summit 'was getting them prepared financially, mentally, and physically'.
Photograph: @saamputeefoundation.org/Facebook.
What is the more difficult part of leading a team of amputees to a summit? The physical preparation or the mental conditioning? Or was it both?
What kinds of leadership qualities are required in such a situation?
The most difficult part of leading my team was getting them prepared financially, mentally, and physically. It took a great deal of planning and coordination.
I think the physical conditioning was the hardest. Getting them to do the physical training was sometimes like herding cows. I had those that were very diligent and a few that frustrated me to no end. They had no clue what it would take physically to be prepared.
I set monthly mandatory team hikes, which was also an opportunity for team building. I also set up bootcamps and group training sessions all geared towards endurance building.
A large part of a successful adventure is also having the correct gear.
I did a great amount of research to make sure they knew all that was needed -- proper footwear, wool socks, gaiters, hiking poles, hiking pants, base layers, gloves, summit jacket, wool hats, neck gaiters, balaclavas to protect our face from the cold. I arranged local outfitters to give us classes to teach us how to dress and properly layer. They were kind enough to offer a 20 percent discount to the Cloud Walkers as well.
I coordinated immunizations, and made sure they followed the schedules. With the help of our team medic and doctor, we had the team get medical clearances and prescriptions filled for meds to take to Africa -- antibiotics, anti-diarrhea, anti-malaria, altitude sickness, etc.
Do you have plans of trekking in the Himalayas? Or anywhere else in the world?
What in your opinion would be the challenges in the Himalayas?
I don't have plans to do the Everest! I've promised my daughters that I would not even attempt to trek to Base Camp.
From my experience at 19,341 feet, I think the biggest challenge would be the effects of high altitude and the acclimate weather.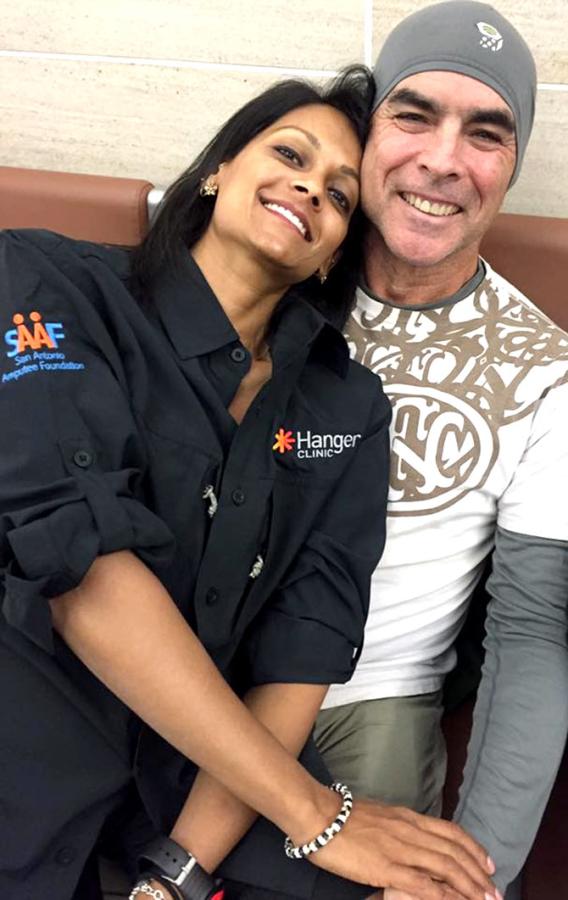 You met your current partner on Match.com. Just curious, how and when did you decide to get on to the dating site?
I decided to end my marriage after 15 years, subsequent to my ex-husband's multiple infidelities.
It was a very difficult time for me. I needed to make important decisions despite the emotional roller coaster of feelings -- sadness, anger, fear, shame. It was very important that I remained a rock and steady positive force in my daughter's lives, especially during that transition.
My daughters have adjusted beautifully to our divorce. They remain loving, respectful, kind, compassionate and driven children. They are my loves and my inspiration to do what I do.
I knew I wanted another life partner, but did not want to pursue dating until I had worked through my trust issues. I had recognized that it would not be fair to any future relationship with unresolved issues.
Match.com was my online dating site of choice, and it worked out for me. I met George Jahant only after a few months on the site.
He has been an incredibly positive force in my life. He drives me and motivates me to be better every day. He loves my daughters as his own and they love their 'Mr George' in return. He never misses a single school event and is a positive male figure in their lives.
What is priceless is that they get the opportunity to witness a very healthy and loving relationship between a man and woman. They are finally able to see how a woman should be loved, treated, and respected.
Could you tell us a bit more about how your non-profit is trying to fund raise to turn the Kili Summit footage into a documentary?
We are hopeful to have a human-interest documentary done of our climb. A story depicting our individual testimonies, exemplifying resilience and the power of the human spirit. We have hired a production company and now just need a distributor to be interested in purchasing it, like a HBO, National Geographic, television, or big screen. Once we have an interested distributor, we will resume fund raising to pay the production company.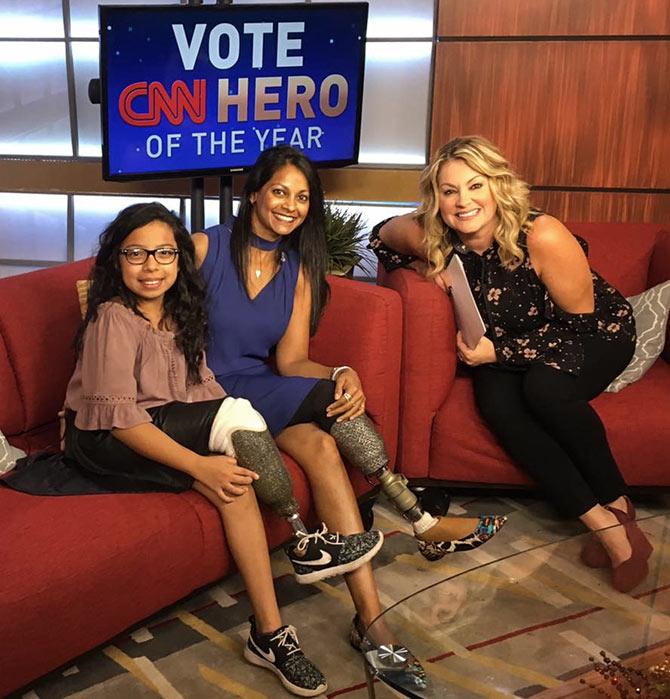 What is next on the agenda for your non-profit?
My non-profit is called San Antonio Amputee Foundation. I have been helping the amputee community for close to 20 years, but just became non-profit about two years ago.
Our mission is to assist amputees though support (1:1 and group meetings), education, advocacy, health/fitness programs, assistance with basic home modifications such as door widening, wheelchair ramps, car modifications, and prosthetic limbs.
This year's goals are to focus on our diabetic amputees and getting them to engage in a healthier lifestyle. Also this year, I am focusing on building my amputee youth program.
Kilimanjaro was very important to our organization's long-term goals as we will be able to use this journey and experience to remind people that when you put your mind and heart into any goal, all is attainable. We climbed our mountain, and will help you climb yours, whatever shape that mountain comes in.
Working mom, crusader, mountaineer… what is a typical day in your like look like?
No day is the same!
My day begins about 5.30 am, a little 'me' time to workout or enjoy a quiet cup of coffee before I wake the children up.I prepare breakfast and lunches for us.
I head out the door around 7 am. Kids are dropped off at school by 7:45 am and I begin my commute to work.
Work could entail many different things. Usually visiting patients in the hospital settings -- either those that are about to have an amputation who have a lot of questions and need support. I am thankful to be given the opportunity to instill a little bit of warmth and comfort into their hearts at such a frightening time. I become their mentor and support for as long as they need me.
I also follow up and meet other amputees/families who may be at different stages in the process.
I sometimes meet with people in the medical community who want to learn more about what I do and how they can use me to help their patients.
I could also have patients scheduled at my office who need my services to help them finding financial resources, vocational resources, insurance, transportation, rehabilitation referrals, etc).
My day moves very quickly. Many days, I have no time to eat a proper lunch.
I leave work at 3 to pick up the girls from school. We arrive home around 4:30 and our evening activities begin.
Helping the kids with homework, projects, studying for exams, making dinner, jumping on the computer and following up with emails, going through my phone to answer and follow up with missed or unanswered text messages.
A workout if it was not done in the morning. Shower and a few pages of a book, then bed.
This interview was first published in India Abroad, then a Rediff.com publication.