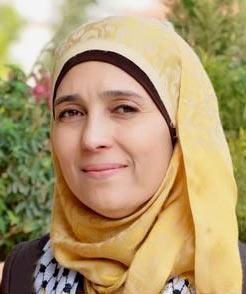 Palestinian primary school teacher Hanan Al Hroub won the USD one million Global Teacher Prize.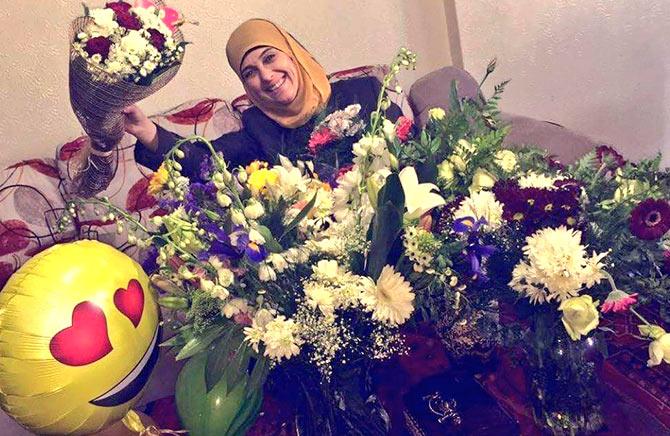 Palestinian primary school teacher Hanan Al Hroub believes that all the ten teachers have the power to change the world. Photograph: Kind Courtesy Hanan Al Hroub/Twitter
A primary school teacher from a refugee camp in conflict-torn Palestine has won USD one million Global Teacher Prize for educating her students about non-violence, beating nine other finalists from around the world, including an Indian.
Hanan Al Hroub beat India's Robin Chaurasiya, who runs a not-for-profit school in Mumbai for girls from the city's red light district of Kamathipura, and eight other finalists to bag the Varkey Foundation's prize at the star-studded ceremony here last night.
"I did it, I won. Palestine won. All 10 of us have the power, we can change the world," said Hroub, who is in her early 40s, as her name was announced by Pope Francis via video link.
Hroub runs the Samiha Khalil High School in Al-Bireh, Palestine, where she uses a specialist approach she developed herself detailed in her book We Play and Learn to overcome tense environments of the region under the shadow of the Israel-Palestine conflict.
"I am proud to present to you the message of teachers of Palestine: There is no doubt that we live in unnatural conditions.
"Violence and Israeli occupation surrounds us from all sides and imposes itself and leaks to each corner of educational process and its components, so our task is complicated as we see daily the suffering in the eyes of our students and our teachers. We want our children to live peacefully, as all children of the world," she said, in her part English and part Arabic acceptance speech.
"A child has the right to play. Part of education is to teach children how to play because you learn how to be social through games as well as learn the joy of life," Pope Francis said, in reference to the winning candidate.
Hroub's approach has led to a decline in violent behaviour in schools where this was a frequent occurrence and she has inspired her colleagues to review the way they teach and their classroom management strategies.
"I suggest that this year is the year of the Palestinian teacher. The world should support us to achieve hope for justice and peace," Hroub said.
The Global Teacher Prize, now in its second year, was set up by Kerala-born entrepreneur and educational philanthropist Sunny Varkey to recognise one exceptional teacher who has made an outstanding contribution to the profession as well as to shine a spotlight on the important role teachers play in society.
Hollywood stars Matthew McConaughey and Salma Hayek and Bollywood stars Abhishek Bachchan, Akshay Kumar and Parineeti Chopra joined former British Prime Minister Tony Blair and Sheikh Mohammed Bin Rashid Al Maktoum, the Ruler of Dubai, at the gala awards ceremony in Dubai.
Bachchan spoke of his own dyslexia and the "incredible impact" teachers have on young minds, while Kumar described teachers as "the only humans in the world that give life to a
life".
30-year-old Chaurasiya, who was born in Los Angeles, was joined by innovative maths teachers from London and Helsinki and educators from countries like the US, Japan, Pakistan, Australia and Kenya on the shortlist of an award dubbed the Oscars for teaching.
"It's amazing that the Varkey Foundation would recognise an alternative school like this," she said.
The final 10 were narrowed down from 8,000 nominations and applications from 148 countries from around the world.
Britain's Prince William, Duke of Cambridge, said in a special video message at the ceremony: "Reaching young people early on, in their education, and providing them with the actual support they need, and give them the best possible chance in life.
"This is an incredible responsibility, and this is why the Royal Foundation of the Duke and Duchess of Cambridge, and Prince Harry, has partnered with the Varkey Foundation, on a range of programmes which support teachers to help young people in some of the most disadvantaged communities of the United Kingdom."
Also Read:
'India does not hide from its reality'