The inspirational story of Beno Zephine!
Beno Zephine is 25 and she made history when she became India's first 100 per cent visually challenged person to be inducted into the country's elite Indian Foreign Service (IFS).
She secured 343rd rank in the 2013-14 Civil Service examination, but had to wait for a year for her appointment, as the government worked out the rules to accommodate her.
Smiling, confident, with strong views on everything, expressed in a strong voice, Beno Zephine is a probationary officer with the State Bank of India currently.
She lives with her father Luke Anthony Charles who works with the Railways and her mother, Mary Padmaja, a homemaker.
Her only brother, Bruno Xavier, works as an engineer in Canada.
This is the inspiring story of how NL Beno Zephine became an IFS officer.
Choosing an unusual name
My parents deliberated a lot on a name for me. Beno means daughter of God and Zephine means hidden treasure.
It's an unusual name. I thought people would be curious and ask me what it meant, but not many have asked me. I like my name a lot.
A normal, happy childhood
No one in my family made a big fuss about my disability, so it was not a big thing for me.
My first memory is of going to school for the first time. I was very excited. I went to the Little Flower Convent for the Blind.
I had a very happy school life as my teachers encouraged me to do whatever I wanted to.
Public speaking as a UKG student
I was a talkative girl then and I am a talkative woman now.
I gave my first public speech when I was in upper KG; I spoke about Jawaharlal Nehru and won my first prize as a speaker - it was a steel plate.
After that, there was no stopping me. Instead of wishing me good luck, my teachers used to tell me, 'we know you are going to bring the cup to the school'.
They were that confident about my oratorical skill and I thoroughly enjoyed speaking.
The encouragement from my teachers and their confidence in me led to my success in public speaking.
In the early days, I used to write down what I had to say and then learn it by heart. From the sixth standard onwards, I started speaking extempore. I enjoy it more than preparing a speech and I fared better.
From Jawarharlal to environmental and social issues
I would speak about conservation of wildlife, cancer, etc. My Dad used to get me books and my Mom used to read them out to me and that's how I prepared for the speeches.
In college I was often made Master of Ceremonies and I loved it.
I enjoyed studies as much as I enjoyed speaking. I enjoyed all the subjects.
Academics wasn't a burden, it was something I enjoyed. I had no favourites; every subject and every book was my favourite.
Studying English literature in college
After school, I joined Stella Maris College to do my degree in English literature.
I did my post graduation in English literature from Loyola College.
I enjoyed college too. I had no difficulty moving from a blind school to a normal college because at home and outside, no one treated me differently.
That gave me the confidence to face life like any other person.
Probationary Officer with the State Bank of India
As soon as I completed my MA, in 2013, I got a job as a probationary officer with SBI.
I felt empowered and independent. With my first salary, I bought a gold chain for my father and earrings for my mother.
Suddenly I felt I had grown up. That made me happy, but I also felt scared at the responsibility. But, then, that is an inevitable part of life.
I was happy that I was given the important task of NPA (Non performing assets) recovery. I managed to deliver and was called Vasool Rani!
I don't know why but people think I am very strict. I don't compromise on the way things have to be done. I assert myself and I value my dignity and also others'.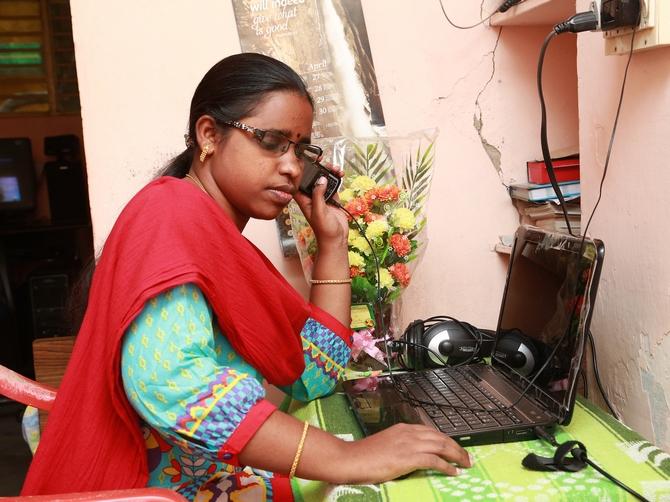 Wanted to be a civil servant when in the 11th standard
Till I was in tenth standard, my ambition was to become a lawyer or a lecturer.
In the eleventh standard, my dream was to be a civil servant, even though I didn't know what it could offer me. It was just that I was interested in society and any service that was associated with society interested me.
I didn't like people wasting water -- I used to make a big fuss when someone wasted water. People made fun of me, saying, 'Here comes the collector.' That was one of the factors that made me interested in the civil service.
Listening to the radio and reading newspapers
I used to listen to the 9 o'clock news on All India Radio as a child. I would say it helped a lot in my success in the Civil Service Examination.
I was interested in news pertaining to the country. I was interested in economics because I was interested in whatever had a connection to the country.
Water conservation, nature, wildlife, anything that has any relevance to society interests me.
Preparing for the Civil Service Examination
I would scan the books I had to read and then put it into the computer to read. It was not possible to scan each and every book, as you have to read so many books when you prepare for the Civil Service. So my Mom used to read the books to me.
I started preparing for the examination when I was an undergraduate and made my first attempt when I was in my first year of postgraduate study, in 2012.
I couldn't clear the Mains in my first attempt, though I thought I would.
I was disappointed for a couple of days because I was expecting a lot, but I was not demotivated.
Clearing with a good rank in the second attempt
The next time, I didn't prepare too much as the foundation I got in the first attempt helped me.
I was not nervous or tense when the results were to be announced. I was curious to know the marks and rank.
I cleared the exam and scored a rank of 343/1022. I was happy.
Getting IFS but not immediately
My choice was the Indian Foreign Service. I was told that the IFS did not accept anyone who was 100 per cent blind.
They had to make some changes in the rules to offer me a position. I don't know the technicalities, but that was why the procedural delay of one year happened.
Call from the Ministry of External Affairs
When I got the call from the under secretary in the ministry of external affairs to tell me that I had been selected to the IFS, I didn't jump up and down or break into tears.
I felt responsible. I am happy that I am an emotionally balanced person.
It is good that I have become India's first 100 per cent visually challenged person to be in the Indian Foreign Service. It gives me responsibility.
I am ready to do anything for my country. I am just clay and the Foreign Service can mould me whichever way they want.
No celebration yet
I haven't had time to celebrate my selection yet. My friends are angry that I am only speaking to the media for the last four days.
Once all the interviews are over, I will go out with my friends to a restaurant.
Yes, I am a foodie and I love all kinds of food. Though my mother taught me to cook when I joined college, I don't do any cooking these days. I have become lazy and I don't get any time to cook, but I would love to cook when I get time.
Want to meet the Prime Minister
I am planning to fax a letter to the Prime Minister thanking him and requesting a meeting with him. I want to take his blessings.
Motivational speaker
Once I joined the State Bank of India and after I passed the Civil Service examination, many schools and colleges started calling me to speak to their students and motivate them.
Generally I tell students that everyone should have a goal in life but I say it differently at different places. I think I do motivate them as people love listening to me.
Do I talk about my disability and tell them that I achieved this despite my disability? It depends on the audience. If they are small children, I don't talk about my disability at all as they will not understand it. To college students, I definitely talk about my disability.
It is not a matter of liking or not liking my disability to be referred to. It is just a fact.
I never think about my disability at all; I talk about it randomly.
At home, I was never treated as a disabled person; I am like any other person.
I don't like being treated as a disabled person. Those who are close to me know that I don't like sympathy.
I like to be treated like any other human being.
I talk to people quite normally and generally people respond quite normally and not with sympathy.
I am often asked what challenges I have faced in life. I can't think of any huge challenge. Maybe I am blessed.
Thoughts on India
I look at India quite positively. We had to overcome several challenges because of the population and we have achieved so much despite all the problems.
We have this habit of looking only at the negative things. We are patriotic only when we watch cricket or when Pakistani forces are on the border.
We are not patriotic when we throw paper on the road or exploit the resources of the country.
Instead of pointing to this problem and that problem, every single person has to realise that the problem is within one self.
I don't think changes can come overnight; they will come gradually.
It took hundreds of years for America to be what it is now. Why is it that everybody wants everything to be so good in India in such a short span of time?
Message to youngsters
Instead of moaning about what you do not have, use the resources we have. Then, those resources will create further resources.
Challenges do come, but face them and devise your own strategies.
Understand your strengths and weaknesses, only then will you be able to strengthen your strength and weaken your weakness.
It is very important to read newspapers and understand what your country is doing. If you do not do that, you do not have the right to criticise the country.
Dreams
I am a very positive person. My dreams are short term.
I create dreams and fulfil them and move on.
If there is an opportunity, I will be the first person to take it.
I don't have any dream for myself now, but my dream for my country is to see India developing, and I see it happening.
Photographs: Sreeram Selvaraj