Mamta Kulkarni, the first woman station master from Mumbai division joined the Indian Railways in May 1992.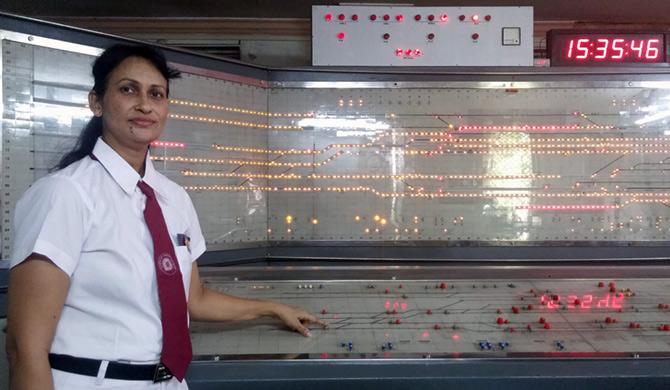 A woman station master in Mumbai is a rare sight.
"There are 997 station masters in Mumbai division, but only nine are women. Some joined only a few years ago," says Mamta Kulkarni, the pioneer in the field who joined the Mumbai division of the Indian Railways as the first assistant station master in 1992.
I meet her on a Saturday, at her home, a couple of hours before she was to start work -- the 6 pm to midnight shift.
She is dressed in a crisp white formal half sleeved shirt and white trousers.
She gives her two daughters Sanika and Mudra -- studying in classes six and four -- a string of instructions: "Finish your homework. Do not fight with each other. Do not step out of the house when you are alone. Call me or Papa if you need anything."
She is 44 years old now and is deputy station manager at Thane, Mumbai. She has been in service for over 22 years.
Her husband Vivek works for the Brihanmumbai Municipal Corporation.
In this interview with Divya Nair/Rediff.com, she talks about the challenges she faced and how she overcame them all to set an example for others.
Joining the Railways
My father was employed by the Central Government and it was my dream to serve the government.
We lived in Bhandup (Mumbai) and every time I spotted a station master in uniform, I was curious to know more. I knew that a station master commanded respect.
After a BSc in Chemistry from Jhunjhunwala College in Ghatkopar, I was studying for a diploma in Medical Laboratory from K J Somaiya College in Vidyavihar when I saw the advertisement for recruitment of women in the Railways.
My parents encouraged me to apply for the position of assistant station master. I cleared the written test and got the offer letter.
This was in 1991 and I was 21 years old.
I had no idea then that I would become the first woman to occupy that post.
Some seven or eight women gave the written test but I was the only one who managed to crack it.
During the training, I was the only female in a batch of 60.
On May 19, 1992, I joined the Mumbai division of Indian Railways as the first assistant station master. I was posted in Kurla.
A lot of people told me that I was the first female station master in India. I filed an RTI in October 2012 to confirm the fact.
I got a reply in November 2012 stating that I was the first female station master in Mumbai division, but there was no clarity on who's the first in India.
The letter stated that the Railway Board will give me the details. I haven't heard from them yet.
The challenges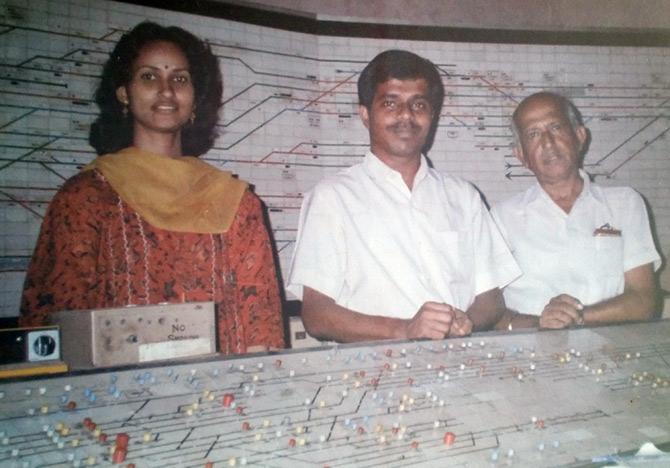 Photo: Mamta Kulkarni (extreme left) with her colleagues at the Kurla office in 1992.
On my first day in office, many people peeped into my office to get a look at me.
Some days later, one of them told me that they had never seen a woman station master.
Some of my colleagues told me that a station master's job wasn't meant for women. They told me of the long and odd working hours and the stress in order to discourage me.
Instead of appreciating the fact that a woman was working so hard, I was disappointed to find that I could not expect much encouragement from my colleagues.
In the six years I worked there I faced a lot of problems -- from non co-operating colleagues to ego issues that came in the way of my work.
Even when I was pregnant with my first child I did rotating shifts at the CST (Chhatrapati Shivaji Terminus) office, climbing five floors more than once a day.
I worked throughout the nine months of my pregnancy, without complaining, because I believe in commitment to work.
I travelled late hours during the Mumbai riots, stayed back at work during the terrorist attack in 2008 and visited accident sites and courts during both my pregnancies.
Some of my male colleagues would wonder what stuff I was made of.
During the deluge in 2005, all the men were sent away.
I was the only woman on duty and I worked for more than 24 hours, attending calls, manning the station, delegating work and monitoring the activity on the railway tracks.
I have lost count of the festivals and social gatherings I have missed in the 22 years I have been working.
I am not the only woman who has made many sacrifices to focus on her career. I believe it's a small price to pay when you are set to make a mark.
Work-life balance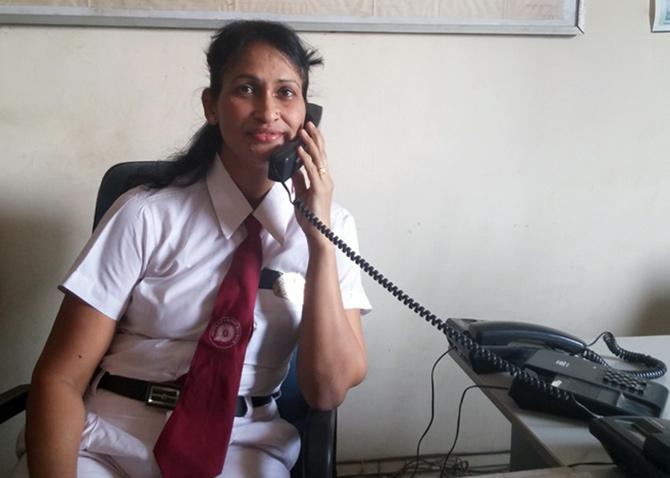 For a working woman in India who is married and has kids, there is no perfect work life balance. But one can always prioritise and make optimum use of available time.
I am lucky my husband volunteers to take care of the kids whenever he is home.
My mother-in-law also helps me manage the house. Without their help I would have been forced to quit a long time ago.
Given my odd working hours, I am extremely organised and plan things well in advance to avoid any inconvenience to my family.
People are surprised when I tell them I don't have any maids or servants to help me.
If I am doing a night shift, I sleep for about four hours and finish my household stuff in the morning hours.
I cook the food, help the kids with their homework and even take them out shopping on my weekly offs.
My kids have become independent. They used to get upset initially, but now they are very accommodating and understand my limitations.
During Diwali, if I have a late evening shift, I do Laxmi Pooja in the morning. I prepare the sweets in advance so that my family doesn't miss out on the celebrations.
The perks
Not many people are aware of the responsibilities of a station master.
We have a lot of power. My presence of mind and quick delegation has averted several accidents and derailments.
These things never get reported in newspapers. Only accidents and mishaps are reported.
Those few who know me and my work are proud of my achievements. When others tried to discourage me, my family and friends kept me going.
Lessons learned
I have learnt that circumstances may not always be favourable.
You have to be strong enough to rise above the challenges and motivate yourself to see the positives around you.
When I was stressed and frustrated, my husband would tell me to look at the bright side of things.
"So many people are working under you. You have so much power that others do not have. You're so lucky and privileged," he would tell me
That would motivate me to ignore the negatives around me.
Advice
I understand that women tend to be insecure. That's natural.
But we must understand that a lot of people -- both men and women -- will use this as a tool to prevent talented women from rising up the ladder.
As far as possible, we women must avoid showing our weaknesses to the world.
We should stand up for each other and fight discrimination, and take on the challenges to gain success.
Women should encourage and help each other to chase success rather than be stumbling blocks.