Stanford student Nitya Kanuri believes that a phone-based, anxiety assessment app built in the US can help Indian students manage their stress levels better.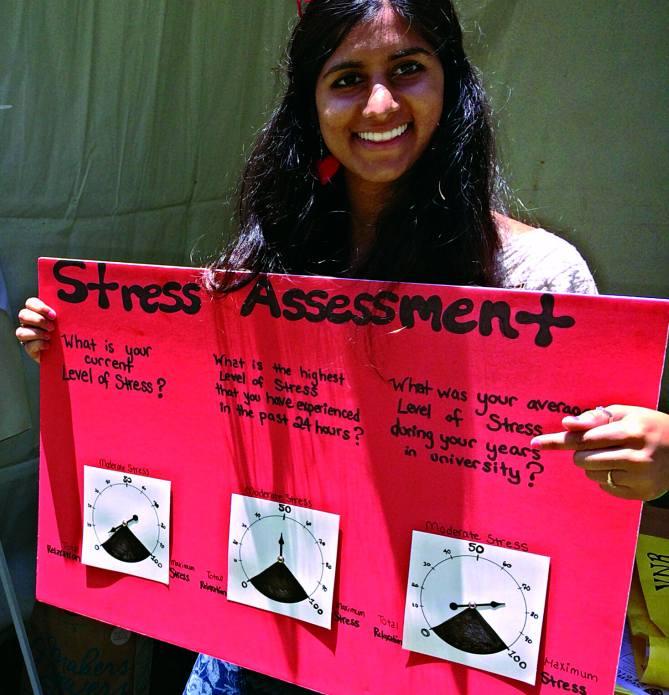 According to what Nitya Kanuri had studied, stress is the precursor to most illnesses. Which is why this Stanford student, who is particularly interested in the subject, decided to help students deal with it, first here and then in India.
She had seen the damage that stress and depression, that other horseman of the mental apocalypse, can visit upon people when she worked at a suicide helpline in San Francisco, where she got many chat requests, most from India. She also saw how badly the Indian mental system worked, while still being particularly impressed by the work done by Hope Trust, a drug rehabilitation centre that, unlike elsewhere in India, gave patients therapy before treatment.
"I found that a lot of what (Hope Trust focuses) on in the early stages of people coming into the live-in facility was spent on defining what is anger, what are emotions and what are other ways of saying I'm upset," Kanuri says, describing it as unlike any Alcoholics Anonymous programme. She says a lot of older people later said this was the first time they had spoken about what makes them upset, insecure, unsupported.
And then there's the issue of social approbation. "Stigma is the reason people don't seek help," says Kanuri. "These kind of issues are more salient in Indian universities where there's not a lot of resources for mental health."
She had interests in clinical psychology and public health, in her work in the lab of C Barr Taylor, and her love of India.
So, she knew just what to do with the idea of a phone-based anxiety-assessment app -- "one that's private, more accessible, and lacked the stigma associated with seeking professional help to mitigate unmanageable stress" -- all for students in India.
"My goal is to work on public mental health," she says. "I'm interested in anxiety and stress, above and beyond other mental disorders because, in practice, it's something that with the proper tools everyone can learn to manage in a much better way."
Kanuri hopes to have something up and running in October for students at three universities: Indian Institute of Technology-Madras, the Vignana Jyothi Institute of Engineering and Technology, and the Birla Institute of Technology in Madras.
"It's really essential because students are young and in a vulnerable place," she says. "We need to teach these skills early so they have these lifelong tools to manage all these stressors that are inevitable in life."
The app assesses anxiety levels and, depending on the risk level, the student is assigned to a general programme (the low-risk group), a prevention programme and monitored (high-risk group), or a coached programme (clinical group), or referred for a comprehensive clinical treatment plan (severely affected group).
Kanuri points that the effort is well worth it, given that treatment for anxiety works in about 75 per cent of the cases.
Encouragingly, when she gave a talk to 400 students in India, about 100 said they would complete a survey provided to them. After presenting, she says she has been getting a lot of email asking, 'Are you coming to my school? I am having a lot of stress.'
Right now the students are assigned a professor to speak to. Given the universities' indifferent attitude to personal privacy, this resource is rarely used.
Kanuri, who is interested in Telugu and Indian culture in general, heads off to Hyderabad every chance she gets, most often for family marriages: "My dad (Ramakrishna Prasad Kanuri has family in) Hyderabad. (So I) spend a lot of time there. That's probably why I'm more interested in using some of the tools that we built here in the US in Indian universities."
She says the best way to live healthy is to focus on stress and anxiety, which students don't do enough of. And instead of pharmaceutical solutions, prefers a long-term solution based on cognitive behaviour therapy.
Kanuri explains why she does what she does: "Even when I was younger, I always liked talking to people, understanding what motivated them."
Now, in a fortuitous blend of that, IT, psychology and Indophilia, she seems to have found her calling.