Five young women are getting ready to circumnavigate the world.
Laxmi Negi/Rediff.com reports from Goa.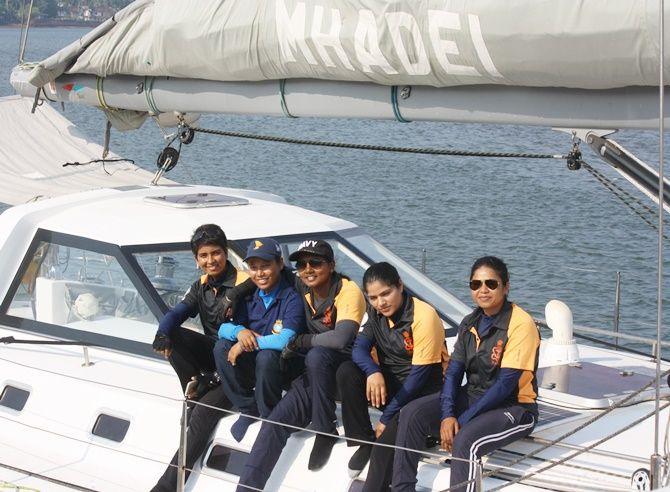 India's first women-only crew on board INSV Mhadei. All photographs: Shailesh Karkera
Lieutenant Vijaya Devi (education branch), Lieutenant Commander Vartika Joshi (naval architecture), Lieutenant Pratibha Jamwal (Air Traffic Control), Lieutenant P Swathi (ATC) and Lieutenant Payal Gupta (education officer) are part of the Indian Navy's prized vessel, the INSV Mhadei, the first ocean-going boat with an all-woman crew.
The sailboat -- which left Goa to participate in the International Fleet Review in Vishakapatnam last month and visited Kochi and Chennai -- has now returned to its home port, Goa.
These naval officers are undergoing rigorous training to circumnavigate the world. They will set sail in 2017.
The all-women crew is being trained by Commander Dilip Donde, the first Indian sailor to circumnavigate the globe alone on board the INSV Mhadei.
At a time there are two officers on duty on board the INSV Mhadei, while the rest are not quite at ease. Some are busy cooking while others read. And music is always played on the speakers.
Most of these young women are from the mountains and never saw an ocean in their childhood. Today, they say they have a great relationship with the sea.
And about their relationship with their boat? Says Swathi: "We have an emotional connection with Mhadei. Every time a huge wave hits it, I feel as if I am hurt."
Vijaya and Pooja are first time sailors and it scares them whenever the Mhadei goes up and down with the waves. And Swathi and Vartika always comfort them.
Says Vartika, "This boat has done two circumnavigations and also took us around the coastline of India. It is very strong and we have faith in Mhadei."
Meet these bravehearts who are gearing up to script history when they circumnavigate the world in an all-women boat.
Lieutenant Commander Vartika Joshi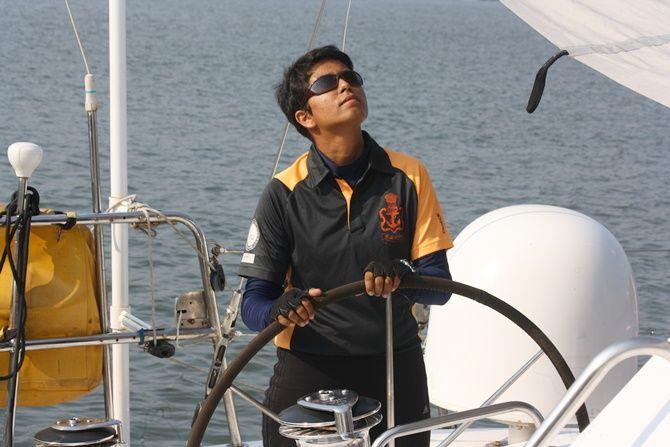 Vartika is a girl from the mountains, where young people often enlist in the fauj.
When Vartika was not travelling from Rishikesh -- where her mother is a teacher -- to Srinagar (in Garhwal) -- where her father is a professor -- she was thinking of joining the fauj.
Although for the mountain people, fauj always means the Indian Army, the Indian Navy came calling for Vartika.
Until she joined the navy in 2010, she had seen a beach only in photographs or in the movies.
She was a bright student and it reflected in her training. Soon she was chosen for the voyage from Brazil to Cape Town with Commander M V V Satish and Commander T G S Bedi in 2014. Her first experience proved to be her worst so far.
"Before we set sail, I had rosy pictures in my mind. When we actually started the journey, things were totally different. Just three days after we left the Rio de Janeiro harbour, our diesel generator stopped working. Eventually, the engine also broke down."
"We were in complete darkness for 10, 12 days. There was no electricity and we could not send our location to the shore authorities. If you do not contact them within eight hours, they send search and rescue teams for you."
"Luckily, we had just enough battery in our laptop to inform them that we were returning to Brazil as the sea was rough and we had hit the cold front. We had not covered mid-way and we lost all connections. We did not have advanced equipment on our boat at that time. We were short on fuel and the laptop battery was also dying."
"We resorted to olden ways of sailing. The GPS and electronic navigation system were not working. We used to manually plot the navigation on paper with handheld GPS."
"It was my first long trip and I was throwing up. The mind plays tricks and you tend to get negative thoughts. That's why I read biographies of travellers and inspiring books," she says.
"After covering 1,500 miles we were back to the same place, the port in Brazil. We got the boat repaired, refueled and started the journey again," Vartika recalls.
The naval architect by training says she has lots to learn about the oceans.
"The sea doesn't differentiate between a man and a woman," she says. "There are no shortcuts to the physical and mental fitness required to sail in the open seas."
"I crave for adventure," says Vartika, the skipper of the Mhadei. "There was no chance that I could have missed the opportunity of circumnavigation."
"The sea is so unpredictable. Sometimes, it acts like a glass in which you can see your reflection. It is so calm and it takes no time for it to turn violent and throw waves 8, 10 metres high."
"We can't prepare for the unseen, but we have braced ourselves from our past experiences, she says, adding, "The conditions are tough and you need to be alert all the time. Once you mastered that, it's a smooth sail."
Lieutenant P Swathi
She was born and brought up in the port city of Vizag. She saw naval officers marching past her bedroom window. It was her father's dream to see her in a naval officer's uniform.
But Swathi wanted to be a doctor. She tried to change her subjects once, but her dad's dream yanked her back and she studied to be a naval officer.
At age 11, she was already with the naval wing of the National Cadet Corps.
"Even today, whenever I wear my uniform, my father waits to see me before leaving home," she says.
When the offer of sailing came to her, she grabbed it with both hands. She sailed from Cape Town to India for almost 40 days with Commodore Jayant Mahadik.
"It is not easy to be on this boat (the Mhadei)," she says. "It is not a luxury yacht."
But the boat, she adds, has been protecting the crew like a mother so far.
"When I started on this boat, I thought I would never come back. I have emotions attached to this boat. Even if it gets a scratch, I feel as if someone has hurt me. It has come from Donde Sir. It got two people around the world safely."
"Whenever we take it out, we can see the fear in Donde Sir's eyes, thinking if we will take good care of it. When we were leaving for Vizag (for the International Fleet Review in February 2016), we promised him that we will get it back safely. And we did," says Swathi.
"I have been on this boat for a long time now. It rolls, pitches, but makes sure that you are safe," she says.
She explains the challenges they brave during their long voyages.
"Our biggest enemy is the wind. Some wind is needed to push the boat. It gets tough when the wind is too strong. We have to keep watching the depth when we are approaching an island. The rocks can damage the boat," Swathi says.
"The only mantra here," she adds, "is Be alert!"
Lieutenant Pratibha Jamwal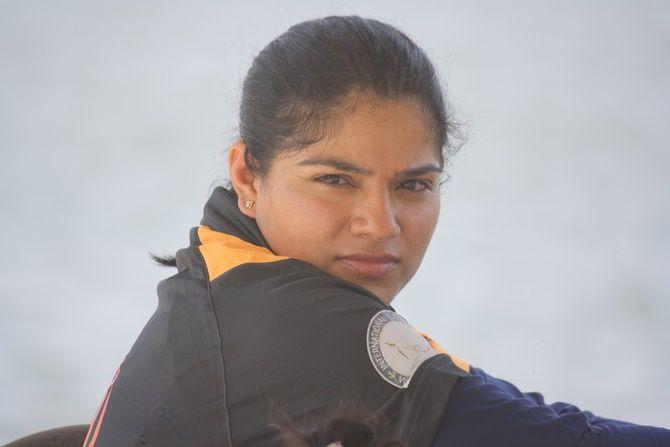 She was studying in Himachal Pradesh to be an engineer when she was selected for the Indian Navy. Her final selection was in Bangalore and she landed there with 12 friends.
Her mom gave Pratibha extra shopping allowance in case she didn't qualify. He folks told her not to cry if she didn't make it.
"I remember the officer in charge telling us that if you are born to be a naval officer, no one can stop you. It is an attitude which you won't get by studying at the last moment. I lived by what the officer said. When I was selected for the navy, my mother couldn't believe it."
Pratibha started sailing in 2012 and is quick to point out the difference between sailing competitions and long voyages. "Sailing competitions last a few hours -- maximum 2 or 3 hours and they are much safer," she says. "There is lot of rush and passion involved in them whereas you need a lot of patience for long voyages."

Lieutenant Shougrakpam Vijaya Devi
She always has a mischievous smile. But it was wiped away, she says, when she started sailing on board the Mhadei to Vizag.
"I spent my time vomiting and cooking pakoras" she says, interrupted by the others who say she spent most of her time sleeping.
"The water made me feel drowsy. I didn't feel like eating anything. At the end of the journey, I had lost considerable weight. My colleagues were worried about my health, they thought I would die. They kept insisting I eat something. I have adapted well now. I feel that voyage was my training phase."
I am from Manipur. I had not seen the sea," Vijaya adds. "I learnt to swim only when I joined the navy. Forget swimming, I had water phobia. I overcame all that to join the navy."
The navy was not in her original plans. She wanted to join the army. After she finished her post graduation at Delhi University, "I saw an Indian Navy advertisement and applied. I cleared all my tests and here I am."
Having no technical background, Vijaya finds it a tad difficult, but she has been a quick learner.
"Remember, how I could not even swim. Today, I participate in sailing competitions," she says, flashing her endearing smile.
Lieutenant Payal Gupta
Payal spent her childhood watching Indian Military Academy cadets. "None of my family were in the armed forces. But in Dehradun, every other person is in the army. I had an inclination towards the army right from my childhood," she says.
"I had a dream of marching in the Republic Day Parade. After graduation, I kept applying for the army, but I was rejected by five Services Selection Boards. I did not lose hope. I came to Gurgaon and joined a multinational company. I worked for a-year-and-a-half there."
"I kept trying for the SSB. I came to know about naval recruitment and applied in 2012. I was selected and my dream came true. I was part of the Republic Day Parade," says Payal.
"But something was missing. I thought the navy would be adventurous. I was confined to desk work. I was doing the same thing I did while working for that firm. When the opportunity to be part of an all-women boat came up," she remembers, "I jumped with joy."