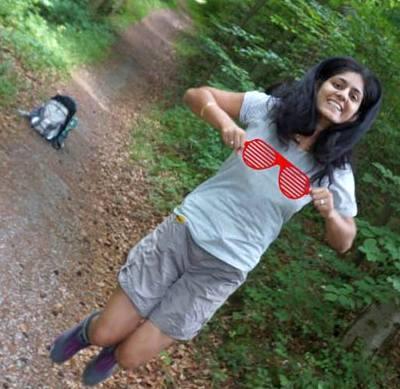 "We live our life once, and so whatever we do needs to be in agreement with our passions. Choose things that you look forward to. And do not wait for a lifetime to reach there.
Everyone has their own paths to create and that's what makes us unique. Be brave enough to listen to yourself," says Upasna Kakroo, a Kashmiri entrepreneur who has seen torrid times in Kashmir as a child and has now settled in Germany as a successful entrepreneur.
The women were gossiping in low voices in the kitchen, the men were playing cards, a young girl and her cousin were dancing to the tune of Chandni, Chandni. In the valley, up was down. Born in Srinagar, for Upasna Kakroo, Kashmir and the memories of her childhood were filled with gardens and roses.
And also of rallies and crowds carrying AK47s and the cold winter night her family moved to Jammu in a truck. A Kashmiri child who has faced bias and prejudice most of her childhood, Upasna says she grew up with books.
She says that books were her solace against the hard bullying she faced as a child, when the family moved to Noida. "Books provided me with such wonderful worlds and stories that they stayed on forever," adds Upasna.
Today, a Founder of an online branding and content marketing start-up brandanew.co in Germany, Upasna began her career as an engineer. Brandanew works with clients to create content for social consumption and engagement. It aims to enable brands to strengthen their digital footprint and generate authentic brand conversations.
Upasna Kakroo Upasna says her interest in branding and content marketing came from her interest in writing and from reading Gulzar and Mirza Ghalib.
"Creating a desire for something that only hurts, is a work of genius. That's what exceptional writers (and marketers) are capable of," adds Upasna.
Now after having travelled over 30 countries and working with multiple nationalities, Upasna says it's helped her realise what she truly cares about. Today, she's no longer driven by peer pressure that she faced as a child. But by her need to know a little more, and be curious.
"I devour urban culture through art, metros, trains and very long walks," adds Upasna. Upasna believes that her love for expression and art comes from growing up in an exceptional family environment. Everything was done as a family; if her sister was participating in a school debate the whole family would help and get involved.
Reminiscing, Upasna says "I was 19 and I announced that I'm going to write a book, my dad would come back from office every night and ask, so what did you write today. When I discuss work these days, my mother's first remark is -- ensure you are producing high quality. We push and support each other that way. My husband's even more finicky about quality. It's a sacred family value. We focus on quality of work and experiences."
Upasna also believes that her growing up with the belief that fighting for your point of view is not a bad thing. She believes this in turn strongly shaped her personality and the way she looks at work.
While many, she says, thought it was too argumentative, for her it was the sign of a progressive upbringing. "My parents are strong believers in education, open to discussion and we talk about everything. There are no big decisions that we take without talking to each other and fighting over things. I find that empowering," adds Upasna.
Speaking of the challenges she has faced in her entrepreneurial journey, Upasna says that finding quality hires has been a big challenge. There is a rift between people who can write well -- but never deliver on time, and then those that deliver on time but are serial plagiarists and can't write a word. She says that "Considering I interact with a lot of people online, there's also people who troll and bully -- especially young Indian boys/men. I find that unbelievable sometimes. Where are they getting so much time from? I wake up everyday wishing I had more hours!"
"Poor service is rampant and another epidemic. I was on a call with someone the other day, and the company sales manager said, "We don't want a blame game." I was completely taken aback. Nothing I had said -- on a first call indicated anything about blaming, I was only enquiring about their service. Perhaps they had bad experiences with previous clients, but it was so silly to push it on to me. I think it's difficult to find good partners, especially in India, and so I often go only by recommendations."
Upasna says she started this company to create an environment of trust and commitment. Speaking of her employees she says that she doesn't care what time they work, where they do it, or in which clothes, as long as they deliver. Upasna says she has been interviewed several times and been asked, "So when are you getting married", and in fact her last manager was shocked when she decided to do her MBA and his first reaction was "what about your marriage?"
"As a woman, this offends me to no end. How many men are being asked about their marriage? And then later about their kids, perhaps. As an entrepreneur, I refuse to be put in these boxes. I make my own path and agenda. I am done with stereotyping and unfairness," adds Upasna.
Speaking of the difference in work environments Upasna says that Germany has its quirks like any other country. However there's great infrastructure, no pollution. But Indian offices are young, and optimistic, adds Upsana. However, the one thing about Germany that she says she is getting used to, is the fact that they do not break contracts.
Germany, she adds, has a great work-life balance.
Advising women, Upasna asks them not to settle for marriage. Most of her friends were getting married in their twenties, and she lost a few whose only conversation with her after a point was, when are you getting married. She adds that this could be equally true when you feel the pressure of having kids, or a career that's "a desk job" or anything else that you've been advised you "should" do. "We live our life once, and so whatever we do needs to be in agreement with our passions. Choose things that you look forward to. And do not wait for a lifetime to reach there. Everyone has their own paths to create and that's what makes us unique. Be brave enough to listen to yourself," concludes Upasna.