Remembering how Azzedine Alaïa, the son of farmers changed the world of fashion.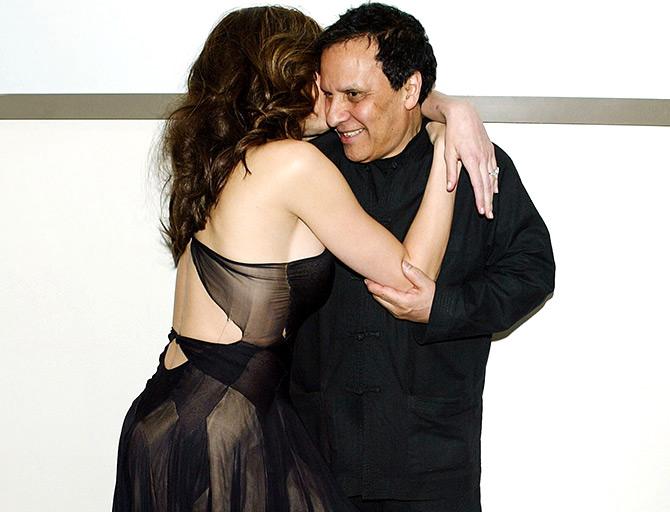 Supermodel Stephanie Seymour with Azzedine Alaïa.
Photograph: Scott Gries/Getty Images.
Fashion designer Azzedine Alaïa might have been diminutive in stature, but to the world of fashion he was a giant. And his death on November 18 has left the glamour industry with a void that is unlikely to be filled any time soon.
Among his biggest contributions to fashion is the creation of the supermodel.
Elle magazine notes, 'Although Gianni Versace is often credited with having invented the supermodel, Alaïa was there first. It was at his intimate, exclusive shows in the mid '80s that the concept was born and that the press saw these powerful-looking women together...
'Cindy Crawford, Claudia Schiffer, Yasmin Le Bon, Christy Turlington and Eva Herzigova were all regulars at his shows... These models would cancel other bookings to be part of his shows.'
Alaïa also mentored supermodels like Veronica Webb, Stephanie Seymour and Naomi Campbell.
In a moving Instagram post after his death, Campbell, who called Alaïa 'papa', wrote, 'Dear papa, I was blessed in my life to meet you and for your embrace at 16 ,so many wonderful memories of you through out our journey together.
'I got to experience what it was like to be around a Genius!!! You taught me and opened my eyes to so many things in life, and how to strive for perfection, as you were PERFECTION and UNIQUE and will always be...
'You did all the fatherly duties my unknown father should have. You ignited happiness to all whom were around you, from dancing in the kitchen to playing practical jokes. You protected me and loved me unconditionally. I'm eternally grateful to you the day you picked up the phone and called my mother to tell her you were taking me in. Papa until we meet again on the other side, I know you will continue to guide me, and always be in my heart.'
We revisit Alaïa's incredible legacy through the memories of supermodels who wore his designs.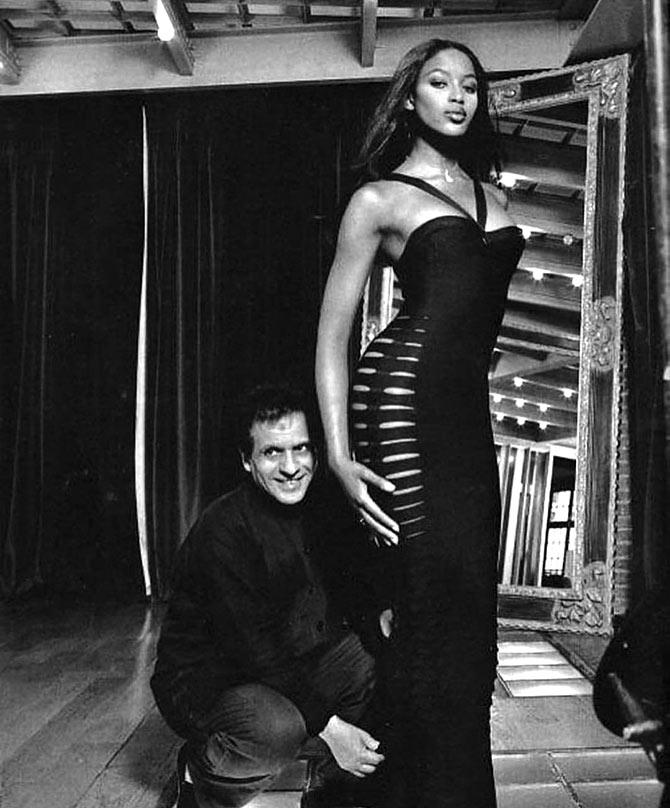 Azzedine Alaïa with Naomi Campbell in one of his trademark figure-hugging dresses
Photograph: Courtesy @naomicampbell/Instagram..
He was the 'King of Cling'
The Tuniasian-born son of wheat farmers who went on to dress icons from actress Greta Garbo to singer Lady Gaga and former American first lady Michelle Obama was known for the way he moulded his designs to the female form.
In a personal post Naomi Campbell wrote, 'No one understood the body of a woman more than you. That made us feel good about ourselves inside out.'
Cindy Crawford said, 'The way he dressed a woman's body was such a revelation to me as a young model in Chicago because his designs embraced my curves.
'One of the very first designer pieces I ever bought myself was one of his famous body suits with a skin tight skirt to match in a gold knit fabric from Ultimo in Chicago. Worn with an Alaia belt cinching in my waist, I felt like a million dollars...
'He made all of his models feel beautiful and the fashion world will never forget him.'
Stephanie Seymour said, 'Azzedine's contribution to the fashion industry is immeasurably far reaching, but to put it simply, he understood both the soul and anatomy of women all over the world.'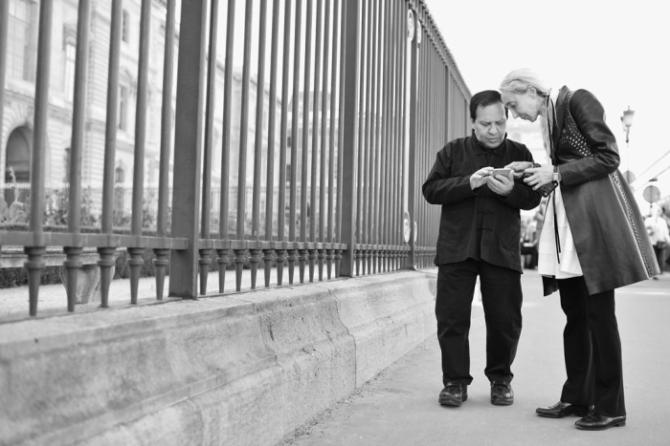 Alaïa with his friend Carla Sozanni at the Paris Fashion Week.
Photograph: Pascal Le Segretain/Getty Images.
His craftsmanship was legendary
Alaïa was often seen as bringing his training as a sculptor to his designing.
He was a skilled craftsman, who was known for designing on the female form rather than on the drawing board. He remained a hands-on designer till the end, often cutting his own cloth and picking up the thread and needle.
Campbell, who was his 'fit model' when she was starting out, described the process in an interview with influential photographer Nick Knight.
She said, 'It's not like you go in and see a tonne of sketches. It's all in here [tapping her temple]... He draws on the fabric, which I had not seen often.'
She added it was 'amazing to be there and watch him create... He pins everything, he cuts everything himself. The way he works is incredible.'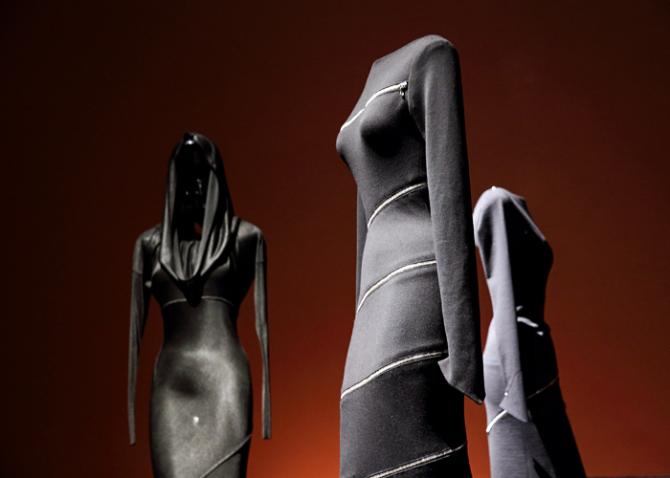 Inside an exhibition honoring Alaïa.
Vogue writes, 'Anyone who has ever bought a vintage piece of Alaïa lately will know it's immune to ever looking old. Few other brands remain as relevant today as they were three decades ago.'
Photograph: Philippe Wojazer/Reuters.
His designs are timeless
Alaïa's designs were never viewed as clothes that had to be swapped out with every new season. And right up to his last collection, his grasp of design and craftsmanship made each creation a heirloom piece.
Bella Hadid paid tribute to Alaïa saying, 'He was always untouchable in fashion -- as a human icon and a creator...
'I remember finding the most perfect Alaïa dress that a friend let me borrow for my prom when I was younger, and I think I wore that same dress about 50 times because it just always made me feel so lucky, beautiful and grateful to even be able to wear such a piece made by you.
'You empowered women. Made women feel sexy. Classic. Edgy. Graceful. Fashionable but cool. Everything a women wants to feel when putting a perfect piece of clothing on.
'Thank you for what you brought to fashion and I know that everyone, especially the people that love you the most, will make you live on forever.'
Claudia Schiffer hailed Alaïa as a true fashion legend 'who invented a look that no one has been able to copy'.
Alaïa at his last Paris Fashion Week show in July this year.
It was fitting that it Naomi Campbell was the last model to wear his creation on the ramp.
Photograph: Courtesy @naomicampbell/Instagram.
He refused to bow to the tyranny of fashion week schedules
Alaïa's did his time with French fashion houses like Christian Dior, Guy Laroche and Thierry Mugler, but once he set up his own shop, he refused to let his craft be governed by industry deadlines like the Paris Fashion Week.
Staying away from the spotlight, however, did nothing to diminish the respect he commanded.
Campbell said in an interview, 'Gianni Versace only used to invite one designer to his show, and that was Azzedine Alaïa.'
It is also industry legend that whenever he asked, the world's top models would be ready to walk for him for next to nothing.
He retired from the show calendar in 1992, and returned only twice since then -- once in July 2011 and again in July 2017.
Alaïa's protégé Veronica Webb wrote in tribute, 'The history of fashion is changed for the better because of you.'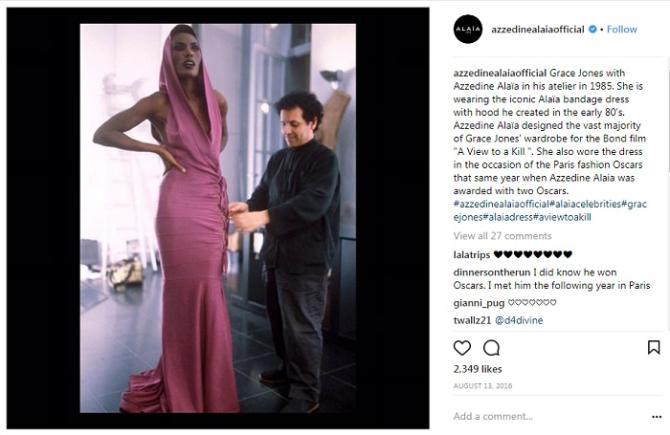 The world hails Alaïa for being a designer who worked with women of colour 'as models and muses'.
Photograph: Courtesy @naomicampbell/Instagram.
He championed diversity before it was fashionable
With Alaïa, diversity was always a given. Even when no one else was doing it.
Veronica Webb, who became the first black model to win a major cosmetics contract, once told Vanity Fair, 'Did he start my career? Are you kidding? Myself, Naomi, Stephanie -- he taught us how to use our forks, how to walk, how to take rejection, how to present ourselves. He treated us all like flesh-and-blood children.'
Bethann Hardison, another black model who worked with Alaïa, called him a 'fashion revolutionary'.
'The models meant as much to him as the dresses he put them in,' she said in tribute.