Riya Shah, a New York teenager, who had been to Baroda to volunteer with an NGO that works for upliftment of orphans and delinquents, shares her learnings with Chaya Babu.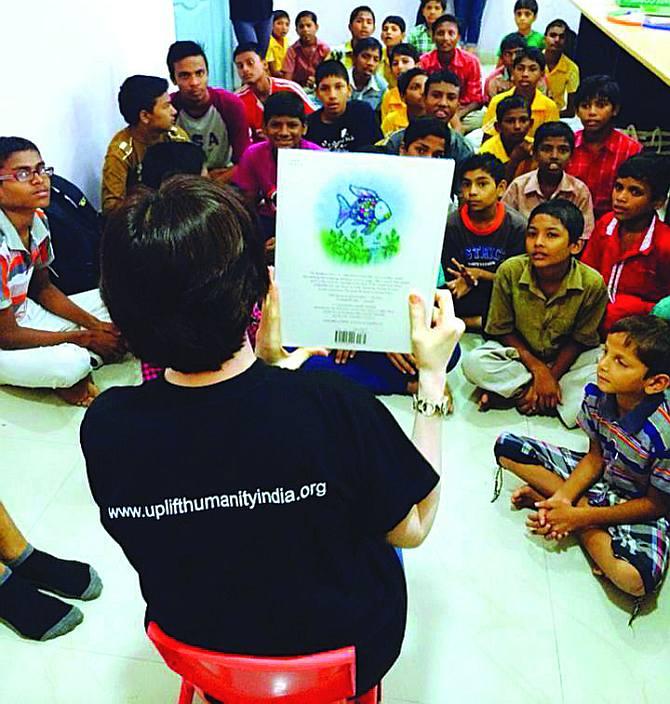 Not to sound clichéd or anything, but it was hands down the best experience of my life," said Riya Shah, a 17 year old from Clarkstown, New York.
Shah returned this month from Baroda, Gujarat, where she was a volunteer with Uplift Humanity, a non-profit organisation whose mission is to reduce recidivism rates for juvenile delinquents in India. She was one of a large group of high school and college students who went as part of the organisation's three-week summer programme that aims to teach life skills to the Indian youth.
In a group of two other volunteers, Shah worked with a handful of the youngest boys at the detention facility, many of them were there because they were orphans. They taught the children lessons on making friends, sharing, anger management, dealing with peer pressure, expressing feelings, body language, and more.
"We take these things for granted, but having been only in the facility, they're never even exposed to them," she says.
Shah is still a child herself in some ways, about to enter her senior year at a Rockland County high school, but she has quite a bit of experience already in the space of social issues and helping out at-risk and delinquent youth. Though she lives with her family in an affluent area north of New York City, she feels strongly about her desire and position of privilege to do some good in the world.
"I think even as a kid, my parents have always instilled in me to recognise what I have," she said. "When my parents first came here from India, it was a very classic first-generation story -- they had nothing when they came here and they both worked really hard to get us where we are -- so I've always been very conscious of what the opportunities I've been blessed with and that there are so many people who don't have those same opportunities. Also as a middle schooler in a very white area, I definitely experienced a lot of bullying, and I never let that experience hurt me negatively, but instead I tried to think of how I could change that for other people."
In Clarkstown, Shah participates in her school's peer leadership organisation called World of Difference, which emphasises cultural awareness and acceptance of others as a broad anti-bullying strategy. She also works for the district's Youth Court, which allows young people like herself to learn about the justice system and work in different courtroom positions to conduct trials for adolescents below 16 who have committed crimes in the area, from shoplifting to getting caught with drugs. Thus far she has served as prosecutor, defense attorney, and judge in different cases.
She described her passion for the programme as rooted in her American values and the fact that she gets to show kids that their past does not define their future. They may receive community service or some other kind of similar sentence, but the end result is that they learn consequences and their records are wiped clean after that.
"Their records don't travel with them," she explains. "What I mean by American values is being able to start over and getting that second chance. That's why I love Uplift, because we go there to work with kids to give them that second chance at becoming a part of Indian society again and restarting their lives, and we show them what they can do to get out of a cycle of crime that a lot of juveniles and orphans fall into."
UH is a way for Shah to combine her American side with her Indian side. She learned about the organisation at a Hindu camp she attends called Vraj Youth. Though the camp's overall goal is to help young Indians stay connected to their culture and religion, Shah said it is what led her to want to do service work in India.
"Because of where I live, my exposure to Indians is very minimal, but when I go to Vraj I get to meet so many Gujaratis and it's a chance to meet young people who are like-minded," she says. "Actually before Vraj, I wasn't so driven about giving back; I wasn't aware of what was going on there, and because of that experience, I've become more knowledgeable about the systemic problems in Indian society."
Shah was touched on a personal level through Uplift, and she discussed with fondness the bond she built with the youngest boy, a five-year-old, who was shy and withdrawn at first but became enthusiastic about learning within the first week and by the end clung to her and the other volunteers with hugs and smiles. The change she witnessed in the children in such a short amount of time was amazing, she said.
"I definitely want to go back and do more socially impactful work in India for sure, whether it's with Uplift or with another organisation."