All eyes on the Forbes 30 Under 30 Class of 2018.
Forbes magazine has released its 30 Under 30 list for 2018, and it features 600 young and rising stars across 20 industries.
'What never grows old? The burning desire of youth to reinvent the world,' Forbes writes in the introduction. 'That ambition and impatience is on full display in our 2018 edition.'
The competition to feature on the list gets fiercer every year. This year, the selectors received 15,000+ nominations for just 600 spots. As Forbes likes to point out, the class of 30 Under 30 is harder to get into than America's 'two most selective colleges, Stanford and Harvard University.'
Meet the rising Indian/Indian-origin entrepreneurs who made the cut: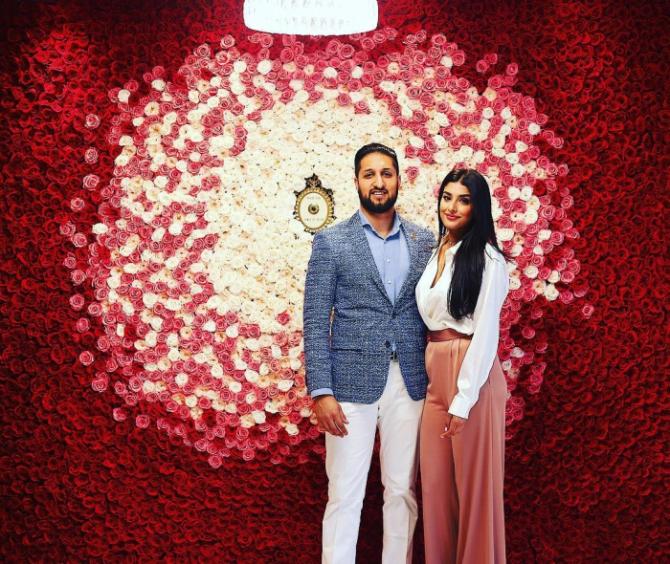 Seema Bansal, 26, and Sunny Chadha, 28, are the 'featured' names -- the only Indian-origin entrepreneurs who made that cut-- in the Retail and e-commerce category of the Forbes 30 Under 30 Class of 2018.
Photograph: @venusetfleur/Instagram.
Retail and E-commerce
Seema Bansal and Sunny Chadha
The Venus ET Fleur co-founders have technology to ensure that roses last a full year in full bloom without water.
The likes of reality TV stars Khloe and Kourtney Kardashian have taken note of them.
Forbes notes, 'Venus ET Fleur is profitable, and revenue, estimated at $7.5 million, has grown 226 per cent in the past year. By the end of the year, Bansal and Chadha plan to open their second distribution center in Los Angeles.'
---
Big Money
Joel Pazhayampallil and Sameep Tandon
Along with Will Wei Song, these two co-founded Drive.ai.
Forbes writes, 'With $77 million in funding, this group of former members of the Stanford University Artificial Intelligence Lab is building autonomous car tech primarily based on deep learning. Drive.ai is one of the first companies to deploy self-driving cars on the public roads in California.'
Santosh Sankar
He co-founded the Chattanooga-based venture capital firm Dynamo in December 2015 with Ted Alling, Barry Large and Allan Davis. So far, the company has remained focused on startups in the logistics technology space.
Siddarth Satish
He founded Gauss Surgical. Driving the company's growth is the app Sathish developed to monitor blood loss in the OR. According to Forbes, 'It's been used for thousands of patients to make childbirth safer.'
The company has raised $24.6 million.
Akash Shah
He co-founded Care/of, a direct-to-consumer ecommerce brand that delivers personalized vitamin packs to consumers via a monthly subscription. As Forbes points out, the company is growing fast: It has raised $15 million to date, including a $12 million Series A in 2017, and is doubling revenues every two months.'
---
Education
Vinay Bhaskara
He co-founded CollegeVine with Zack Perkins and Johan Zhang. The freemium content hub is making 'high school guidance counseling more efficient and ubiquitous'.
'Through a blend of technology and near-peer mentoring, CollegeVine is a virtual platform that helps students navigate the complex college admissions process.'
Shiv Gaglani
He co-founded the health and medical education company Osmosis Osmosis, which produces videos on topics ranging from aneurysms to Zika. They have been viewed more than 25 million time since January 2016 in over 200 countries.
Osmosis also offers a personalized platform for those training to be health professional. Gaglani, who has an MBA from Harvard, is simultaneously working on a MD from Johns Hopkins University School of Medicine.
Arjun Singh
Singh co-founded and co-developed Gradescope, an app that grades exams and provides teachers and students with instant feedback.
Forbes notes, 'Some 10,000 instructors and 300,000 students at 450 schools worldwide, including MIT and Imperial College London, have used Gradescope to pore over 25 million pages of work. Last year, Singh and his three cofounders raised $2.5 million in funding.'
---
Venture Capital
Vivek Ladsariya
The two-time founder is now partner at Sinewave Ventures He has backed more than 30 companies, predominantly focused on enterprise tech.
---
Food and Drink
Shawn Nagpal
He is the founder of Nagpal Restaurant Group, which owns and operates two restaurants in New York's Westchester county.
But the more meaningful work for him, he told Forbes, is teaching a cooking class for the immigrant children in his community: 'He hopes his business serves as a beacon of hope for anyone who feels like they don't have a chance at one day finding success.'
---
Consumer Technology
Shruti merchant
She co-founded HubHaus with Kerry Jones in 2016 to make it easy for professionals to find community in shared housing. The company gains from Merchant's experience after she dropped out of medical school: she moved to Silicon Valley to found her first startup and struggled to find affordable housing.
The company has already raised about $1.5 million.
Sundeep Kumar
He co-founded LoftSmart with Sam Bernstein. Their company connects student renters to apartment buildings looking to fill leases. The company has processed millions in lease transactions and raised $5 million from investors.
Abhishek Chandra
He co-founded Spring Health with April Koh and Adam Chekroud at Yale University. Spring Health offers a mental health tool for large employers that screens employees for mental illness, develops personalized, data-driven treatment plans.
The company has raised about $2 million in venture funding.
Arun Saigal
Along with co-founder WeiHua Li, Saigal 'decided to spin-out MIT's App Inventor tool, the drag-and-drop service for building your own app had already reached 4.3 million registered users who made more than 13 million apps.'
Thunkable hopes to 'democratize app creation'.
---
Enterprise Technology
Kumesh Aroomoogan and Anshul Vikram Pandey
They are the co-founders of Accern Corporation, a real-time web surveillance platform that monitors 300 million websites, 'alerting investors on actionable stories about US public companies.'
The company is anticipating a $100 million valuation in 2018 Q1.
Saurabh Ladha
He is the chief executive officer (CEO) of Doxel, Inc, which monitors construction sites using autonomous robots, quantifies progress using deep learning-based computer vision, and provides managers with actionable insights to eliminate overruns and costly delays.
Shahed Khan and Vinay Hiremath
Along with Joe Thomas, they co-founded Loom, a video communication platform that enables teams to quickly record, edit and share complex information. Loom is already used by more than 250,000 employees at companies like Airbnb, and Dropbox.
Loom has $3.7 million in funding.
---
Healthcare
Manik Bhat
Along with cofounders Eric Conner, Dan Levenson and Alex Villa, Bhat created Healthify to connect Medicaid recipients in the US to social services. About 4 million people have benefited from Healthify and the company has raised $9.6 million to date.
Akshaya Shanmugam
She is the co-founder of Lumme where she developed software for smokers who want to quit. Lumme has raised $1.7 million in non-dilutive funding, Forbes reports.
Sourav Sinha
He co-founded Oncolinx, which is testing antibodies aimed at activating the immune system. Clinical trials are set to begin in 2018.
---
Social Entrepreneurs
Arpit Dhupar and Kushagra Srivastava
They created Chakr Innovation, which has the first system to capture harmful emissions from diesel generators.
---
Energy
Prateek Joshi
He is the founder of Pluto AI, a startup that has built an intelligence platform for water facilities to reduce energy consumption, predict asset performance, and minimize operating costs. It raised $2.1 million in seed funding.
Forbes adds, 'He is an Artificial Intelligence researcher, a published author of 8 books, and a TEDx speaker.'
---
Manufacturing and Industry
Kartik Tiwari
He co-founded Starsky Robotics with Stefan Seltz-Axmacher.
The company works on robots integrated with cameras and radar systems for long-haul driverless trucks. The company, where Seltz-Axmacher is CEO and Tiwari is CTO, has raised $5.1 million.
---
Youngest
Rohan Pavuluri
He co-founded Upsolve to give low-income Americans the means to get a fresh start through bankruptcy without having to hire a lawyer.
Forbes adds, 'Together with lawyer Jonathan Petts and programmer Kevin Moore, the Harvard student built an online tool that eases users through the process of inputting the financial information necessary to create a bankruptcy filing.'
Don't miss: The 30 Under 30 Class of 2017