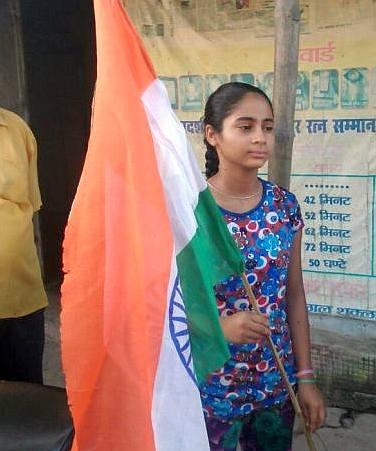 Kanpur girl Shradha Shukla intends to swim a distance of 550 kilometres to raise awareness about cleaning the Ganga.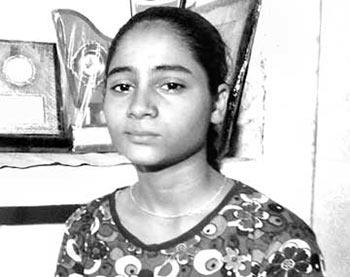 She is only 11, but Shraddha Shukla of Kanpur has already earned the sobriquet of "Nanhi Jalpari" (Little Mermaid) for the feats she has achieved and the one she has set her sights on.
Shukla is currently swimming through the swollen waters of the Ganga to raise awareness about the need to clean the river.
She intends to swim a distance of 550 km from Kanpur to Varanasi, the constituency of Prime Minister Narendra Modi.
That's like running 13 Olympic marathons of 42.195 km each.
She aims to complete the journey in seven days.
Sporting a blue swimsuit, Shukla took the plunge from Massacre Ghat on the morning of August 28, amidst loud cheers from the crowds that had gathered at the banks to watch her. She has since been swimming seven to eight hours every day, with breaks in between.
The journey is taking her through Unnao, Raebareli, Fatehpur, Kaushambi, Pratapgarh, Allahabad and Mirzapur.
The generosity of the rain gods this year has led to a good monsoon. As a result, all the major rivers in North India, including the Ganga, are in spate. This fact has, however, failed to deter the young swimming sensation from taking on the challenge.
But rapid water currents aren't all that she is up against.
The Ganga also has its share of alligators and other reptiles. So, an underwater net protects her as she swims.
Her father and coach, Lalit Shukla, is also accompanying her with expert divers, albeit in a boat.
Shukla was six when she covered a distance of 10 km in the Ganga at Kanpur. Three years ago, at the age of 8, she swam 16 km downstream in 80 minutes. Around that time she also swam to Allahabad from Kanpur in less than a week.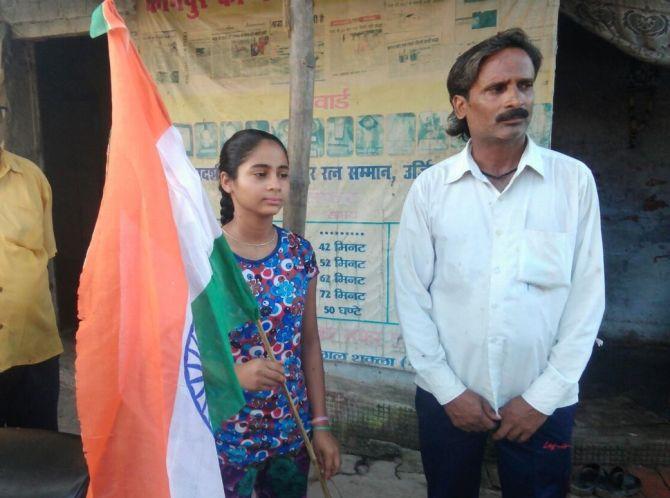 IMAGE: Shradha with her father. Photograph: ANI/Twitter
On the first day of her journey to Varanasi, she swam about 100 km to reach the Chandrika Devi Temple Ghat in Unnao. The following day, she covered another 70 km to reach Dalmau in Rae Bareli to a thunderous applause.
She is currently on a diet rich in carbohydrates and proteins to give her the energy she needs to swim on. This largely comprises a paste of dry fruits (almonds, cashew nuts and raisins), besides milk. She ends her day at dusk and resumes swimming early the next morning.
"For me, swimming is most peaceful…to hear your own breath while swimming. Swimming puts your mind to single focus," she recently said.
Shukla, who lives in the cantonment area of Kanpur, a bustling industrial town in central Uttar Pradesh, has been swimming since she was one. She dreams of some day representing India at the Olympics and also swimming across the English Channel.
After she completes this, a video of her journey from Kanpur and Varanasi would be sent to the prime minister and Uttar Pradesh Chief Minister Akhilesh Yadav to drive home the point of saving the Ganga.
Lead image: Kind courtesy Business Standard