The publisher of Juggernaut Books made it to Forbes India's Women Power Trailblazers class of 2018.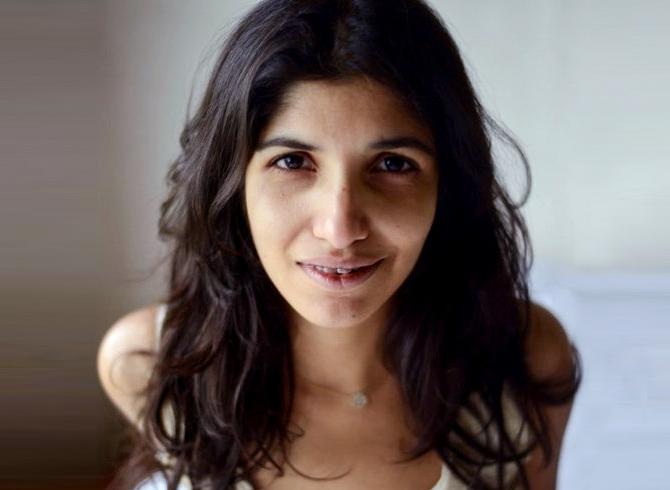 Photograph: @Chikisarkar/Twitter
What do you do when you helm one of the biggest publishing houses in the country?
If you are anything like Chiki Sarkar, you start your own publishing house with a twist.
In 2015, Sarkar -- and Durga Raghunath, a former CEO of Network 18 Digital -- founded Juggernaut Books, India's first smartphone publisher.
Since then, Juggernaut has attracted millions in funding from investors like Infosys co-founder Nandan Nilekani, Fabindia promoter William Bissell, and Boston Consulting Group's India Managing Director Neeraj Aggarwal; it has seen Bharti Airtel, India's largest telecommunications firm, acquire a strategic stake in the company; and been downloaded over a million times across Android and iOS platforms.
All of these were reason enough for Forbes India to include Sarkar, 40, in the Women Power Trailblazers class of 2018.
It didn't hurt that Juggernaut has also published books by Twinkle Khanna, Arundhati Roy, William Dalrymple, Rujuta Diwekar, Rajdeep Sardesai, Sunny Leone and Sourav Ganguly.
'Sarkar knows well that books are perhaps the last thing on people's mind these days. More so at a time when a smartphone boom, fuelled by high-speed internet, has made it easy to access millions of videos at a click, Forbes India noted in her citation.
Sarkar told them, 'I don't want to be a number one. I want to be around because there is always a need for books and story-telling…
'We are a generation of smartphone users and most of the media companies have built their own online platforms. But books were still dependent on a third party platform. That's how we began Juggernaut.'
Juggernaut offers everything from free classics like that of George Orwell and Jane Austen and books and stories priced as low as ₹10 to some of the most awaited publications of the year.
It also gives amateur writers a platform to publish digitally, giving them the chance to win publishing contracts.
'I am well aware of what my reader wants. I know now that readers in Mumbai read mostly late at night and those in Bengaluru buy the most books. Understanding the customer profile helps scale the business,' Sarkar told Forbes India.
Also read: Chiki Sarkar's tips to aspiring writers