A mother-daughter duo is working tirelessly to revive the art and empower rural artisans too.
Nivi's mother interacts with the staff at Virsa.
All photographs: Kind courtesy
Phulkari is a centuries-old embroidery tradition of the northwestern part of undivided, pre-1947 Punjab.
It flourished during the relatively peaceful reign of Maharaja Ranjit Singh prior to 1849, when Punjab fell to the British in the second Anglo-Sikh War.
Of the 47-52 stitches that were widespread among phulkari artisans, only five-six survived the holocaust of the partition, wherein Punjab was a critically impacted geographical region.
Heirloom phulkari then found its way to museums in the UK, USA, Canada and Australia, and other parts of continental Europe.
Virsa-The Heritage, a mother-daughter enterprise, is working tirelessly to revive the art and locate these phulkari tapestries.
Their aim is to work together with museums, click photos, paint these patterns, convert them into stencils and provide them to the artisan community, so that they can try and relearn these stitches, patterns, and motifs.
The attempt is to revive a part of Punjab and India's heritage that was lost in the most unfortunate manner.
Journey back to the roots
Meet the founders of Virsa, Nivi and her mother, Sushma.
Nivi Jaswal, 36, was born to a pair of anthropologists and her mother, Dr Sushma Jaswal, 67, was one of the first few Indian women to receive a PhD in this discipline.
Her parents were serving as research scientists at North-Eastern Hill University in Shillong, until they began looking for job opportunities closer to their parents in Punjab.
Sushma then joined Punjab Agricultural University in Ludhiana.
During her long service tenure, she actively collaborated with the university's extension education department and helped several women in rural Punjab start their own agri-based micro enterprises.
Meanwhile, Nivi finished school and college, and began her career with Hindustan Unilever in 2003.
She served in various roles across South Asia, the Middle East, Southern Africa, Eastern Europe and Russia until 2013, and later forayed into healthcare and medical devices.
"My work in branding, marketing, corporate strategy, across both consumer goods and later medical devices, nurtured the urge and deep-seated desire within me to do something back in India (in Punjab), with my own community."
The time was ripe once her parents retired and her mother spoke of how she wanted to spend the rest of her years devoted to the cause of women phulkari artisans in the villages of Punjab.
"Phulkari was a natural choice, as it's one of the most traditional, pre-eminent handicrafts of Punjab and also one that needs the most assistance.
"Often, assistance and investment in real handcrafted phulkari goes hand in hand with investing in the lives of rural Punjabi women.
"The current situation with the rampant drug problem in Punjab further intensified my mother's desire to do something for the rural women who were sewing, embroidering, and trying to make ends meet," shares Nivi.
This vision came together when Nivi and her mother began visiting Punjab's villages to better understand the needs and challenges of phulkari artisans.
With this, Virsa-The Heritage was informally born in September 2016.
Nivi enrolled in Stanford University's one-year programme for entrepreneurship and innovation in 2016 and lives in the US.
Her mother is based in Punjab, hence Virsa was registered as a proprietorship in Ludhiana in August 2017.
A dedicated start despite obstacles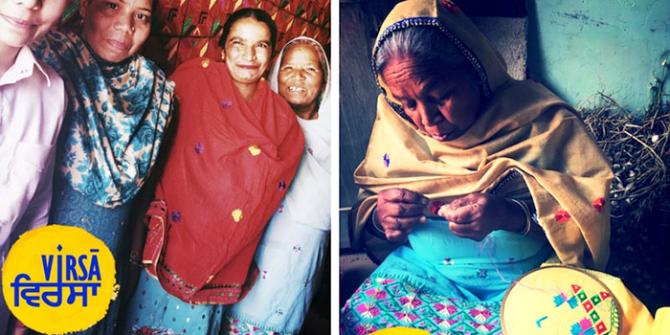 Three generations of Virsa artisans from a single family pose for a pic and, right, an artisan at work.
Nivi's role in Virsa is that of an investor, having spent her savings on this venture.
She is also an active promoter and launched the inaugural exhibition in Singapore in August 2017.
Their motive through this initiative was to educate guests on how the handicraft suffered during the partition, how the forces of mechanisation and urbanisation are impacting phulkari as well as the livelihoods of the artisans, and most importantly, on how the international community can help.
As a young organisation, Virsa, which works to create a commercial supply chain, faces a number of challenges -- the biggest one being getting people to act in support of the cause.
The issue, first and foremost, lies in ascribing value to the craft.
Says Nivi, "To tackle this, we have developed an internal rate card, which we shared with our artisans. They have tried to embrace it despite low pre-existing numeracy skills.
"Whenever we procure any phulkari from our artisans, we encourage them to follow the rate card and pay higher than the market average.
"If and whenever we are able to sell any piece, 20 percent of the profit goes back to the artisan."
Another issue is the reticence, reserve and sometimes low levels of self-confidence of the artisans themselves.
To empower the tradition of phulkari, Virsa believes that they have to empower the humans behind it.
"Phulkari is not their 9 to 5 job; it is a tradition handed down to them by their mothers, grandmothers, great-grandmothers, and so on.
"It is as much a part of their life as much as it is a livelihood that feeds them and sends their children to school.
"Whoever said trying one's hand at a social enterprise would be a piece of cake is definitely wrong", says Nivi.
"There is no MNC business card, no title-based salutes, and no lofty introductions.
"You're everything from the chief executive officer who represents the cause of the artisans, to the chief janitor who cleans up the exhibition stall when the day is done."
Campaigning to save livelihoods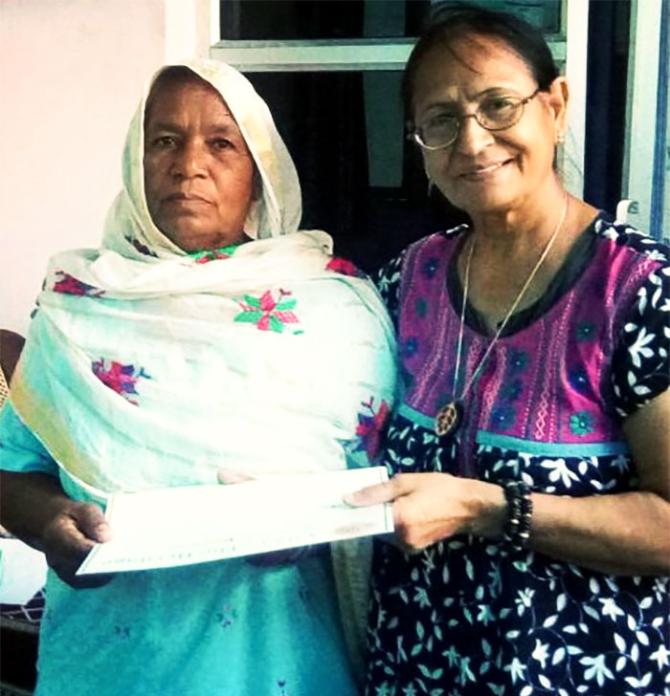 Virsa has launched a crowdfunding campaign to help 45 rural women phulkari artisans they actively work with across villages in the Patiala-Nabha region of Punjab.
Virsa's primary focus is to create an ecosystem and opportunity of empowerment, profit, and healthcare assistance for rural Punjabi phulkari artisans which according to them is completely missing or is fairly disorganised at this point in time.
Trying to educate people and address this need in its own small way, Virsa has launched a crowdfunding campaign to help 45 rural women phulkari artisans they actively work with across villages in the Patiala-Nabha region of Punjab.
"Due to the advent of machine-made embroidery, these artisans and their livelihood are at significant risk.
"Phulkari is not just a source of income for them but also central to the cultural heritage of South Asia," says Nivi.
The intent of the campaign is to:
1. Educate the audience about the history and current status of phulkari as a tradition and about the lives of the poor rural artisans.
2. To ensure the artisans get their fair share of profit through empowerment.
3. To create a sustainable, profit sharing, community-based approach.
Moreover, it is to help the phulkari artisans receive the right medical help and aid.
Like any profession, they too suffer from typical occupational hazards such as failing vision due to minute needlework and spondylitis/musculoskeletal issues.
Often, these issues are not diagnosed and treated well in time, costing artisans their productivity not only with phulkari, but also in their daily routines.
The funds collected through the campaign will be used to buy vision-corrective glasses for the artisans and neck collars/braces, crepe-bandages, etc.
They will also be used to purchase better-quality thread, cloth, stencils, wooden embroidery frames, and needles and to give them access to better lighting conditions to ease work and their lives.
A growing movement
"Virsa is an organisation second.
"First, it's a movement to join the 'haves' with the 'have nots', to help understand that a $100 pizza party with friends could mean an annual fee for educating a rural child in India.
"Such organisations already exist.
"But more are needed so that we can actually distance ourselves from the glamour of corporate lives.
"Get our hands dirty in the real world where a majority of the emerging populace continues to live and wage a battle to get the extra dime for their hours and hours worth of hard work," says Nivi.
Virsa is waging a battle against the ridiculously low prices for which handicrafts are on offer.
With low levels of self-confidence and literacy and the inability to negotiate, rural artisans cower under and accept the pittance being offered.
Organisations such as Virsa exist such that super normal profits earned by intermediaries are eliminated/minimised for a healthier, more artisan-fair and artisan-friendly supply chain to be created.
The social impact Virsa has created so far is via discussions and workshops with the artisans.
"It is clear that they feel more confident if they have more organisations like us come and interact with them -- they know they can lean on us not just for phulkari-related support, but also for conversations around challenges in their daily lives.
"With the 45 artisans we support via workshops, Virsa has also purchased over 20 pieces of phulkari at above-market prices in order to create seed inventory for exhibitions on behalf of the artisans,"explains Nivi.
In the ideal scheme of things Virsa envisions, artisans earn/benefit at three distinct stages -- the point of procurement, point of profit, and at the point of donation in kind via fundraising appeals.
With the revival of lost patterns being the central part of its mission, Virsa thus far has been able to recreate one pattern -- darshan dwar, the devotional phulkar -- with the help of one of their young artisans.
Nivi is also looking for avenues to formally register a sister concern in the US.
"There are empathetic individuals around the world who feel greatly for the cause of rural artisans, but the only problem is that they are hesitant to part with a fair price for handcrafted pieces that would have taken up to 800 hours of painstaking labour."
Virsa also has a website that Nivi has built from scratch, while her mother conducts artisan workshops on various topics like math 101, self-confidence, and negotiation techniques.
This organisation uses zero machines and is eyeing setting up a complete commercial supply chain.
Other plans include holding a second exhibition in USA, launching a coffee table book to document real stories of their artisans, and participating in a ceremony in California this October where Virsa phulkari pieces will be showcased by brides.