'Life is too short to be living someone else's dream,' Hugh Hefner had once said.
Remembering the founder of Playboy magazine.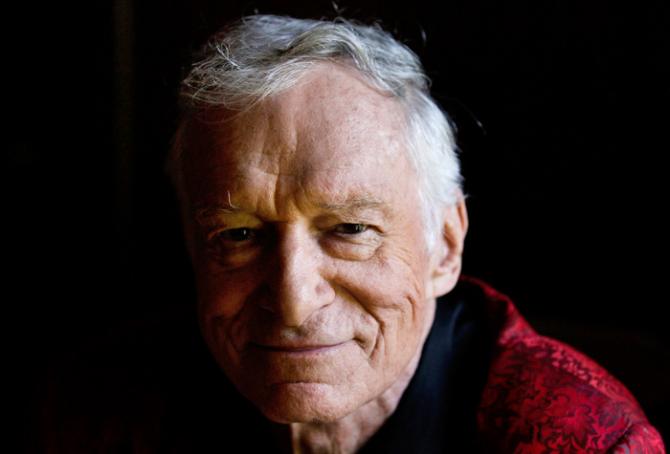 Photograph: Lucy Nicholson/Reuters
Playboy founder Hugh M Hefner, the pipe-smoking hedonist, who revved up the sexual revolution in the 1950s and built a multimedia empire of clubs, mansions, movies and television, symbolised by bow-tied women in bunny costumes, has died at age 91.
Hefner died of natural causes at his home surrounded by family on Wednesday night, Playboy said in a statement.
"Hugh M Hefner, the American icon who in 1953 introduced the world to Playboy magazine and built the company into one of the most recognisable American global brands in history, peacefully passed away today from natural causes at his home, The Playboy Mansion, surrounded by loved ones. He was 91 years old," the statement read.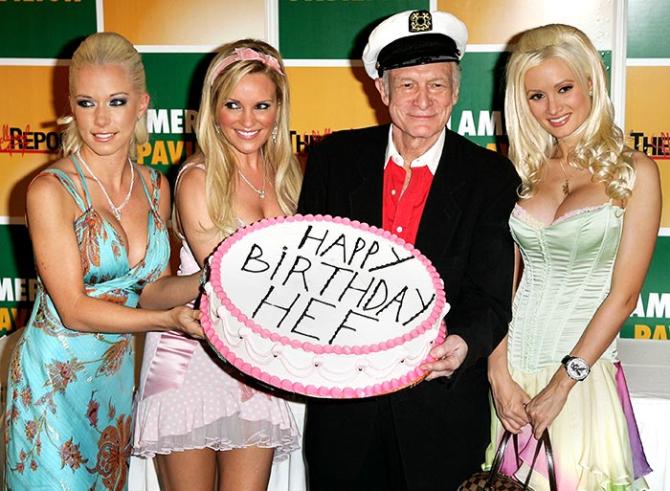 Hefner with his playmate girlfriends Kendra Wilkinson, Bridget Marquard and Holly Madison as they celebrate his 80th birthday.
Photograph: Gareth Cattermole/Getty Images
Hefner's son Cooper also issued a statement in which he traced back his father's journey into spearheading a sexual revolution, along with freedom of expression in the US.
"My father lived an exceptional and impactful life as a media and cultural pioneer and a leading voice behind some of the most significant social and cultural movements of our time in advocating free speech, civil rights and sexual freedom."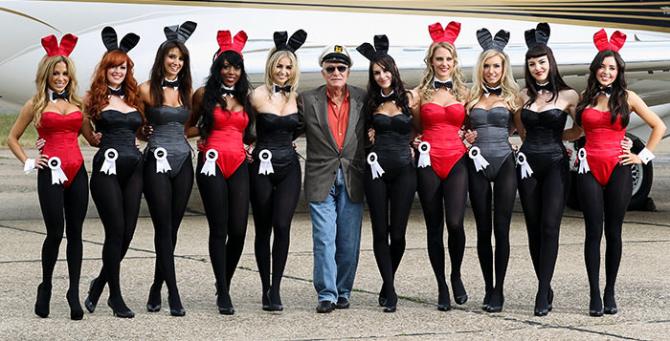 Hefner at Stansted Airport on June 2, 2011. The photograph is a recreation of a picture originally taken in the 1960s, with ten of the new London Bunnies.
Photograph: Dan Kitwood/Getty Images
"He defined a lifestyle and ethos that lie at the heart of the Playboy brand, one of the most recognisable and enduring in history. He will be greatly missed by many..." Cooper, 26, said of his father.
Hefner founded Playboy with the aim to create a niche and upscale magazine for men -- which offered a spread of images of nude women, along with detailed write-ups, interviews and fiction by many a well-known writers.
The magazine came to be recognised by its logo of the bunny face with a bow tie. According to reports, he started the magazine with USD 600 and another USD 1,000 that he borrowed from his mother, Grace.
In its first year, Hollywood icon Marilyn Monroe featured as a Playmate on the first centrefold of the monthly magazine, which was a special feature.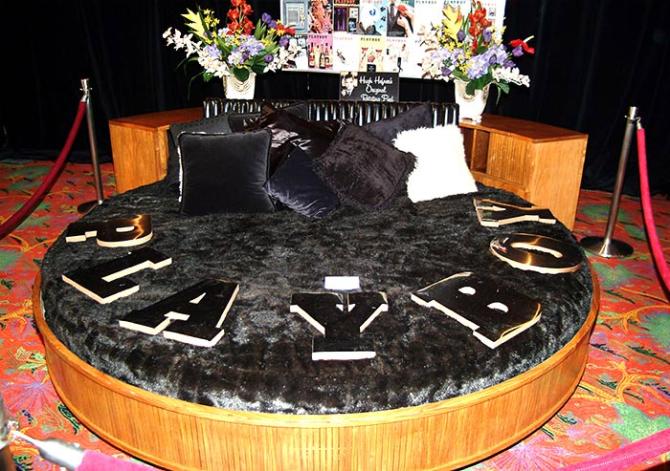 Hefner's famous rotating bed on display at the Christie's Auction preview.
Photograph: Bryan Haraway/Getty Images
As much as anyone, Hefner helped slip sex out of the confines of plain brown wrappers and into mainstream conversation.
In 1953, a time when states could legally ban contraceptives, when the word 'pregnant' was not allowed on 'I Love Lucy,' Hefner published the first issue of Playboy, featuring naked photos of Marilyn Monroe (taken years earlier) and an editorial promise of 'humor, sophistication and spice.'
The Great Depression and World War II were over and America was ready to get undressed.
Playboy soon became forbidden fruit for teenagers and a bible for men with time and money, primed for the magazine's prescribed evenings of dimmed lights, hard drinks, soft jazz, deep thoughts and deeper desires.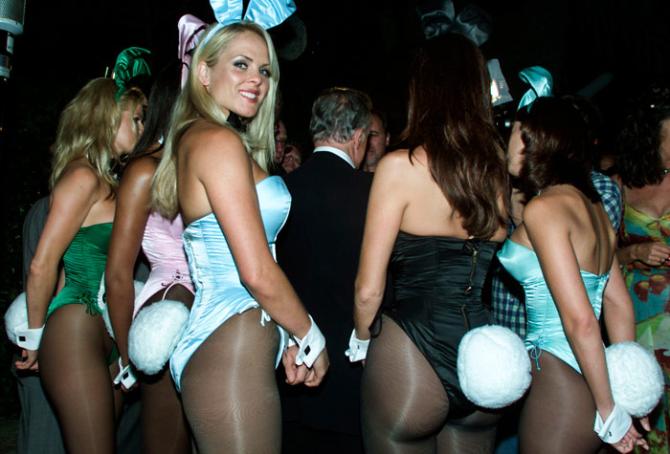 Hefner is surrounded by Playboy Bunnies as he is interviewed by television crews in 2000 at the Playboy Mansion in Beverly Hills.
Photograph: Fred Prouser/Reuters
Within a year, circulation neared 200,000. Within five years, it had topped 1 million.
By the 1970s, the magazine had more than 7 million readers and had inspired such raunchier imitations as Penthouse and Hustler.
Competition and the internet reduced circulation to less than 3 million by the 21st century, and the number of issues published annually was cut from 12 to 11.
In 2015, Playboy ceased publishing images of naked women, citing the proliferation of nudity on the internet.
But Hefner and Playboy remained brand names worldwide.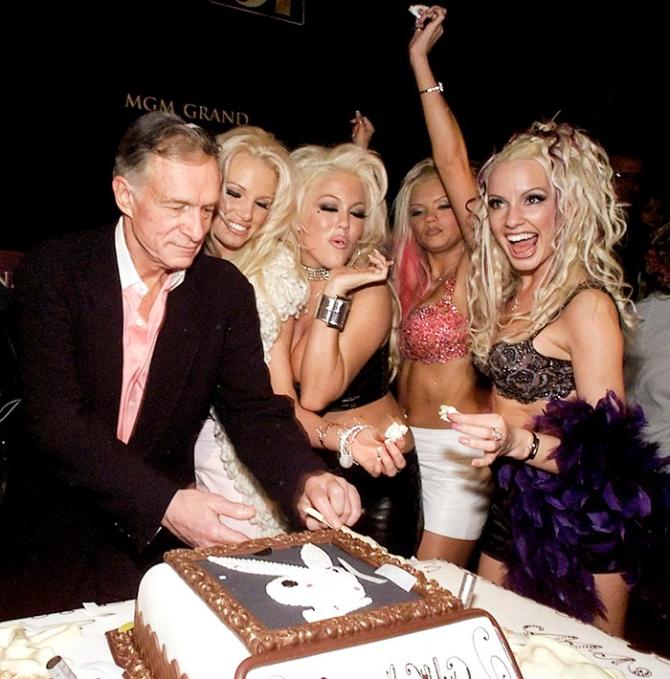 Hefner cuts his birthday cake as four of his seven girlfriends, Tina Jordan, Tiffany Holliday, Buffy Tyler and Regina Lauren, look on during his 75th birthday party.
Photograph: Ethan Miller/Reuters
Asked by The New York Times in 1992 of what he was proudest, Hefner responded: "That I changed attitudes toward sex. That nice people can live together now.
"That I decontaminated the notion of premarital sex. That gives me great satisfaction."
Hefner ran Playboy from his elaborate mansions, first in Chicago and then in Los Angeles, and became the flamboyant symbol of the lifestyle he espoused.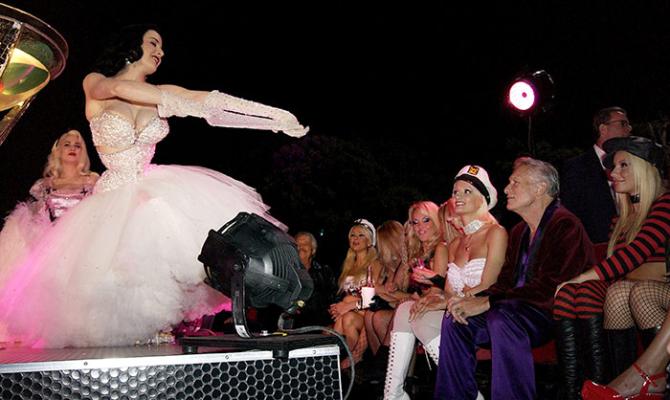 Actress/model Dita Von Teese performs a strip tease for Playboy founder Hefner at the official launch party for Spike TV at the Playboy Mansion on June 10, 2003.
Photograph: Robert Mora/Getty Images
For decades he was the pipe-smoking, silk-pajama-wearing center of a constant party with celebrities and Playboy models.
By his own account, Hefner had sex with more than a thousand women, including many pictured in his magazine.
One of rock n' roll's most decadent tours, the Rolling Stones shows of 1972, featured a stop at the Hefner mansion.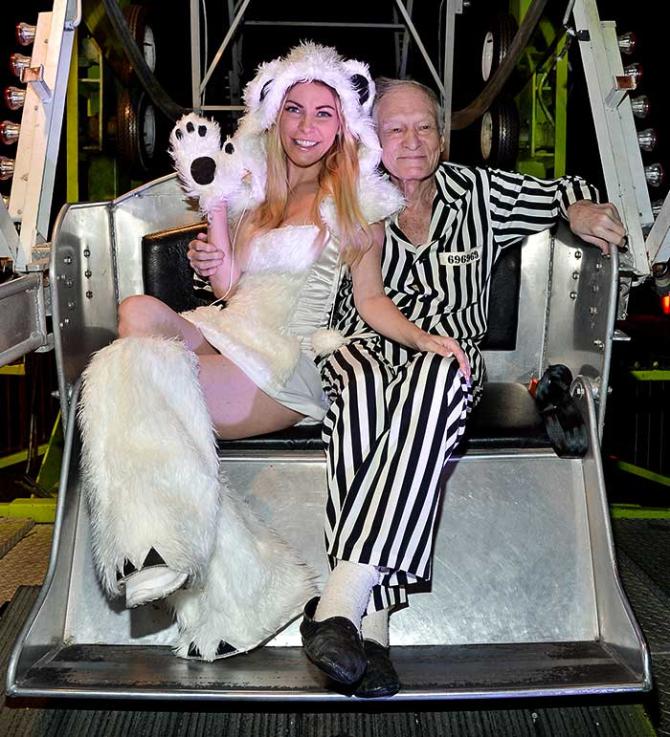 Model Crystal Hefner and Hugh Hefner attend the annual Halloween Party at the Playboy Mansion in 2015.
Photograph:

Charley Gallay/Getty Images
Throughout the 1960s, Hefner left Chicago only a few times.
In the early 1970s, he bought the second mansion in Los Angeles, flying between his homes on a private DC-9 dubbed "The Big Bunny," which boasted a giant Playboy bunny emblazoned on the tail.
Hefner was host of a television show, Playboy After Dark and in 1960 opened a string of clubs around the world where waitresses wore revealing costumes with bunny ears and fluffy white bunny tails.
In the 21st century, he was back on television in a cable reality show The Girls Next Door with three live-in girlfriends in the Los Angeles Playboy mansion.
A glimpse into the flamboyant life of Hugh Hefner.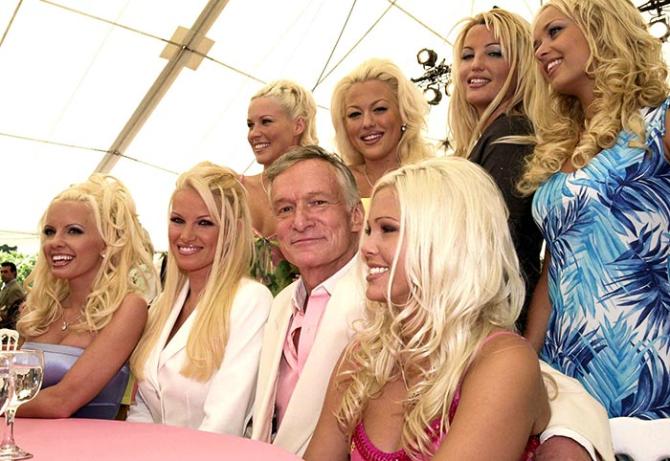 Hefner with some of his friends at his mansion. He loved to throw parties. Back in 2001, his n

eighbors complained to authorities about the seemingly endless round of parties at the mansion, counting 22 big parties over a three-month period.


Photograph: Chris Weeks/Reuters