"Men try to dominate a room with their loud voices
"Some men even try to make fun of a question asked by others;
"Sometimes women are met with a condescending attitude from their male peers.
"Men have even used inappropriate language at forums and that keeps these women away from technical meets.
"Some men tend to think that women are not capable of technical work.
Apoorva Giri who is empowering women to pursue their careers talks about her inspiration and the challenges that lay in her path...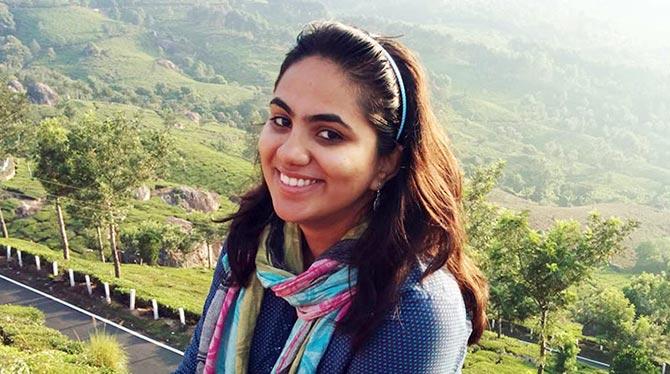 When she was in the sixth grade and studying in Delhi, Apoorva Giri had the opportunity to meet the then President of India, Dr APJ Abdul Kalam.
During the meet, he asked the kids what they wanted to become.
When a small girl replied that she wanted to become a lawyer because she loved to argue, Dr. Kalam said, "Yes, we should do what we love."
This saying has been etched in Apoorva's mind till date.
"I guess it led me to choose the profession in which I am today."
Apoorva is currently working as a security analyst at Iviz Security, a cloud-based application company.
She has been in this field for a little more than one-and-a-half years.
She is also an ethical hacker and the face behind InfoSec Girls, a community of women, for women, passionate about information security.
She co-founded it with another ethical hacker, Shruthi Kamath.
Apoorva is also a part of various security communities and forums. She draws strength and motivation from her parents.
She is a voracious reader, a habit inculcated by her father.
The father and daughter duo have a dedicated book shelf each in the house.
"I want to read as many books on as many topics as I possibly can," she says.
She loves fantasy but is currently reading on world economy.
Here, she tells us more about her work and her efforts to rope in more women into the realm of information security.
Growing up across India
Though Apoorva is from Bangalore, yet due to her father's transferable job, the family moved to different states every three years.
She has spent her childhood across the country and studied in Delhi and Andhra Pradesh.
"As a result, I learnt to make friends easily and pick up new languages."
She is fluent in English, Hindi, Telugu and Kannada and, speaks a little Tamil, too.
When in seventh grade, she moved back to Bangalore and has stayed there ever since.
She was also actively into sports and extra-curricular activities till her college days. She learnt boxing in school.
"Boxing was a compulsory sport at my school for both girls and boys. I learnt amateur boxing for four years. I also started learning to play the veena but lost touch in between. I hope to pick up where I stopped one day."
She did her PU from Jyoti Nivas College (JNC) and did her BE in Information Science from MVJ College of Engineering.
In her final semester of BE, a good friend told her about the course on ethical hacking being held at a particular institute.
Apoorva was curious to know more about this course and went to enquire about it.
She found the syllabus very interesting and joined the course immediately.
Due to the hectic college work, she had to discontinue the course for a while but once college was over, she went back to finish the course.
"I applied to iViZ, got selected and there has been no looking back since then."
Starting InfoSec Girls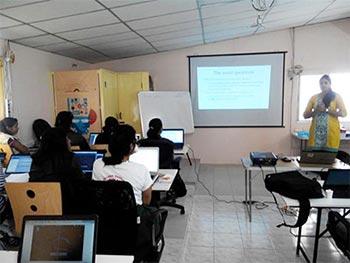 Low participation in communities like Null (an online community that caters to researchers, hackers and security professionals) urged Apoorva and her friend to get down to some action.
"Just like beginners to a community are intimidated and confused by the already existing community and the level of technical expertise, and need hand-holding, we believe that by providing a safe, comfortable and pleasant environment, exclusively for women, we can attract more of them in to our community and thus tackle the low numbers we are seeing at present. We are doing different types of events (workshops, talks, hands-on sessions, playing guided CTF challenges). We have received extremely positive responses at all our events. Some even asked us to conduct such events again."
In India, these are first-of-a-kind workshops exclusively for women in information security .
"As it is with women in technology, the number of women in InfoSec Girls is also quite low.We are trying to address this by conducting more women-centric workshops and events to encourage women. We meet someone new every time we conduct events. The demand for InfoSec professionals is only set to rise and we want women to constitute a good chunk of that workforce," says Apoorva.
Their first event was a workshop at C0c0n 2014, an annual Information Security conference held in Kerala and the next was an event organised in association with HasGeek in Bangalore.
"We got noticed by a company at Nullcon and were invited to speak at the company's Bangalore office on the occasion of Women's Day celebrations," she adds.
Challenges
When I initially joined this field, I felt so intimidated by the people I worked with because they knew so much more than me!
I would feel that I had so much to learn. I would read a lot just so that I could understand what they were talking about that day in the office.
That changed my attitude towards my work.
Even though I still feel like I have so much to learn, I know that it's a part of my work now to keep myself up-to-date with the latest happenings in my field, she says.
Women holding back
According to Apoorva, women tend to hold back from expressing themselves boldly or participating actively at technical meets for a number of reasons.
Some of the samples she gathered from her own event feedback and through experience include -- men try to dominate a room with their loud voices; some men even try to make fun of a question asked by others; sometimes women are met with a condescending attitude from their male peers.
Men have even used inappropriate language at forums and that keeps these women away from technical meets.
Some men tend to think that women are not capable of technical work.
In such cases, office policies to sensitise men can help women feel equal.
"As one can sense, these days there is a greater push for equal rights for women.
"We understand, it can be difficult to start out in one's career without a mentor, that's why we are here to provide guidance.
"I am very grateful for the great mentors I have, who have helped me a lot and still continue to do so."
According to Apoorva, she can see the number of women increasing and she hopes this continues.
This is certainly an encouraging sign.
She adds, "I personally know two women who have built their own tools (shout out to Anamika Singh and Harshal Jamdade). Anamika's tool Wi-Hawk is an open source tool for auditing a range of IP addresses to sniff out Wi-Fi routers which are configured with default admin passwords. Harshal's tool XMLChor is built to exploit XPATH Injection. Their work is so inspirational. I think women are capable of many great things once they leave behind their hesitation and fear and choose a career path they want."