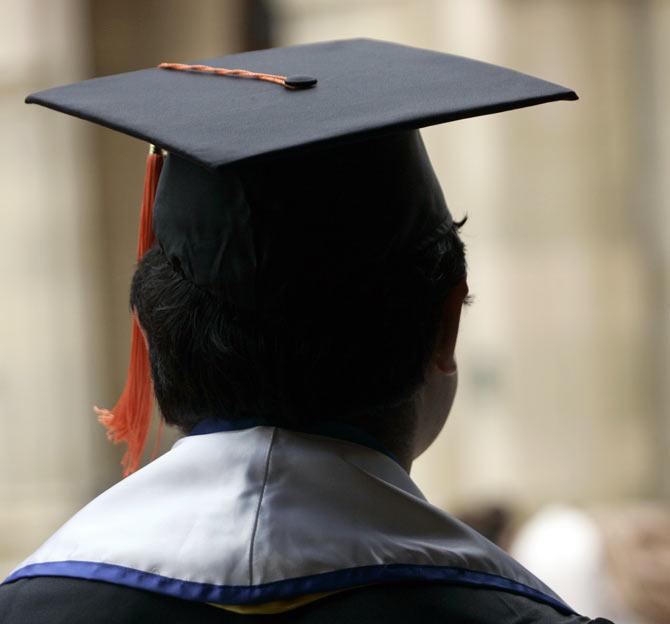 Every year, the Rhodes Trust awards a maximum of 32 scholarships for students who have an outstanding academic record and display commitment towards common good.
These students are awarded an opportunity to pursue a course of their interest at the University of Oxford.
This year's list of Rhodes scholars includes four Indian-origin students.
Arthur J Pais reports who these students are and what they intend to do with the opportunity...
Maya Krishnan, a senior majoring in Philosophy with minors in Computer Science and Classics, is not only a voracious reader of classics including philosophical works, but is looking at a career that will combine science and humanities.
Last week she became one of the 32 Rhodes scholars, winning in the most vigorously contested scholarships in America. The winners who will be studying at Oxford University also include Sai P Gourisankar, Anisha Gururaj, and Abishek K Kulshreshtha.
Krishnan is an oboist, and has worked as a technology scientist for a non-profit serving children in some of Washington, DC's most at-risk neighbourhoods. At Oxford, Maya intends to do the MSt in Theology and MSc in Social Sciences.
Rhodes Scholars are chosen not only for their outstanding scholarly achievements, but for their character, commitment to others and to the common good, as per the Rhodes Trust and for their potential for leadership in whatever domains their careers may lead.
The Rhodes Trust pays all college and university fees, provides a stipend to cover necessary expenses while in residence in Oxford as well as during vacations, and transportation to and from England, the Rhodes Trust said in a statement. It estimates that the total value of the Scholarship averages $50,000 per year and up to as much as US$200,000 for scholars who embark on a five year study at Oxford.
Prominent among Indian American Rhodes scholars are Atul Gawande, who studied public ethics and philosophy there, and went on to study medicine and public policy at Harvard. He is a surgeon, a professor and bestselling author of such books as Being Mortal.
MIT senior Anisha Gururaj, and three other students designed a low-cost blood warmer that can be used in the military to prevent soldiers from dying of hypothermia.
She majors in Chemical and Biological Engineering and minors in Energy Studies and her career interest is to develop affordable bio-medical devices for both the US and developing world, as per Rhodes Trust. She also published an investigative report in an MIT publication on the experience of trauma surgeons faced following the Boston Marathon bombings.
She told a news agency she is keen in creating devices that are user-friendly and often implemented in low-income and low-resource areas.
Gururaj said she is eager to work in Oxford's collaborative setting to learn about other factors in global health, like public policy, economics, and cultural differences.
According to a press release from the Rhodes Trust, Sai P Gourisankar is a senior at the University of Texas, where he will graduate in May with a BS in Chemical Engineering and a BA in Plan II Liberal Arts. He also has a minor in German. He is a Goldwater Scholar with a 4.0 across multiple disciplines.
He has several publications relating to his work in nanotechnology, particularly relating to nanoclusters. He is also president of an organisation that fosters discussion between the humanities and the sciences.
At Oxford, Gourisankar plans to do the MSc in Mathematical Modelling and Scientific Computing and the MSc in Mathematical and Theoretical Physics.
Abishek K Kulshreshtha, Grapevine, Texas is a senior at Brown University where he majors in Physics. Much of his work in theoretical physics is focussed on the creation of a quantum computer that would make computations exponentially faster, and toward the goal of better understanding of biological processes, as per the Rhodes Trust.
He is president of Brown Model United Nations and founder of the Providence Public Schools Model United Nations. He is also a peer advisor, a pianist, a cyclist, and a teaching assistant and mentor in local schools. He has strong interests in improving educational opportunity and community health. He plans to do a DPhil in Theoretical Physics at Oxford, Missouri.
Photo: Jonathan Alcorn/Reuters
ALSO SEE