Did you know Nina Davuluri is one of the MOST successful Miss Americas ever?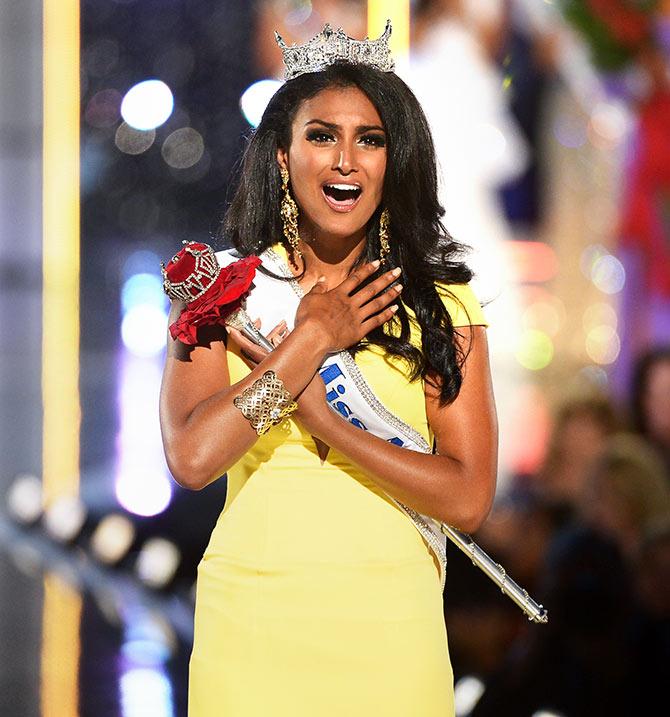 In 2015, Sam Haskell, executive chairman and chief executive officer, Miss America -- speaking to Rediff.com about the continuing successes of the first Indian to win the Miss America crown -- had said, "Nina has had one of the most successful post-year experiences of any of our Miss Americas because she has worked so hard and had made such great contacts and relationships during her year that a lot of the people who worked with her then wanted to continue working with her... We're just so incredibly proud of her."
The people who wanted to continue working with Nina Davuluri included the Miss America Organization, which has just announced that she will be on the panel of celebrity judges -- along with the likes of actress Molly Sims, pop star Jordin Sparks and People magazine Editor in Chief Jess Cagle -- for the Miss America finale on September 10.
"I understand all too well the emotions of stepping on to the Miss America stage," Davuluri said in a statement. "I'm honored to be able to help shape the legacy of the Miss America Organization over the next year."
Nina's Davuluri's legacy so far
Watch Nina Davuluri's take on being the face of America's furture.
Video: Dominic Xavier/Rediff.com.
Nina Davuluri built a solid legacy since becoming Miss America.
Haskell told Rediff.com, "[Nina's year of service] was the most incredible year that I can imagine. She was hardworking, she was innovative in her thought processes."
As the first Miss America to have a background in a STEM-related field, Davuluri -- before she became Miss America, she wanted to become a doctor -- was passionate about encouraging other young women to pursue a path in STEM.
Haskell said, "She did an incredible job for us promoting our STEM initiative, which is Science Technology Engineering and Math. Because of her own background and because she is so well-spoken, we put together one of our most successful college tours that we've ever had in working with the Department of Education and Secretary Arne Duncan, and in putting the importance of STEM out there, especially STEM for young women."
He added, "Nina could not have been a more perfect representative for us in that; plus she's so beautiful and elegant that on the red carpet events that we book her for, she gets lots of attention. She's also probably one of the sweetest people I know.
"I really believe that the fact that Nina came from a background of diversity enhanced her year as Miss America. I think it brought great interest to our brand to have the first Indian American Miss America, and I think that because she was so beautiful and so well-spoken, so intelligent, not only does she represent those of her heritage, but she set a new example for lots of other diverse people in country to look at her as role model."
Even after her year as Miss America, Davuluri continued promoting the importance of STEM education, particularly among girls. She also worked with multiple non-prifts in America and India, including the Girl Rising campaign.
And she impressed the The Miss America Foundation Board, which administers our scholarships and comes forward with fundraising ideas, so much that they put her on the board. Haskell said, "She is the first Miss America to join the board because I thought who better to represent us in those initiatives. So I brought it before the board and she was selected unanimously."
Davuluri is now the host and producer of Made In America, a weekly reality show on ZeeTV Americas.
However, like other beauty queens, Davuluri has know Bollywood aspirations.
She had earlier told Rediff.com, "I think one of the most interesting stereotypes I've had to battle this whole year is, especially when going to India, people say, 'So when are you going to be in a Bollywood movie?' As much as I love Bollywood and respect it, it's not something that I want to do.'
What she did want to do was pursue MBA and dual degrees in public policy/international relations to prepare her for bigger things: "I definitely see myself in the political arena."
Recommended for you: