Recently school children from across India flew down to Manipal University in Udupi, Karnataka to display their innovative solutions to day-to-day problems.
Teenovators 2015 is an initiative by Manipal University in association with INK had school kids from classes 9 to 12 showcasing interesting innovations like robots that can clone human efforts, micro-controlled farming techniques and piezoelectric powered trains.
Over 400 schools from nine cities across India took part in the contest, and eight schools -- from Bangalore, Kolkata, Udupi, Chennai, Chandigarh, Delhi, Hyderabad and Pune -- reached the finals.
A panel of five judges analysed each of the products for novelty of project idea; solution recommended; scale of impact; replicability, and students' involvement and understanding.
Air Force School, Bangalore was declared winners of Teenovators 2015 for their project Cloneators.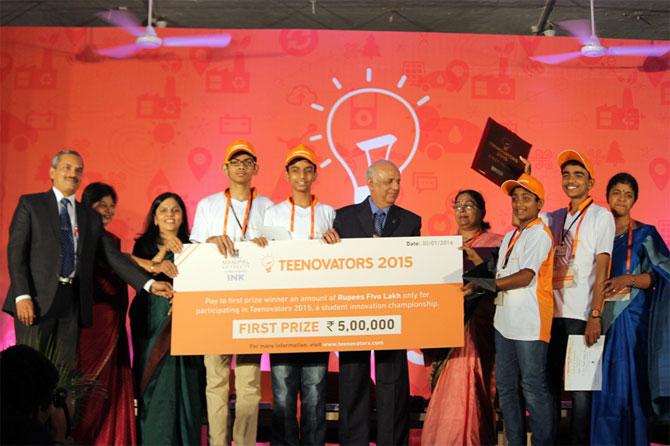 They won Rs 5 lakh as prize money, while the second prize (Rs 3 lakh) was bagged by Garden High International School, Kolkata for ' Harvesting Peizoelectricity to Partially Light Up Train Compartments.'
The third prize, worth Rs 1 lakh, went to Bhartiya Jain Sangathan College, Pune for their project 'Electromagnetic Effect on Plant Growth.'
Consolation prizes of Rs 50,000 each went to St Columba's School, Delhi and Iqbalia International School, Hyderabad.
Presenting the eight teams and their innovative projects:
1. Innovation: Clone Robots
Team: Udhith Raju K M, Priyesh Tiwari, Ashish S and P Kiran Kumar
Air Force School, Hebbal, Bengalaru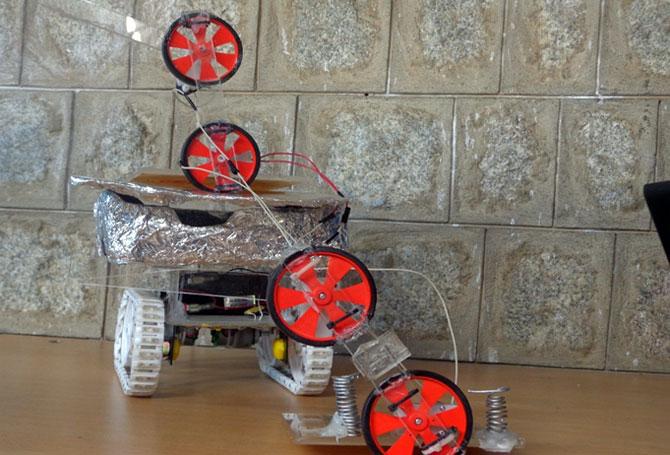 'Cloneator' is based on the principle of one robot cloning another control robot.
By mimicking the actions of the Master robot, a Slave robot could be used for performing hazardous tasks.
The young students presented various applications of their innovative concept including robotic prosthetics as well as in the defence forces.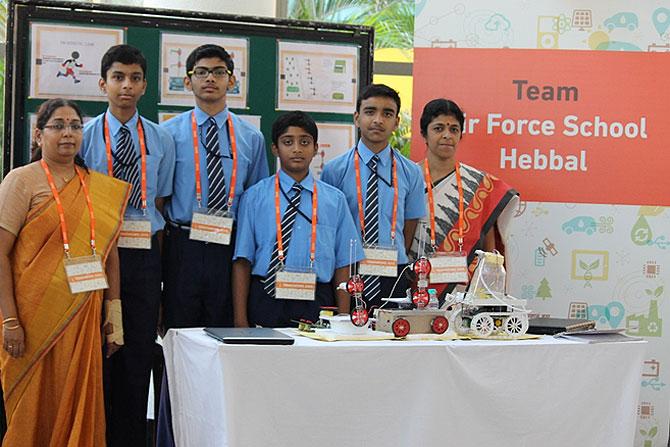 2. Innovation: Piezoelectric power generation in trains
Team: Tanisha Sarkar, Ishaan Chatterjee, Suchismita Paul, Arani Acharya and Shaunak Saha
Garden High International School, Kolkata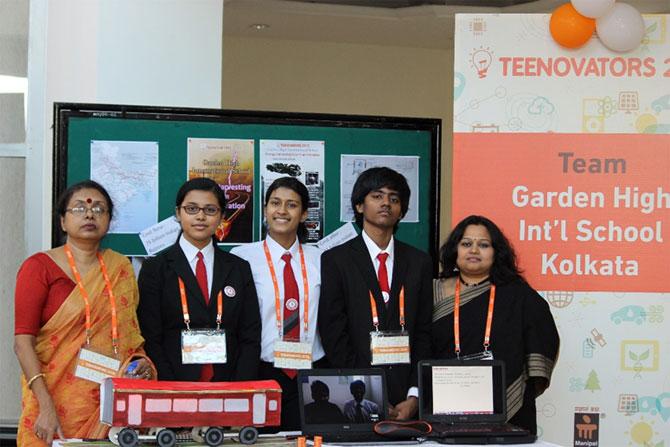 The team displayed how to generate sufficient power to light up train compartments and reduce the Rs 75 billion spent on electricity by the Indian Railways.
The piezoelectric materials fixed in the shock absorbers and coupling dampers of a train can convert electric signals thus produced by running trains.
This also reduces the carbon footprint, maximises use of energy resources as well as drastically reducing the budget of the Indian Railways.
3. Innovation: Electromagnetically charged seeds
Team: Vishnu Yadhav, Onkar Gaikwad, Dhanashree Pawar, Priyanka Kolte, Anjali Wagaskar and Priyanka Shah.
Bharatiya Jain Sanghatan Junior College, Pune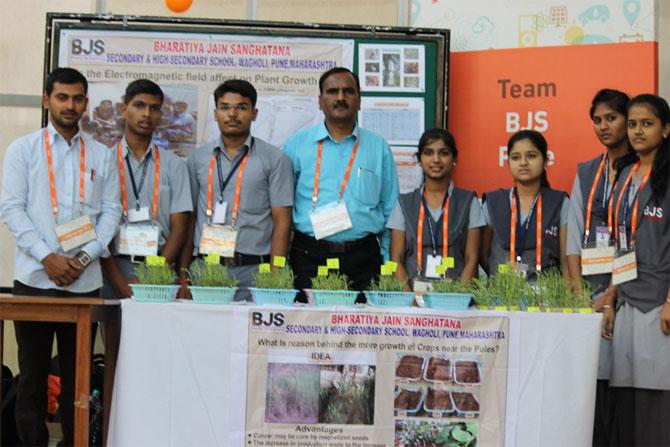 Electromagnetically charged seeds can dramatically increase farm output.
"By using these magnetised seeds, farmers can grow more and increase their crop yield. They will save a lot of money. The government should pick it up so that farmers don't suffer losses and there is a reduction in farmers' suicide," said a team member.
4. Innovation: Addressing Iron Deficiency amongst Women in India
Team: Mohammed Hisham Ullah Khan, Shifa Ismail, V Sri Charan, Asfia Yameen and Mohammed Huzefa Moinuddin
Iqbalia International, Hyderabad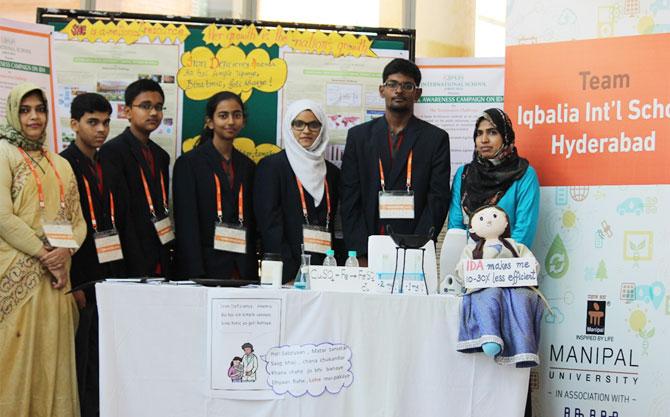 This team addressed anaemia, which is a silent killer among women in India, with a simple solution, which fortifies drinking/cooking water with Ferritin.
It is a simple process of heating elemental iron till it is red hot and dousing it in water used for cooking/ drinking.
The ferrous and ferric ions released in water are absorbed by the body to cure anaemia.
5. Innovation: Micro-controlled Farming Solution.
Team: Pratulya Rajan, Aditya Singh, Mayank Singhal, Sneheil Saxena and Adeel Shams
St Columba's School , Delhi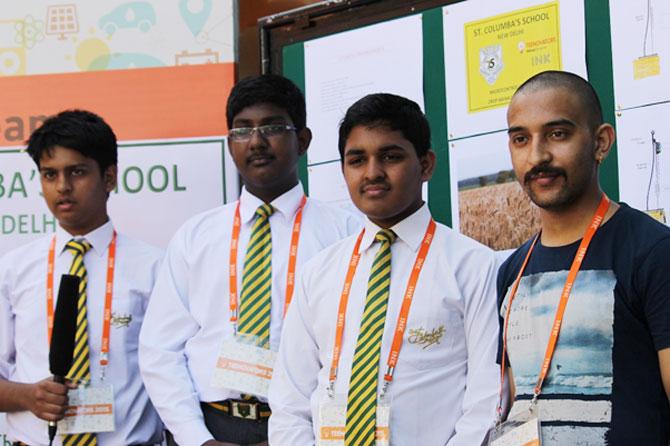 The team came up with micro-controlled farming solution.
The solar-operated device consists of a microcontroller which senses the soil, environmental temperature, intensity of sunlight, soil humidity, pH sensor and activates a water controller.
6. Innovation: Desalination of Sea Water
Team: Ishan, Anjali Bhalla, Abhishek Malhotra, Akash Garg and Srishti Sudan
St Soldier's School, Panchkula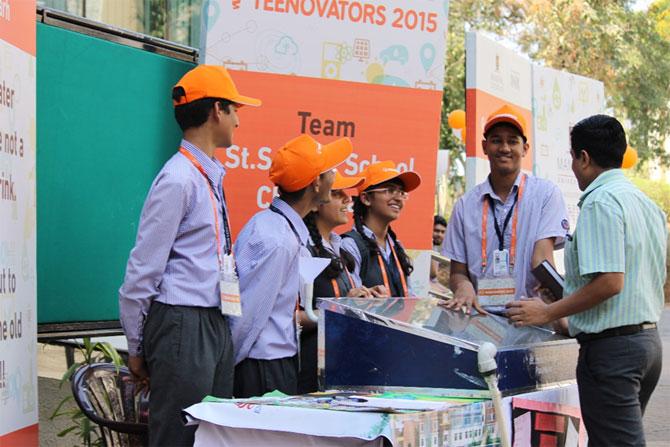 This team suggested a low cost solar still using which sea / brackish water can be desalinated to produce fresh water, fit for human consumption or irrigation.
Filled with small quantity of brine at the bottom of the still When seawater is filled in the still and exposed to sunlight, brine produces water vapour, which is allowed to condense in a collector basin.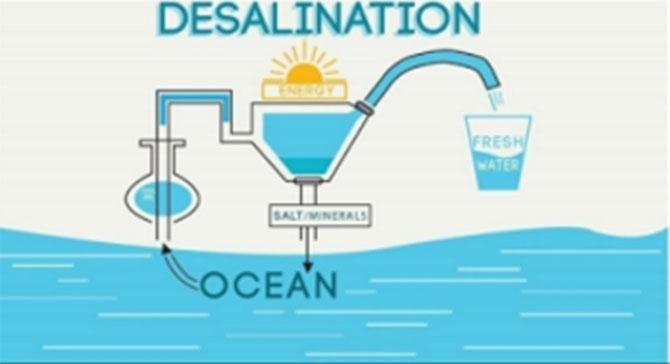 7. Innovation: Suraksha Kawach
Team: C Vijayakrishna Achary, Rakshith R Mallya, Shravya Shetty, Narayana V Sabhahit, Harshitha Phatak
MGM PU College, Udupi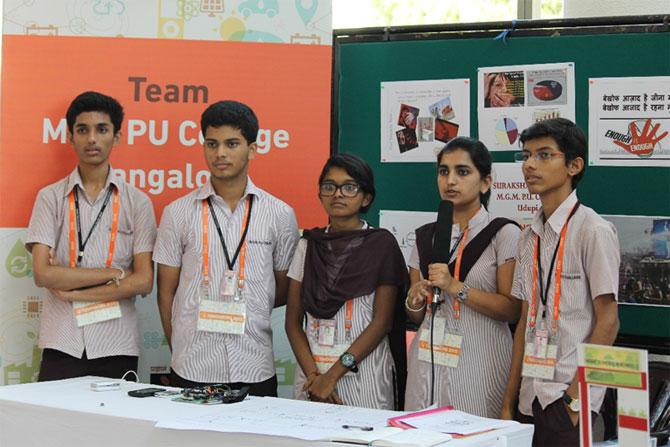 This team focussed on safety of women. Existing solutions are predominantly smart phone based and require a cellular network / GPS for being effective.
This team has come up with a Suraksha Kavach which can be worn on the wrist like a watch and could raise an alarm at the press of a button.
It has a GSM, GPS and a camera embedded in it and is a low cost device.
8. Innovation: Plastic Concrete
Team: S Varsha Sri, Syed Junaid, S Jaikarthick, S Deepthi and G Viswapriya
Velammal Vidyashram, Chennai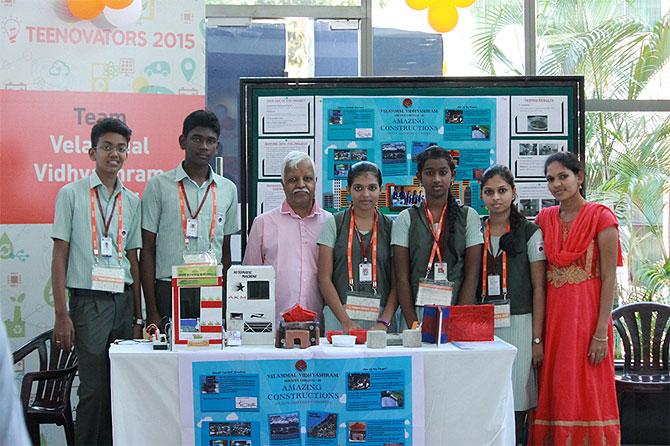 This team wants to use 'plastic concrete' for make-shift house construction.
Such blocks are light and can be assembled quickly to construct houses. They would also help reduce plastic waste pollution.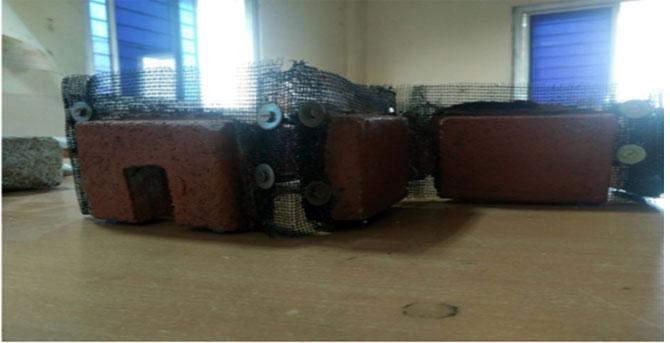 The method involves using recycled ground plastics, cement and sand in an iron grid and moulded together.
The design allows quick assembly using nuts and bolts.
ALSO SEE
31 amazing innovations from young Indians