Bullied in school for being skinny, singer and song-writer Chandrika Darbari is one of the few Brit-Asian music artists to break into the Western music scene.
Video and photographs: Hitesh Harisinghani/Rediff.com; Report: Anita Aikara/Rediff.com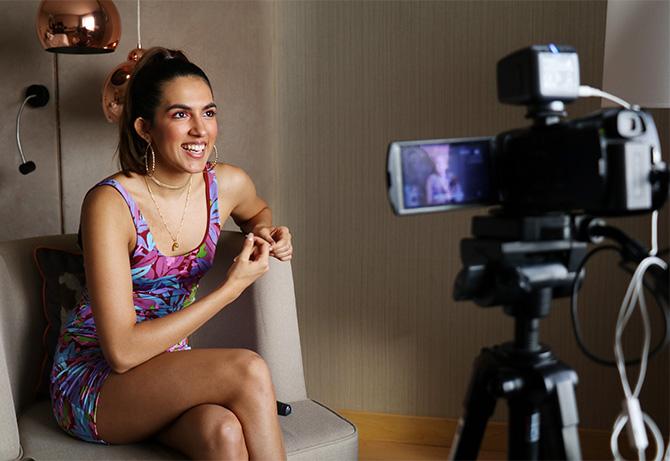 Rika wrote No Need

back in April 2017 and it has gone ahead to become a milestone in her career.
She is just 17 years old, but Chandrika Darbari aka Rika is a household name in UK.
In November 2017, she found herself on BBC Radio's pop chart for her debut single, No Need -- the single featured in BBC UK Top 10 New and BBC Top 10, alongside the likes of Ed Sheeran.
Through her pop number, Rika threw light on her history of being a victim of bullying.
"I was constantly bullied when I was younger, because I was skinny and had bad skin," she says.
"The song goes out to anyone who has experienced racism or has been bullied. They'll be able to relate to it," she adds.
The songs hook line says it all...'There's no need to be unkind, you got your own life, i've got my own life. Get on with your life and I'll get on with mine'.
Born to an Indian father and Serbian mother, Rika, who grew up in North London, started singing at the age of 12 when she used to perform musicals on stage in school.
While teens her age would suffer from stage fright, Rika enjoyed performing in front of a large audience, much to the surprise of her parents.
"My parents used to sit in the front row and with all their cheering, they would always embarrass me," she laughs.
From there, she moved to singing theater songs, but it was not really something she enjoyed -- so Rika just delved deeper into regular radio music.
BBC featured Rika on Asia's Artist of the Week list and her song has gone viral on YouTube with over 2,146,708 views in just four months since its release.
She is now in talks with labels in UK and India and is all set to release her first EP this year.
In an interview with Anita Aikara/Rediff.com she speaks of writing her first song at the age of nine, her journey as a musician, finding support in her parents and her Indian roots.
The first song
The first time Rika wrote a song, she was just nine years old. The song was dedicated to her father.
"I wrote it over the top of Mariah Carrey's All I Want For Christmas. I just tweaked the lyrics.
"My dad used to travel a lot, so I wrote this song...'Come home dad for Christmas, you haven't really started Christmas, for it is the holiday time.'
"It's easiest to write songs based on inspiration -- it could be something that happened to someone you know or something you have seen on radio or TV.
"For people to connect with the song it has to be sung from the heart. And when you have experienced something, it is a lot more easier to do it.
"This makes it easier for me to make music, the lyrics just come very naturally to me."
Last year, she also wrote a song on Syria called 'For the Peace in Syria'.
"The incident in Syria made a huge impact in my songwriting.
"The images of starving children kept coming in my head as I thought how undeserving they were of this treatment. I wanted them to have a peaceful life," she reveals.
Her song has got over a million views on YouTube.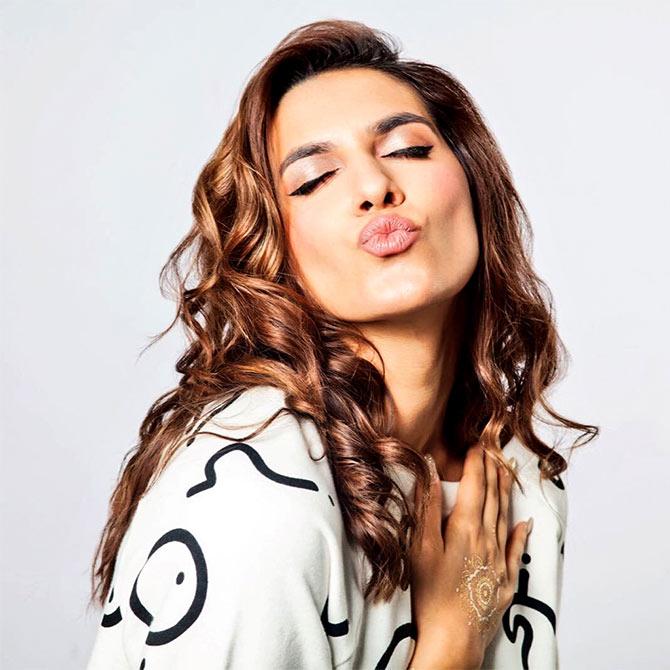 Since its release, Rika's
dance-pop number has debuted at No 82 on the Indian iTunes platform -- a first for any 17-year-old teen solo Brit Asian artist ever.
Photograph: Kind courtesy Rika/Twitter
Finding solace in music
Rika takes inspiration from artists across the world because, "Music is so diverse and to just take inspiration from the Western world would be so silly. Indian music itself has so much a variety to it," she says.
The lyrics of her latest song No Need send a message out to teens across the world to stop being unkind to people; to stop judging people based on how they look.
Released in September 2017, the song quickly climbed up the charts and Rika soon found herself in BBC Asia's Artist of Week.
"I wrote the song one night, when I couldn't sleep.
"It was like 3 am. I went down to the piano, really dramatically, taking small steps and started playing around with some chords.
"And then I started free styling and wrote the song in 10 minutes."
Her song goes like this:
"You are so damn obsessed with the way I dress and talk,
"With the way I move and walk, when you shouldn't give a…
"You are oh so out of line, with the way you spend your time,
"Asking what is yours versus mine, when you don't know where I've been, whom I'm with, what I'm doing..."
VIDEO: A sneak-peek into Indian-Brit singer Rika's new album.
She started playing the piano when she was 12 and her friends often called her 'chicken fingers' as she would place her fingers on the piano awkwardly.
"I continued to learn to play the piano until I was 15. I then took up to playing the guitar, but gave up eventually."
Rika grew up listening to Beyonce and Mariah Carey.
"I just feel that Mariah is such a big performer and she catches people's attention with her aura. That's what I aspire to be. I want to be an Indian superstar."
The journey from a shy girl to a pop-star
Seeing her energy and confidence on stage, it's hard to believe that Rika is a really shy, introverted girl in real life.
"I feel that if I'm shy on stage, I'll not be able to connect with my audience. I need to make myself look on steroids when I'm on stage.
"You don't know when your next performance will be. So you got to give it your best shot."
Quiz her about her name and she says, "My brother's name is Chandrash. It means that he is the moon and I'm being named Chandrika, am the moonlight.
"My name is like old Indian. You have probably not heard this name in a while, but Indians would relate to having a grandmother with this name."
So when did Chandrika change to Rika?
"I love my name. But my name almost gets butchered by most people. People, who are Indian can't pronounce the name properly.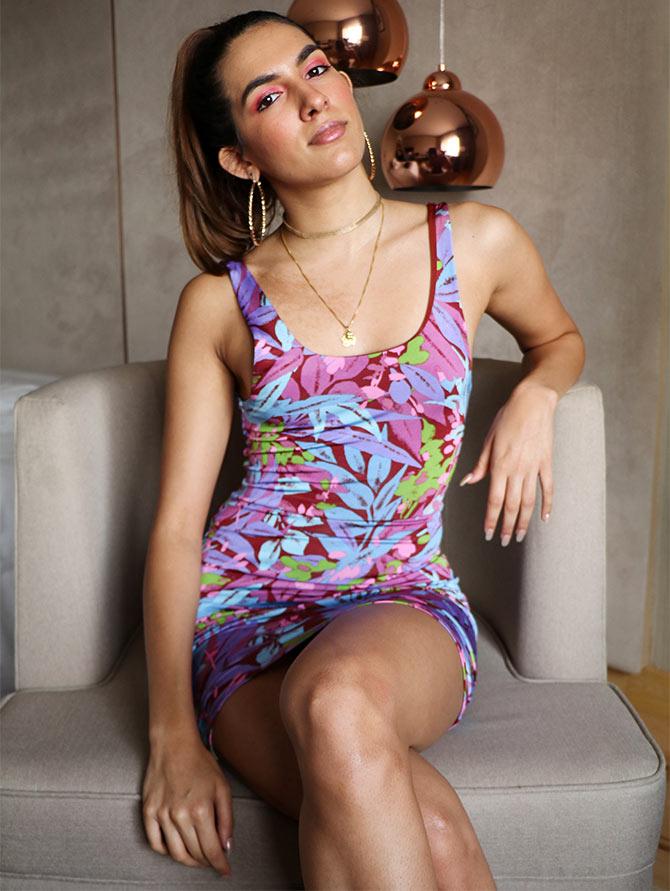 Last year, the young singer also penned a song For Peace in Syria - - a heartfelt track motivated by the violence in Syria towards the children that helped raised funds for UNICEF.
"So I just shortened it down. It is a lot more catchy too. My parents have been calling me Rika since my childhood."
She loves reading books and is geeky in many ways. When Rika was in school, she got straight As.
"I was quite unlike my siblings, who keep saying they hate school. I was that person who asked for extra homework at the end of the day."
Rika doesn't get to do that anymore as she's being home-schooled now. "I didn't have much of an option as I had to focus on music 100 per cent.
She reveals that it was her parents were the ones who convinced her into home-schooling.
Does she hate it? "Not at all! Home schooling is cool. I get to wake up really late in the morning," she laughs.
"I feel that if I was still in school, I wouldn't have been able to be where I'm now!
"I honestly don't think that I'd be able to write and song and do all the things that I'm doing because school sadly is 9 to 5. It's almost like a job on its own."
Rika hopes to be a role model for women of colour. She feels that there are fewer brown women in the global pop music scene and she can break into that mold.
"I want to represent them and be an inspiration for them.
"In five years, I want Indians to look up to me and say, 'If she can do that, so can we.'"
VIDEO: Indian-Brit singer Rika sings Tum Hi Ho for Rediff readers.
Indian roots
Rika's father has his roots back in India. Her paternal grandparents are from Agra. "It's a nice place. I have been there before."
Her father grew up in New Delhi. "My father has shown us his school and the neighbourhood he grew up in. Delhi is nice, but I like Mumbai better."
"I like to come to India and connect with my roots here.
"When I was younger, I went to an all-Indian school and grew up with a lot of Bollywood stuff. I had this cute Diwali book and my mother taught me the story of Diwali.
"I grew up celebrating all the Indian festivals like Janmashtami, Diwali, Holi, etc."
"My parents have always been supportive of me. They always thought my songs were so cute and nice. Even if it weren't a proper song and only few words that I had penned.
"They were like if this is what you want to do, then do it. They never forced me to go to university.
"The best time to be in the music industry is when you're young and when you can grow up in the industry itself.
"I feel like a really lucky person because I know my parents are behind me all the time.
What's next?
She wants to release an EP -- four tracks -- soon. "The New Year promises to have a lot of new music," she says.
"I am going to release my next single too. So keep an eye out for that!"
Her advice to youngsters is: "Believe in yourself, because no one is going too!
"You need to believe in yourself in the most. The most important thing is do what makes you happy."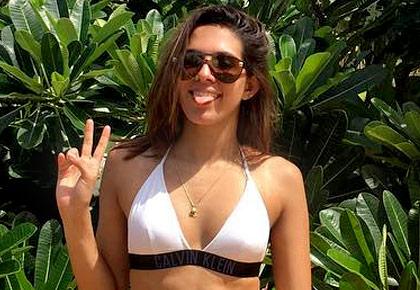 Lead photograph: Kind courtesy Rika/Instagram