Noyonika Chatterjee spills the beans.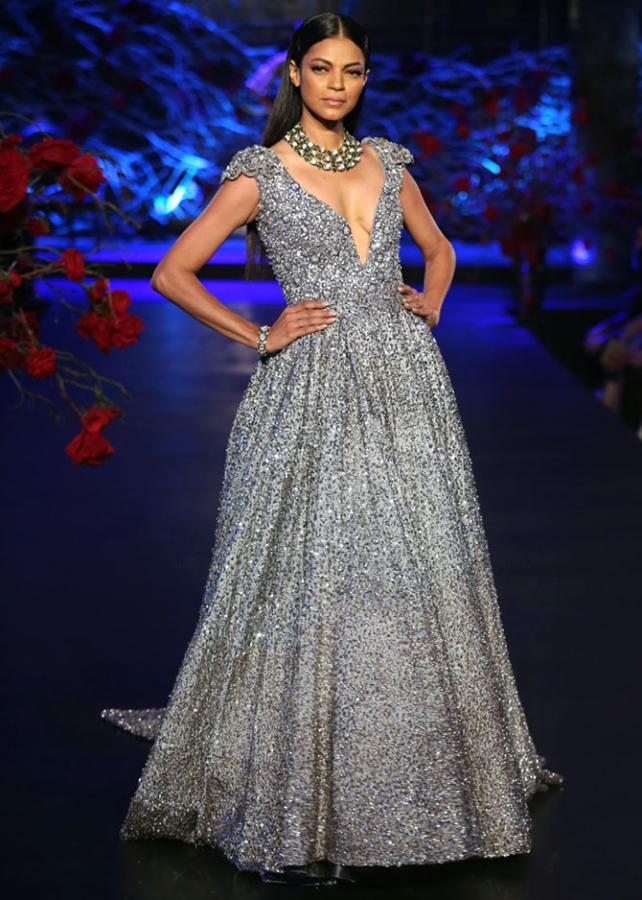 Photograph: Courtesy FDCI
Remember the times when the Indian fashion industry had supermodels like Sheetal Malhar, Madhu Sapre, Milind Soman, Jesse Randhawa and Nina Manuel, just to name a few.
At that time fashion runways weren't just meant for movie stars and showstoppers was a term that was yet to be coined.
That's the time when Noyonika Chatterjee reigned, breaking stereotypes with her dusky complexion and curly locks.
She started off her career in modelling at the age of 13, and ruled the ramp through the '90s -- she was often dubbed as the Naomi Campbell of India.
However, she later decided on taking a backstage role and mentor young models including Priyanka Chopra, Lara Dutta and Dia Mirza.
Noyonika eventually got into choreographing and while her fans missed seeing her on the ramp, she seemed content moonlighting for select designers.
In an interview with Anita Aikara/Rediff.com, she reveals why the industry hasn't had a supermodel for long now.
What still keeps you going as a model?
If you really enjoy your work and are passionate about it, it doesn't matter where you are and what you're doing.
The minute you feel that you have reached a peak, that's the end of your learning. That's the end of your journey.
I still feel that I have lots to do, lots to learn and experience.
That's one of the reasons why I don't get bored and that's where my energy comes from.
That's why I want to come back and do more.
What does one need to become a model?
The industry has become much more professional. People are treating this more like their job and profession.
This is still a creative field. You need the passion, you need that energy.
I feel that's the kind of people who will last.
Along with the passion and the feel, a little humility works. It helps you open your eyes, heart for other things to come in.
If you are not that passionate, I don't think you can let that energy come in.
It is important that when you want to learn, when you want to improve, you shouldn't just treat it as a job. Treat it as your life. That's why I have survived so long.
I love what I do and have enjoyed every moment of it. I have never treated it only as a job, I have treated it as a job that I love.
When you love you job, you'll enjoy it.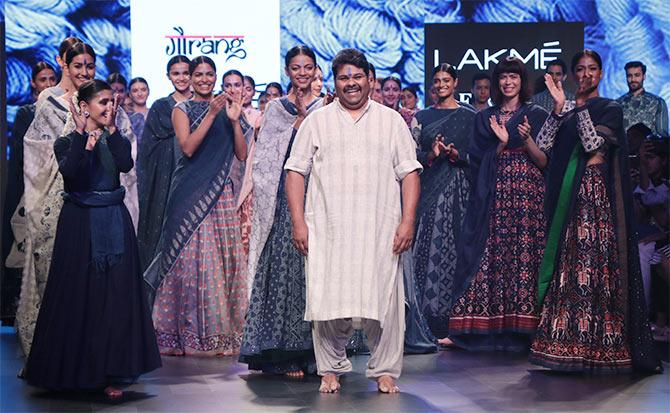 Noyonika takes centrestage as designer Gaurang Shah's muse at the recently concluded Lakme Fashion Week.
Photograph: Hitesh Harisinghani/Rediff.com

Who is to be blamed for the disappearance of the supermodel?
Designers don't want us to be bigger than their clothes. They are going to kill me after this, but it is true.
Earlier people would talk about what a Madhu Sapre or Mehr Jessia was wearing. We became bigger than the designers.
What do you think is the reason why designers rope in celebs as showstoppers?
Today when you make an actress wear something, it becomes about what Kareena or Deepika is wearing.
That gives designers more mileage.
What helped you make the cut in the industry?
When you are treating it as a mere job and don't put that extra effort into it, that's when you will always be a part of the pack.
Models need to take that extra interest. You need to know what you are wearing and should be willing to show it and willing to learn, only then can you rise above the pack.
Which would be your favourite show till date?
Far too many show. I have done so many shows and have walked for almost three decades that it would be unfair to talk about just one.
We have so many amazing creative people in India, not just the fashion designers. There are also the set designers, make up, etc.
I have done shows which are an amalgamation of all these people coming together doing a fabulous show.
Is there a retirement age in modelling?
No! I am leading a path for the others to stay on a little longer. I think if you can deliver there is no age. If a designer feels you can deliver, there is no age.
The minute you stop delivering, there's an age.
My daughter has just turned 15 and she's has been coming with me for a few shows. She has done a couple of shows professionally.
I want her to complete her education because I want her to have a fall back plan just in case she doesn't want to do modelling as long as I have done it.
I am trying to give her the exposure to see both lives.
But I'm not going to force her to do what she doesn't like.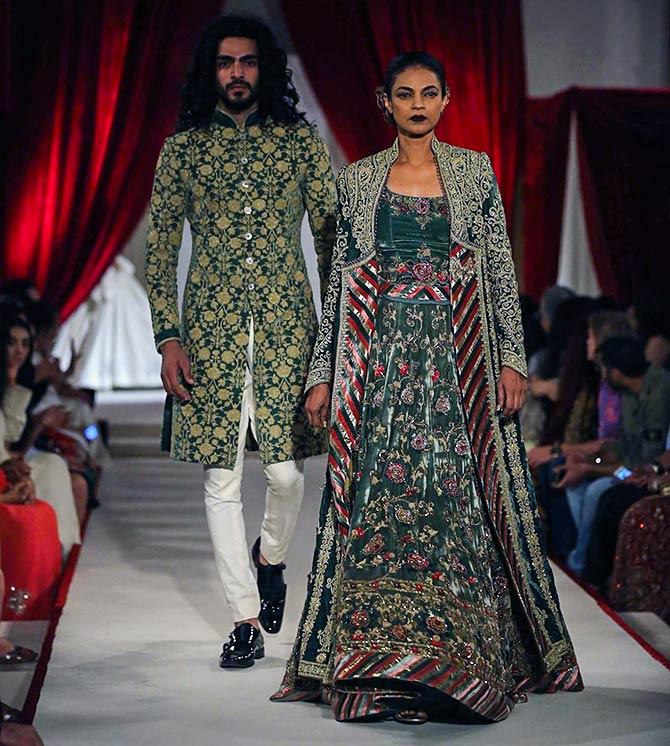 Following her footsteps, Noyonika's daughter Nayantara is taking baby steps into modelling. Time will tell if she becomes as successful as her mother.
Photograph: Kind courtesy FDCI/Facebook

Was modelling a conscious career choice made by your daughter?
Yes! Modelling has been her choice. I'm there to guide her.
I feel that if it were my influence, the she wouldn't be doing this at all.
You (models) have to be a little tough to survive in this industry as there is a lot of judgment.
It is a painful industry mentally and at times, you can be very hurt. I don't know if she can handle it right now.
So ideally, I wouldn't want her to be in this industry, but if she wants to be here, then I am here to guide her.
Is there a formula for success in this industry?
There is no rules to becoming a super model.
If you ask me, I don't know how I became a super model or why that title was given to me.
I only know one thing that you must enjoy your work, do it sincerely and take great interest in it.
Don't think that I am getting paid so it doesn't matter. Pay attention to how you are looking, how you are showing your clothes and that's what is going to stand out.
You were probably the first dusky models to break stereotypes.
I lucked out. When I started modelling, Naomi (Campbell) made it big internationally.
So they said that if she can work there, I can work here.
But I think we hacve opened doors for a lot of Indians who are essentially dusky.
It has opened up a lot on the ramp, but not commercially in
In commercial they are still looking for the fair, pretty girls.
For the ramp, definitely they want dusky models.
Why are models so obsessed being size zero?
There is no size zero according to me.
You have to be the size that your body can accept and learn to be comfortable with that.
We talk about body shaming, but first we have to learn to be comfortable with our own skin.