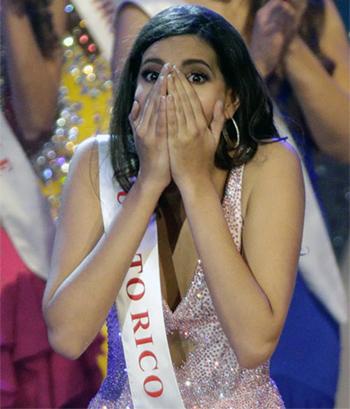 At 19, the 5'8" Puerto Rican beauty has not only accomplished her dreams, but also done her nation proud.
Miss Puerto Rico Stephanie Del Valle made her country proud by winning the Miss World 2016 crown on December 18 in Maryland, US.
The 19-year-old is the second woman from the country to win the title since it was conceptualised in 1951.
Stephanie had previously won her country's national beauty pageant Miss Mundo de Puerto Rico 2016.
She beat 116 contestants -- including the hot favourite Miss Australia Madeline Cowe -- to land the title.
Sadly, Indian contestant Priyadarshini Chatterjee lost out on the race after making it to the Top 20.
We bring you a few snapshots from the memorable evening.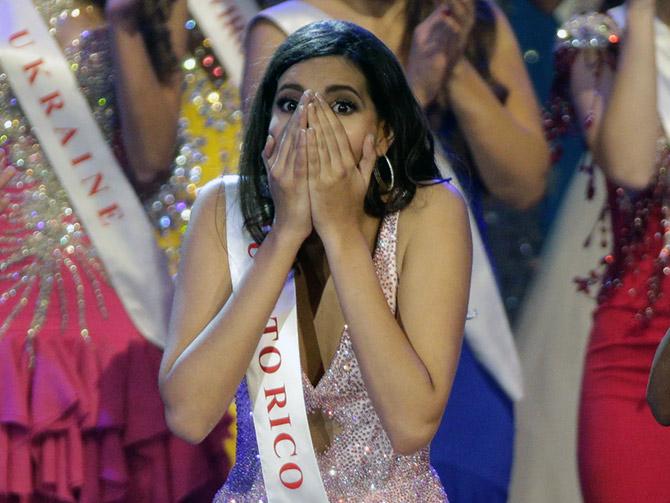 IMAGE: And the winner of the Miss World 2016 title is...Stephanie can't believe what she just heard!

What a proud moment it was for this 19-year-old who made her country proud by bringing home the title after 31 years.
Way back in in 1975, Wilnelia Merced was the first woman from Puerto Rico to win the title.

Photograph:

Joshua Roberts/Reuters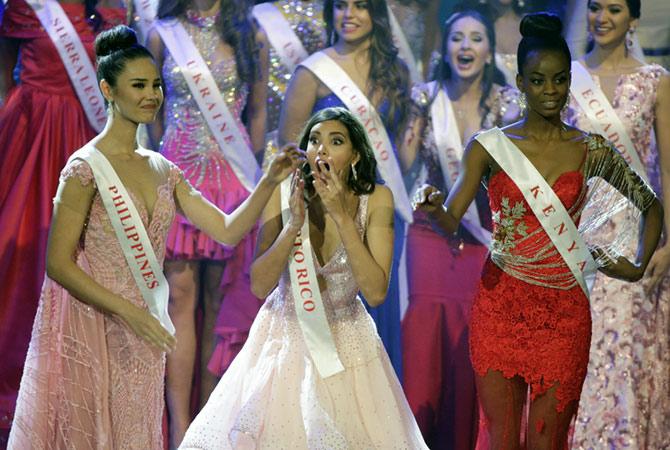 IMAGE: Stephanie (centre) reacts to being named Miss World as Miss Philippines Catriona Elisa Gray (left) and Miss Kenya Evelyn Njambi Thungu (right) look on.

Photograph:

Joshua Roberts/Reuters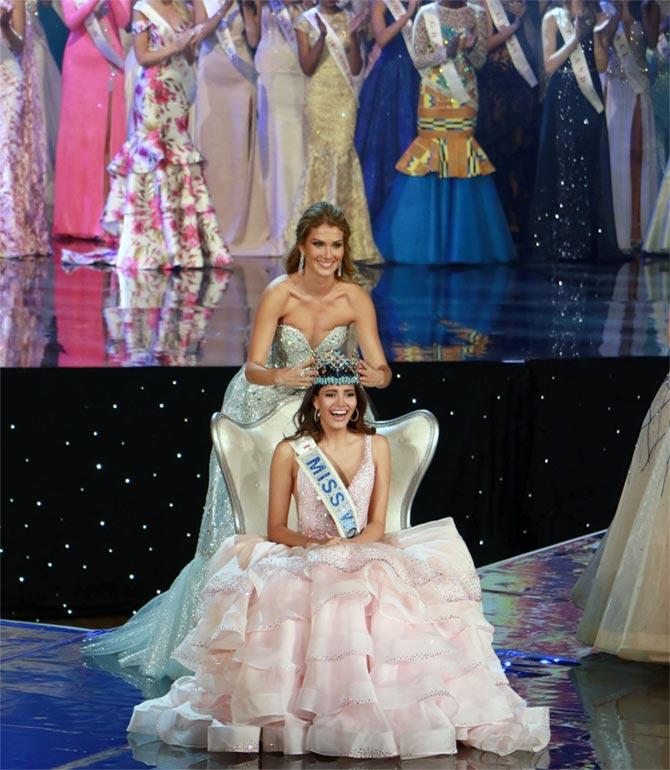 IMAGE: Miss World 2015 Mireia Lalaguna of Spain crowns Stephanie amidst loud cheer.

Photograph: Kind Courtesy Miss World/Facebook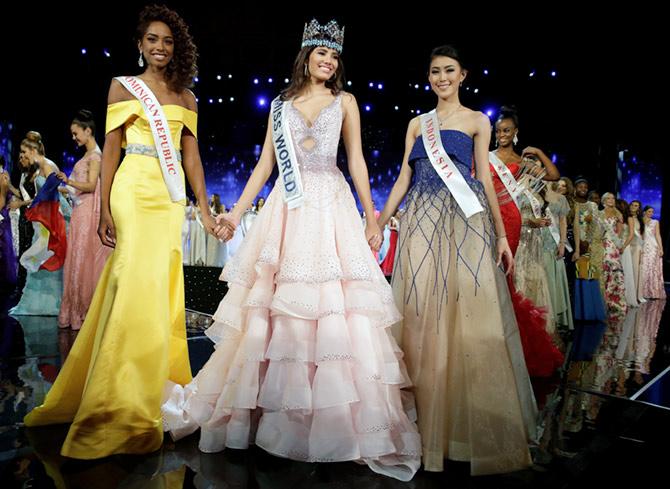 IMAGE: Miss World 2016 shares the stage with first runner-up Yaritza Miguelina Reyes Ramirez (left) of the Dominican Republic and second runner-up Miss World Indonesia, Natasha Mannuela.

Photograph: Joshua Roberts/Reuters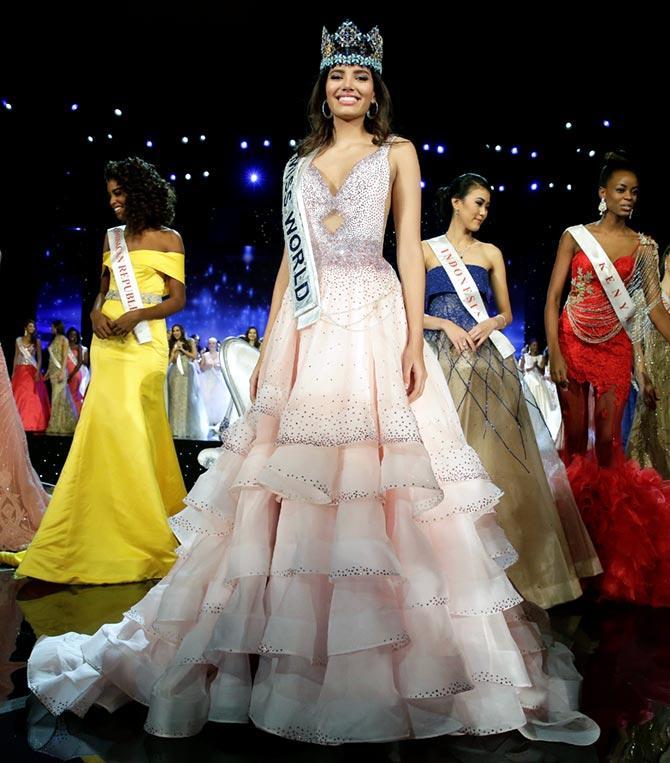 IMAGE: The newly crowned Miss World 2016, Stephanie Del Valle from Puerto Rico.

For the final round, she was dressed in a gown

made of silk organza. The colours were inspired by the Puerto Rican national flower, hibiscus and the hemlines of the layered dress were covered with precious Swarovski stones. The gown was designed by Puerto Rican designer Carlos Alberto.

Photograph: Joshua Roberts/Reuters
Presenting some interesting facts about Miss World 2016: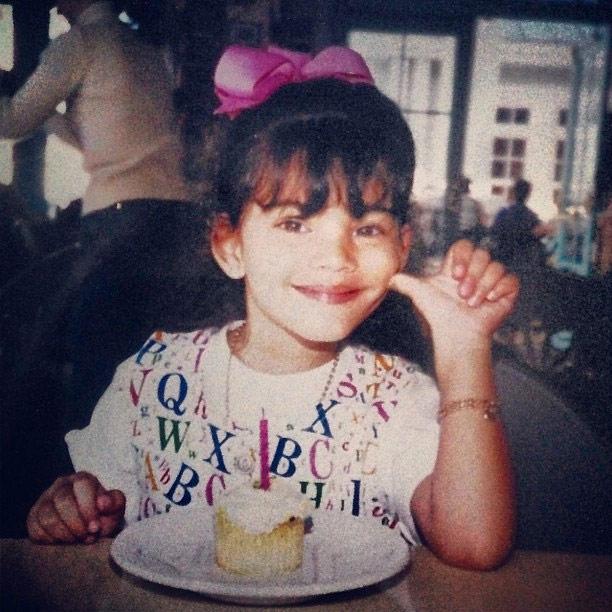 IMAGE: That's a childhood pic of Stephanie. She is a huge fan of food including chocolate, French fries and everything that her mom cooks.

Photograph: Kind Courtesy Stephanie Del Valle/Instagram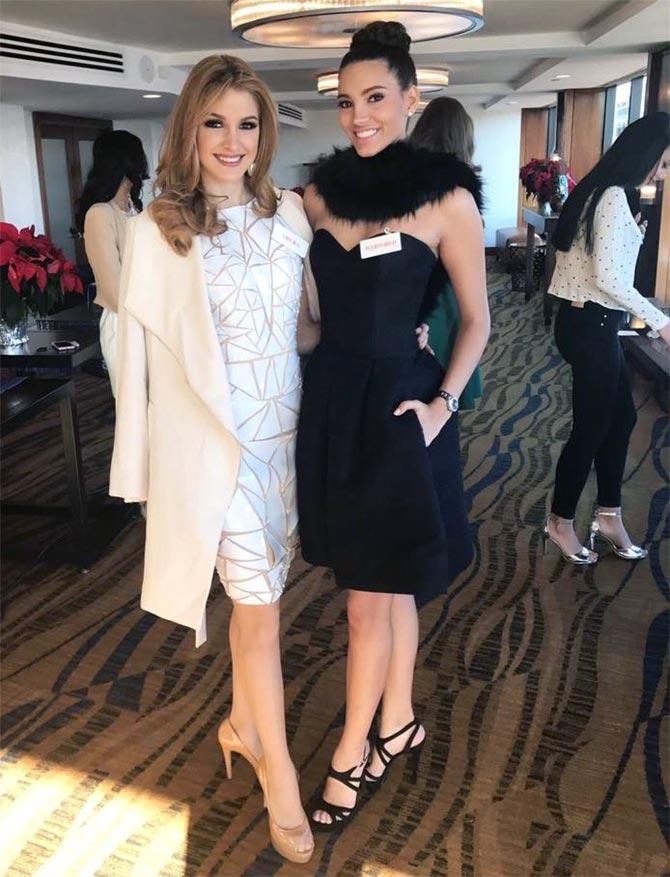 IMAGE: She is also a musician and hopes to pursue a career in the entertainment industry. She's seen here with the gorgeous Miss Aruba, Lynette Do Nascimento.

Photograph: Kind Courtesy Stephanie Del Valle/Instagram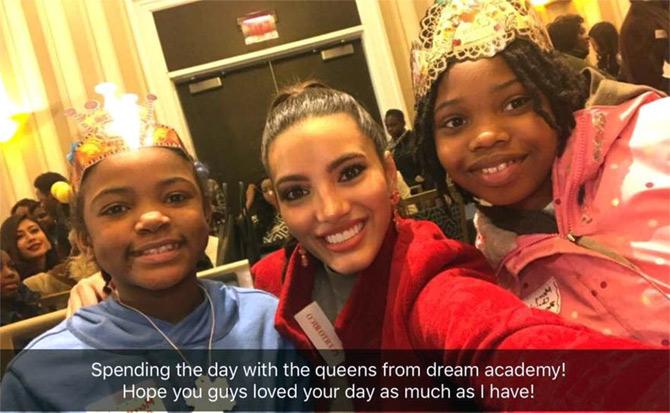 IMAGE: Stephanie was very excited to spend a day with the young girls at the US Dream Academy. She admitted on Facebook that 'one of her favourite things to listen to are her nieces playing together and laughing.'

The young achiever's proudest moment in her own words as reported in the International Business Times: '

The proudest moment in my life was the first time I travelled by myself to Brazil at the age of 8 as an ambassador for my country, singing with the San Juan Children's Choir. This event is also memorable because it was a life changing experience as it was the first time I was confronted to real poverty through the eyes of a child, same age as me.'



Photograph: Kind Courtesy Stephanie Del Valle/Instagram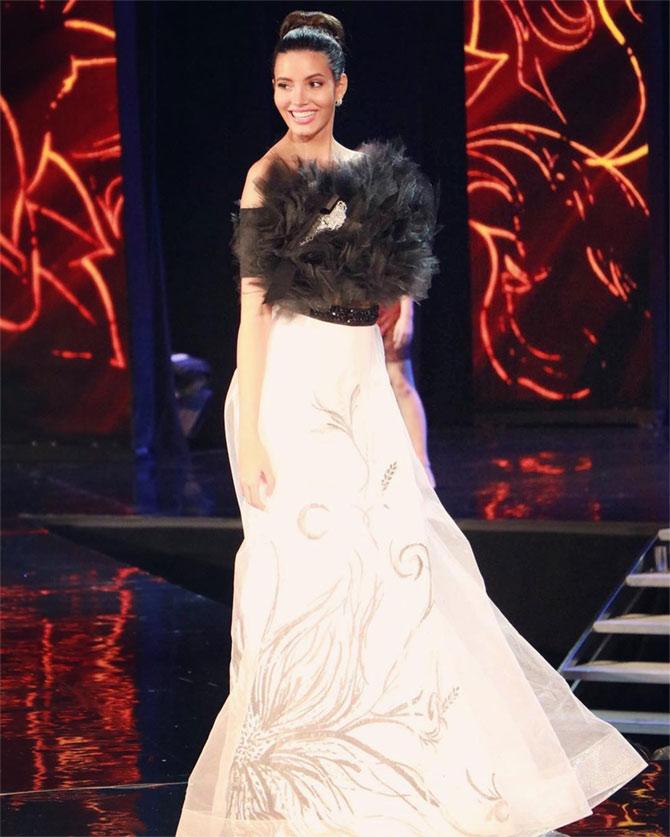 IMAGE: The pretty model loves trying on clothes and dressing up.
Here she is wearing a feathered gown designed by Puerto Rican designer Jose Karlo at the Top Model Competition, Miss World 2016.

Photograph: Kind Courtesy

Stephanie Del Valle/Instagram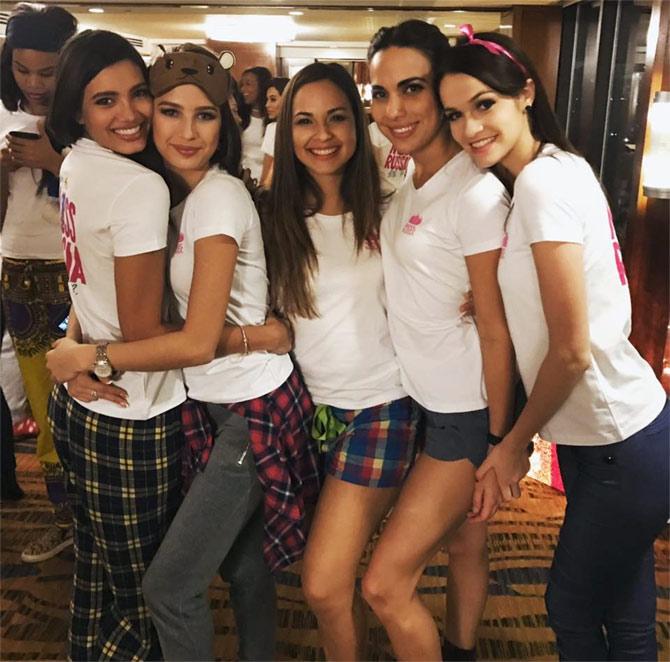 IMAGE: That's her after a slumber party with the other contestants including Miss Russia (second left). She is a BA student in Communications studies at Pace University, New York and has already registered for a double major there.

Photograph: Kind Courtesy Stephanie Del Valle/Instagram