He is the living proof that you are never too old to run a marathon.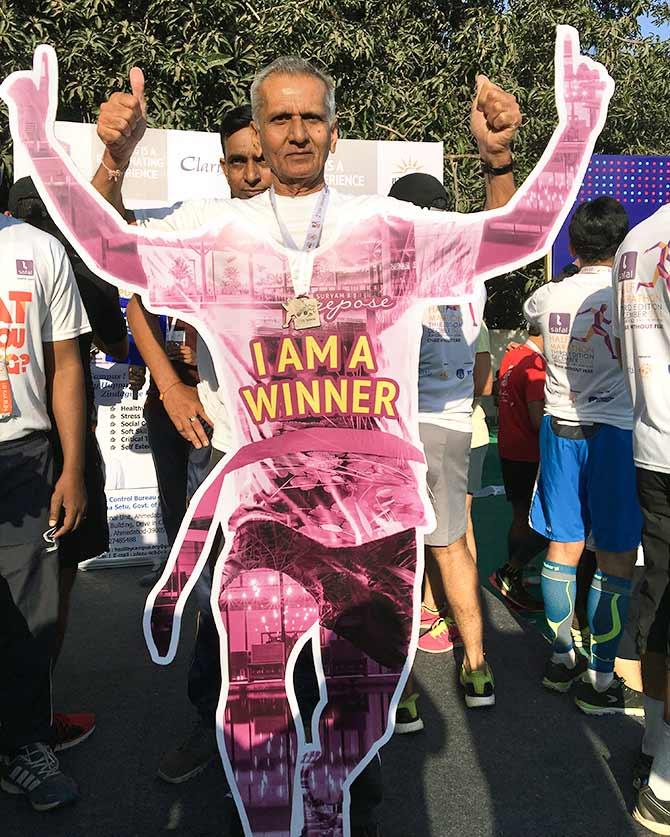 Photographs: Courtesy Babubhai
People his age wouldn't dare to get on the treadmill in the fear that they may break a bone or crack a hip, but 74-year-old Babubhai Sanghvi religiously works out in the gym for two hours daily.
When it comes to fitness, there are no cheat days and no holidays for him.
He visits the gym even on weekends, and his love for fitness and staying healthy has trickled down to his wife, son, daughter-in-law and grandchildren too.
At his gym, he is the oldest member and given his dedication, the owners have refused to charge him a membership fee. They hope that watching Babubhai workout, more youngsters will be motivated to visit the gym regularly.
Having participated in dozens of 21 km marathons, Babubhai now hopes to take part in a 42 km marathon and complete it successfully.
In a telephonic interview with Anita Aikara/Rediff.com, this resident of Ahmedabad reveals how he stays in the forefront of his fitness game, his preparations for marathons, and why he has not felt the need to claim any medical expenses till date.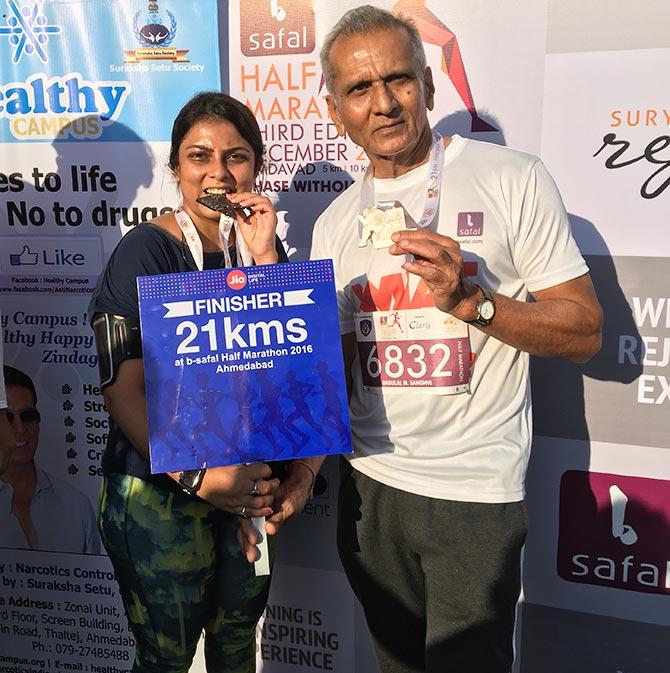 Babubhai with his daughter-in-law.
When did you start running marathons?
I was living in Mumbai for years, but four years ago I shifted to Ahmedabad with my family. People say I have an extra love and passion towards fitness and I won't disagree.
Ever since I moved to Ahmedabad, I started participating in marathons. I ran my first marathon at the age of 72.
My daughter-in-law participates in marathons too and I was inspired by her when I moved to Ahmedabad. She has taken part in the 42 km marathon and recently when she was in Mumbai, she took part in a 30 km marathon.
I ran my first marathon in 2016 along with my daughter-in-law, which was a half-marathon at night.
It has become a family affair with my wife, son, daughter-in-law and two grandsons participating in marathons.
I have run the 10 km and 21 km marathon and hope to take part in the 42 km marathon soon.
When you participate in a marathon, you're expected to complete it within three hours and till date I have managed to comfortably complete it within that time.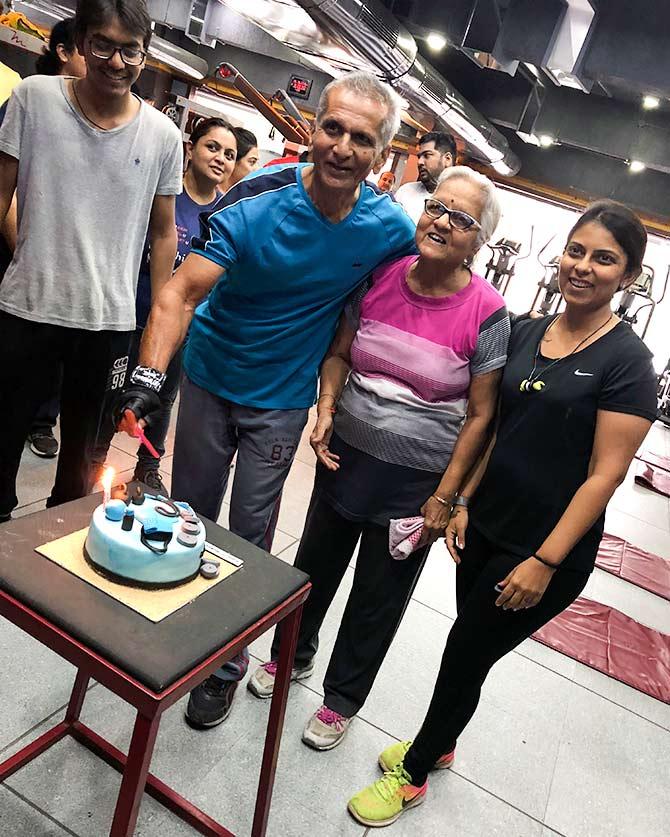 Babubhai cuts a cake at his gym along with his wife and daughter-in-law Hetal.
How do you prepare for these marathons?
I go to the gym on a daily basis. Early in the morning at 6:30 am, my wife and I go to the gym and workout for two hours.
My wife is 71 years old. She participates in the 5 km marathons.
Every alternate day we do cardio and weight training.
When we return from the gym, we go to the temple and then after lunch, I go to help my son out with the family business.
I wrap up the day around 8 pm and then have a light dinner of khakra around 9 pm. I follow no special diet. I just eat vegetarian food.
I avoid having anything heavy in the evening. I weight 62 kg and for so many years I have managed to stay constant at that weight.
15 days prior to running the marathon, we practice outdoors. It gives us a feel of what to expect when running a marathon.
Were you always that passionate about fitness? Or was there a turning point in your life?
Around 30 years ago, when I was travelling by a Mumbai local train from Reay Road, one of my ulcers burst at Wadala and I had to be hospitalised.
I used to be stressed because of the work pressure and my health had taken a toll. I was not eating regularly.
At that time, I made a decision to stay healthy and inspire my family to do the same.
I felt it was time that I paid more attention to my health.
When I was hospitalised, I figured out that irrespective of how much money one makes, he/she will not be able to do anything if their health goes for a toss.
I decided to turn my life around and started going to the gym religiously.
From that day till today, I haven't missed even a single day of workout.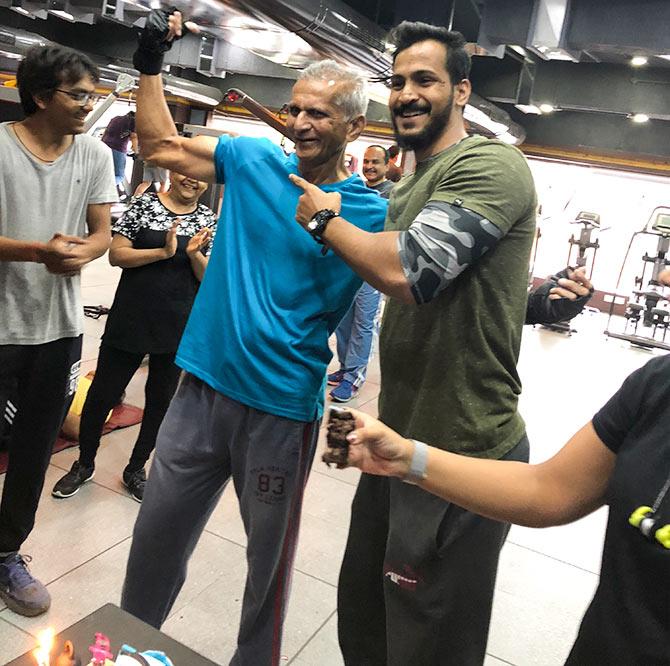 Look at those biceps!
When you first decided to run the marathon, did your family have any inhibitions?
Not at all! Instead the day I took the decision, they were very proud and encouraged me.
When I first started going to the gym, my wife made it a point to accompany me. Till date, we go to the gym together.
My wife had her share of challenges, managing home, children and household chores, but she still finds time for workouts everyday.
What are the challenges faced when you run marathons?
There are times when I run the marathon, especially during the last few 5-10 km, when I feel like giving up.
There is a constant tussle between the mind and the body. The body is tired, but the mind wants to keep going.
That's when you have to really push yourself to get to the finish line.
Being an inspiration for people
In the gym almost everyone looks up to me as their idol. My daughter-in-law says that I am a one man army.
I don't pay gym membership. The owners refuse to take the annual fees from me. They say that seeing you many of the youngsters get their fathers to the gym so that they can get inspired to work out.
I don't have any health problems. For the last 25 years I have been paying mediclaim premiums, but till date I haven't felt the need to use any of it.
Apart from marathons, did you ever try out some adventurous sports too?
Last year I was on a holiday to South Africa and I attempted bungee-jumping from the world's highest point.
When the tour guide asked who would like to bungee-jump, I said I wanted to do it and he was shocked. He asked me, 'At this age, you want to try bungee-jumping?' And I said, 'Yes'.
I went bungee-jumping and enjoyed it thoroughly.
Advice for youngsters
I'd say health is wealth. If your health is not up to the mark, despite the money you make, you will not be able to enjoy your life.