She's shot over 100 weddings in four years across India.
She's travelled to exotic locations and made countless friends and memories.
Plus she's making money pursuing what she truly loves.
Manvi Gandotra is an entrepreneur who's living the life most of us only dream of.
Manvi Gandotra, founder, 1plus1 studio (centre), has travelled to different cities and countries to capture weddings.

All photographs: Kind courtesy Manvi Gandotra/1plus1 Studio
It was a sheer love for photography and creating memories that led Manvi Gandotra to volunteer to shoot at weddings of friends and family.
Little did she know that hidden in the interest and passion were a business proposition and the opportunity to go places, literally.
"I was very confident about my photography, but shooting for weddings was not something I had initially planned for," recalls Manvi Gandotra, as she inches closer to wrap her hundredth wedding.
Her first camera was a Kodak 35 MM that she took on her first trip to Agra. She remembers shooting the Taj Mahal, mesmerised by the play of light and shadows on the minarets and how challenging it was to capture the perfect shots.
Manvi Gandotra is the founder of 1plus1 studio, a wedding photography and videography services company based in Bengaluru.
An electrical engineer from NIT Nagpur, Manvi worked with two multinational companies as a technical consultant before moving onto a marketing role.
"I am a people's person, and though I have an engineering degree, I worked as a marketing manager in my last position," she says.
It was in late 2014, that she realised she was truly bitten by the photography bug and decided to turn her passion into a profession. She quit her full-time job to start 1plus1 studio.
"I had 6 to 7 years of experience and knew that I could always go back to a conventional career, if it didn't work out. Fortunately, there has been no looking back on the decision," she says.
Her marketing job had taken her to different places, and a variety of subjects intrigued her on these travels.
She put her photographic skills to good use and took some great shots on the streets, soon developing an interest in street photography.
Hi five! The bride shares a special moment with her pug.
Manvi is always fascinated by the stories more than the subjects.
What she likes most about shooting on the streets is how unpredictable it is.
"It is action-packed, and one needs to work using available light, objects, buildings, people, animals or anything else from the environment, as one can only frame and compose images for that split second.
"Once that second has passed, the image is gone forever.
"It can't be recreated. No matter what, nothing is ever the same," she explains.
From the street to weddings
About taking the plunge into the wedding photography scene, Manvi says, "Being a part of someone's special day and delivering a tangible story to them was something that drew me towards wedding photography."
The immense joy she gets out of her work is something she always looks forward to.
Manvi has worked on different kinds of weddings. From the beaches of Kanyakumari to the vineyards of San Francisco, her work has been diverse and interesting.
The prankster groom photobombed the bride's group picture.
"Recently I shot an amazing wedding of an Indian bride and a Dutch groom in the backwaters of Kerala, it was actually a no-wedding wedding."
She explains, "There was no ceremony and the couple designed the whole wedding keeping their interests in life in mind. They had boat races between the two families in a Kerala lagoon.
"The dad took the bride on a boat to the groom, who arrived on the shore on a bicycle! They took their vows in the middle of the lake without a priest.
"Guests from over 40 countries and six continents attended the wedding.
"As the couple really cared about the environment, there was no plastic. They took every effort to have a different wedding, including having a world quiz and bringing in cuisine from across the globe."
How it works
1Plus1 studio receives 80 per cent of its clients through referrals and over a period of time has scaled to become a full-fledged business.
It has four full-time employees who work with Manvi, and help her with shoots and edits. She also has a few freelancers who work with her on projects.
She started 1plus1 Studio with her husband Ravi Kaushik, an MBA graduate who helps her with strategy.
"Though Ravi is a photographer himself, he is a 'silent partner' and my go-to person when it comes to management and business," she says.
1plus1 studio documents candid photos and films which are customised on an individual basis. The shorter version of a film is 5 to 6 minutes and the longer one is of 25 to 30 minutes.
She says, "Earlier, wedding photography used to be all about documenting every ceremony and not much about story-telling. A wedding is an opportunity to showcase various emotions and create artistic memories that can be relived for years to come."
Keeping it simple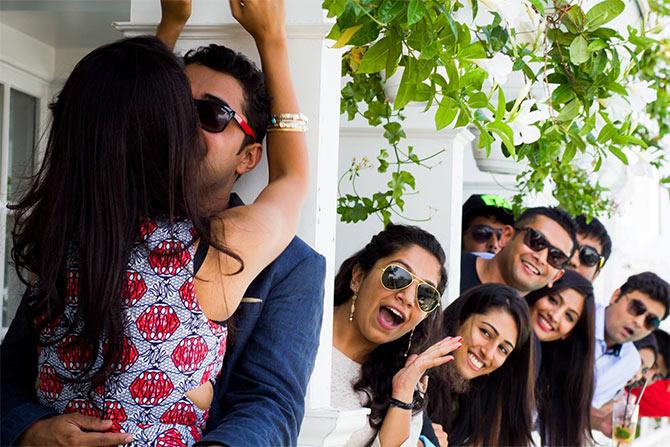 The bride and groom's crazy friends decided to photobomb what would have been a romantic couple photo.
As much as photography is all about composition, edit too plays a major role.
In the age of various filters and pre-sets, Manvi believes in keeping her work as natural as possible.
As a wedding is all about the couple and their families, she wants every moment to be special rather than following what is on trend in the present.
The prices start from a lakh and above, and differs with each wedding. Though Manvi is based in Bengaluru, she feels fortunate to have travelled to various places as a part of wedding assignments. She has shot weddings in places like Jim Corbett National Park, Kanya Kumari, USA, Sri Lanka, and many more.
Manvi has had no formal training in photography but is on a constant learning path, and keeps abreast with the latest technology and developments in the field. She also draws inspiration from various photography styles practised abroad.
She says, "One cannot really compare Indian weddings with those abroad, but you compare the artistic form and learn different ways to improve your own style."
On having captured over 100 weddings, Manvi says, "I may have photographed 100 weddings but what stands out is that all of them have been unique and different."
The big future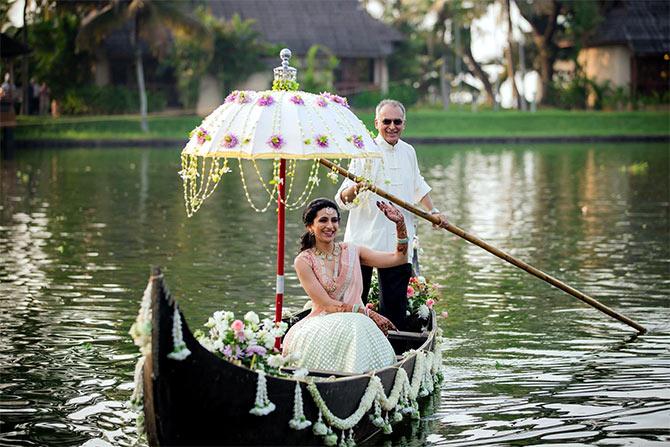 Bride Mahima Sukhdev's father brought her on a boat decorated with flowers.
The Indian wedding industry is over Rs 1,00,000 crore and is growing at 25 to 30 percent.
According to a study, and considering the demographic dividend, and half of India's population under 35, the marriage market is set to expand over the next five to ten years.
Start-ups like Jodi Clickers, Knotinfocus, and Pranesh Photography have also entered the wedding photography space.
"When I started, it was purely for the love of it. Somewhere along the way, people have seen the value it brings to their most special day, as your memories are saved in the form of photos and videos and hence they don't mind spending on it. And now it has become a big business."
Having said that, she adds, "There are so many weddings that happen in India every day and there is enough for people who do great work."
Being a woman in this business, Manvi feels, has its own advantages and disadvantage.
"One connects with the bride easily and so if you are friendly with the couple you can get images of intimate moments like the 'getting ready' shots. Though sometimes, people may not take a woman as seriously as they would take a male photographer/cinematographer. The opinion quickly changes once they see the work," she says.
In the future 1plus1 studio aims to have a bigger team and deliver the best moments for its clients, without any compromise on quality. "My goal is to create something sustainable and scalable and build a larger team which takes of everything, as much I do," she says, signing off.