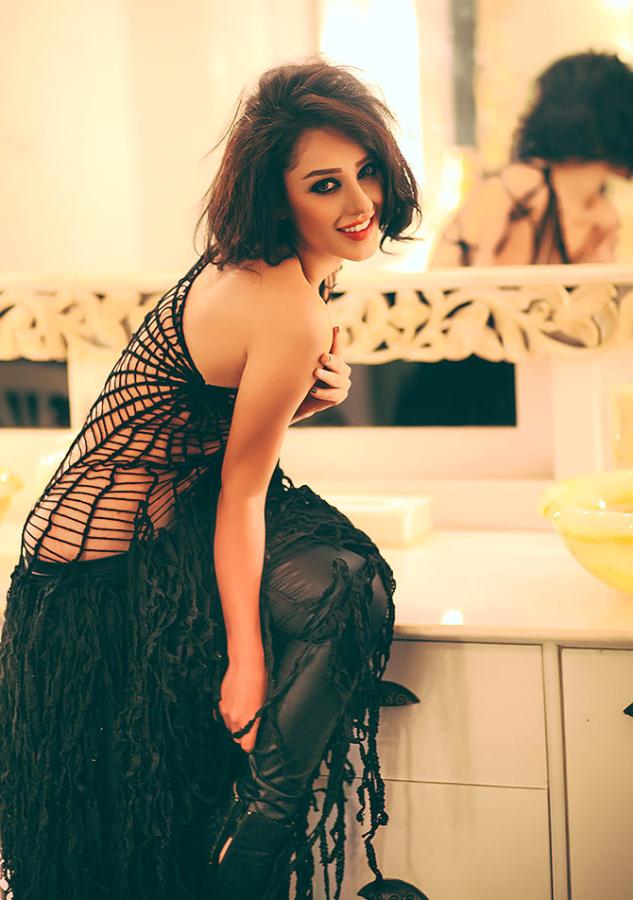 Designer Runa Ray, whose edgy line inspired by an ancient discipline made it to the February New York Fashion Week, discussed the showing with Tista Sengupta/Rediff.com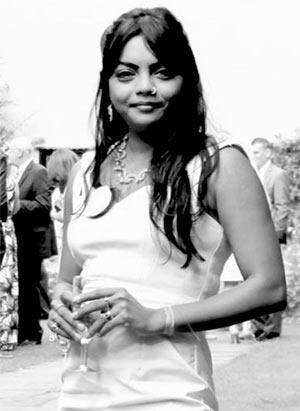 Have you ever seen a dress inspired by the lovely Japanese art of origami or paper folding?
Then you probably haven't seen Runa Ray's (pictured left) inspired creations.
Her work, on first viewing, leaves an indelible impression on you. It has caused a stir in the Indian fashion world and beyond, with her recent prestigious showing at the New York Fashion Week Fall 2016, where her line didn't go unnoticed.
Bangalore-based Ray earned her degree at the National Institute of Fashion Technology, Chennai, before heading to the shores of France to study garment engineering under the Paris Chamber of Commerce at the Ecole Superieure des Industries du Vetement.
In Paris, Ray worked with some of the best, like John Galliano, head designer of the House of Dior.
An ardent lover of art, Runa is passionate about creating things. It might be a painting. It might be something to do with the fine arts. Or fashion designing. Making things with her hands enthuses her -- be it a piece of furniture, a toy or even clothes. That is what interests and challenges her. She is a creative powerhouse.
At one point, writing was a special interest and Runa considered becoming a fashion journalist. But, after some measured thought, she opted to channel her creativity, as she puts it, through fashion design.
The designer likes to explore and experiment. Her work finds its inspiration in life. "We are born blank canvasses on to which we decide to write the chapters of our life. We continue to fold and unfold till we either complete ourselves or remain a mystery. The similar principle lies in the art of making clothes," Runa emphasises; she comes across over the phone as a spontaneous designer, bubbling with energy and enthusiasm.
She provides an account of her journey, telling us how New York happened.
How did the New York Fashion Week Fall 2016 opportunity come about?
I have been showcasing at fashion shows in Singapore and that's how my work went more viral.
One day I got a call at 2 am (from the New York Fashion Week organisers) and I was told that they would like to have me as a part of their family. And I said 'Okay. It's perfect.' So that's how the fashion week in New York happened.
It took me around four years to (reach this milestone). I started the Mojo Design Studio in Bengaluru in 2012 and, in 2014, my designs went international (in Singapore).
How did you decide what to present at the NYFW?
I use origami and its techniques to create clothing. I always wanted to do this, but was waiting for the right time and place to execute the idea.
Nothing could have been better than this platform.
Just like a plain piece of paper can be folded and unfolded until it becomes its purpose, here the fabric has been folded using basic folds, following all the steps diligently or at times stopped halfway to arrest the look.
The collection is straight-cut, has clean lines and no seams. It is eco-friendly as it reduces carbon footprints. You don't have many tailors, machines or thread. It's just a piece of cloth that's being folded. It cuts down on a lot of production time too.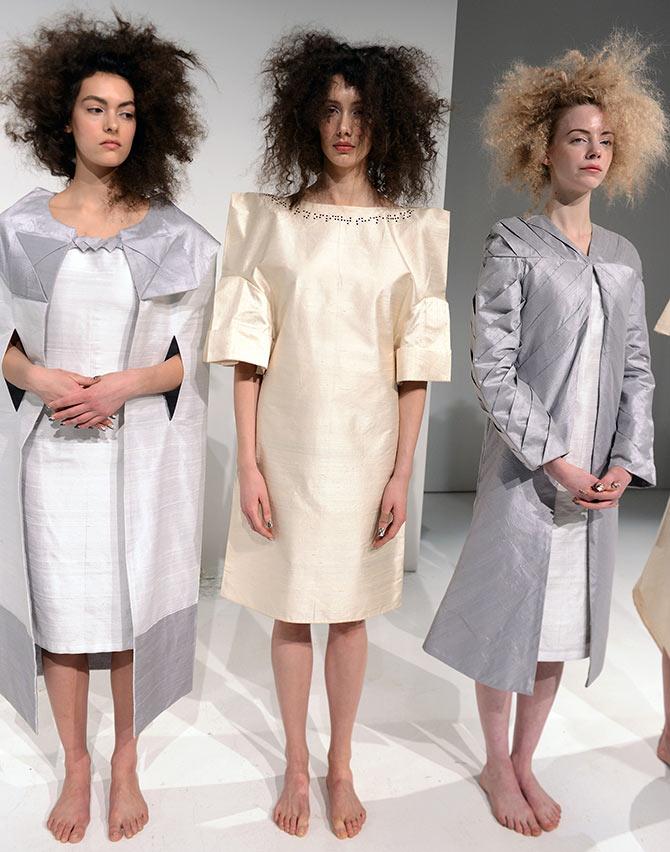 IMAGE: Runa's origami-inspired collection for New York Fashion Week Fall 2016. Photograph: Noam Galai/Getty Images
Describe your experience at NYFW both as a participant and a fashion lover.
It was a fantastic experience. Simply breathtaking!
For a showcased designer, it's huge -- nothing in comparison to what I have seen before. You have an (enormous) production team, a separate hair and make-up team. Everything is fire proof. People there know you before you even walk in. They welcome you so well. They are very professional.
As a fashion lover, it was exciting because you learn a lot. You get to see what others are doing and witness the various aspects of fashion which you probably haven't employed in your process of thinking.
You even see how the public reacts to certain styles that have been brought across. Like I remember a designer's collection in which a lot of fur was used. Some people loved it, whereas some hated it. It was interesting to see the clash that happened outside.
Some people were against the cruelty to animals but then there were people who were spotted walking in huge fur coats in colours like striking pink.
At the end of the day it is what the public demands, but fashion is fashion. And you can't help but just love it.
What were your major takeaways from NYFW? The lessons learnt, especially from the business angle?
The responses have been really good. It's a learning curve and my first time.
In the beginning, there are a lot of things one has to handle all by oneself. Now there's a need to have your own team.
I need to know how to manage my time. There were a lot of interviews I missed out on. Like I said, you need to have the right people who could perhaps do the interviews for you when you are not there.
It teaches you to outdo yourself the next time. And that you need to keep the consistency in designs -- which everyone spoke about -- and (yet) bring your collection across with some newness.
With respect to business: It's actually starting for me now. A show is all about marketing and if there's nobody to buy your stuff after it's over, then I don't think you are into the business of fashion at all.
Hopefully, my outfits will soon be stocked at few stores abroad.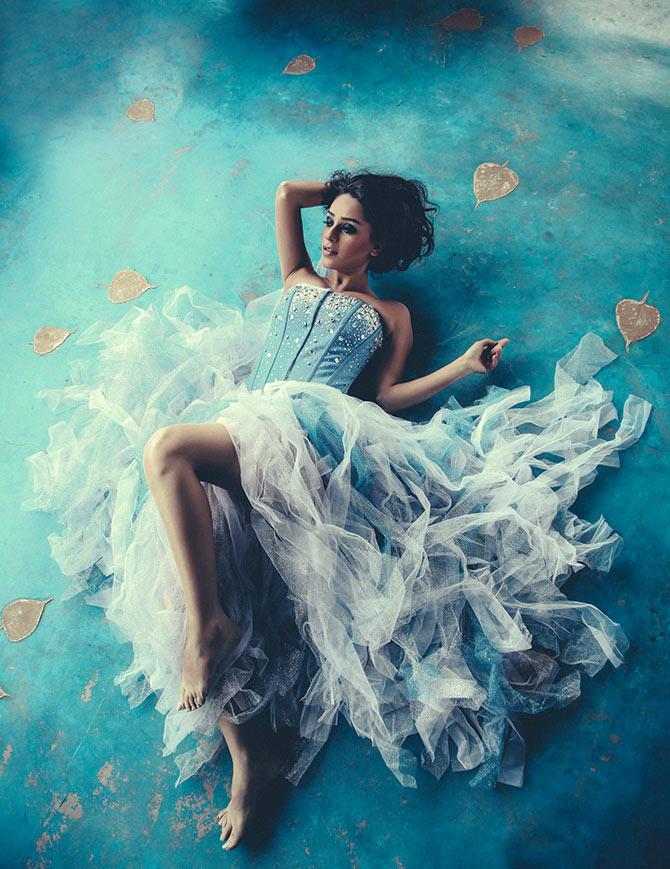 IMAGE: One of Runa's creations -- a gown with an embellished bodice over layers of tulle. Photograph: Kind Courtesy Runa Ray
NYFW described you as a designer who 'has most notably an appreciation for the arts: the unbounded creativity they require and their ability to change the world.' Tell us about your relationship with art and how it inspires you.
Art has always inspired me. Art is intriguing. It's something that anyone can play with and get a message across. Art is what makes you feel and it isn't something that you look at and say 'Oh wow that is good'. Rather, you look at it and it really makes you wonder, 'I don't know if I really liked it, I think I do'.
The fact that art can be coupled with fashion -- because right now that's one of the important tools with which you can actually change the world if you want to -- inspires me the most.
Who are your favourite artists and fashion designers?
I have always liked Henri Matisse's work. I simply don't know why, but it makes you feel something from within. He knew how to play around with colours so well.
In fashion, I like conceptual designers like Yoji Yamamoto, Issey Miyake, Victor & Rolf.
I like the way Indian designers use colours, although I am not very good at it. My colour palette is mostly neutral. I like the embroidery designer Manish Malhotra does. It's indeed a gift that we Indians can play with colours and prints so well.
I would definitely embody the arts and crafts of India, but I would do it very differently. Even this time, the fabrics I used were khadi and silk, but designed very differently. The silhouettes were more western.
Despite your background of working and training in India and Paris, you chose to base Mojo in Singapore while manufacturing out of India. Why?
My clothes are western and the market for me is South East Asia and now the United Kingdom -- I entered that market in 2015. Mojo is well known for its jackets. I think it makes sense for me to go where business takes me.
The Indian fashion market is beautiful, but people still buy ethnic wear like kurtis. Everyone wears it, even I do.
The sari is still the number one selling item in the market. But, in the West, dresses and a pair of trousers with a shirt is their basic everyday wear. I am not saying India isn't the market for western wear, but I haven't yet found a platform here yet.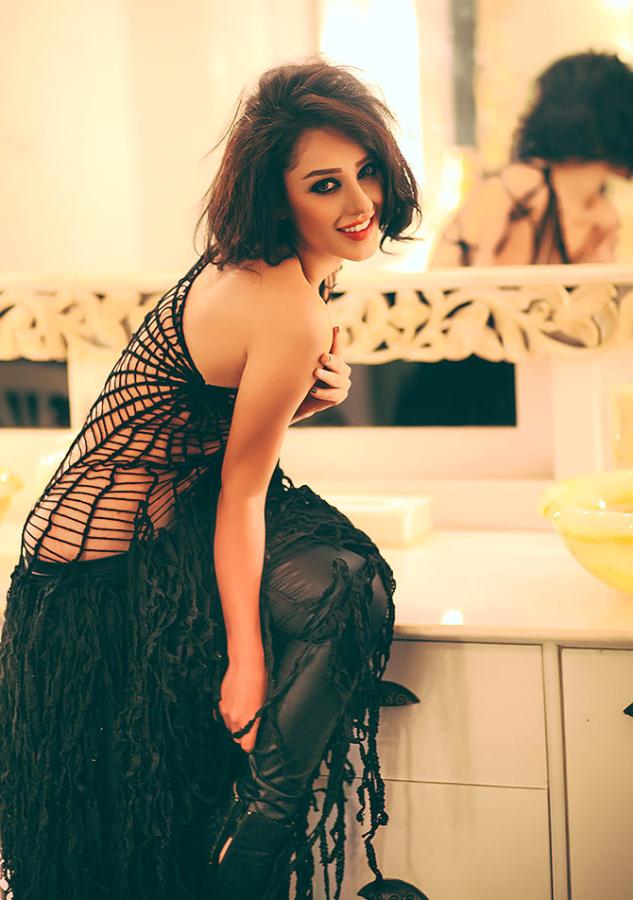 IMAGE: Through this ensemble, Runa shows how effortlessly she adds glamour and sensuality. Photograph: Kind Courtesy Runa Ray
You have a base in London too. The way you are growing your label and through your work, you seem to embody a very global persona. Your comment.
I think you need to know where your work fits in. That's what matters. You can probably showcase internationally and remain a pauper in the business. Or you could just showcase in your own country and become a millionaire. Having 10 offices around the world and making no money does not make sense. It's how you sell and what you make.
For me, it's a very simple formula. The business of fashion is very important. Money is the only thing that will help you showcase your work. So you have to make money.
Do you think your decision to position yourself outside India right from the start has given you an edge over other Indian designers?
I don't think it has given me an edge. It definitely helps me check out a new territory which I am still exploring.
There are so many successful designers in India and they are doing really well. Western wear designers too have grabbed the market. Designers like Gauri & Nainika make such beautiful gowns and women would love to buy from them. As I said, it's always about the market where you are.
Right now, I think the world is almost like a platform. It's just about how you are going to make it.
Apart from the fact that your designs combine your knowledge of haute couture as well as your expertise in ready-to-wear, what makes your collection unique?
I only work with concepts. This concept is something that I don't think anybody has done. It does have an Indian influence.
After all, the fabrics are from the East and even the concept of origami finds its origin here. My collection is very earthy. If you take a look at it, the models weren't wearing shoes or any piece of accessory. It was very natural.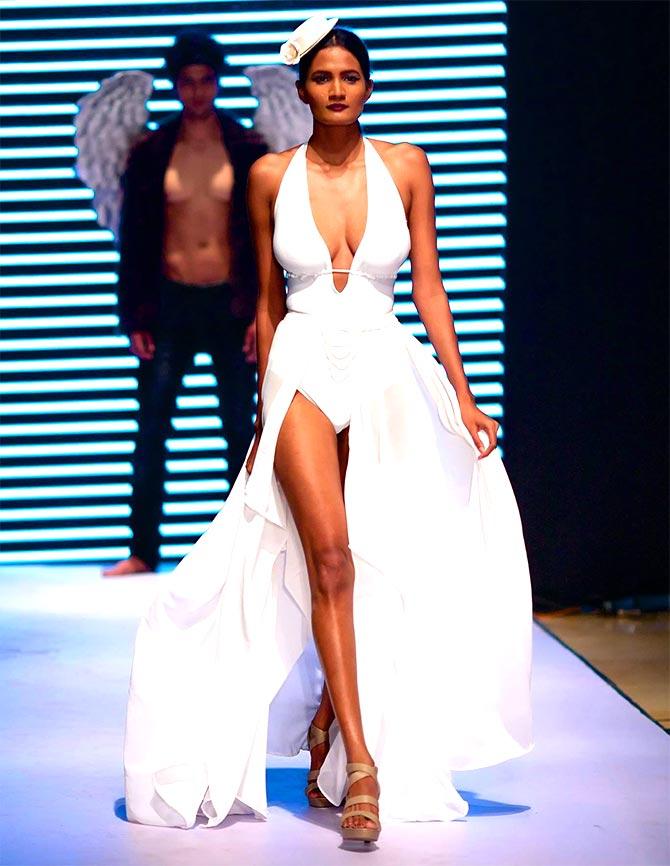 IMAGE: A creation from Runa's collection for Karnataka Fashion Week, 2015. Photograph: Kind Courtesy Mojo Design Studios/Facebook
Tell us about your personal style. Who is your style icon and why?
I am very casual dresser when I am at work. I like to be in comfortable keds, a t-shirt over a pair of jeans.
When I go out, I like to go with effortless clothing, where I don't have to worry about feeling bloated. I like short stuff and accessorising my look. I like wearing dresses styled in the 1960s way with heels and wedges.
Coco Chanel. She's timeless and classic. I like the way she would carry herself with those pearls and hat -- much like the Audrey Hepburn look.
What's the next milestone for you and your label?
It has to be the Paris Fashion Week, because that's where I have studied and worked. I am thinking about it now. As of now, I haven't started working towards it.