Tracing the fashion designer's journey from her humble beginnings to becoming a fashion brand.
The only designer to have won four National Awards, Neeta Lulla began her journey with one kaarigar (artisan) and a single sewing machine.
Today, she is the most sought-after designer for fashionistas worldwide.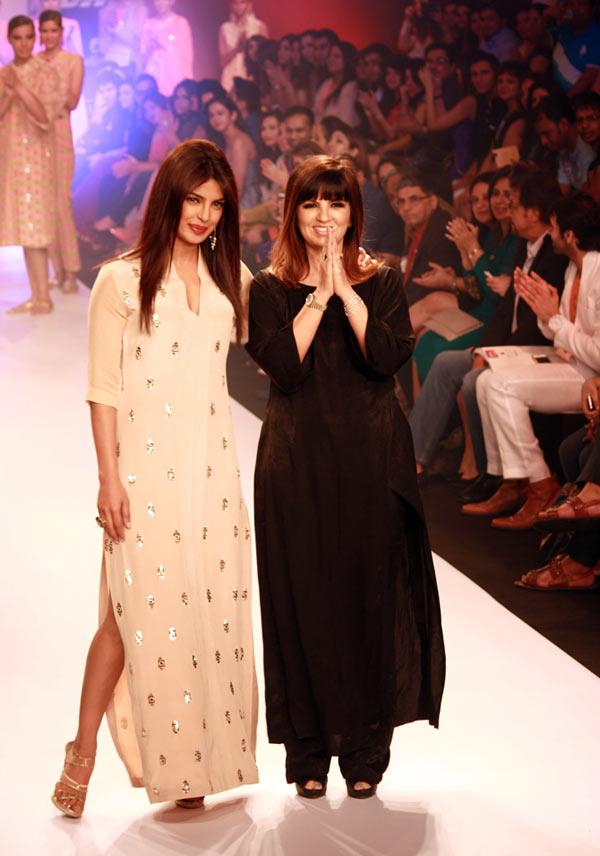 Priyanka Chopra walked the ramp for Neeta Lulla at the Lakme Fashion Week, back in 2014.
Photograph: Reuben NV/Rediff.com
Neeta Lulla, the young jeans and T-shirt crusader, was entranced by fashion in the most organic manner -- flipping through the summer and fall issues of magazines that showcased the chemistry between Bollywood and fashion.
The love affair that ensued was pristine; and the career that spawned from it was everlasting.
Meet National Award-winning Neeta Lulla, who has worked on over 300 films and served more than 10 lakh customers in a career spanning three decades.
Grooming for a life in fashion
Growing up in Hyderabad, school couldn't keep her hooked long enough due to her distaste for academics.
The tomboy, as she calls herself, dropped out in search of more enthralling pursuits.
"My mother was always worried about my grades and if I would ever be the perfect daughter who could cook and stitch, but my father always encouraged my interest in sports," she says.
He also indulged her love for reading and bought her the then popular bi-annual magazines Seventeen and Cosmopolitan, available only in select stores.
"I was quite the T-shirt-jeans connoisseur, but these magazines slowly got me interested in styling, and instilled a spark for fashion," she recalls.
Taking life one step at a time as she was wont to do, she got married at 16 just to evade high school and a formal degree -- only to later learn that she was marrying into a highly erudite family.
It was decided that she would complete her education and pursue a career in cooking or tailoring.
"My brief but exciting encounters with magazines led me to pursue a diploma in pattern making and garment manufacture at Mumbai's SNDT University.
"I had a brilliant guru in Hemant Trivedi, who saw my talent and groomed me in the art of make-up, fashion choreography and styling shows," she recounts.
Popular fashion choreographer Jeanne Naoroji was one of her guest lecturers and noticed her interest in fashion choreography -- and soon enough, a young and enthused Neeta found herself working as her assistant for nearly two-and-a-half years on various shows.
In the meanwhile, her college even asked her to double up as a lecturer in fashion coordination.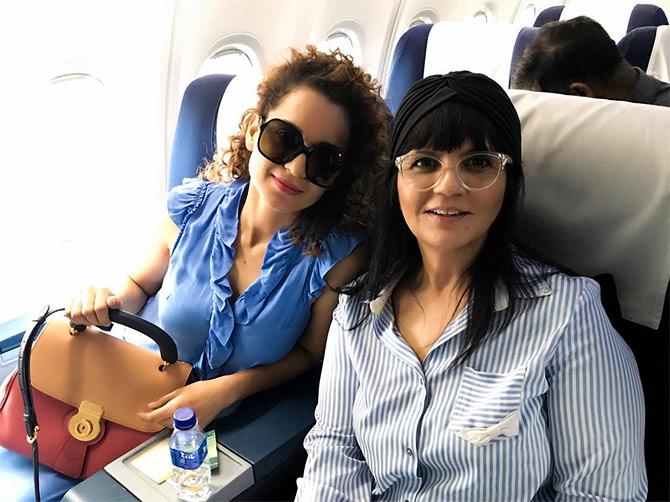 Neeta Lulla with Kangana Ranaut. Photograph: Kind courtesy Neeta Lulla/Instagram
While her life was functioning like a well-oiled machine, the output wasn't substantially fulfilling.
Thus, when she got an opportunity to work on Tamacha, a film being produced by her brother-in-law, she didn't think twice.
"I remember Jeanne asking me why I'd leave something I was so good at to work on a film! But the challenge to do something new led the way," she recalls.
From home to The House Of Neeta Lulla
In Tamacha, she assembled looks for Kimi Katkar and South Indian actress Bhanupriya.
But it was the film Chandni that really put her on the fashion map.
"My creativity got appreciated and when I got an opportunity to work with the reigning queens Juhi Chawla, Aishwarya Rai and Sridevi, work, basically, fetched me even more work," she says.
In an industry infamous for its nepotism, Neeta, an outsider, went on to work for over 300 international and national films.
"I just blocked out the nepotism and focused on the quality of my work and let my products be the showstoppers," she says.
Starting off with films before venturing into mainstream fashion worked very well for her.
She has worked with big banner films like Manikarnika, Gauthami Putra Satakarni, Jodha Akhbar, Devdas, Mohenjo Daro, Lamhe, Taal, Hum Dil De Chuke Sanam, International Khiladi, Hero No. 1, Hum Aapke Hai Kaun, Darr, Hum Hai Rahi Pyar Ke, Khal Nayak, Roop Ki Rani Choron Ka Raja, etc.
Hollywood films like One Night With The King, Mistress Of Spices, Bride & Prejudice and Provoked marked her arrival as a formidable player on the fashion scene.
Neeta's business that started with one sewing machine at home, just one kaarigar and only Rs 500 as capital, has now served more than 10 lakh clients over a span of three decades.
House Of Neeta Lulla, the umbrella brand, comprises four verticals, namely, Nisshk, Neeta Lulla, Little Nisshk and N Bride.
There's more to fashion
Fame and recognition did not make Neeta complacent; in fact, it inspired her to make frequent trips back to the drawing board to see how else she could contribute to the industry.
On one occasion, she found a lecture by an industry stalwart enriching, and this prompted another business idea.
"As a creative professional, I wanted to share my experiences with young fashion enthusiasts -- as a way of giving back," she says.
In fact, a decade earlier, famous Bollywood director Subash Ghai had been so impressed by her work ethic as well as her teaching style at SNDT that he approached her to start something along the lines of a fashion institute.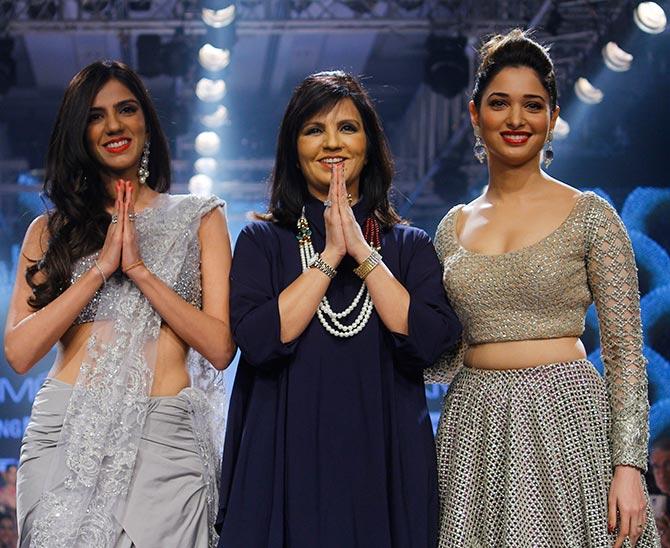 Neeta Lulla takes a bow with Tamannah and daughter Nishka during the showcase of her collection at the Lakme Fashion Week Winter/Festive 2015
Photograph: Kind courtesy Lakme Fashion Week
The two ideas worked in sync and in 2014, they collaborated to start an institute, The Whistling Woods – Neeta Lulla School of Fashion, helmed by experts, in association with Whistling Woods, an institute owned and managed by Ghai.
"Being a mentor comes naturally to me, the maternal instinct is innate to my persona," she says of her decision to take her second plunge into business.
At the institution, everything from the advisory board to the faculty is manned by stalwarts and leading professionals from the industry.
The school offers a unique combination of film and fashion, and hence, the placement opportunities waiting for the students are with design houses, retailers, fashion brands, and entertainment production houses.
And there's more to life Bollywood is known for its nepotism and not being very welcoming of outsiders.
Neeta points out that besides its nepotistic ways, B-town also harbours a strong gender bias.
"I didn't grow up thinking life was fair -- it was evident in the simple things that boys and girls are expected to do from an early age.
"After years of being in this industry, I've kind of rebelled against this idea of being accepted.
"If you want something different and you don't get it, you can now create it," she says.
Having said that, she believes now is a great time to be a woman in design, as the industry is trying to right its wrongs.
"Design is no worse than the rest of society right now. The higher you crawl up the ladder, the thinner the air. The ratio of men to women is far higher.
"I have experienced discrimination and bias, but it's worked in my favour -- there have been occasions when I was included in shows because they needed a woman," she explains.
In light of her own experiences and of other women, Neeta took a stand against gender-based violence last year.
"People around the world were fed up of violence against women, the lack of accountability in the system, thus normalising abuse and failing to combat it.
"I was emotionally disturbed after hearing about foeticides and later Nirbhaya and felt that as successful women, we must raise our voice against these issues. #SheIsMe, an inspirational fashion showcase, was a personal tribute that proclaimed that despite their flaws and limitations, women are beautiful, magical and strong," she says.
Being the only fashion designer to have won four national awards, hers is also one of the first brands to foray into the online retail space.
So, brand Neeta Lulla, having built quite a momentum, has its work cut out.
For starters, Neeta has been doing her bit for the Make in India campaign, by incorporating indigenous kanjeevarams, kalamkaris and banarasis into her collection for over four years now.
She is also exploring strategic partnerships with global fashion houses and the government to increase awareness around homegrown fabrics and designs.
"Over the next three years, I'm also looking at store presence in different metros and expanding to tier-2 and tier-3 cities where brides don't have access to signature designer wear pieces," she adds, before signing off.