On this day in 1928, Indian scientist CV Raman discovered a phenomenon of scattering of photons.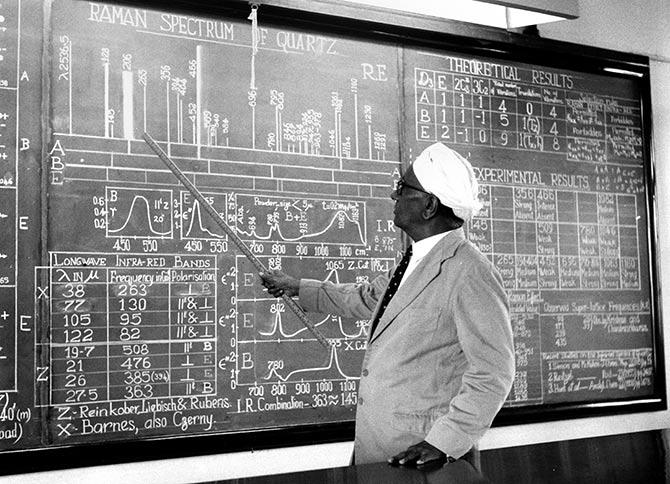 Photograph: Keystone Features/Getty Images
February 28 is celebrated as National Science Day in India.
But do you know why?
It was on this day, February 28, in the year 1928 that scientist Sir Chandrasekhara Venkata Raman discovered a phenomenon of scattering of photons.
Known as 'Raman Effect', Sir CV Raman received the Nobel Prize for this remarkable discovery in 1930.
Sir CV Raman received India's first Nobel Prize for India in the field of science.
In 1986, the National Council for Science and Technology Communication (NCSTC) suggested the Government of India to celebrate February 28 as National Science Day.
To acknowledge and celebrate CV Raman's discovery of Raman Effect, National Science Day is celebrated on February 28 every year.
India celebrated its first National Science Day on February 28, 1987.
What is Raman Effect?
Sir CV Raman discovered that there is a change in the wavelength of light when a light beam is deflected by molecules.
When a beam of light travels through a dust-free, transparent sample of a chemical compound, a small fraction of light emerges in directions other than that of the incident (incoming) beam.
Most of this scattered light is of unchanged wavelength.
A small part, however, has wavelengths different from that of the incident light; its presence is a result of what is known as Raman Effect.
Who is CV Raman?
Chandrasekhara Venkata Raman was an Indian scientist who was born in Madras, Tamil Nadu on November 7, 1888.
He completed Bachelor of Arts with a gold medal in physics in 1904.
He held a Master of science degree from the University of Madras.
Besides winning the Nobel in 1930, he was awarded Bharat Ratna in 1954.
Importance of National Science Day
The purpose of celebrating National Science Day include:
To make aware and share the significance of scientific applications in our daily life
To display the activities, efforts and achievements in the field of science
To discuss issues and implement new technologies for the development of the science
To provide opportunities to the scientific minds of our country
To encourage and popularise science and technology
On this day, schools and colleges in India organise quiz contests, talk shows, debates, seminars, exhibitions and related competitions to encourage awareness of scientific knowledge among students.