The teen math prodigy is donating his prize money to good causes.
Aditi Phadnis reports.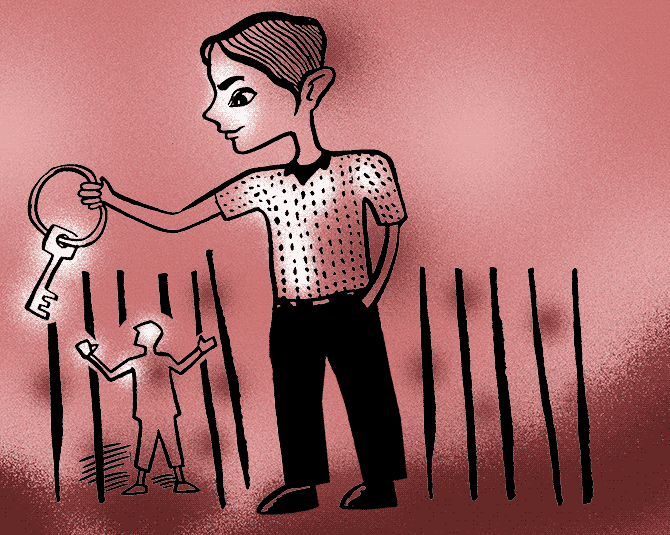 Illustration: Dominic Xavier/Rediff.com
Like any 14-year old, Ayush Kishore loves playing cricket.
He is also a maths genius and is possessed of a lively sense of curiosity.
So one day in 2016, when some convicts in Bhopal jail organised a successful jailbreak and a manhunt was launched to apprehend them, he was glued to the television and had a hundred questions for his mother, Vinita Malaviya, a Madhya Pradesh government police official.
Who were they? Why did they organise the jailbreak? Why do people go to jail?
Kishore watched the funeral of the policeman whom the convicts had killed and told his mother he would give all his money to the policeman's daughter who was due to get married a few days later.
For a 14-year old, Kishore is pretty wealthy. He has ₹86,000 in his savings bank, his own money, the prizes he has won in Olympiads, mental maths competition and music competitions (he plays the synthesizer and the tabla).
He has even travelled to Malaysia (he was 9 at that time) to compete in mental maths where you have to do 50 to 60 sums in 5 minutes, that include calculating square roots and other complicated problems. He became the Grand Champion on that occasion and is now in the Limca book of world records.
At 12, a United Kingdom university conferred an honorary doctorate degree on him.
"I think it is more important to be a good human being, don't you?" asked his mother, who has encouraged her son to be a philanthropist.
So while Ayush was still grappling with the problem of how to get money across to a fatherless young woman, the state government announced it would foot all expenses for the wedding.
So, Ayush needed another project to give away his money.
The opportunity came within days.
Four convicts in Bhopal jail (all convicted under IPC 302, which means they murdered somebody) had completed their 15-year term. But they had no money for their release. It wasn't much -- only about ₹14,000 for all four.
But their families had rejected them. So, if they were unable to come up with the money, they would have to stay in jail for another year.
Ayush's mother casually mentioned that the money would help these people -- they had after all, paid their debt to society. Ayush agreed instantly.
On the day of the release, his mother and he went to the jail with the money. It was 9 PM. The jail was closed. There was no one to accept the money. But the convicts knew someone had come to secure their release and they were overjoyed.
Finally, on January 26, Ayush went to the jail along with 15 kg of mithai. One of the prisoners, Srijan Singh, let it be known that Ayush Bhaiya had got him released. The convicts couldn't believe it.
Ayush's conversation with us was short. He had exams coming up. He briefly recounted the story, worked out complex square roots in minutes, said his favourite singer of all times was Arijit Singh, with the information that Singh's song Tum Hi Ho" from the film Aashiqui 2 won him the Filmfare award for best male playback singer in 2013.
Ayush is clearly headed for big things. But his parents are clear -- and so is he with the fervent passion of the innocent -- that the most important thing in the world is kindness and being a good human being.