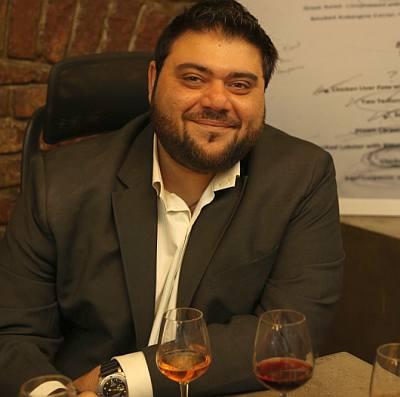 Riyaaz Amlani, who owns 40 restaurants, tells A Ganesh Nadar/Rediff.com what readers need to do to get ahead.
At 40, Riyaaz Amlani owns 40 restaurants.
Riyaaz began his career selling shoes as a teenager.
After graduating from UCLA (the University of California, Los Angeles) with a Master's in entertainment management, he worked as an entertainment consultant before starting Mocha, his first restaurant.
Riyaz attributes his success to having a good team whose members are as motivated and enthusiastic as he is.
When did the idea of going into the food business occur to you?
The idea occurred to me in Panchgani, where I was celebrating New Year 2001 with friends.
We were in a restaurant. One of my friends said, 'I wish I could take this moment and bottle it.'
That's how Mocha came about, a place where you can have a conversation. It turned out great.
What difficulties did you face in implementing your ideas?
It was not really difficult! It was fun.
It was all about understanding my customers, and making my team understand my customers.
It was all about unlearning traditional hospitality.
If you go to Mocha, every bit, every piece of furniture, is different.
What do you mean when you say 'Unlearning traditional hospitality'?
What I meant by 'Unlearning traditional hospitality' is that educational institutions teach hospitality in the 'old school' way.
This is very formal. They teach you where the spoon should be, where the knife should be.
That doesn't matter now. Then it was servility, now it is friendly service.
What advice would you give someone trying to get into your line of business?
If you strongly believe in a concept, go for it.
Remember that a conventional concept will tell you what people want and not what they will accept.
Every waking moment you must be working towards your goal.
Enjoy your space; if it works for you, it will work for others.
Listen to your customers.
Do you find it easier to work with a team or do you prefer to work alone?
I love working on my own, to think of new ideas. After that, I like working with my team.
You have to communicate your ideas to your team clearly.
The team members should be enthusiastic and creative. Then it is fun working together.
What are the qualities that make a good leader? What is your leadership style? What is your success mantra?
I always question how good a leader I am. Sometimes you have to be stern and forceful, but to some people you have to give freedom.
It is different strokes for different folks.
My success mantra is to always make sure your customers are happy.
Give them what they love and stay ahead of the curve.
When you read about Indians succeeding all over the world. Do you wish you had followed them?
I am very happy here.
India is on the cusp of a revolution.
It is the right time and the right place to be today.