A temple on the mountain top. A lake and a waterfall. All in one day!.
Rediff.com's Divya Nair recently trekked to Sondewadi, Maharashtra. This is what she discovered: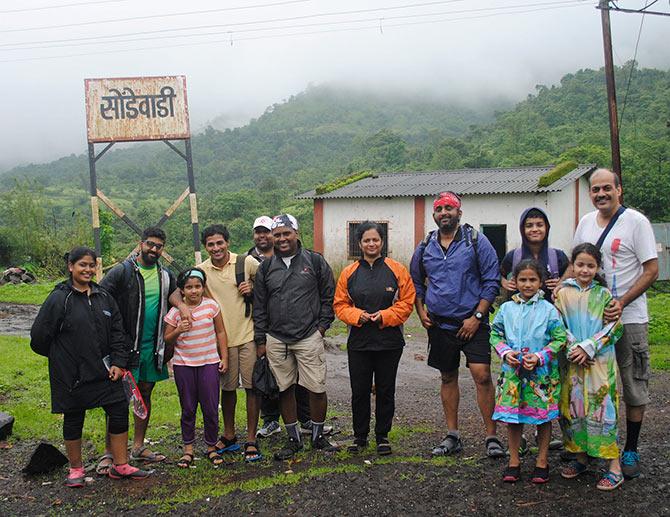 IMAGE: The group at Sondewadi, the base of the trek. Photograph: Reuben NV/Rediff.com
Sondai is a small fort, more of an uninhabited temple, near Sondewadi, a village near Karjat, Maharashtra.
It gets its name from Goddess Sondai whose shrine is atop the mountain.
On a cloudy Saturday morning, 13 of us, including four children, set forth on the trek.
We took a Central Railway train and reached Karjat station at 7 am and hired two six seater autorickshaws to Sondewadi.
After breakfast, we reached Sondewadi at 8.30 am.
A member of our team had brought his car, so we dumped most of our stuff (extra clothes, umbrellas etc) in the car and parked it in the village.
The aim was to travel light.
Since it was raining, we chose to walk and get wet in our monsoon shoes, rather than in our sports shoes.
We carried some lunch and two bottles of water each, as there would be no shops uphill.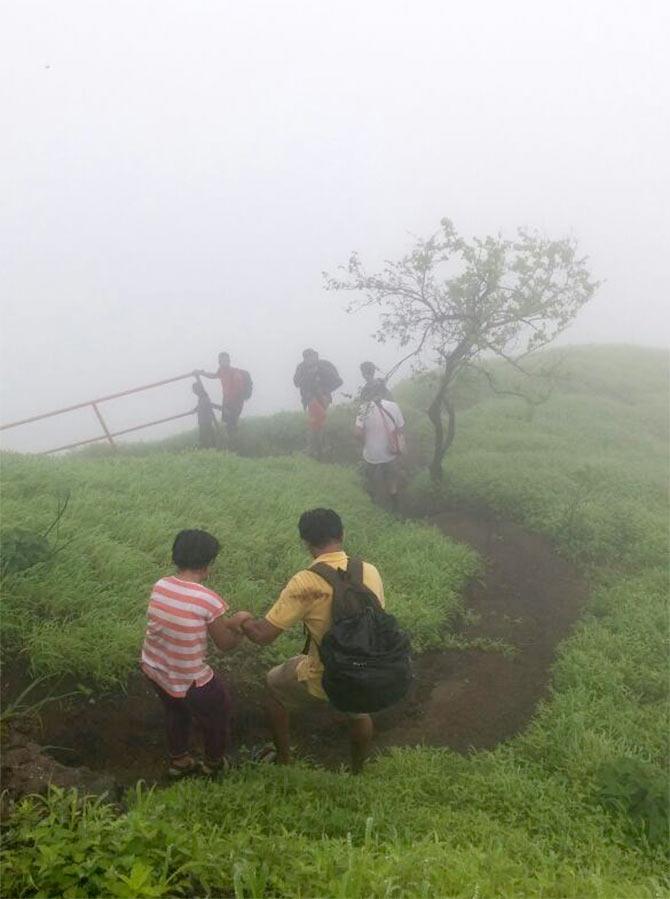 IMAGE: The downward descent into the clouds. Photograph: Divya Nair/Rediff.com
The trek uphill was easy-to-moderately difficult.
If you are trekking for the first time, you will need an expert around. My colleague Reuben was the expert on this trek. An avid trekker, he had been there with friends a week earlier.
IMAGE: In the absence of clouds, the top of the mountain is clearly visible. Photograph: Reuben NV/Rediff.com
An orange coloured metal ladder leads you to the top.
We arrived at the top by 10 am and halted for half an hour hoping for the clouds to clear.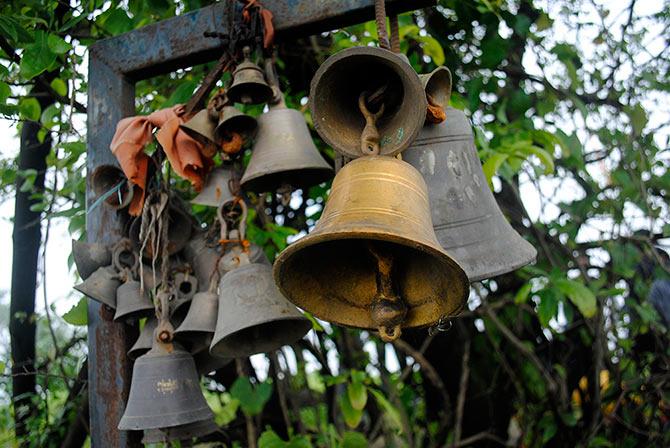 IMAGE: The temple bells at the mountain top. Photograph: Reuben NV/Rediff.com
No sooner had the kids opened the packets of chips, we heard strange noises.
Half a dozen monkeys advanced towards us.
Rajesh, one of the trek members, used his whistle to scare the simians away.
The moss on the rocks and wet mud made the downward descent slippery in most places.
Sometimes, we'd sit down and slide :)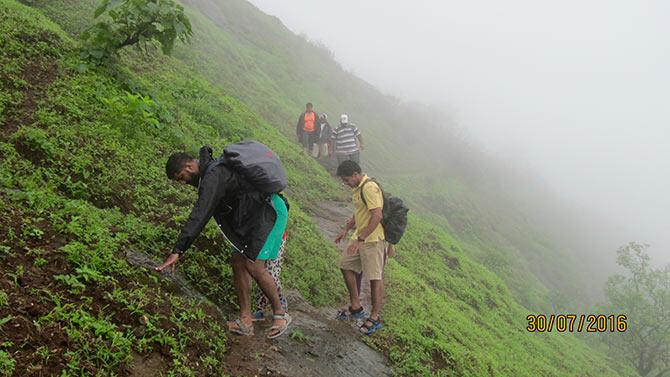 IMAGE: The slippery path added to the adventure. Photograph: Mahipal Soni/Rediff.com
Our next stop was a lake near Vavarle village for which we had to walk for nearly two hours.
The path was densely covered with trees and shrubs. And plenty of mosquitoes and insects too.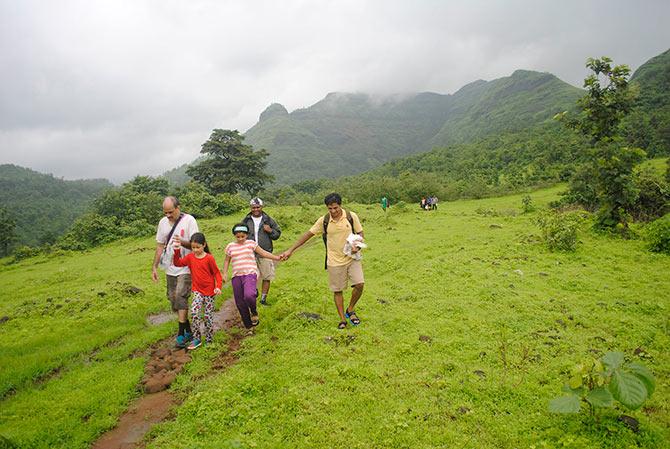 IMAGE: The kids looked forward to playing in the lake. Photograph: Reuben NV/Rediff.com
Throughout the trek, we spotted rectangular pits which collected water.
This was either to harvest rainwater or a way to prevent desilting.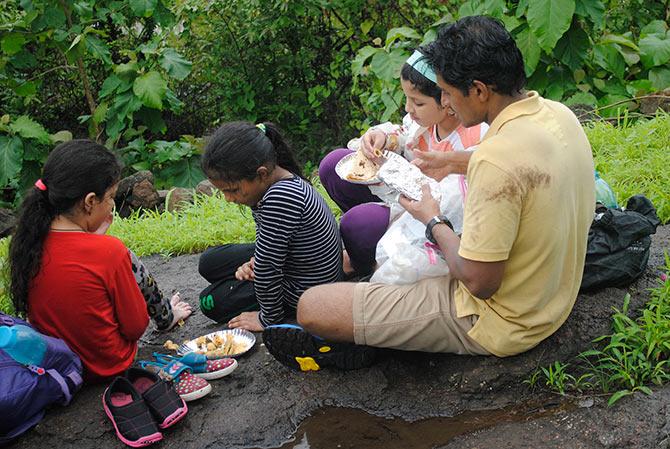 IMAGE: A quick lunch. Photograph: Divya Nair/Rediff.com
When we reached the lake at 1.30 pm, we were disappointed to see a group of youngsters having a lunch and booze party.
Used plates and bottles were scattered near the lake.
A week before, Reuben said, the area was clean. I wanted to request the group not to litter, but Reuben asked me not to take the lead because they were likely drunk.
Salil, one of the trek members, went ahead and requested the group not to litter and fortunately, they heard us out. They agreed to remove the used plates and bottles.
All of us then took a dip in the lake, forgetting how tired we were from the long walk.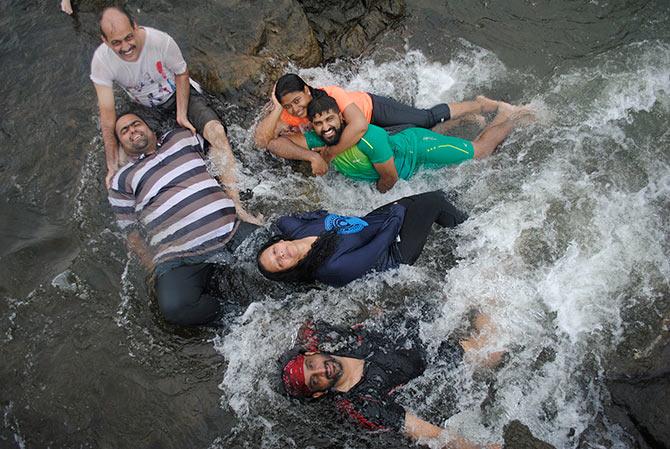 IMAGE: The group soaks in the lake. Photograph: Reuben NV/Rediff.com
There was a waterfall near the lake.
Reuben warned us not to spend much time in the waterfall as the force of the water was strong and it would tire us out in seconds.
We took a quick dip and Reuben was right about getting tired in a jiffy.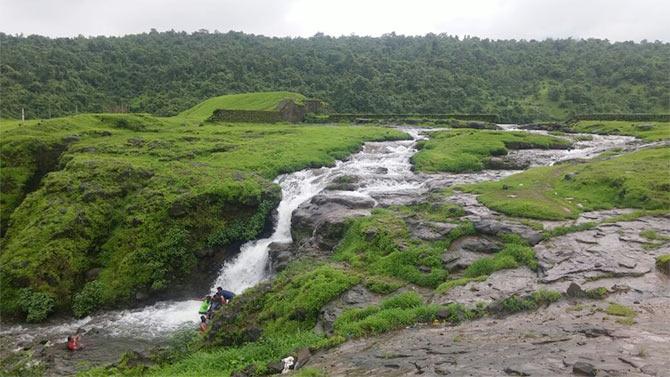 IMAGE: A view of the waterfall. Photograph: Divya Nair/Rediff.com
We took the 'tumtum' (the six seater rickshaw) back to the station. By the time we reached Karjat, our bodies were tired, but memories of the picturesque views linger on.
Cost of trek
Rs 400 to 500 per person (inclusive of breakfast, snacks and one-way first class railway ticket)
How to reach there
Take a Central Railway train to Karjat. Alight from the eastern end and hire a six seater to reach Sondewadi village.
Dos and Don'ts
Carry enough water and food as there are no shops on the way.
Wear full sleeved tops and full length pants to protect yourself from the mosquitoes.
Use a sunscreen lotion.
Do not litter.
Don't carry expensive stuff with you.
Be polite to the village folk you encounter.
Wear sneakers or shoes with a good grip.
Wear a raincoat; avoid carrying an umbrella, you'll need to use both hands while climbing.
Secure gadgets like smartphone and camera with a plastic or bubble wrap.
Travel light. Carry only what is necessary.
MORE TREKKING FEATURES
---
Write to us about your favourite monsoon trek with these details:
How far is it from your city/town?
How does one reach there?
Things to see and do.
The cost of the trek
Who did you go with?
History of the place, if any.
Local food, accommodation, traditions and attractions.
Dos and don'ts to follow.
Please mail your monsoon trek photos and stories to getahead@rediff.co.in along with your NAME, AGE and the place where you LIVE.
You can share your pictures with us too! Do include interesting information about where you clicked the photograph and what makes it special.
We are looking for original photographs that have been clicked by you.
We will publish select treks on Rediff.com and India Abroad.