"When I came to India, I did not have a plan. I had no friends or mentors. The journey to success hasn't been easy. But looking back, I feel the struggle was worth it. My parents and siblings are very proud of me today," says the 23 year old, Ugochi Latoya Igwilo.
Image: Ugochi in a Dev R Nil creation. Photograph: Courtesy Lakme Fashion Week
About five and a half years ago, when Ugochi Latoya Igwilo packed her bags and came to India, little did she know that she was going to be the next big thing in fashion.
After much struggle and rejections, today, she takes pride in breaking tradition and becoming the first Nigerian model to walk the ramp for Lakme Fashion Week 2015.
Born to entrepreneur parents, Ugochi is the eldest of seven siblings -- she has three sisters and three brothers -- all of them live in Lagos, west Nigeria.
In a candid interview, the young model opens up about her daily struggles, lessons and more...
What inspired you to travel to India? How did you become a model?
I had heard a lot about India and how it encourages art and creativity.
So I came to India to study interior designing at Amity University in Noida.
A lot of my friends told me that I was tall and different and should probably try modeling.
Back in Nigeria, the trends in fashion are very different. There is not much scope for models.
So, if I had to be a model, I had to find work in India.
Three years ago, I walked for India Runway Week and that was my first professional break as a model.
Last year I walked for Wills Lifestyle India Fashion Week and this year, I auditioned for Lakme and got through.
How difficult was it to find work?
When I came to India, I did not know any other language but English.
It wasn't easy to make friends and communication was always a problem.
Also, since I am black, work is hard to come by. Not many designers were willing to work with me.
I volunteered to work as a design consultant in a Gurgaon-based firm. That's where I started to build my network. I would share my portfolio with my friends who would refer me to different events but I was mostly rejected because I was different from the rest.
It is only after Wills Fashion Week that people noticed me and I started getting some good modelling offers.
This is my first season at Lakme.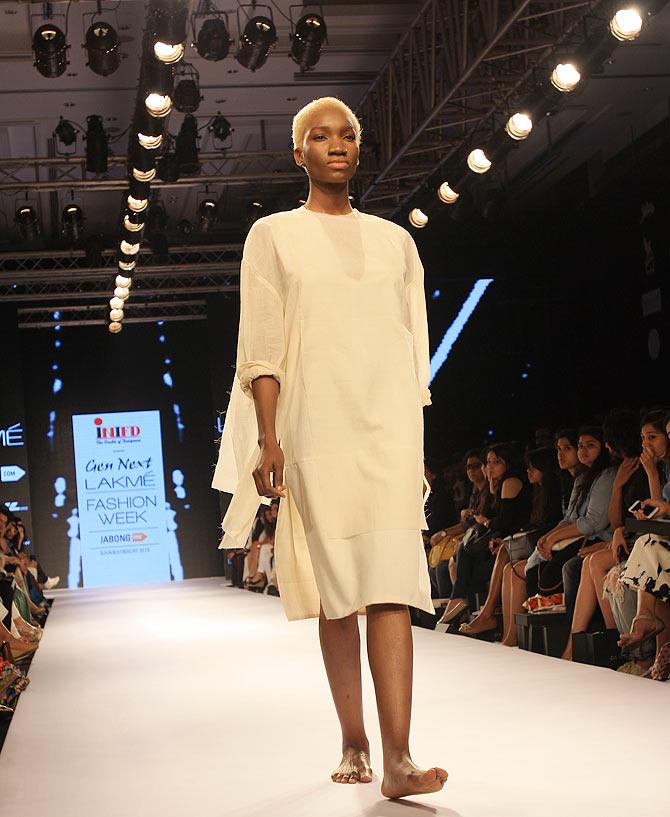 Image: Ugochi in a Alan Alexander Kaleekal creation. Photograph: Uday Kuckian/Rediff.com
What is the best thing about being a model?
I have always loved glamour, artefacts and accessories.
The best part of being a model is that we get to wear the best of clothes and accessories before it even launches in the market.
What is the flipside of being one?
Sometimes it gets stressful and you get drained out. You have to still give your 100 per cent to your work, which is quite exhausting, both physically and mentally.
What advice would you like to give to aspiring models who want to make it big in fashion?
Be realistic about your expectations and choices. Avoid being desperate, it shows. People will take undue advantage of you. Believe in yourself and let your inner voice guide you.
Rejection is a part of success. Take it in the right spirit.
Use it as a learning tool, don't let it affect who you are.
How do you maintain your skin and body?
When I was in college, I used to eat a lot of butter chicken and butter naan. There was a time when I used to eat five naans at a stretch.
Now I can't afford to do that. I am very conscious about gaining weight.
I do yoga and eat carefully now.
I intake a lot of protein-based foods now.
How do unwind and motivate yourself?
I read non-fiction, self help books.
Currently I am reading Seven Habits of Highly Effective People by Steven Covey.
I also watch a lot of comedy -- the Big Bang Theory and Friends are my favourite sitcoms.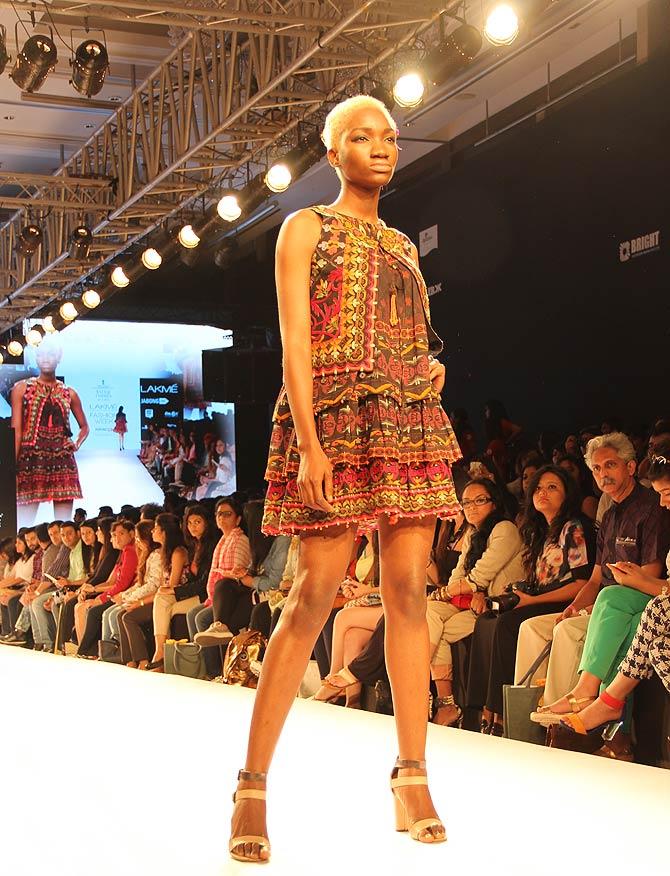 Image: Ugochi in a Hemant and Nandita creation. Photograph: Uttam Ghosh/Rediff.com
What have been your greatest learnings since you entered the profession?
A lot of people think modelling is very cool and easy; that the life of a model is very glamorous. However, the truth is far from that.
We models work a lot before and after the show to be able to look good on stage.
When I entered the industry I was told that established models are insecure about newcomers.
But if you ask me, the insecurities begin and end on the ramp -- on the ramp, we are equals.
Also, if you are hard working, everyone starts appreciating and encouraging you, irrespective of who you are and where you've come from.
In my case, when people come to know that I have been in India for more than five years, they find it really surprising and eventually treat me better because they know how much I have struggled to get here.
How do you stay safe?
I have always been independent but I prefer to stay in groups and not venture out alone, particularly when I am not familiar with the place or people.
Your thoughts on India...
India is a lovely place to be in -- it's a culture capital of the world. You get to see so many different cultures and people co-exist here, each day is a new experience.
However, what I dislike about India, is the lack of safety for women.
I have been fortunate to work with the right agencies and people who have always taken care of my travel and safety, but I can empathise with girls who travel late as part of their work.
I wish we could make things less difficult for them by introducing better security at night.
Your advice for readers...
Always live in the moment. Make the most of your time today.
Don't give in to depression or self pity.
Improve your skills and try to be a better person than you were yesterday.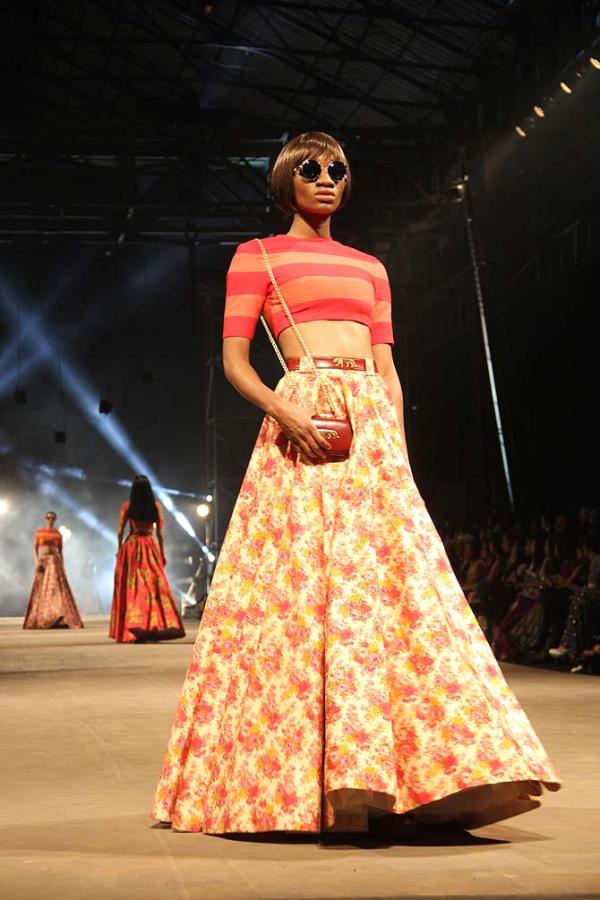 Image: Ugochi in a Sabyasachi creation at Lakme Fashion Week. Photograph: Uttam Ghosh/Rediff.com
Who are the designers you like working with?
I like Sabyasachi because his clothes are Indian yet unconventional and remind us of a bygone era -- I connect with his garments emotionally.
I also like Tarun Tahiliani. His outfits are structured and different from the ordinary.
And of course Manish Malhotra -- I like his lehengas. I really love wearing them.
Who inspires you?
I admire Naomi Campbell for her confidence. You get so much positive energy by simply watching her.
I also like South African model Candice Susan Swanepoel, she has a great body.
DON'T MISS: Lakme Fashion Week Special Coverage