There is no one in the world like this Champion.
As he bids farewell to sprinting, Laxmi Negi looks at the invaluable life lessons UB taught the world.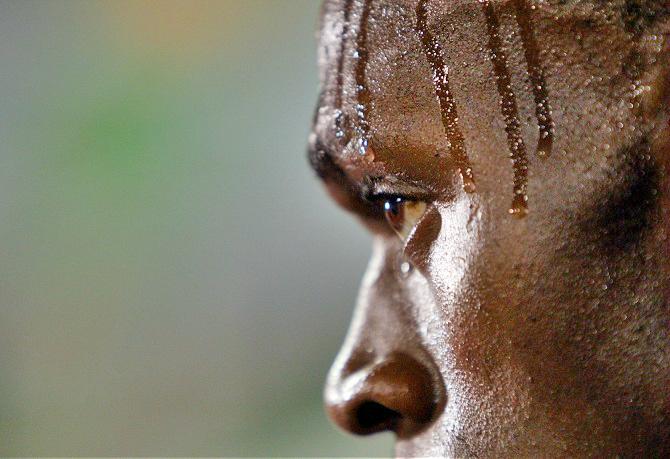 Photograph: Carlos Barria/Reuters
1. Love what you do, and don't be afraid to have fun along the way
The way Bolt enjoyed running, he made it look effortless.
It was as much part of his appeal as the fun moments he gave fans.
No celebration is complete without the 'Bolt' pose, which he debuted at the Beijing Olympics in 2008.
Even then US President Barack Obama tried it. Such is Bolt's charisma.
2. Be gracious in defeat
At the world stage we haven't seen Bolt lose. But when he did, he was gracious.
The stage was set for Bolt to exit with a truimphant swansong, but Justin Gatlin spoilt his party.
And Bolt was the first to congratulate his dope tainted competitor.
3. It's never about how you start, but how you finish
That's how he ran his 100m races.
His reaction time wasn't great, and hence always a stumbling block, but he always finished ahead.
He made sure to recover and finish the race in style.
Every time.
4. Have crazy goals, have realistic goals
Crazy and realistic rarely go hand-in-hand, but Bolt had the audacity to pair them up.
He declared before the Rio Olympics that he would bow out as the greatest athlete.
Many questioned his fitness, but Bolt proved to be a man of his word.
He completed a rare double -- won both the 100m and 200m -- and was the first to seal the triple-triple (three gold medals in a row across three different Olympic track events)!
5. Consistent isn't boring
The Jamaican is a champion of consistency.
Bolt had not lost in a decade apart from his last 100m race.
6. Know when to peak
Cometh the hour, cometh the man!
Bolt is a big game man. He knows when to perform.
He gave an on-field lesson to Canada's Andre De Grasse during the Rio Olympics semi-finals.
When Bolt started slowing down at the finish line, De Grasse ran full speed.
Bolt wagged his finger at De Grasse hinting it is not the final.
Bolt, however, was not happy about being pushed, reportedly saying after the race, 'I don't know why he did that. You don't need to run that fast.'
Needless to say, Bolt raced ahead in the final.
7. Retain your sense of humour
Bolt was celebrating his 200m gold with the crowd in Beijing in 2015 when an overzealous cameraman lost control of his segway and swept the Jamaican off his feet.
The incident looked nasty at the time, but Bolt got up and laughed it off.
At his press conference after the race, he jokingly blamed it all on Justin Gatlin.
'The rumour I'm trying to start right now is that Justin Gatlin paid him off.'
And Gatlin quipped, 'I want my money back.'