A career that's spanned nearly five decades; he made in acting debut in a film called Saat Hindustani in 1969.
He has dabbled, among other things, in politics, production and an international beauty contest.
He has seen both glorious success and abject failure.
Who better, asks Virender Kapoor, to take career lessons from than Amitabh Bachchan ?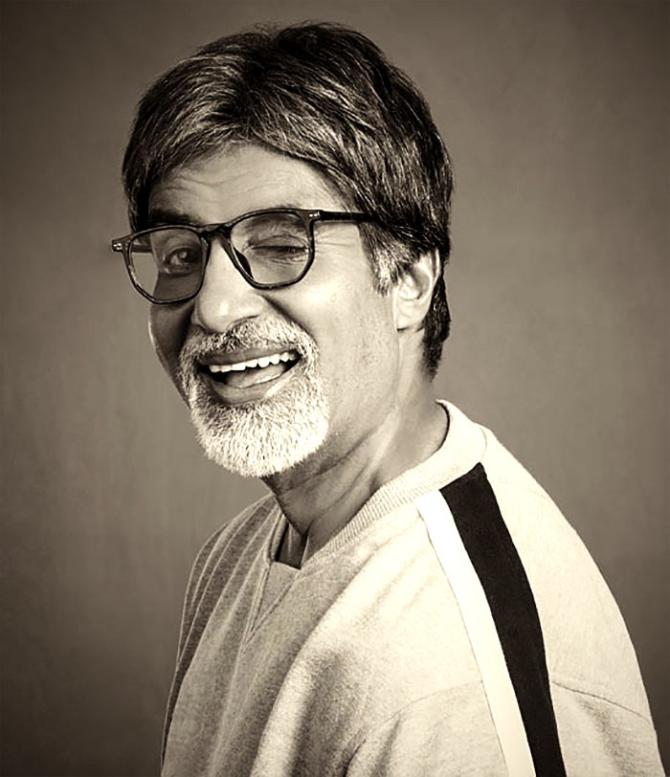 IMAGE: 'It requires a lot of determination, willpower and patience to manage the ups and downs of an unpredictable film career, combined with health issues and a failed business venture.' Photograph: Kind courtesy Avinash Gowarikar
Amitabh Bachchan's performances in the movies are awe-inspiring and each episode of Kaun Banega Crorepati left a lasting impression on millions of people across the world.
I have often asked my students, "Given a choice, would you be an Ambani or an Amitabh? One has a lot of money but little fame, while the other has immense fame but little money."
"Amitabh" is the usual response. If you ask me, I would also vote for Amitabh.
Does this adulation only exist because of his popularity, fan following, acting and panache or is there something more to it?
Certainly, there is a lot more than just that.
Along with great acting, there are multiple facets of his personality that are hard to miss.
After all, there is always so much to learn from people who have gone through different phases of life -- the good, the bad and the ugly. In his case, however, the situations have been the best, the worst and the most horrid.
It requires a lot of determination, willpower and patience to manage the ups and downs of an unpredictable film career, combined with health issues and a failed business venture.
Handling challenging roles and delivering your 100 per cent to satisfy people via a medium that opens you to constant scrutiny and keeps you under a microscope all the time -- frame by frame -- is not a small achievement…
For me, he is the perfect example of demonstrative excellence.
It is not difficult to find almost every quality one requires to excel in Amitabh Bachchan and that is the best thing to learn from this enigmatic personality…
There is a lot one can learn from him in the broad arena of worldly skills…
Let us briefly examine his attributes:
IMAGE: Amitabh Bachchan in Sarkar
1. Handling pain and failure
This is one quality which is extremely important in a competitive world.
Amitabh Bachchan, during his 50-year-long career, has seen ups and downs which very few have experienced.
A serious injury during the shooting of the movie Coolie (1983) and several other health issues which nag him even today would have taken a toll on any other person.
Despite serious health-related issues, this man stood the test of time and gave his best to his directors and audience each and every time he performed.
Meeting deadlines, managing difficult weather conditions during outdoor shootings and handling dubbing schedules at odd times with bad health is not easy.
Acting is very different from an office job; you are always exposed to a camera which can capture your minutest discomfort.
This man did all of it, and that too with his chin up.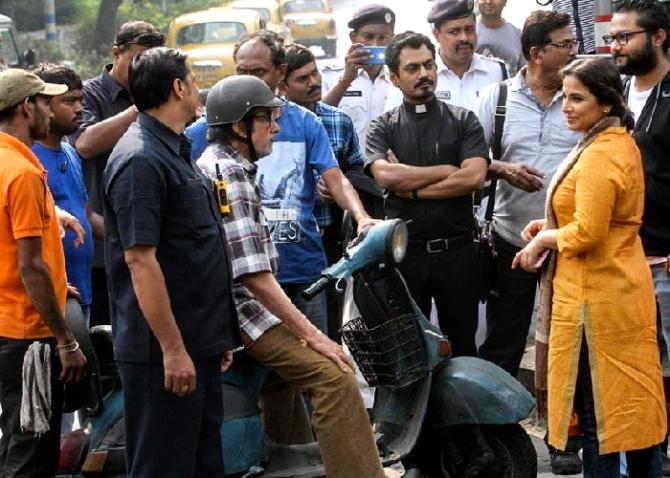 IMAGE: Amitabh Bachchan waits patiently on the sets of the movie, Te3n.
2. Self-discipline
Discipline and meticulousness are two of the most important professional traits.
Without these, you cannot survive in a competitive environment, especially in the cinema industry where there is cutthroat competition.
Amitabh Bachchan is professional, self-disciplined and cooperative with his directors and co-stars. He handles every assignment diligently.
He feels that if he is being paid for a job, he must deliver his best to the directors and producers.
3. Respect for time
He is known for his punctuality in the industry.
Despite being successful for a very long time, he has never disregarded punctuality or thrown any tantrums on the sets.
He has always been on time for every shoot, even during the busiest days when he was doing three shifts a day for different movies.
Once, he was seen running on the road -- with his car stuck in a traffic jam -- just so he could be on time for a function.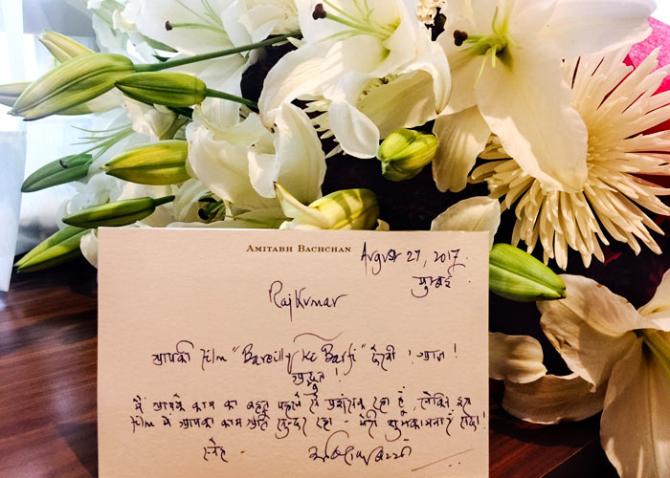 IMAGE: Bachchan sent flowers and a note to Rajkummar Rao, appreciating his performance in Bareilly Ki Barfi. He is reputed to do this for every performance that he has watched and enjoyed. Photograph: Kind courtesy Rajkummar Rao/Twitter
4. Appreciating others
It is not easy to appreciate your co-stars when you have reached the zenith of your career.
Most people are not able to handle success and, therefore, become arrogant, conceited and even rude to their juniors.
But not him.
He has always admired others' work and has maintained a cordial behaviour with everyone he has worked with.
5. Panache and grace
Grace under pressure is a quality only great people and professionals possess.
Amitabh Bachchan has handled tremendous pressure extraordinarily, even when his career graph was not looking too good and his business venture was in the doldrums.
He demonstrated the rare capability of taking the blow on the chin without a single complaint.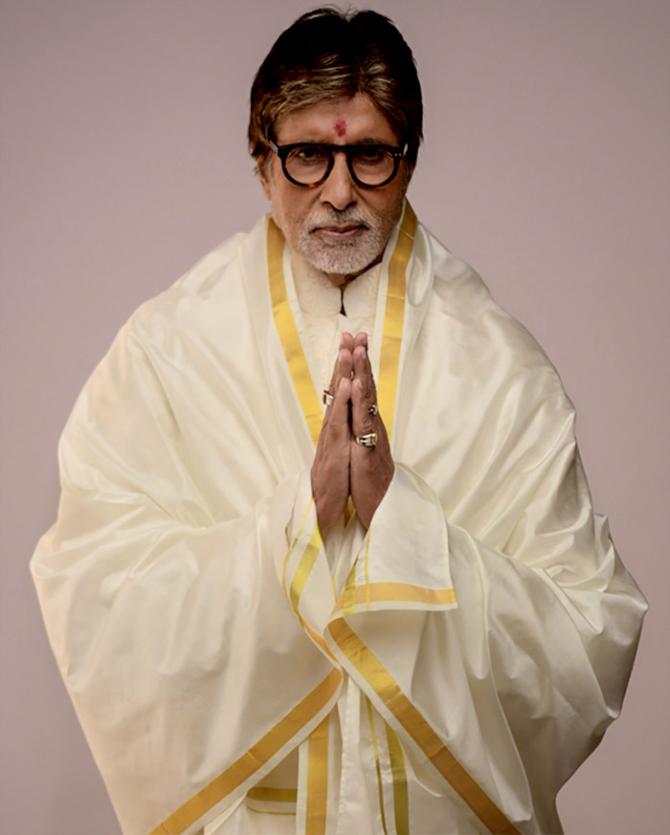 IMAGE: 'Bachchan has always demonstrated respect for elders and family values' Photograph: Kind courtesy Amitabh Bachchan/Twitter
6. Integrity and value system
Mr Bachchan has always demonstrated respect for elders and family values.
His genuine courtesy with his co-stars is something one cannot miss about him.
7. Accepting your weaknesses
When his company, Amitabh Bachchan Corporation Ltd, was in deep financial trouble, he never put the blame on anyone else.
He accepted that he had not acted with good business and financial sense.
When asked for his opinion about the industry that did not support him in his worst time, he clearly mentioned that it would have been impossible for someone else to bail him out of his own mistakes.
8. Philanthropy, empathy and giving back to society
He may not have donated big bucks to charity but he has always supported government projects like 'Save the Tiger' and campaigns for tuberculosis and polio awareness.
He has stood by the farmers who were on the verge of committing suicide.
In many instances, he has also helped his senior co-stars financially.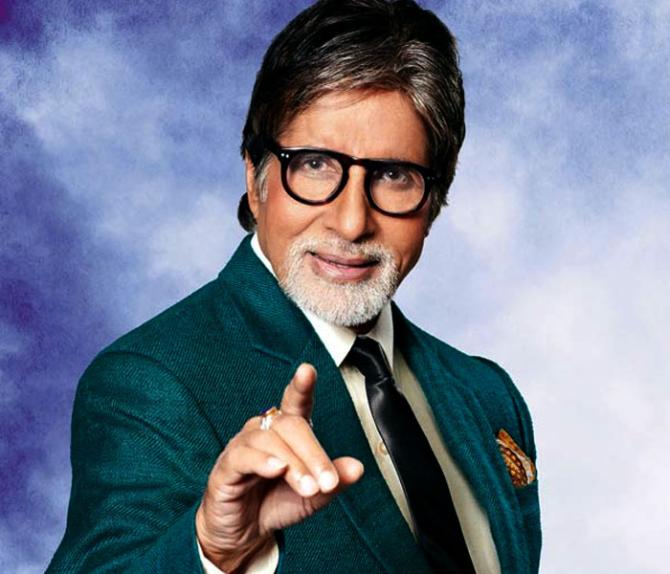 IMAGE: 'Amitabh Bachchan has fought back fiercely after every failure to emerge as a winner.' This photograph was part of the promotional campaign for KBC, the show that revived his career.

9. Bouncing back after failure
Whether it was his illness, failed business or a bad phase in his career, he has demonstrated courage and has fought back fiercely after every failure to emerge as a winner.
10. Humility and style
In every interview, he seems humble and down to earth.
Even during his public appearances or in the KBC episodes, the man has always demonstrated élan and courtesy with all the participants.
Excerpted from Excellence: The Amitabh Bachchan Way by Virender Kapoor, with the kind permission of the publishers, Rupa Publications India Pvt Ltd.