'I am her mother and she is my daughter.'
'I don't need a piece of paper to define my relationship with anyone.'
Single mother and transgender activist Gauri Sawant shared, with Rediff.com's Divya Nair, the anger, frustration, hope and love that have travelled with her on her life's journey.
Photographs and videos: Hitesh Harisinghani/Rediff.com
IMAGE: Gauri Sawant, right, speaks with great animation, her eyes, sometimes, expresses more emotions than her words.

She pointed. And then gestured, "How many months?"
I looked down at my bulging belly.
"Seven," I gestured back, holding up seven fingers.
We smiled in unison.
Suddenly, the half-kilometre trek, through the narrow, teeming lanes of this neighbourhood in Malad, north-west Mumbai, under a scorching sun, evading holiday-happy kids madly pedalling cycles through didn't matter.
Nor did the hour-long drive from office to reach here.
Or the time spent, before that, tracking her on Facebook.
Or the suspense: She agreed to an interview. Then postponed it.
On the day of our appointment she stopped taking my calls altogether!
When we arrived there... "Tere ko mana thodi karungi main (I can't deny you an interview)," beamed Gauri Sawant, the transgender who has become a national sensation via the Vicks ad (click here to watch the ad (external link) )... "I can't refuse you!"
There was no escaping her motherly concerns as she warded off the evil eye, holding her hands out to bless me and swept them to her temples in that age-old reverential flourish.
She then blew a noisy kiss my way.
"Bisleri paani lana (Bring mineral water)," she ordered in a deep voice, that wanders gently between lower male octaves and higher female ones.
"I won't give you a good interview if you don't eat!" she insisted offering dal-chawal, before excusing herself, going into the kitchen, sliding the door shut to change her clothes.
The cramped double-floor chawl, where we conducted the interview, housed the office of the Sakhi Char Chowghi Trust, a non-profit organisation of transgenders working for awareness and prevention of HIV and AIDS, which she heads.
"I am tired of giving interviews. Everyone asks the same questions. I said no to BBC too," the 37 year old complained.
She was open to being photographed, but not interested in any cliche-bajee type posing: "Please, no photos of me dressing up. Putting on make-up or jewellery. That's very boring."
Gauri was born Ganesh Sawant in Pune. She was thrown out of her parents' home when she was 17 and has fended for herself ever since.
Her past, she emphatically indicated, was something she didn't want to discuss. Or me to write about.
She merely added: "Main dua karti hoon kisike saath aisa nahi ho (I hope no one has to go through such struggles)."
Just before the video camera began to roll, Gauri instructed her chelas to put their phones on silent, including her own, whose ring tone, that goes off every few seconds, was Saathiya Tumne Kya Kiya, from the 1991 Salman Khan starrer Love.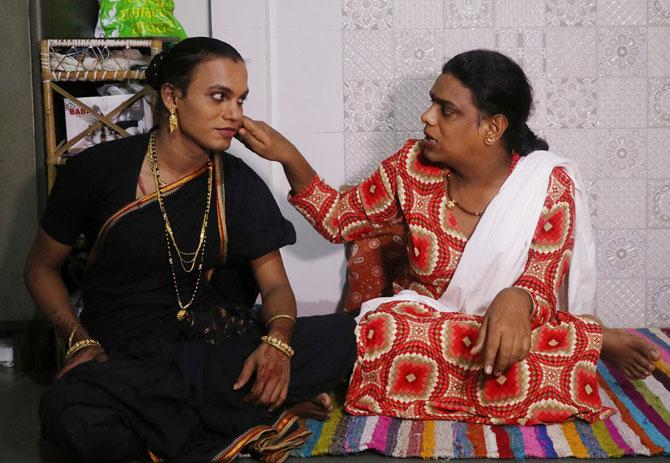 IMAGE: Gauri shared a candid moment with her chela Neerja, left, who, she said will take over the Sakhi Char Chowghi Trust when she starts her dream shelter home in Karjat, Maharashtra.

"Do you like to act?" I asked her, when she sat down, cross-legged, on a colourful bedspread, beside her chela, Neerja, for the interview.
I was sitting on the floor opposite, near a television set. A cooler hummed in the background.
"When I was young, I was in a relationship with a Marathi playwright. I have worked with Alka Kubal, the lead actor in the Marathi film Aamhi Ka Teesre (the film title means: Why are we the third gender?). I have also done theatre."
"I was interested in acting, not dancing. I never liked being in the limelight."
In spite of disliking publicity, Gauri runs a community welfare show on YouTube titled Bolo. One of those videos featured her daughter Gayatri.
Chinki Sinha, a reporter who saw it, interviewed Gauri. Her story -- she didn't remember for which publication -- appeared titled The Other Mother.
The article, she thought, got people talking and perhaps attracted the attention of the Vicks' ad team.
"The team first wanted to meet my daughter. I said no. I don't want to use my daughter's name for publicity. Tomorrow she'll say: 'Mummy, you used me'. So, the team revised the script and convinced me that my story would send a positive message. That's why I agreed."
How real is the story in the Vicks ad?
"Ninety per cent real," she said. About a decade ago, she met Gayatri's mother when she visited her at an NGO in Malad.
"When she was pregnant with Gayatri, she would come here and eat dal-chawal and nimbu ka achaar with us. I had given her my good wishes. But after that she never contacted me."
Four months before her death, Gayatri's mother tested HIV positive. "When I met her, I asked if she had delivered a boy or girl. She said she was too ill and someone was trying to sell Gayatri to a brothel in Sonagachi (a red light area) in Calcutta (Kolkata). Her husband had abandoned her. All I knew was that I had to save Gayatri somehow."
Gayatri was 5 when Gauri adopted her.
"Haddi si thi. Beemar. Mooh pe safed dhabbe. Calcium ki kami. Maine kabhi nahi socha main maa banungi (She was pale and had white spots on her face from lack of calcium. I never thought I'd become a mother)."
She remembered fondly: "Gayatri was a nautanki (naughty child). She knew how to patao me (make up with me) when I was angry. She would touch her toothbrush and say 'Ho gaya brush (ing)'."
"I'd train her to brush her teeth with Colgate, salt. Comb her hair. Or little things: 'Why didn't you flush the toilet after using it? Don't leave the door open when you pee. Don't sleep with your legs in the air. Seedhi so (sleep properly). Sit with your legs crossed'," related Gauri, who lost her own mother when she was nine, as she recalled how she became a new mother.
The challenges of being a transgender mother:
"I would travel for workshops and I started to worry about Gayatri's safety. Hamare yahan billi-bakri bhi surakshit nahi hai. Kaanch ka bartan leke kaha jau? (Even cats and goats are not safe in our area; and I was in possession of a child as delicate as glass)."
"I could not leave her with neighbours, who had teenage sons. I'd leave her with those who had daughters, so she could play with them in my absence. But I couldn't do this for life, and had to come up with a better plan for her future and safety."
Why the boarding school decision for Gayatri:
"Gayatri was weak in studies and instead of going to the tuition class, she would hide in the lane and play."
Walking back home to their neighbourhood, she was once teased. 'They called me chhota hijra (Baby eunuch),' Gayatri complained to Gauri.
"She was looking for a reason to skip studying and this was it," explained Gauri.
As Gayatri grew older, the environment around her grew more and more unfavourable as well. "She'd imitate us. Wear bright lipstick. Don loud makeup. In school, her teacher called me to say she was found clapping like us."
Then the very worst complaint reached Gauri. Gayatri started threatening people when she was scolded for something.
She would say: "Mummy ko bataungi, Naani se shikayat karungi (I will tell my mother. Complain to my grandmother)."
For Gauri, that was a warning she had to take heed of.
"Woh straight hai. Main transgender hoon. Main kyu uski future spoil karu? (She is straight, I am a transgender, why should I spoil her future?)"
Was it easy sending her away, I asked in concern? "
Of course not. My chelas had frightened her. (They said) boarding is not a good place. They told her barf ke laadi me sulayenge, freedom nahi milega (They'll make you sleep on ice. You will miss your freedom)."
"But when I told her it is for her future, she agreed."
In the Vicks ad, Gauri was shown massaging oil into the hair of the onscreen Gayatri. Gayatri also declares her favourite food is potato chips. And that she loves horror films.
Does the off-screen Gauri and the real Gayatri have similar likes?
Nope. Gayatri doesn't have long hair even, at the moment. "I was tired of asking people to plait her hair for school. She wouldn't like the way I tied her ribbons. Once, I took her to a salon and chopped off most of her hair. She was crying the whole day. But I told her it will grow back."
"Usko fish bahut pasand hai. Khushbu se batati thi ki surmai fry ban raha hai ya bangda (She likes fish and can identify when surmai/kingfish is cooking or bangda/mackerel just from the aroma)."
The legal challenges she faced adopting Gayatri:
Gauri is very matter of fact. She doesn't feel the question is even relevant.
"What legal?" she asked perplexed. "I am her mother and she is my daughter. I don't need a piece of paper to define my relationship with anyone. I am her guardian, her mother and her father. We have a joint account in a local bank from where I transfer her money when she needs it. When she is 18, she'll be independent and can take her own decisions."
Gayatri is now in Class 9 and the Pune boarding school is fine with this arrangement. "Rishton ko kyu label karna hai? (Why label relationships?)" she added.
On being a hijra:
"Aaj 20 saal ho gaye, mere family ne mujhe apnaya nahi (It's been 20 years, my family hasn't accepted me). I worked for a while in a shelter for children, because I like being with children, but they had a problem, when I identified my gender. The Father (who ran the shelter home) sent me away."
"Insaan chand par pahunch gaye, par hum gender me phase hai (On one hand we send people to the moon. On the other, we are still trapped by our gender) Women haven't got their 33 per cent reservation."
"What about us? Hamara number kab aayega? (When will our turn come?)"
She moved the conversation to challenges that concerned her. "HIV is a high risk disease. I work on this issue. But sometimes we don't get paid for six months at a stretch. I have a home in Karjat (outside Mumbai). I want to open a shelter for children of women from the red light areas. That's my dream."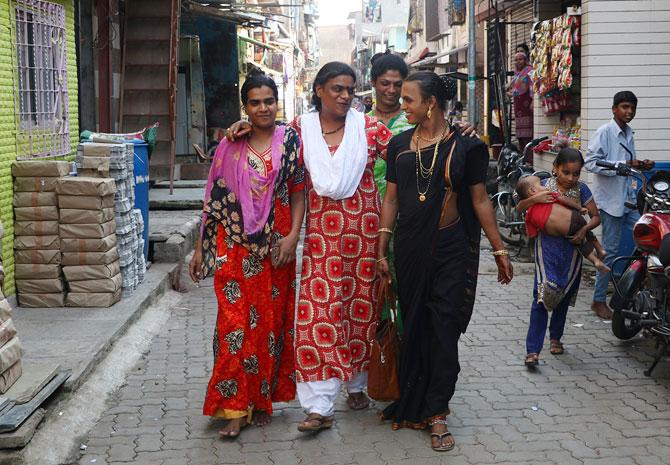 IMAGE: Gauri and her chelas, whom she treats as family.

Founding the trust:
"After I left home, I started working with the Humsafar Trust (which fights for LGBT rights). There I met (activists) Ashok (Row Kavi), Laxmi (Narayan Tripathi) and my guru (Kanchana, a transgender from Ghatkopar, north Mumbai, who she calls Amma). But after a while, I felt like a misfit there."
"I was a pansy, not a gay. I was a hijra. I wanted to do something for the transgender community. I wanted to work with underprivileged kids and open a shelter home for transgenders."
Ashok Row Kavi suggested the idea of the Sakhi Char Chowghi Trust, she recalled. He asked her then, 'Sambhaal legi na? Bhaag to nahi jayegi (Will you be able to run it? You won't run away)?.' I suddenly felt more responsible towards the trust. He made me the director and aligned our trust with the Mumbai Districts AIDS Control Society."
"Malvani (the area where she lives in Malad) has about 2,000 hijras, one of the largest communities of transgenders in Mumbai. At Char Chowghi, we do HIV testing, condom distribution, outreach, sensitisation workshops, media interactions."
The reality for transgenders in India:
"In 2014 Supreme Court acknowledged transgenders and granted us legal provisions. But Maharashtra hasn't accepted us yet. We don't get admission in colleges."
"Without education, we are not going to move forward, get employment. Our families don't accept us. Relatives complain that their daughters don't get married because of us (if there is a transgender in the family)."
"Izzat (respect) is a big word in India," Gauri points out. "Everyone is not lucky as Laxmi (Narayan Tripathi). Her mother would say, desi ghee ka laddoo, tedha hi sahi, mera hi sahi (To me, you are as perfect as laddoos made in pure ghee. Whatever our differences may be, you are mine)."
"Science has proved that chromosomal defect is due to both parents involved. The man decides the gender of the child, yet if a girl is born in India, the mother, the woman, is blamed for it. If a man wears a sari, you have a problem. That's why transgenders are not welcome. It's an attitudinal problem."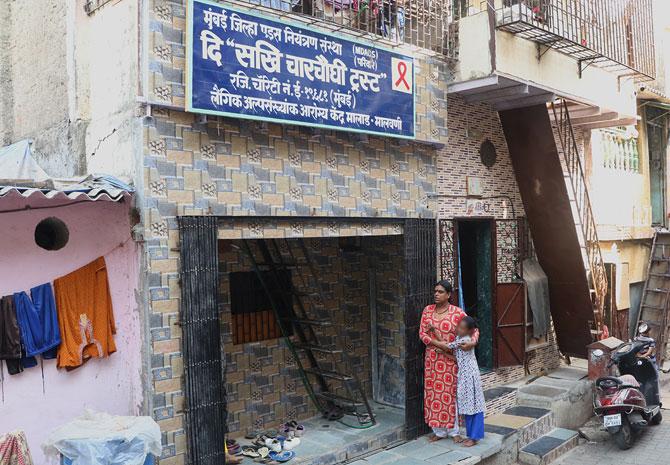 IMAGE: Gauri outside the Sakhi Char Chowghi Trust, Malad, Mumbai, with a colleague's granddaughter.

But what about those transgenders who beg and heckle for money? I asked.
"Kya sirf hijre hi bheek maangte hai? Aurat bachhon ko leke bheek maangte hai? (Only eunuchs beg? What about those women who beg with kids?) My family, society hasn't accepted me. How do you expect me to survive?"
"But our community is very accommodating. If you refuse them politely, they'll walk away. When the note ban was announced, my folks did not beg for money."
"When I clap, it's also my way of venting my frustration. Before calling us names, think about how society treats us. There are no public toilets for transgenders. In local trains, we are not welcome in the ladies or the gents compartment. Doctors don't touch us, forget treating us."
"Main ghar se bhaagke aai, kaha se laaun birth certificate, bonafide certificate, PAN card, ration card, Aadhar card (My family has abandoned me, how do I produce certificates?)"
"If you see a hijra on the traffic signal, give her a packet of Good Day biscuits. She will be happy, and trust me, she won't throw it on your face. But give her 20 such packets, what will she do? Will you work if you don't get paid for six months?"
VIDEO: Transgender Gauri Sawant talks about her challenges.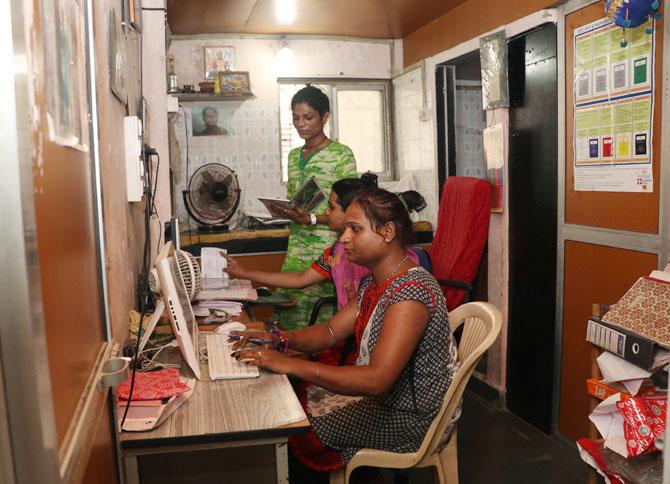 IMAGE: Gauri's transgender colleagues at the Sakhi Char Chowghi Trust, which is funded by the Mumbai Districts AIDS Control Society.
On being a protective mother:
She replied, with some exasperation, "A mother is a mother! If Gayatri is around, I am extra careful. I will be careful about the lane I walk in or the time I come home or the restaurant we eat at. After 7.30 pm, if my daughter doesn't come home, my insecurity increases. I don't let her wear denims sometimes. I am careful what clothes she wears, what kind of people she hangs out with, who her friends are..."
Has Gayatri seen the video? Brusquely, "Hostel me hai. Kaha se dekhegi? Hum roz baat nahi karte (She is in the hostel. How will she see it? I don't call her every day)."
Her dreams for Gayatri:
"Equality. If a girl wants to be an engineer and expects equal pay, she shouldn't expect a boy to carry her bag. In a family, in society and at work, you must share equal risks, challenges and responsibilities. Only then can you expect equal rewards."
In the Vicks ad, the actor who plays Gayatri said she will be a lawyer when she grew up, though her mother wanted her to be a doctor. Did Gauri also nurture similar ambition for Gayatri?
"My father worked in the police department. So I wanted her to be a police officer. She has beautiful eyes. So I wanted her to pursue Kathak. That did not happen. When I asked her, she said she wanted to be a doctor. Another day, she said she wants to pursue law. Now she says, she wants to become a teacher. Let her finish her studies, then we'll decide."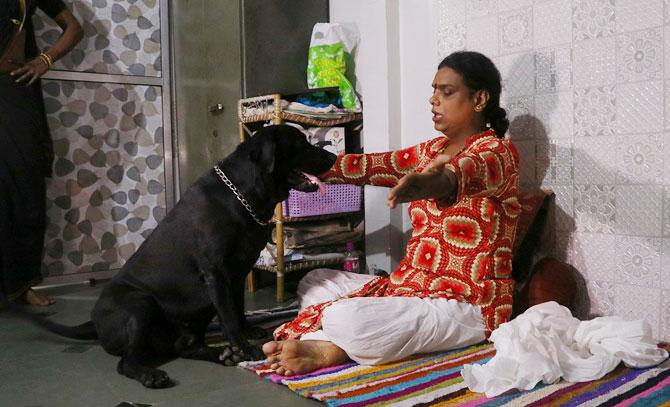 IMAGE: Gauri with her Labrador Malhar. After the interview, Gauri held her arms wide. Malhar stood there wagging his tail and looking away. But when Gauri pulled chela Neerja closer to her, a jealous Malhar jumped into her lap, like an overgrown baby, tail wagging with happiness.
Life after the Vicks video:
"I was in Pune last week. Like any other Indian, I was bargaining -- dus ka teen doh -- for green tea packets. Then, someone tapped me from behind and identified me from the (Vicks) video. I clicked a funny selfie too."
That was when the penny dropped for Gauri: "At that moment, I realised that I am now a role model."
"If I do something good, people will say good things about my community. If I say or do something bad, it will reflect similarly on my people. So I have to be careful now."
Her message for readers:
"A mother is a mother. Give respect, take respect."
"A mother could be anyone -- a lesbian, a man, a transgender. Respect the relationship."
PS: As we leave Gauri's office, she asked if she can pack me some loncha (pickle) and if I am carrying a bottle of water.
She also shared some shlokas on WhatsApp that she says I should recite. She worships Shirdi Sai Baba.
I am blessed abundantly and even advised of the route I should take to reach home faster.
On my way home, I remember Gauri's unusual wisdom on motherhood. I feel I have gained a stronger idea of the mother I wanted to be.
VIDEO: Gauri Sawant's advice for India