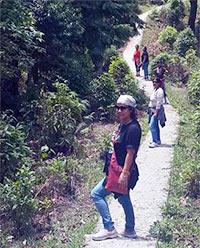 'Maybe what the lady in Sex and the City said was right-- that maybe our girlfriends are indeed our soulmates and guys are just people to have fun with.'
Durba Dhyani captures the magic of a reunion.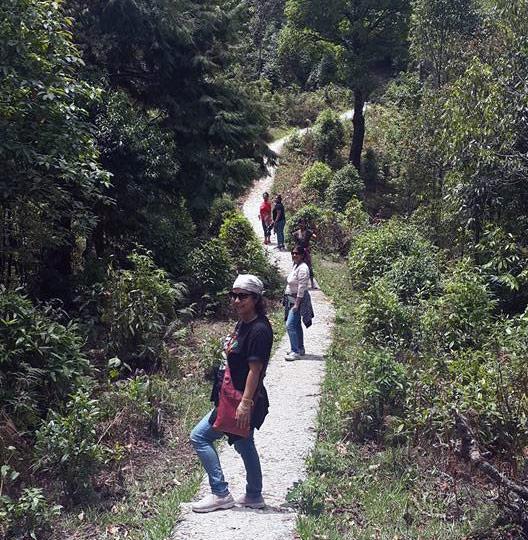 IMAGE: The girls trek to Ramitey. All photographs: Durba Dhyani
If there is one thing I dread, it is seeing a 'friend request' from a former school mate who I either can't remember or don't want to.
I am happy with my present, thank you, why would I want to journey back to the past and relive memorable events like the time I came out last in sack race?
Or when someone slyly pinned a tail to my skirt and the class dissolved in laughter as I stood up to answer a question. What was so funny?
Accept any such request, and it will soon be followed up with an invite -- to join a community, made up of who else, but your school alumni.
You may think what harm could this possibly do, just another FB group -- but this is only a preliminary, to a similar group on WhatsApp, whose unstated goal-- you guessed it -- is to plan a reunion!
It was exactly 25 years since we'd passed out of school.
To add to that, we were all turning 40 this year.
An emotional pitch was made -- "Come on guys, kal ho na ho!"
"True yaar, zindagi na milegi dobara!"
But the clincher was, "When will we get naughty, if not at 40?"
A Brexit style referendum followed, where the majority voted to 'leave', on a short trip to celebrate our friendship.
After considering various destinations ranging from Vegas to Vadodara, we zeroed in on an obscure mountain village called Sillery, located in Darjeeling district.
Why on Earth?
Well, because this was the closest to our school and our hometown, Siliguri.
Some folks in the US and UK would not be able to make it at such short notice, but I guess there is a price to be paid for pothole free roads, safe drinking water and being able to afford recipes involving tomatoes.
A few closer home were forced to back out too -- some were not given permission by their maids, others had to take their kids or dogs to prior appointments.
Finally, of the 12 original members, five us confirmed and booked our tickets -- Suku, Deba, Urmi, Bash and myself.
It was on a bright June afternoon that my plane touched down at Bagdogra airport. The temperature and humidity outside felt just right -- everything feels just right when it's your hometown.
I headed out straight from the airport to meet with the others.
After strategic and tactical meetings over luchis and aloo dum, we allocated important tasks to each other -- carrying provisions for jhal muri as well as Gelusil (for indigestion), packing essential items like the selfie stick and so on.
Later, we could assign the task of making mugs and collages of our trip, to those who couldn't join us, so that they don't feel terribly left out.
It was decided that we would leave for Sillery the next day at around 9 am.
Early the next morn, while still in bed, I had the brilliant idea of spooking everyone by sending this message to the group: "All set? Shall we leave?"
But I was the one spooked instead, when one or two responded with a "Yes! Let's go!"!
Gathering my wits together and getting ready in record 10 minutes, I made a mad dash for the designated pick-up point, only to realise that I was the earliest.
It took almost an hour before everyone arrived and squeezed into Urmi's Ertiga, driven by Bash's trusted chauffeur, Daju.
We were being chaperoned at 40 and it felt like being back in school indeed! The only naughtiness I could imagine was stealing each other's chhurpis (hardened cheese made of yak milk) and sweet-spicy titoras (strips of dried and salted fruit) on the way.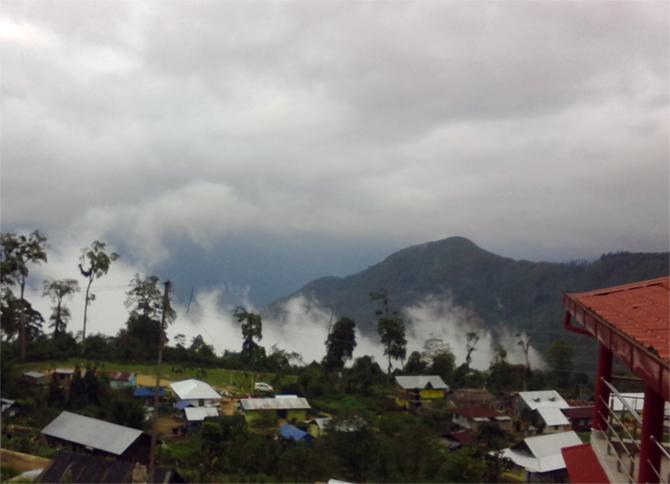 IMAGE: A view of Sillery gaon.
It was a sublime, golden yellow day and we were soon winding up the hills to John Denver's Country roads, take me home, To the place I belong...
This was West Bengal, not West Virginia, but the words just fit.
It was only three hours to Sillery gaon, situated at 6,000 feet. We climbed at our own pace, stopping first at Kalimpong and then Pedong, for savoury momos and steaming thukpas.
Perhaps it was the crisp mountain air, but we seemed to be hungry every few minutes, to Daju's great annoyance.
With a blissfully sated feeling, I turned my attention to the scenery outside, admiring the snow-capped mountain peaks glimpsed through the tall pines.
We noticed suddenly that the temperature had dropped a few degrees and pulled on our sweaters and shawls, just as a cloud floated into the car. Almost heaven, indeed.
During the last stretch of our journey, the well-paved road suddenly gave way to rugged, harsh mountain terrain. The car's chassis dragged against sharp, protruding rocks and Urmi's heart stopped and somersaulted with each painful screeching of her car.
At one point we wondered whether we should abandon the vehicle and trek it up instead, but Daju heard none of it, and delivered us safely to our destination.
After the mentally grueling climb, we needed another round of succulent momos and piping hot chai to revive us.
We sipped our tea and stared at the drifting clouds, enchanted by so much beauty and tranquility. Then we wondered what was for dinner.
Later in the evening, Suku peeled litchis and spliced up green chilies for a special cocktail she was fixing us.
As we huddled together under a bright starry sky with our drinks and jhalmuri, giggling at silly memories from school, I had an epiphany that maybe what the lady in Sex and the City said was right-- that maybe our girlfriends are indeed our soulmates and guys are just people to have fun with.
My reverie was interrupted by a chirpy female voice: "Apnara ki pancha kanya? Oof ki exciting!" To translate: "Are you five gutsy women doing this by yourselves? How exciting!"
Which actually translated to: "Are you five women of loose morals and low character, who have abandoned their kids and spouses, and are gallivanting around, (as our school Principal Sister John Berchman would say) by yourselves?"
I could see the admiration in her eyes, not unmixed with a tinge of envy and was struck by another revelation -- that Hillary Clinton or Theresa May weren't the only ones breaking glass ceilings.
Now that I thought of it, we'd been drawing envious glances all day from women who were here with their spouses, kids and mother-in-laws in tow.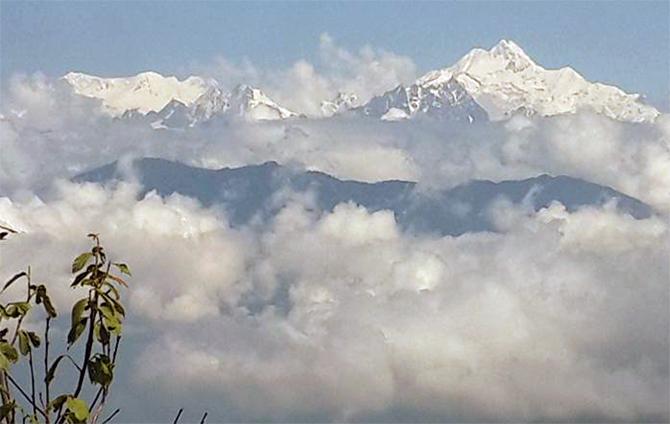 IMAGE: The stunning view of the snow-capped Kanchenjunga.
The next morning, we trekked 3 km to Ramitey, for a stunning view of the snow-capped Kanchenjunga above and the glistening thread of the river Teesta, below.
By the time we returned to the resort, we were ravenously hungry again, but passed up rice and rotis for steaming bowls of wai wai.
I'm a connoisseur of instant noodles, even if I say so myself, and have tried all sorts including Patanjali's -- there's absolutely no match for the wai wai, especially in cold, mountainous terrains where clouds float past so close that you could reach out and grab a handful.
Daju reminded us that it was time to leave, especially if we wanted to stop for a bit at Delo near Kalimpong, on the way back.
And driving down the road I get a feeling that I should have been home yesterday...
I really don't know what took me so long to reconnect with my past.
Back again in Bangalore, I place a call to Deepu in Canada, "Hey! Do you have any idea where Rachna Behl and Ritika Punyani are?"
"You mean Rachna Punyani and Ritika Behl. What do you want with those two pasty-faced, pig-tailed, snivelers?"
A few minutes later, I am busy sending out 'friend requests' to Rachna Behl and Ritika Punyani (or vice versa). Next I must get hold of Ambika Vasudevan, former sack race champion, and that Shubhra something from Green House (Shakespeare)...or was it Blue (Newton)?
Another reunion is on the cards and I'm the chief organiser.
REDIFF RECOMMENDS