'It has meant adapting to each other and conceding differing points of view on how a house should be run,' says Kishore Singh.
Illustration: Uttam Ghosh/Rediff.com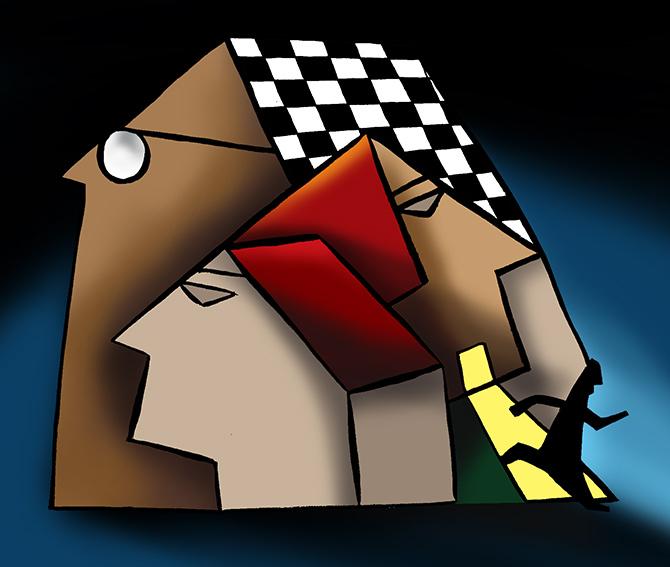 Several years ago, when helping a cousin purchase an apartment from a senior bureaucrat, a secretary with the Government of India, he declined to sign a stamp paper, stating he was of sound and able mind.
It is a document many of us have put signatures to over the years, especially in matters relating to property transactions. But the official refused to sign it, saying the Indian government's faith in his ability to lead his ministry's department was proof of his sanity.
In the end, my relative had to accede to his point, but I'm happy to report that over the years the now former secretary has shown no signs of deviant behaviour.
I recalled the incident when my family and I began to wonder whether my father's attempt to fiercely guard his independence could be construed as such an aberration.
Now 90, he had become completely dependent on his staff and vulnerable to their fiscal manipulation.
When it was pointed out to him, he stoutly defended his position — it was his money, he said, to do with it as he liked.
His health was failing, he'd recently had a fall, and my mother was finding it a chore to run the house -- but my father liked his freedom too much to relinquish it for an alternative.
My father is as sane as they come, and his behaviour isn't entirely unreasonable, so what is one to make of his obstinacy?
Or of our family's collective decision to move my parents lock, stock and barrel to the city and in with us?
At what point did my father lose his choice, however flawed, to make his own decisions?
When did he, in that sense, lose his option to say no?
Is he merely trading one sense of dependency for another?
What of his 'able and sound' mind?
There are no answers to what are essentially age-related concerns such as this playing out in various parts of the country. And it has caused no less consternation in our home than it has in my parents'.
Our need for space has expanded, necessitating the search for a new house spacious enough to accommodate three generations while allowing everyone their privacy.
It has meant adapting to each other and conceding differing points of view on how a house should be run.
There is the purely practical aspect too: More TVs, towels, servants, cups of tea, bed linen -- all the small things that make a house a home.
But mostly, it has meant a fresh set of dynamics between different generations, an illustration of which should suffice.
Breakfast at our house begins at dawn, with protein shakes and mixes for my son as he heads for the gym.
My daughter, who is the earliest to leave for work, is served next, and nobody is ever sure of what she wants.
That fuss is barely over when my mother joins me at the breakfast table, but given her ill health, our menus are dissimilar.
My son's post-gym breakfast changes daily to suit his dietary needs.
My wife spends her morning gardening, so portions of her breakfast are to be found on the terrace parapet, amidst plants in the balcony, or on the staircase.
My father eats his breakfast at noon. And this is the easy part.
When my children's friends raid the bar at a suitably late hour of the night, my father has words to say -- to me -- as does my son.
I've become a patient listener.