'My wife and her camera phone are never separated,' notes Kishore Singh.
Illustration: Uttam Ghosh/Rediff.com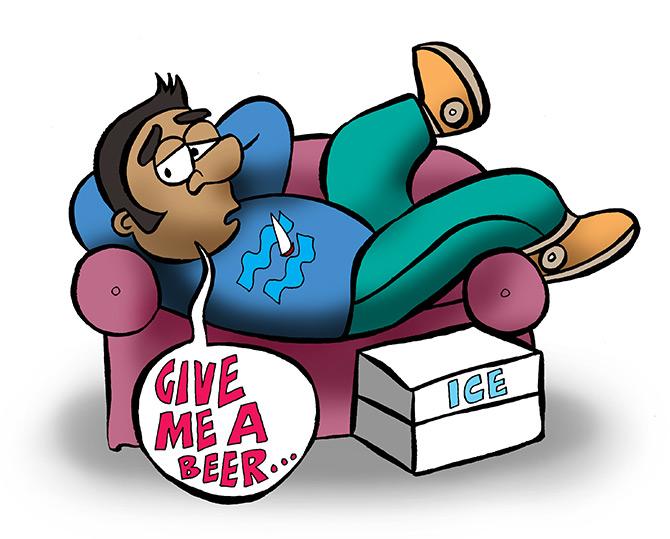 I'm a terrible photographer and dislike taking pictures almost as much as being photographed.
Even so, on our family vacation, I am my daughter's personal photographer.
She frames the scene, peeps through the viewfinder, makes me crouch so I get the elements essential to her perfect picture -- the sun setting in the west, its rays creating a gilded silhouette amidst the deodars, shrubs of hydrangea in the foreground, the mountain trail behind, while in the centre of the picture she practises lying in a hammock.
She stares into the lens, then away and into the sunset, and I must ensure I've captured all these moments.
The light is fading fast, but she declares her jacket inappropriate for the shot, but she's carried her bag of occasion clothes to correct just such a mischance, so a quick change later she's satisfied enough to call for pack up.
I heave a sigh of relief. Time for a drink -- and, thankfully, my daughter has told me she doesn't want a shot with a glass of wine in her hand because she's told her friends she's on a detoxifying holiday.
That's far from the truth, but then, a trip together is a perfect reflection of a person's personality.
Whether for Instagram, or Snapchat, my daughter is milking the resort for what it's worth.
"Quick, I have to go swimming," she hustles me, but the reason is not to swim laps, or take advantage of the heated pool, just to make sure she can tick off another spot for her photographic memoirs.
So far, I've taken pictures of her playing board games, traipsing down a wooded trail, riding a pony, gazing at sunrises and sunsets, picnicking by the golf greens, and posing prettily in the gardens.
But they're only as good as the time it takes to frame the picture because she is a spoilsport at games, dislikes walking in general, couldn't get away from the 'smelly' pony fast enough, and prefers her meals at places where there are no bees, ants or other beasties to spoil her feast.
My wife and her camera phone are never separated, and she makes a virtue of having pictures taken with groups of people she's never met before, and is unlikely to meet again.
She chats up perfect strangers and will insist on sharing their extensive back stories with us.
"Come, let's take a picture," she told a man sitting alone in the garden, sipping his coffee.
"Only if you join me for a drink in the evening," he leered at her.
That's one photograph she didn't get, but she knows everyone else at the resort: The family that's celebrating a patriarch's eightieth, the young couple who're married, only not to each other, and another that comes here frequently on 'work trips' to escape demanding in-laws.
My son drove us up and feels he's done his bit and, therefore, must be waited on head and foot.
"Someone, hand me my phone," he says, refusing to stretch his hand to pick it up.
"Give me a beer," he orders, though the icebox is right beside him.
He's lain on the sofa throughout, ordering room service and watching cricket.
No wonder he's missing from my wife's group selfies or my daughter's few photographs that have acknowledged the family.
I sneaked a picture of his just to remind ourselves that he was part of the holiday, because pictures -- for all the changes of costume and citizenry -- tell only part of the story.