The school was run on strict Gandhian lines, with stress on students doing things themselves.
Physical comforts were minimal, in keeping with the relatively backward geographical area.
But it had a staff of teachers dedicated to educating their students, not just imparting them book-learning, remembers Shreekant Sambrani.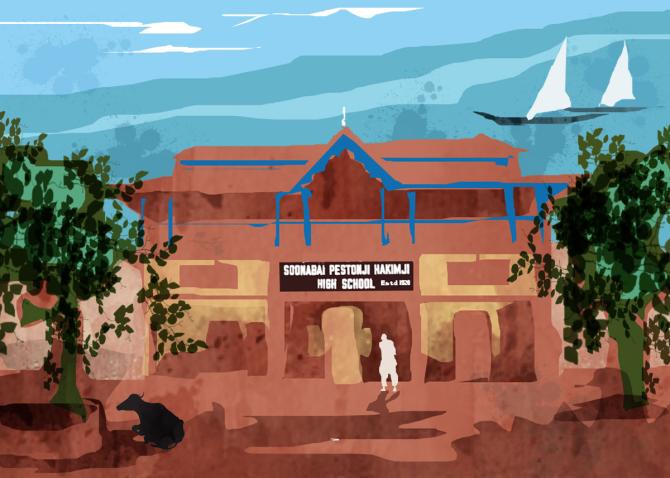 It virtually sits on the beach.
The Soonabai Pestonjee Hakimjee High School at Bordi in Palghar district in Maharashtra has a narrow two-lane road on its western boundary and then an open expanse about 30 metres wide and the silvery sand beach of the Arabian Sea.
There could be other schools similarly situated by the sea, but I have never seen one.
Both the beach and the school are basic, functional and pristinely unspoilt.
Bordi is just about 130 km north of Mumbai. Given the proclivity of the residents of India's urbs prima to seek weekend retreats -- Khandala, Lonavala and even Pune come to mind -- it's a wonder that nearby Bordi remains untouched by the tourist bling it might have attracted.
And when schools are increasingly big business, one so close to a metropolis should remain dedicated to purpose of providing education to the local populace is nothing short of a miracle!
Three young Gandhian freedom fighters -- Acharya Shankarrao Bhise, Atmarampant Save and Govindrao Churi -- founded this school in 1920.
Acharya Krishnarao Chitre joined them soon after.
Acharya Bhise was a bachelor and Acharya Chitre was a widower. They both made Bordi and the school their home and family for the rest of their lives.
Acharya Bhise travelled in connection with his work among the indigenous people and for fund-raising, while Acharya Chitre was completely devoted to the school.
Bordi is 10 km north of Dahanu. This western part of the old sprawling Thane district (now part of Palghar district) of Maharashtra is mainly populated by the Warlis.
As has been the lot of other indigenous people all over the world, the Warlis were abysmally poor, with little by way of education and health care available to them.
Acharya Bhise and his contemporary Godavari Parulekar, a Marxist (called Godarani locally), were active in the area, creating first an awareness of their rights among the people and then trying to get a modicum of facilities the rest of us take for granted.
This area has numerous chikoo (sapota) farms, called wadis locally. Wealthy Parsi families owned quite a number of these. The Hakimjees were one of them.
Dhunmai Hakimjee decided to give the new Bordi school a couple of acres of her land and Rs 50,000 for buildings in memory of her mother Soonabai. That's how the school started its campus nearly a century ago.
More structures came up as the school got more benefactors. One of these was Sharadashram, which became boy's hostel.
Soon the Parsi Panchayat started a hostel for Parsi boys and some Jain charities established a Jain hostel.
The school was run on strict Gandhian lines, with stress on students doing things themselves.
Physical comforts were minimal, in keeping with the relatively backward geographical area. But it had a staff of teachers dedicated to educating their students, not just imparting them book-learning.
Many were local graduates, some school alumni as well, but there was a fair sprinkling of idealistic teachers from far-flung areas, motivated by the stories of the pioneers, spread mostly by word of mouth.
The school survived on what meagre grants it could get from the government, a trickle of donations and the minimal fees it charged the students.
In the early 1950s, the school acquired an undeserved reputation: Some parents, especially in the newly-independent India's commercial capital, then called Bombay, found it easy to shift their responsibilities of raising and educating otherwise difficult children to Bordi.
It was identified as the place to send unruly children, given its stern disciplinarian atmosphere.
The school patiently welcomed them and tried its best to instil some learning and order in these supposedly 'problem' children. And for the most part, succeeded well in this endeavour.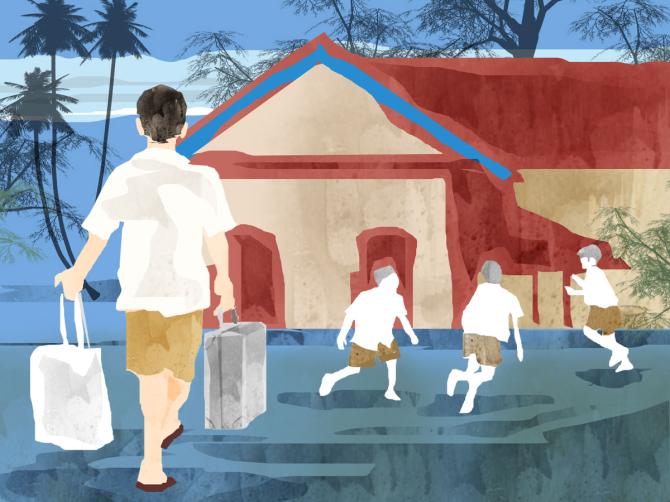 To its credit, the school never resorted to any physical punishment. What it offered was a no-frills living with mannerly education.
Sharadashram boarders could bring one steel trunk with no more than four sets of uniforms and two sets of casual clothing, adequate bedding and a steel cot.
No pocket money was allowed.
Parents or guardians could have a day visit once in two months at which time they could bring their wards some home-cooked goodies, but otherwise hostel food it was all the time.
There was no entertainment, save one radio set in the room of the school sports master, a life-long bachelor resident of the hostel. He would allow students to listen to cricket commentaries, but the young souls could hardly hear anything due to the static.
At any rate, the English spoken by the likes of Pearson Surita, Berry Sarbadhikary and Dicky Rutnagar was hardy intelligible to them!
Otherwise, there was nothing by way of entertainment.
The school had a well-stocked library, but the young scholars were not exactly bookworms.
A well with a copious aquifer served the entire campus. A male-buffalo yoked water wheel lifted the water.
The boys bathed in cold water, washed their own clothes and ate the spartan, vegetarian food prepared by cheerful but hardly expert cooks.
Students took turns to serve food to their fellow-boarders.
The day began with prayers and exercise, followed by simple breakfast. The school broke for lunch at midday. Evenings were devoted to sports. Two hours of supervised homework followed dinner.
Bordi had no electricity. The school had a generator, which ran from dusk to 10 pm.
Senior boys in class 11 (this was before 10+2) had a kerosene lantern to study by after lights out.
Acharya Chitre stayed in Shardashram and kept a gentle watchful eye on his wards. He was strict, but never once was his raised voice heard.
Being called before him for any transgression was punishment enough for most students, who quickly admitted their mistake and were reprimanded in the gentlest of terms and voice.
Acharya Chitre was completely oblivious of his own physical needs. Frail as a reed and short in physical stature, he made do with possibly only two sets of clothes.
Whenever Acharya Bhise came back to Bordi from his ever peripatetic ways, he would invariably inspect Acharya Chitre's clothes. If he found them threadbare, as he often did, he would order fresh sets.
Acharya Bhise may have been a little more worldly in his ways as far as appearance was concerned, but he was no less self-effacing.
On his passing in 1972, they found a tin trunk under his bed, much like what the Sharadashram students had.
It contained two or three sets of clothing and a copy of the Bhagavad Gita. And a savings account passbook with a balance of Rs 356.
That was the sum total of the worldly belongings of a man, whose life physically enriched hundreds of thousands of poor indigenous people of his beloved corner of the world.
How do I know all this?
I was a residential student of the high school in the last two years of my schooling, between 1957 and 1959.
I had heard of the good reputation of the school from a classmate of mine in Baroda who shifted there a year before I did.
I wanted to attend the school. My parents indulged this fancy of mine, although they could have very well said that I could remain at home and still get a good education.
And I am very proud to say that I received extraordinary kindness and affection from the entire school, especially from Acharya Chitre, who had just the previous year retired from active teaching.
It is a testimony to that affection that one of my classmates, Digambar Raut, with whom I had no contact whatsoever since I left the school in early 1959 after completing the studies leading up to the secondary school leaving examination, tracked me down with the help of Dr Anjali Patwardhan Kulkarni, then the-principal of the arts, science and commerce college at Bordi, affiliated to the Gokhale Education Society, Nashik, the organisational parent of SPH High School.
I was simply overwhelmed when Digambar called me in mid-2021.
We planned to meet in Bordi. We finally did, after many postponements, in January 2023.
The school observes its foundation day on 11 January every year. This year was special, as it marked the conclusion of the centennial observances (originally scheduled for 2021, but postponed to 2023 due to Covid concerns of the past two years.
It was my great good fortune to be invited as the chief guest for this function.
I had been to Bordi only once since 1959.
In the mid-1980s, my late wife Rita and I had stopped in Bordi for a few hours as we drove back to Baroda from Mumbai.
So I was all eyes to discover how Bordi had changed over this long period.
It has changed but slightly, and at the same time, retained its essence.
The two lane road is still narrow, but is paved and a lot more vehicles now ply on it. The old tongas are long gone.
Bordi beach is still pristine pure and the school still has exclusive use of the open space between the road and the sea.
The village has a sprinkling of concrete structures, but no hotels or eateries to lure tourists.
Unlike other places immediately across the border from dry Gujarat, there are no liquor shops and bars greeting the 'thirsty' travellers upon entering Bordi.
Its one resort is dedicated to green agriculture and has prominent signs saying non-vegetarian food and alcoholic beverages are not allowed.
Gholvad, the railway station after Dahanu on the Mumbai-Baroda line and serving Bordi, still has only a handful of trains halting there.
The new Bordi station, with no sidings or proper platforms has even fewer trains stopping there.
The school buildings look much the same, but they have been structurally reinforced.
The old well still supplies water the campus needs, but the buffalo drawn water wheel is replaced by a powerful electric pump.
The school still follows a no-frills education policy.
It has a strength of about 2,000 students. Its fees are still minimal and private tuition is still frowned upon.
Most importantly, the student population now comprises some 60 per cent children from indigenous families.
The real change is that the old school now has lots of institutional company.
Besides the college, there is a digital research and training centre. There is also an industrial training institute and a full fledged technology centre funded by the Godrej group.
But the most impressive funding came from a retired teacher, who donated his entire savings and provident fund to set up the digital centre, supplemented by additional funds from his son, a Mumbai builder.
The true measure of what the present Bordi is, is provided by one simple statistic.
The village of Bordi has a permanent population of about 7,000. The transient student population of all the academic institutions (now forming Acharya Bhise Nagar) is 7,500.
Which other location in all of India can boast of such overwhelming dominance of education in its most basic and critical sense?
As I said in my remarks at the function, I have had the good fortune of being associated with many institutions, educational, social, commercial, government, Indian and international.
I consider my association with educational institutions the most desirable among all of them. And it is my greatest good fortune to be associated, however remote and infrequent that association may have been with a true temple of learning that my old school by the sea is.
Feature Presentation: Ashish Narsale/Rediff.com