The one-size-fits-all approach is not suitable for regulating business schools in India, argues Asish K Bhattacharyya.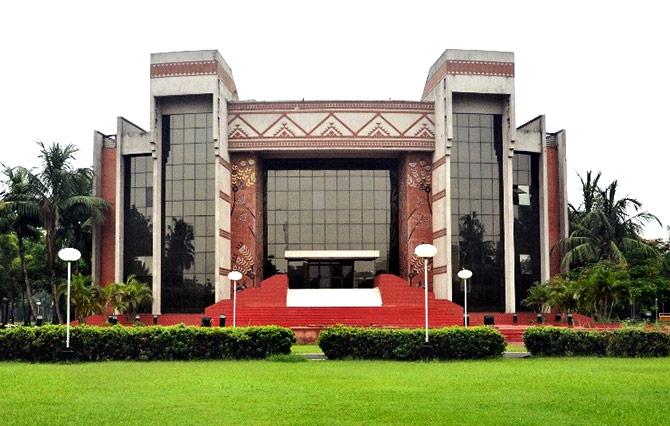 Once universities were considered as a 'paradise of scholars' to be run by faculty and the nation-state was to fund their operations and protect their autonomy.
From the mid-1970s, a view emerged that the collegial system of governance makes universities vulnerable to be captured by academia-dominated interest groups, ignoring the interest of other stakeholders, primarily students, and therefore the nation-state should steer them.
Universities have evolved over the years and now they serve multiple interests.
The current view is that universities, which receive government funding, are like any other public-funded service and should be under the command and control of the nation-state.
However, they should be granted academic autonomy.
With the emergence of private universities, the nation-state has assumed the role of a regulator to protect the interests of various stakeholder groups, primarily students and recipients of services of university degree holders.
B-schools are different from universities which teach and research in science or social science subjects.
Primary stakeholders of B-schools -- faculty, recruiters and students (MBA aspirants) -- are market players like those in the input and output markets of business enterprises.
Like business enterprises, B-schools are facing unprecedented challenges from increasing social expectations, changing recruiters' and students' expectations and disruptions from more affordable online and for-profit management education offerings.
Therefore, B-schools should be run like businesses.
Most B-schools adopt dual asymmetric structure -- faculty council and board of governors (BoG).
The BoG enjoys more power than the faculty council. It acts like the board of directors of a company.
Regulators should take cognisance of the environment in which B-schools operate and their internal governance model.
They should regulate B-schools using the principles for regulating business enterprises, which operate in a competitive environment.
The regulator should not micromanage business schools.
For example, like the Securities and Exchange Board of India, it should provide broad governance structure and ensure transparency in the operation of companies by mandating disclosure of relevant information that is used by MBA aspirants in taking decisions.
In India, there are two categories of B-schools -- government (eg, the IIMs) and private.
Government B-schools were established using public purse and continued to get financial support from the exchequer for quite long.
They continue to get government patronage.
Therefore, they are accountable to the government.
Yet, the government has decided to grant them operational autonomy to enable them to match global academic standards.
On the other hand, private B-schools, which operate under a registered society or trust or Section 8 company and in which investment of public money is insignificant, are overregulated by the All India Council for Technical Education (AICTE).
It micro-manages private B-schools.
For example, the AICTE Approval Process Handbook (APH) stipulates in detail the admission process; suggests faculty-student ratio; provides the desirable ratio of assistant professors, associate professors and full professors, and the ratio of PhD and non-PhD faculty; provides the requirements of brick-and-mortar infrastructure, computer, library books, etc; and also provides model programme architecture.
This is undesirable.
There are 2,720 unaided private business schools with 333,558 seats which currently offer post-graduate programmes in management.
Considerable heterogeneity exists within business schools.
Therefore, the one-size-fits-all approach adopted by the AICTE is not suitable for regulating business schools in India.
Different business schools cater for different segments of students and recruiters.
Therefore, they should be permitted to decide their own business models and resource acquisition and allocation to different activities.
For example, a B-school might decide to use industry practitioners as visiting faculty to obtain dual benefits -- reduced faculty cost and practice-oriented learning.
The AICTE, by insisting on a minimum number of regular faculty members, is usurping the right of B-schools to manage their faculty resources and cost.
Rather, it compels B-schools to appoint regular faculty members with additional cost.
Similarly, for some subjects, executives without a PhD might provide a better learning experience than a faculty member with a PhD, who has no practical experience.
AICTE, by stipulating desirable ratio of faculty members with a PhD, and those without a PhD, has taken away the freedom of B-schools to decide the faculty mix.
Private B-schools will perform better if they are granted autonomy similar to those granted to the IIMs.
The Bill on establishing Higher Education Commission (HEC) is likely to be placed in Parliament in the winter session.
The HEC will replace the University Grants Commission (UGC) and the All India Council for Technical Education.
The draft bill gives micro-management rights to the HEC.
Let us hope that the HEC will not adopt antique regulations and will formulate regulations that are appropriate in the current contexts.
Asish K Bhattacharyya is director of the Institute of Management Technology, Ghaziabad.