'A small number of players like Sadhguru and Ravi Shankar claims to possess high wisdom attributes, allowing them to unplug from the game, like in The Matrix,' says Ashish Sharma.
Illustration: Dominic Xavier/Rediff.com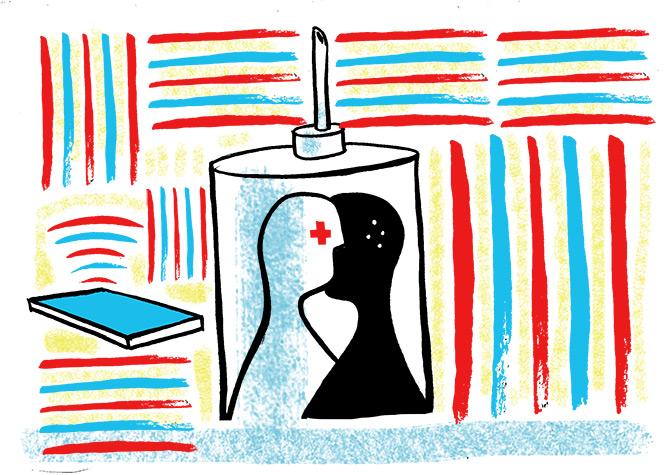 Real Life is a fully-immersible, three-dimensional role-playing game set in the Real World, featuring real-time photo-realistic graphics and lifelike artificial intelligence like that seen in most Massively Multiplayer Online Role-Playing Games (MMORPGs).
The objective of Real life is to obtain the best clothes possible.
Needless to say, Real Life is a very popular MMORPG; a drug keeping people away from the Internet.
If I'm not on the Internet, I am playing this game.
Despite in-game characters killing each other, Real Life boasts seven billion subscribers. And for these loyal subscribers, Real Life brings a range of moods -- from anger to depression.
In their reviews of Real Life, spiritual gurus Sadhguru Jaggi Vasudev and Sri Sri Ravi Shankar say it is a game like none before.
For Sadhguru, even simple in-game tasks like making coffee have never been so exciting!
A small number of players like Sadhguru and Ravi Shankar claims to possess high wisdom attributes, allowing them to unplug from the game, like in The Matrix. Some even claim to have racked up the highest score on the Real Life server!
So, once you buy the game, you must register on Real Life's servers for proper gaming, by inviting a minimum of two other players.
Loading the game may take nine months, so find something to do during this time.
Once you roll out as 'infant', there's no option to start again, unless you buy the extension, Real Life -- Reincarnation!
However, this option is incompatible with several religions, one of which you must choose in the early levels of the game.
Going ahead, seemingly unimportant information ('school') can be of great help in the upper levels of the game.
Unfortunately, playing Real Life really well requires many years of training ('childhood' in game parlance).
Because of this, many alternative games have become popular; these alternative games are also popular because unlike Real Life, they don't define difficulty level at birth, as determined by the number of gold pieces your in-game parents have.
This difficulty level, that remains until you get a job, makes Real Life hugely unpopular.
On the upside, the storyline in Real Life is highly individualised and told from a first-person perspective.
Skilled players are able to interact with other players to form over time what are called 'relationships'. These are meant to assist the player when he or she enters the more difficult parts of the game.
The upside to completing lower levels and entering difficult parts of the game is access to unlimited features and integration of virtually anything into the game.
A pencil, for example, can be integrated into Real Life to make lines appear on paper; a bomb can be integrated into Real Life to rearrange its settings.
Apart from being a simulation, MMORPG and adventure game, Real Life is also the biggest online chat and dating site, offering a wide selection of in-game characters to combat your main enemy: Loneliness.
However, in order to tap their support, you must increase your social adaptation skill first.
Now, about Real Life's finale: There are numerous paths to choose on how to exit the game, although some are funnier than others.
Most players in the game usually die of natural causes such as old age or murder or suicide.
Those exiting Real Life can then play its sequel Afterlife. If your character is not a subscriber to a religion, it cannot progress to the second game.
Not much information exists regarding this game as it remains in beta-testing, but the gameplay is said to be amazing, especially if your character carried out a suicide bombing; anything below that, you end up in Hell, a fire-themed level; otherwise it's Heaven, a sky-themed level.
In case your character installed Hinduism, it will be forced to play the same game again ('reincarnation' in gamespeak).