Kishore Singh on how his kids decided that in spite of the presence of weird older people at home, it was an easier bet to party where the free booze was.
Illustration: Uttam Ghosh/Rediff.com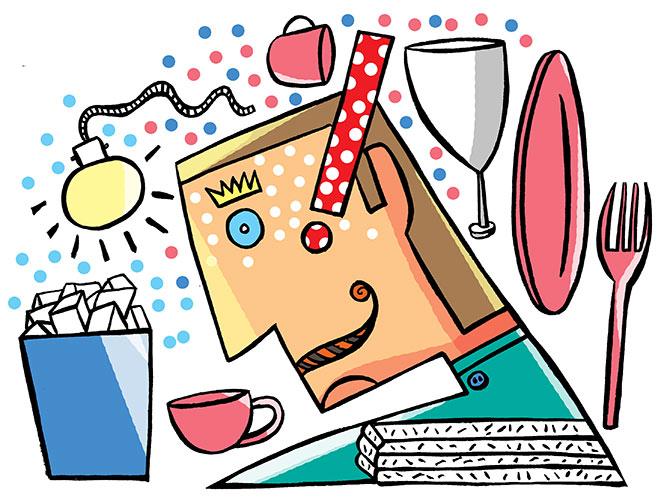 As young working professionals, the children seemed at first hesitant about bringing their new acquaintances and colleagues home for fear their parents might appear "too friendly", or so they complained.
That wonderful spell lasted till they realised that entertaining elsewhere took a sizeable wedge out of their wallets.
When they went dutch, there was always some teetotaler who complained about having to square up for others' drinks, or a nuts-only eating health fiend whose portion of the bill was out of sync with the others, causing some little ill-will and not a little grumbling.
A couple of years ago, they decided that in spite of the presence of weird older people at home, it was an easier bet to party where the free booze was.
Our early relief about not having to arrange for drivers at short notice because we worried about their drinking and driving was soon replaced by resentment.
The cook would be informed that some friends, "11-12, or maybe 15-20, but on the safe side be prepared for 30", would be home for dinner on Friday night, this information communicated on said Friday morning when leaving for work.
The menu? "Ask mom, but not biryani, not pasta, not khaw swe."
Snacks? "Arre, there must be something in the freezer, otherwise buy stuff."
Succinct messages would arrive from them.
"Hope there's enough whisky at home?" "Yes," I'd text back, "but no gin."
"Pick it up on your way back," I'd be instructed because the child in question "might be working late."
My driver would be summoned to buy the wine, or tonic water, or beer with a little help from dad's credit card.
In the case of our daughter, we knew to make sure there were flowers in the house, else she would sulk about how unwelcoming the rooms looked.
Our son needed me to arrange the accouterments for the bar -- the triple-sec, lemons, mint and other mixers -- from where it was a short distance to being asked to actually mix the cocktails.
I was the "uncle" whose job it was to make drinks for the young ladies, but I couldn't help feeling offended when one of them suggested that "the bartender" make a drink for her sorority of party friends.
Now, of course, even the pretence of the children chipping in by way of support for "their" party has been relegated to a myth.
Without our volunteering for it, everything has been delegated to us: Re-arrange the furniture, check the crockery, cutlery and napery, ensure that the air-conditioners are serviced and in peak working condition, order the ice, and check the bulbs in the lamps.
Other than some laconic observations -- "just one dessert?" or "insufficient hand towels in the washroom?" -- they have transferred the onus of responsibility of their bashes to the management of the house.
Which is how we've been left holding the handle for the surprise party my son is throwing for his girlfriend's birthday tonight.
"Just see that we have stuff at home," he instructed us when we remonstrated about the lack of information about the event.
Would he manage the procuring? "I don't have the time, mom."
What about help with the setting up? "I have to get my bike's tyres changed, you handle it Dad."
The girlfriend's sister has been roped in to ferry some party favours. But -- dinner? "Make it, or order it," he said, "just don't involve me in these mundane things."
The surprise, as usual, is on us.