'I have exited at least six WhatsApp groups because I am tired of your bhakts who impose their views on your behalf.'
'Why can't I have a healthy discussion about my nation's future without being called deshdrohi?' asks Divya Nair.
Disclaimer: If you are a Modi bhakt, you can scroll down straight to the message boards and scribble your thoughts about me, this column and assign whatever tags you want. I know exactly what you will write, so I will ignore you like you have ignored us parallel thinkers.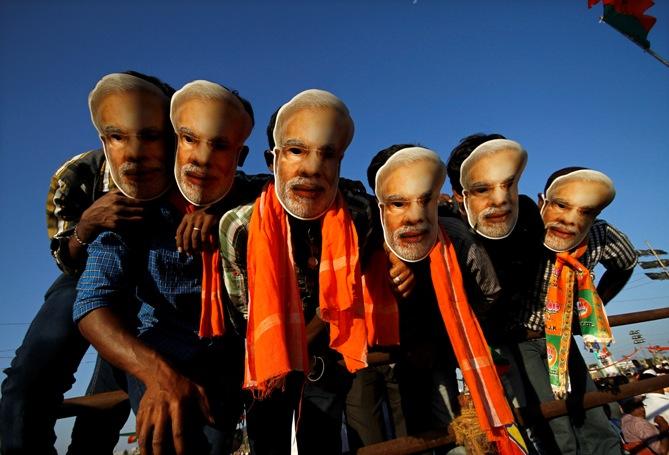 Photograph: Reuters
Modiji, I have never met you, but I can't forget the day you stormed to power.
I was woken up by a family member, one of your staunch supporters, from Ahmedabad, to announce your thumping win.
Even before you were elected prime minister, these supporters would not hear a word against you, forget having a discussion highlighted by civility.
They wanted to know if I supported jhaaduwala (Arvind Kejriwal) or Pappu (Rahul Gandhi). For the record, I wasn't supporting either.
Why, Modiji, can't I have a healthy argument about my nation's future without being called a deshdrohi?
Never before have I seen people get so aggressive about expressing their solidarity with a leader. But it happens in your case. That's why your supporters are called bhakts.
They are so blinded by you and your speeches that they brand all those Indians who don't agree with them as deshdrohi (traitor) and anti-national.
Why so much hatred?
Why the constant reminder to 'change your mindset'?
Why can't I have a healthy parallel view?
I have exited at least six WhatsApp groups because I am tired of your bhakts who impose their views on your behalf.
There is a running joke we have for your bhakts: 'Modiji agar kisiko bematlab thappad bhi maarte hai, yeh bhakt kahenge, janhit me jaari (even if you slap someone without reason, your supporters will defend you, saying it was done in the public interest).'
Your bhakts are everywhere, waiting to pounce on people who don't agree with their views so that they can prove their nationalism and love for you.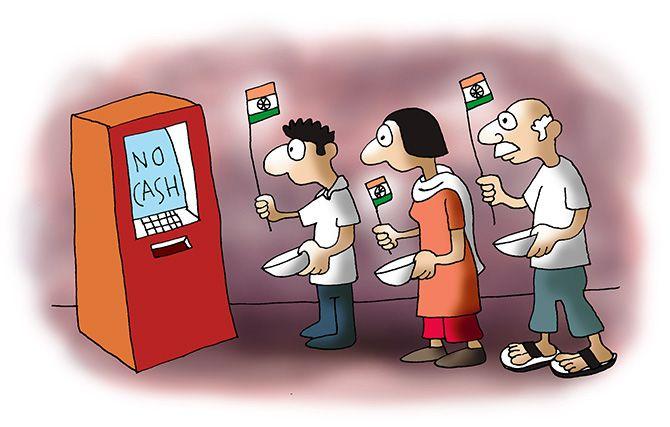 Last week, you announced that Rs 500 and Rs 1,000 notes would not be considered legal tender.
Just 10 minutes before your first televised address to the nation, my father withdrew Rs 10,000 because my parents were travelling to attend a wedding in Kerala.
While your bhakts were creating larger-than-life memes of you and sharing jokes about Kejriwal, Sharad Pawar and Rahul Gandhi, my brother and I went on an ATM hunt across Kalyan -- a township just outside Mumbai -- to stock smaller denomination currency for my parents' journey.
It was not possible to expect my parents to exchange currency or stand in a queue the next seven days when a wedding was on.
The petrol stations were packed so were the ATMs that were fast running out of cash.
I helped two panicky senior citizens withdraw money before my turn arrived.
By the way, did you notice there were much smaller queues during the 2014 election, the one that you won?
Photograph: Press Information Bureau
Yesterday, while travelling by train, a middle-aged lady opened a box full of poha and emptied it on the railway track.
I asked her why she couldn't wait five more minutes and empty it in the dustbin at the railway station. "The crows will feed on it," she said.
This is the real India, Modiji.
Every day, I end up being mocked at when I stop someone from throwing plastic bags full of dried flowers into a dead, black water body.
The rickshaw driver, whom I had hired to ferry me home (and flaunted a BJP sticker on his vehicle's windscreen), spent the entire ride trying to convince me it was okay to jump the traffic light even though I -- the customer -- was willing to follow the law, wait and pay extra.
This, Modiji, is the real India.
People like me, who are not your bhakts, are trying to make a difference.
But we are mocked at, every day, simply for being law abiding citizens.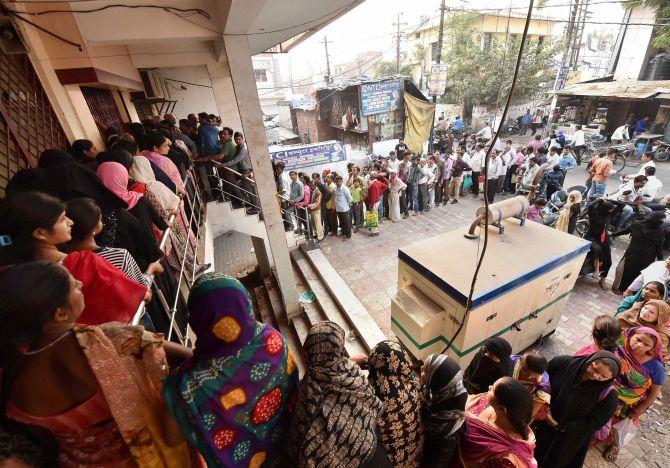 IMAGE: Indians queue up outside a bank in Lucknow. Photograph: Nand Kumar/PTI Photo
The day before yesterday, all I had in hand was a Rs 100 note. I walked past six non-functioning ATMs and then stood in a queue for 45 minutes to get a Rs 2,000 note.
Every time someone spends a few additional minutes inside an ATM, the people waiting in the queue outside anxiously worry if the cash has dried out.
After helping another girl when I stepped out, I announced that the Marathi language option in the ATM wasn't working and those waiting need not expect denominations of Rs 100 or Rs 500 as the machine was only giving Rs 2,000 notes.
Of the 50 plus people in the line, 10 thanked me. The rest continued to pray that the cash didn't dry out before their turn came.
At the end of all this daily struggle, I hope your government will release the list of bank loan defaulters and people with black money because that's why we brave all this tiresome inconvenience with a smile.
And while I wait for you to release that much-awaited list, my immediate challenge is to find a rickshaw-walla who will take me home and tender change for the Rs 2,000 I have in my hand.