'Indian politics is still very much a closed shop, with leaders in their 80s and 70s still refusing to go into vanaprastha, or retirement.'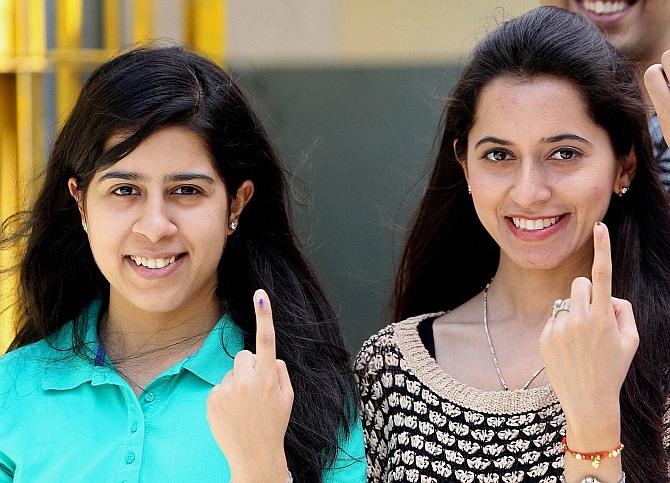 All successful professions have a usual career pattern -- bright talent comes in and does the grunt work in the initial five years.
After these learning years, talent moves to the middle tier where it performs and achieves recognition.
After a few years, luck permitting, a few make it to the top tier, where their decades of experience help them deliver outcomes.
Most importantly, talent takes over from the older generation of leaders, who could become mentors.
An example is the Chinese cabinet of ministers, where most members have been mayors of large Chinese cities or governors of provinces.
They have experience of delivering governance and projects at the city or province level. They started their careers at the cutting-edge level, and rose through the ranks.
Even if they have powerful parents, they still have to go through the grind. And when Xi Jinping takes over, Hu Jintao does not try to cling to power.
An Indian example would be the thriving music industry after the end of the Lata Mangeshkar-Asha Bhonsle duopoly.
One can only surmise how many wonderfully talented singers were shut out during these decades of duopoly.
TV talent-spotting contests have made that a thing of the past.
However, Indian politics is still very much a closed shop, with leaders in their 80s and 70s still refusing to go into vanaprastha, or retirement.
Older leaders ensure their progeny's succession into their parliamentary or legislative assembly seats, leading to political dynasties in Indian states and the Centre.
Almost all political parties, save three, are distinctly 'family shops' -- focused on maximising power and wealth at the state and central level, as well as keeping challengers out.
In an open political system, India would have seen talented politicians contesting elections at the city ward and panchayat level.
With success, they would have moved onto becoming mayors and district panchayat presidents.
From this talent pool would have emerged the candidates for parliament and the legislative assemblies, of whom the brightest would have gone on to become ministers in states and the centre.
The few who'd become chief ministers and prime minister would have gone through the grind and would deliver good outcomes.
Indeed, this was happening somewhat in India till 1993, before the 73rd and 74th Constitutional Amendments.
Significantly, dynasties and gerontocracies have become more powerful in the 20-odd years since then.
Was it accident -- or, more probably, design?
These Constitutional amendments enacted rotational reservations -- a foolproof way of shutting out young political talent.
This applies to all elections except those for MPs and MLAs.
Alarmingly, few in the commentariat know about these provisions, let alone the consequences.
Had these same rules been applied to the MLAs and MPs, Naveen Patnaik, Sheila Dixit, Shivraj Singh Chouhan or Narendra Modi would have been single-term chief ministers, unable to even contest for a second term.
A quick look at the provisions.
We know about reserved seats for SCs (Scheduled Castes) and STs (Scheduled Tribes) for MP and MLA elections.
Articles 330 and 332 of the Constitution are very similar, setting out the process of reserved constituencies for MPs and MLAs respectively till 2026, when the next delimitation exercise takes place.
In these reserved constituencies, bright and talented SC and ST candidates are firmly focused on re-election, and work hard.
However, in all other elections -- whether for municipalities, panchayats, mandis, cooperatives and others, rotational reservation means that the incumbent is ineligible to even run for re-election.
Thus a bright OBC woman mayor will not be able to contest the next mayoral election since the seat moves to a SC or ST reservation, and so on.
The process is devilishly simple.
There are four kinds of seats -- reserved for SCs, STs, OBCs (Other Backward Classes) and unreserved.
Within each, there is a one-third reservation for women.
In each election, the reservation for the seat 'rotates' among the four categories: SC to ST to OBC to unreserved, such that it is impossible for the sitting Mayor or Panchayat leader to even be eligible for running for the next election.
These provisions are in Article 243T for urban and Article 243D for panchayat elections.
The operative words are 'such seats may be allotted by rotation to different constituencies' in a municipality/panchayat.
I served as district election officer over two terms of municipal elections and panchayat elections and have first-hand knowledge of the drawing of lots for rotation in reservation.
All states have rules for such rotation which ensure that most incumbents are ineligible to contest again.
The only exception is when a reserved seat becomes unreserved, and the incumbent may run for office again.
The impact is a double whammy.
Without any re-election incentive, one-term wonders rationally maximise their own benefit, without bothering about public welfare or service quality.
At the same time, the ruling elite of MPs and MLAs act as patrons, putting forward their own 'clients' to run for urban and panchayat elections, knowing full well that such short-lived clients pose no threat to the elite's progeny.
Thus, in the last two decades, fresh political talent has seldom proven itself at the city and panchayat level and gone on to contest the MLA or MP election.
For a budding political activist, the route available is usually pledging unquestioning allegiance to a strong MLA or MP.
It is not running for office and demonstrating great service delivery.
Any political office apart from the MLA and MP is not really seen as worth contesting.
This is also why city mayors and district panchayat presidents, who could improve public services, are largely disinterested observers in a system where MPs and MLAs, through IAS officers, run the show in cities and districts.
Contrast this with the rise and rise of state governments after the S R Bommai judgement in 1994, which ensured that Article 356 was no longer used for frivolous dismissals of state chief ministers.
Since then, we have had many three-term and two-term CMs, who have raised their state GDP at a rapid clip.
Indeed, a state CM is much more powerful than India's PM, as Narendra Modi doubtless realises.
Had rotational reservation been applicable for MLAs, such strong leadership and growth in state GDPs would probably been much lower.
It is time to scrap rotations in reservations for cities and panchayats and have fixed reservations in constituencies, on the same lines as MPs and MLAs.
We need better urban and rural leadership at the city and district level.
Younger talent will prove itself at these levels, and then seek to grow in wider pastures.
The duopoly of dynasties and gerontocracy will be under threat from such bright political leaders with experience.
Citizens will benefit with better political leadership focusing on service delivery at the cutting edge level.
India will get younger chief ministers and prime ministers.
If not, and if rotational reservations are such a good idea, why not apply it to MPs and MLAs too and remove the difference between Khaas Netas and Aam Netas?
Perhaps Parliament and State Legislatures would not change the current structure.
Do we need an S R Bommai kind of judgement under the Right to Equality on this issue?
Else, we shall continue having "politicians of a lesser God" in cities and panchayats, and oldies and dynasts ruling in Indian politics.
Shailesh Pathak has worked 16 years in the IAS and 13 years in the private sector. He can be reached on Twitter at @shypk
Lead image published only for representational purposes. Photograph: Rupak De Chowdhuri/Reuters