Divya Nair, as readers know, reviews Bigg Boss 10 on Rediff.com
The show, Divya says, offers many lessons in behaviour management, leadership and setting the ground for the future.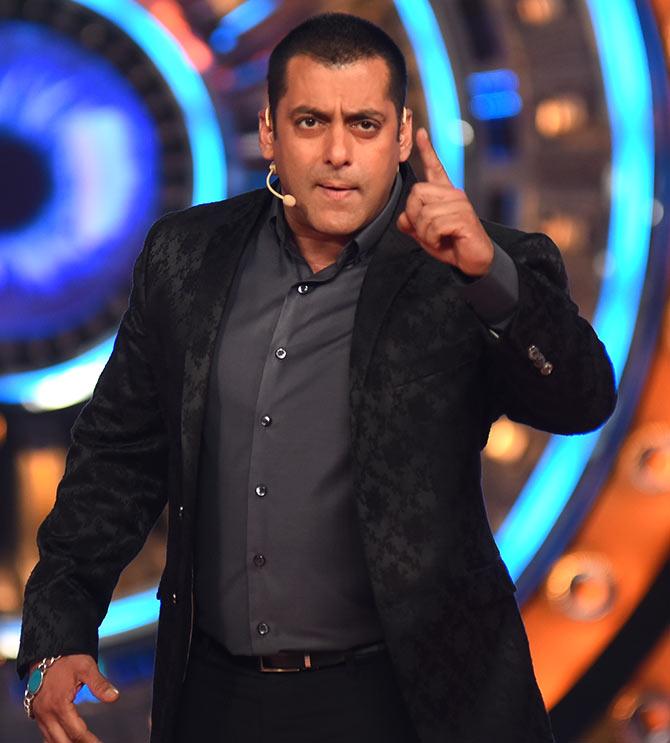 Bigg Boss can't be dismissed as just another reality show.
Like any reality show, it is based on Darwin's theory of the survival of the fittest.
Amidst all the bickering and bitching, the show, time and again, offers us a slice of reality that most of us fail to recognise in our own lives.
If you have been watching the Bigg Boss seasons closely, you'll realise that the show isn't always about winning; it is more about how well you compete -- with oneself and with others.
The honesty and dedication with which a housemate performs a task; the changing equations in the house and the ability to hold onto your individuality in a dire situation is what will eventually decide your chances of survival.
Some takeaways from the show that hold true for life.
1. Any publicity is good publicity
Gautam Gulati, Vindoo Dara Singh and Dolly Bindra all of whom were best known for their temper came to realise that on the show that even negative publicity was good publicity as long as they were providing content.
While the first two went on to win the show, the makers haven't been able to find a single contestant who can match Dolly Bindra's loud persona.
In real life too, be it politicians, businessmen or celebrities, if they don't stay in the limelight, they are soon forgotten by the media and the audience.
2. Silence has its rewards
A wise man once said that 'Sometimes, it is best to keep your mouth shut and let people wonder whether you are a fool, than to open your mouth and clear all their doubts.'
If you trace Bigg Boss history, you'll realise that Rimi Sen and Sonali Raut are the best examples.
They were lazy and stayed away from controversies, a strategy that helped them go unnoticed in most nominations.
In real life too, it helps if you keep to yourself and speak judiciously rather mingle with the wrong people and attract unwanted attention.
3. Teamwork is everything
Most of the tasks in the house are about teamwork.
The team that has the best coordination always seems to win the task.
That is also one of the many reasons why the members are shuffled and people with opposing personalities are put in one group.
In a corporate set-up or in a family setting, it is important that you consider the merits of each member and optimise their talents to create winning stuff.
4. Read between the lines
Every task in the house comes with a set of written rules.
But if you are smart enough, you can read between the lines and find a way of surviving and winning the task through the loopholes.
The rules may be right, some may be wrong, but if you play smartly, the end justifies the means.
Remember how Navin and Karan won the task by tricking Lokesh this current season?
It's the same with life.
Find the loopholes in your situation and dance your way out of trouble.
5. Take a stand
Earlier contestants Urvashi Dholakia, Kamya Punjabi, Karishma Tanna ensured they all put their foot down wherever necessary so that no one could take them for granted.
It did not matter that they were cornered, singled out or did not have a shoulder to cry on.
And that's what people liked the most about them on the show.
In real life too, it takes a lot of confidence to stand up for who you are, irrespective of what anyone else thinks about you.
If you won't speak for yourself, who else will?
6. Honesty is the best policy
All those contestants who have lied, deceived or tricked people in order to win the game have been exposed on the show sooner or later.
Puneet Vashisht, Imam Siddiqui and more recently Swami Om have invited Salman Khan's wrath and been blasted for bluffing on national television.
There may not be so many cameras watching your every move in real life, but Canadian author and philosopher Matshona Dhliwayo's line best explains the importance of honesty: 'If you wear a mask for too long, there will come a time when you cannot remove it, without removing your face.'
7. There are no shortcuts to success
Time and again, Bigg Boss comes up with special tasks where contestants are lured and tricked into making quick money and exiting the show.
While some think of it as a strategic decision to go home with some money, rather than winning nothing at all, it takes a winner to realise that if you want to win big, you gotta fight it out and stay at it till the end.
In real life too, you may come across instances where you may have the option to take a short cut.
No matter how tempting the short cut may seem, you have to look at the big picture. And always remember that success doesn't come so easy.
8. Tolerance
This one is of utmost importance.
Your religion, caste, language and sexual orientation are not supposed to be discussed or disputed against inside the Bigg Boss house.
Inside, you are a participant like any other and are allowed to practice your way of life as long as you do not spread hatred.
In these times of uncertainty and violence around the world, tolerance and acceptance for all kinds of people on the grounds of humanity is what we truly need.
Think we missed something in the list?
Have you been watching all the seasons of Bigg Boss?
What are the lessons you learned from the show?
Tell us in the message board below.
IMAGE: Salman Khan in Bigg Boss.