Vikas stepped into the house, dialled a number and handed his cell phone to Raj Kumar, Virat Kohli's childhood coach.
"Happy Teachers' Day, Sir," said Virat, even as Vikas thrust something into Raj Kumar's palm -- a bunch of keys.
A fascinating excerpt from Vijay Lokapally's must read biography of the cricket superstar, Driven: The Virat Kohli Story.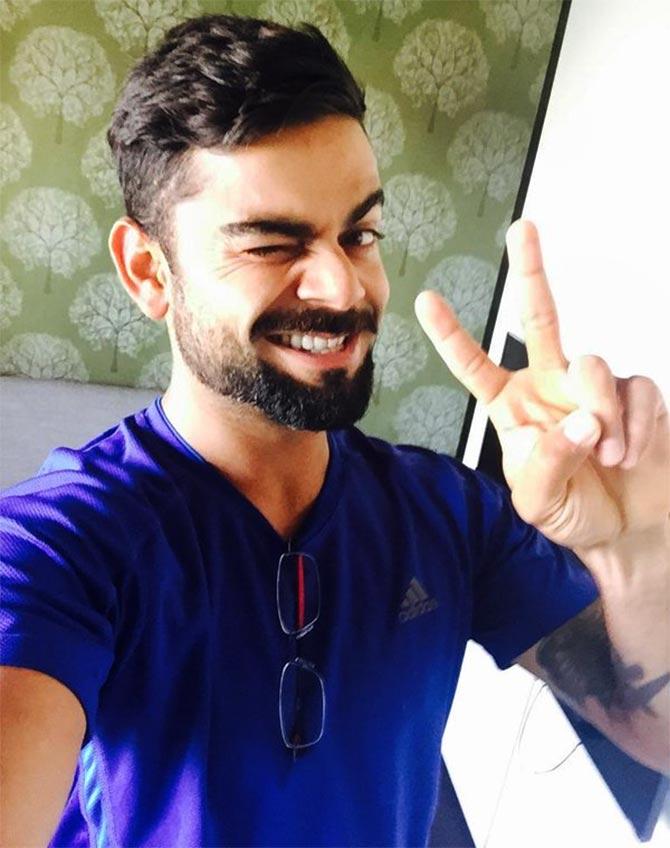 IMAGE: Virat Kohli in selfie mode :) Photograph: Kind courtesy Virat Kohli/Twitter
September 5 is celebrated as Teachers' Day in India to mark the birthday of Dr Sarvepalli Radhakrishnan, former President of India, and a renowned philosopher and statesman.
The guru-shishya (master-pupil) tradition is an ancient one in India and still practised in some corners of the country.
For Raj Kumar, his understanding of the importance of Teachers' Day had always come from his son Aviral and daughter Suhani narrating their experiences from the events at school.
Until one morning, in 2014, Teachers' Day became unforgettable for Raj Kumar, thanks to someone very dear to him.
"I answered the bell and found Vikas (Kohli) at the door," said Raj Kumar.
Raj Kumar knew that Virat was away in the United States for a photo shoot with a sponsor. Hence, his brother's arrival at his house so early in the day was cause for concern.
Vikas too had nurtured cricketing dreams, but could not proceed beyond club cricket. "I made no distinction between the brothers, but Virat was miles ahead," said Raj Kumar.
Vikas stepped into the house, dialled a number and handed his cell phone to Raj Kumar. "Happy Teachers' Day, Sir," said Virat, even as Vikas thrust something into Raj Kumar's palm -- a bunch of keys.
Raj Kumar stood perplexed as Vikas requested him to step out of the house.
A gleaming Skoda Rapid was parked at the gate -- a gift from Virat to his mentor.
"The gift was great, but I was floored by the style and the execution. Look at his sentiments. It was this gesture that convinced me of Virat's humility and respect for seniors."
"It was not merely because he had gifted me the car. It was because of his emotional touch to the process of reminding me how much he treasured our association and valued the role of a teacher in his life."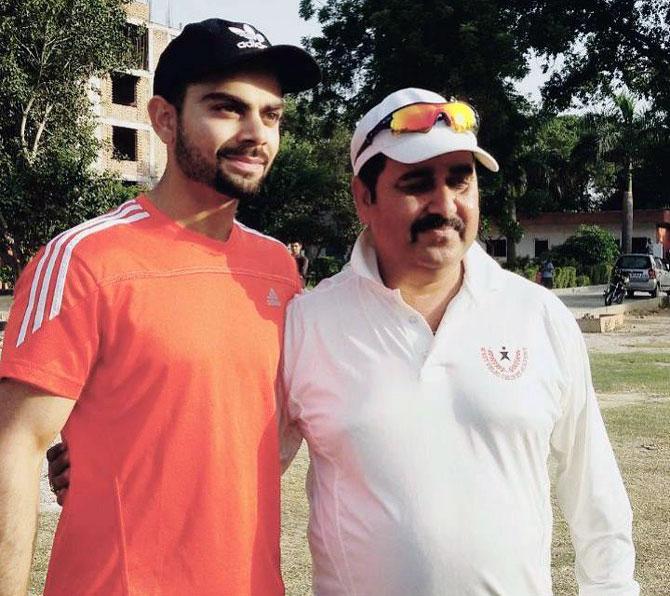 IMAGE: A young Virat with his coach and mentor, Raj Kumar. Photograph: Kind courtesy Mohammad Adil Shah/Twitter
Virat had played the caring pupil to perfection.
Quite the way (Ashish) Nehra had with his coach Tarak Sinha, gifting him a flat.
One fine day, Nehra found Sinha missing from the nets at the Sonnet Club (in Delhi) and was told that his coach, residing in a rented house, had been served an eviction notice by the landlord.
Disturbed by the development, Nehra, within a week, found a new flat and ensured that his coach never had to face the embarrassment of being asked to shift by some landlord.
Virat had also followed in the footsteps of his role model, (Sachin) Tendulkar. The maestro had taken care of his coach, Ramakant Achrekar, by assiduously looking after his needs.
Other than gifting him a car, Tendulkar had always been at his guru's side in times of distress.
Virat's gesture towards his coach comes in the line of that long tradition of respect and love between guru and shishya.
Raj Kumar and Virat have cherished their partnership from the time the boy had come to the coach's academy.
"I always had to keep an eye on him because he would quietly walk into the seniors' group and I had to scold him every time he did that. I was worried for Virat since he was not even 10, but the boy had the courage and willpower to compete with players much older than him."
Virat insisted that he wanted to train with the senior boys. "I can do better than them," he would tell his coach, which he did.
He did not merely stop at improving his batting by scoring runs by the tons. He developed his skills in every aspect of the game.
IMAGE: Clearly, young Virat loved his burgers. Photograph: Kind courtesy Virat Kohli/Twitter
He just wanted to be involved all the time. It was difficult to keep him away from action.
He wanted to bat, bowl, and field in all possible positions.
"I was accused of being partial and promoting Virat, but believe me I only had to sit back and watch his progress and prove many people wrong. He was intent on making his point without causing any unpleasantness."
"I can vouch for his integrity and the respect he showed to the seniors at the WDCA (West Delhi Cricket Academy)," said Raj Kumar.
Raj Kumar vividly remembers the day he saw this chubby lad holding onto the hands of his father.
It was the opening day of the registration at the WDCA. He was among the hundreds of youngsters waiting to be admitted.
Raj Kumar divided them into two groups -- juniors and seniors. Virat was hardly nine and nonchalantly walked towards the group of seniors.
"Hello, hello," Raj Kumar remembers shouting. "Go there," he guided Virat to the junior group.
"Such was his self-belief that on the first day of the camp he wanted to train with the seniors."
Raj Kumar discovered quickly that he had exceptional talent in this little champ.
One day, Virat walked up to him with a complaint. "I want to train with the seniors. These junior chaps cannot get me out."
To check whether his anxiety was misplaced, Raj Kumar asked him to pad up for a session with the seniors.
"Believe me," the coach raved, "Not even once did he look out of place. He was a picture of confidence and poise among them."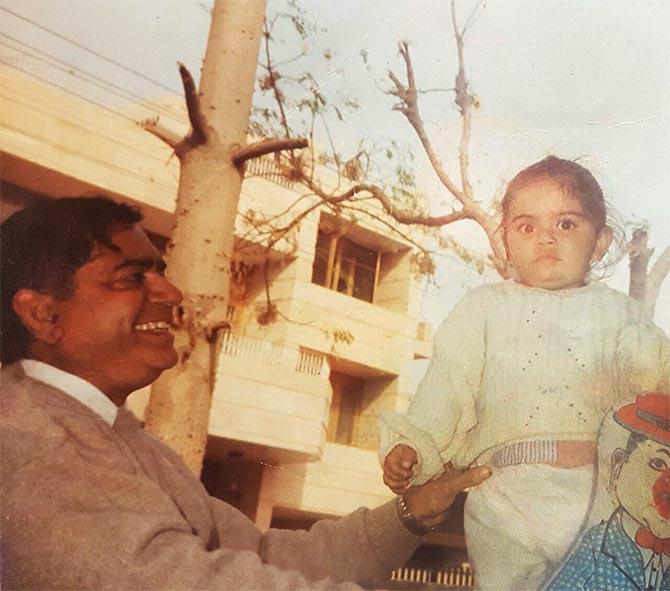 IMAGE: With his late father Prem Kohli. Photograph: Kind courtesy Virat Kohli/Twitter
Virat was adept at accepting challenges.
Raj Kumar, in his playing days, was equally competitive, always striving for opportunities to break a partnership, and keen to bowl at batsmen well-set in the game.
When Muttiah Muralitharan was in his first season, Raj Kumar, also an off-spinner, was finishing his career with Delhi.
The two were yet to meet, but Muralitharan would have been delighted to see Raj Kumar bowl the doosra with a flourish.
"My elbow did not exceed the 15-degree bend," Raj Kumar laughed, as he spoke about his ability to fox the batsmen, referring to the ICC rule on the doosra.
Raj Kumar could rotate his wrist, he does it even know, and flummox the batsmen with the one that went the other way. "I used it sparingly," he remarked.
Raj Kumar, member of the Madan Lal-led Delhi team, which won the Ranji Trophy in March 1989, beating Bengal by an innings and scoring 210 runs at the Ferozeshah Kotla, never missed an opportunity to regale Virat with stories from his playing days.
He found his pupil to be an ardent listener, grasping every moment of the engrossing tales that his coach wanted him to absorb.
"There were lessons in those stories. I would tell him about close encounters and tense moments and how we dealt with them. If you see, Virat has this brilliant quality to study the situation and react appropriately. He is adept at reading the opposition and his team's strength and weakness. It is due to his inquisitive nature, as I remember him hammering me with ceaseless questions," pointed out Raj Kumar.
Excerpted from Driven: The Virat Kohli Story by Vijay Lokapally with the permission of the publishers, Bloomsbury India.