'I love commentating for a reason that not many will admit.'
'Yes, it gives me financial security; yes, it lets me stay in touch with the game; but importantly, it gives me visibility.'
'In a way, commentary ensures that people don't forget you.'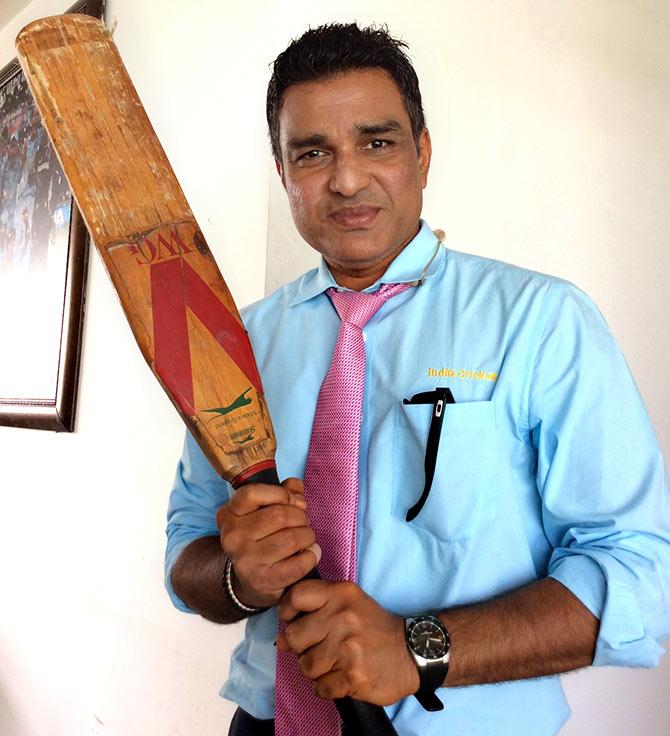 IMAGE: 'Wow! Got my hands on the bat with which Kapil Dev got 175 no v Zim in the 1983 WC,' tweeted Manjrekar. Photograph: Kind courtesy Sanjay Manjrekar/Twitter
Sanjay Manjrekar won't spare cricketers from his acid analysis. In his autobiography, Imperfect, from which we present an edited excerpt, he does not spare himself either.
As a player, I had an opinion about everything. I was not afraid of sharing my opinion in team meetings. By nature, I am extremely judgemental.
All these turned out to be the very qualities I needed in my life post retirement: As a commentator.
Getting into commentary was a seamless transition. Right from my first game as a commentator, I felt at home. Except that watching the game so closely on the monitor was a new thing for me. I remember thinking every leg-before appeal was out, but by the second game I was all right...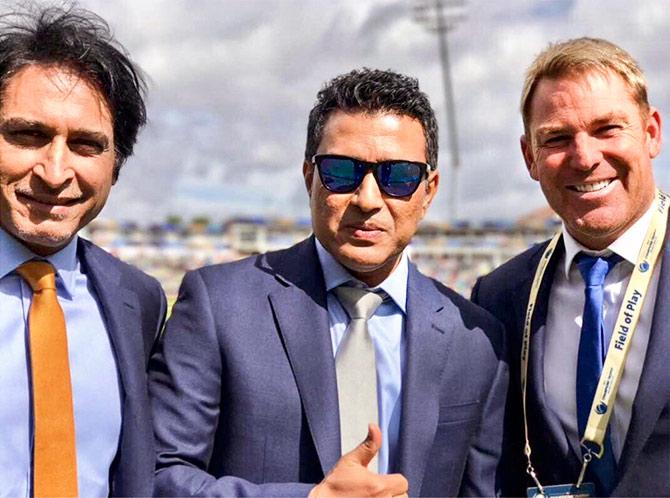 IMAGE: With fellow commentators Rameez Raja and Shane Warne. Photograph: Kind courtesy Sanjay Manjrekar/Twitter
Once I started doing this job regularly, I realised it could be a long-term professional option for me.
Naturally I wanted to get better at it, and not restrict myself to expert analysis, which is what's expected of former cricketers.
When you start off, you are put in the role of a 'colour' commentator alongside a more seasoned commentator who handles the descriptive part of the coverage.
The lead commentator is more the spine of commentary while the colour commentator can afford to take a back seat and talk only over slow-motion replays or analyse the play and tactics in it.
The lead commentator is responsible for the general mood of commentary, which makes him a more vital part of a commentary team. I wanted to be the lead after I had established myself as a colour commentator.
Because it's my nature to observe, I was familiar with most of the elements of a live coverage even if they didn't directly affect me. That's why it was not difficult for me to slip into the role of a lead.
How good you are in the commentary box can sometimes be gauged by how many lead stints you get.
The one thing that I had to consciously work at was to sound excited. I am not an excitable person -- I am passionate, but not excitable.
I had to train myself to become excited and animated. I would be passionate and animated when analysing, but to react to a gorgeous cover drive took some conditioning. I am proud that I worked so hard on it that I began to get many lead stints.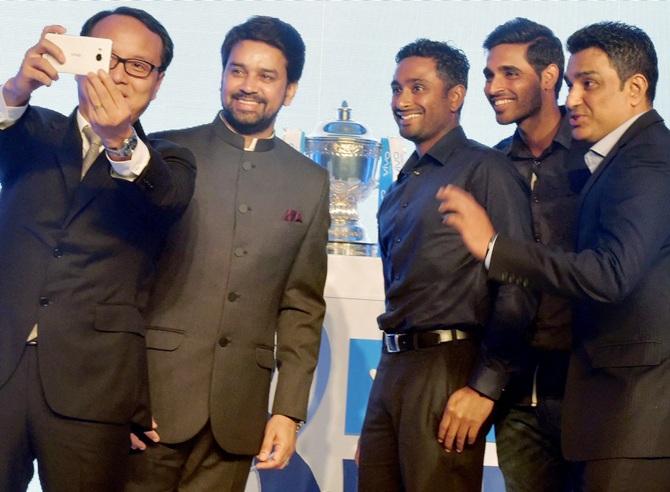 IMAGE: Posing with then BCCI secretary Anurag Thakur, Ambati Rayudu and Bhuvneshwar Kumar before the start of IPL 2015. Photograph: PTI Photos
The hardest I have had to work in commentary has been in Twenty20 cricket.
It's such a high adrenaline activity that a calm quiet voice does not go well with it; and therefore commentary needs to be high octane too.
Fortunately, I genuinely love T20 cricket.
When some people in production felt I was a bit dull for T20 cricket, I worked on it.
I sought out Simon Doull, who gave me a simple piece of advice: While in lead, just focus on reacting to the action, and don't think about too much else. And yes, inflect the voice when there is a spike in action.
I get quite a few lead stints in T20 matches nowadays and I consider that an achievement to be proud of. It's a bit like Cheteshwar Pujara becoming a good T20 player...

IMAGE: Interviewing then South African captain Hashim Amla in Mohali, November 2015. Photograph: BCCI
Then there was the Dean Jones-Hashim Amla incident, when Jones was heard by TV viewers calling Amla a terrorist.
There was a bit of history to this.
Jones had just returned from a long stint of commentary in the West Indies where the director there had shackled him a bit. He hadn't let Deano be Deano. He kept stopping him from talking excessively. Basically, Jones had been kept on a leash for more than a month and he was suffering.
After that, he was like a prisoner set free when he joined us in Sri Lanka. There was no one here to nag him, and he was now in his element...
To get a few laughs in private, Jones had nicknamed Amla 'a terrorist' on that tour. By all means, this was locker-room humour.
As it turned out, Amla took a catch, and a highly excitable Jones thought that we were off air and that everyone was on a commercial break, turned back towards us in the back of the commentary box and said the fateful lines.
Viewers were right to get angry at this, even if the commentator was not saying that into his mic and was under the impression that the whole world had gone for a break.
To expect everyone to understand this kind of humour and not receive any backlash for it was also being very naive.
Ten Sports did the right thing. I read out an unconditional apology on behalf of the channel the next day, and Jones was sent home.
When he approached Amla to apologise, Amla showed his class by immediately forgiving him for what he had done.
I met Jones that evening. He is quite a character. Anyone in his position would have been completely shattered by the episode; I know I would have been but he seemed to get some kind of kick out of it, not because he was labelled a racist -- which he is not -- but from the attention he was getting from the incident...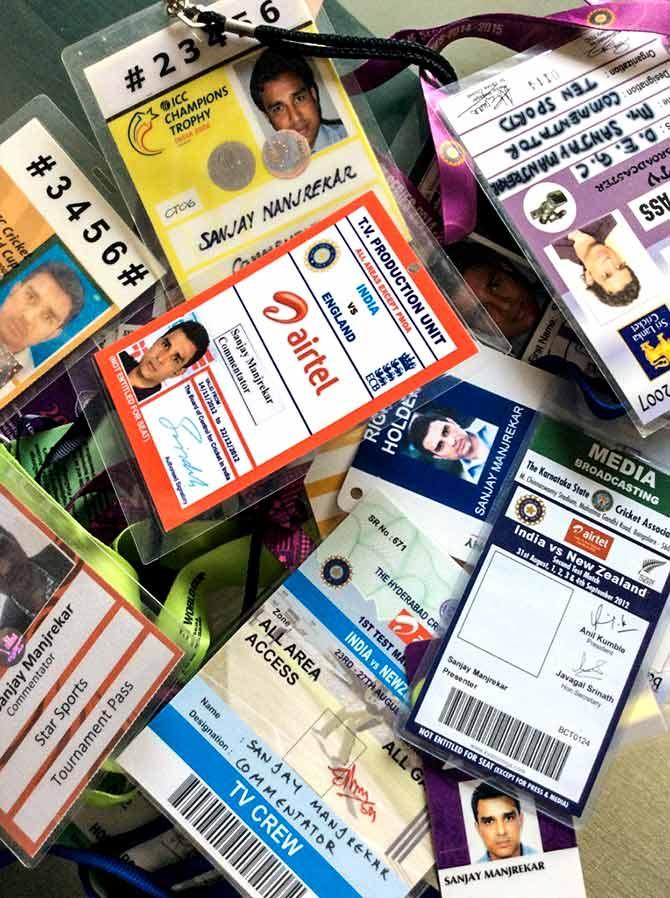 IMAGE: 'As player it were Test caps. As commentator, it's this, I guess,' tweets Manjrekar with this picture. Photograph: Kind courtesy Sanjay Manjrekar/Twitter
This incident shows the kind of tightrope a commentator walks. A flourishing career could come to an end in the blink of an eye.
We want to be funny sometimes, but even while indulging in some humour, we must stay clear of matters of great sensitivity.
As commentators, we address a universal audience. It's better to stick to a language that offends no one...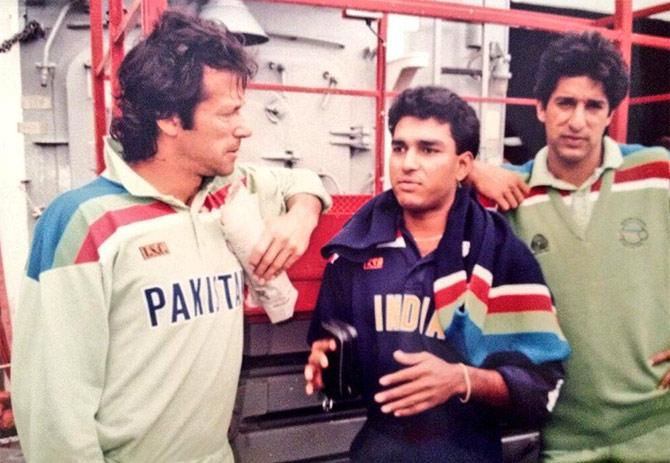 IMAGE: 'Ah, Like a fan I asked Imran if I could have a pic with him,' tweets Manjrekar about his favourite cricketer. Also in the picture is Wasim Akram, whom Manjrekar calls a 'genius'. Photograph: Kind courtesy Sanjay Manjrekar
I miss Wasim Akram when he is not there on the panel. He is a real darling, and great fun to work with in the commentary box.
He is like how geniuses are. They can't be expected to suddenly, intricately analyse the performance of others. Wasim does not claim to be the best in the business. He does his bit, and he leaves...
Shoaib Akhtar is also great company in the commentary box. I have worked with him several times for Star Sports' Hindi coverage. He has become a great friend, and I can tell you that he is one of the most talented guys in our world.
His reading of the game is quite sharp, and his view of the world, interesting.
He too was intrigued by how I went about my work, and would nudge me sometimes.
"Give your mind a rest. How much will you think? How much will you analyse?"
He is right. I take life and work too seriously sometimes...
Sometimes, out of the blue, I suddenly get a message on WhatsApp from him, 'Hi baby.' Make what you will of it...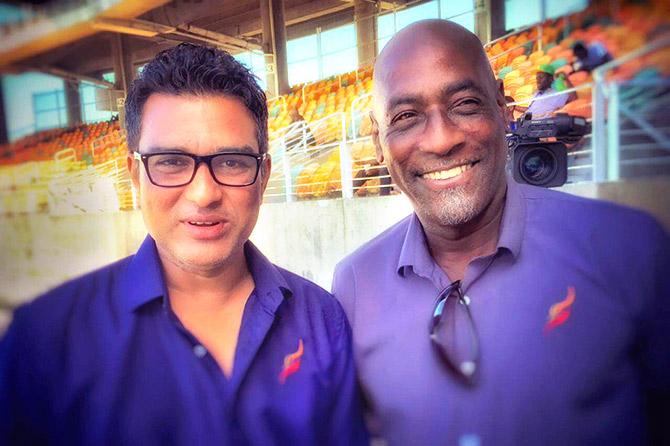 IMAGE: 'He pestered me for a week. Finally I said ok you can have a pic with me,' tweeted Manjrekar as he shared a picture with Sir Vivian Richards. Photograph: Kind courtesy Sanjay Manjrekar/Twitter
For me, this job is custom-made, especially because I don't have to rush from one commitment to another. I played international cricket for nine years, but have commentated on it for much longer...
I love commentating for a reason that not many will admit. Yes, it gives me financial security; yes, it lets me stay in touch with the game; but importantly, it gives me visibility...
In a way, commentary ensures that people don't forget you.
People hardly remember Sidhu the cricketer, for example. Tony Greig is remembered by a generation of fans as merely a commentator -- maybe one of the greatest. So commentary gives us that second shot at fame.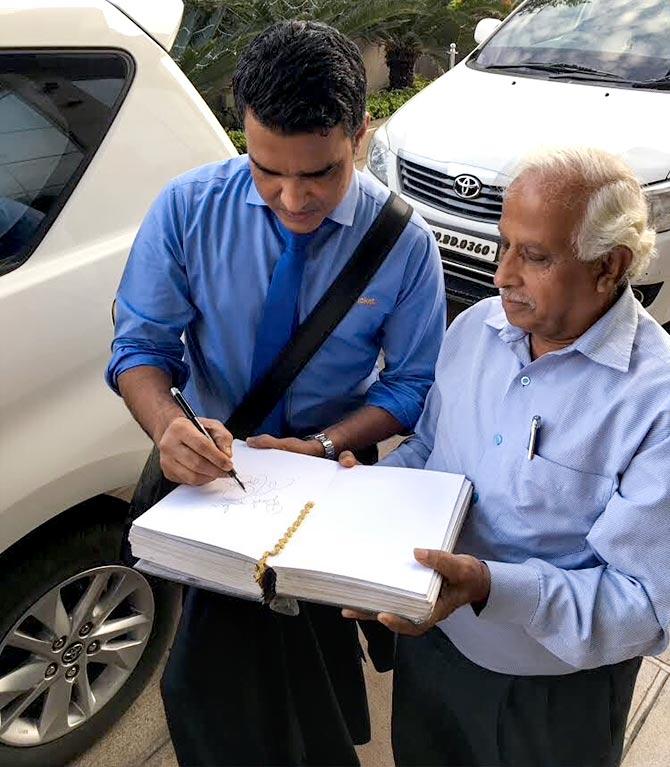 IMAGE: Rare moment in #selfieKaZamana. Signing an autograph book. #Indore. Photograph: Kind courtesy Sanjay Manjrekar/Twitter
I am lucky to have become a commentator and not a coach.
My future as commentator does not depend on the team's performance in matches, which a coach can't control. My future depends on what the viewers think of me.
Ever since I have taken up the job, I have been loyal to my viewers because they assess my performance constantly and dictate my future as a commentator.
For me to be good at my job, I make a conscious effort to maintain a certain distance with the players so that I can remain clinical in my assessment of their performances. I have not been close to any current player in my 18 years as commentator.
Once you know a cricketer too well personally, things can get complicated. He may tend to get hurt when he hears public criticism of him. He would rather expect you to have a private chat with him about it.
But players often forget that my loyalty lies with my producer -- he must not be denied my views because I prefer sharing it with the player.
I often see fellow commentators walk on to the field on the morning of the match, go out of their way to talk to some player. I wonder then whether they can say the things that ought to be said about that player.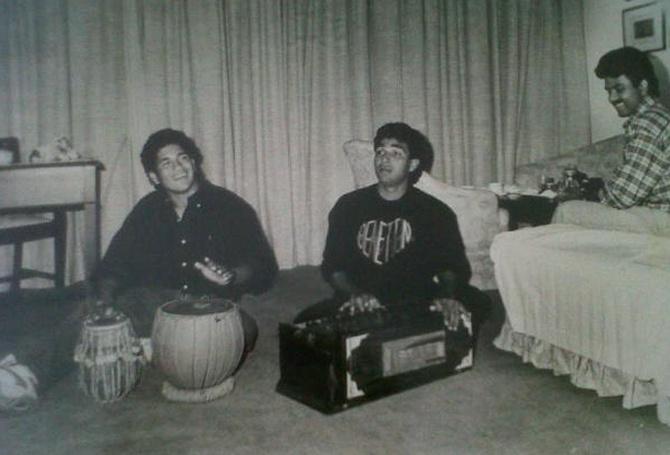 IMAGE: 'I guess you will recognise the faces in this old photo I found in my collection : ),' tweeted Manjrekar. Photograph: Kind courtesy Sanjay Manjrekar/Twitter
Cricketers too, sometimes, talk about how they are okay with constructive criticism. They lie -- I was a cricketer myself. I know.
As players, you are too sensitive about everything, especially criticism, constructive or otherwise, more so when it comes from a cricketer you played with.
Cricketers often have this perception that if an ex-cricketer has some critical observations about his game then he must have a personal grudge. Which is why strained relationships with players is one of our occupational hazards.
On the odd occasion when you run in to such a player, you may get a vibe -- a cold one. You'd think it's got to do with something you wrote about him or said on air.
I know one player who stopped talking to me ever since I wrote a piece critical about him.
What can a commentator do in such cases? You take a deep breath and move on.
Excerpted from Imperfect by Sanjay Manjrekar with the kind permission of the publishers, Harper Collins India.