'It remains to be seen how much Prithvi Shaw's warriors go on to accomplish, but letting all the adulation go to their heads is the last thing you can expect.'
'Throughout its dominant streak in New Zealand, the Under-19 team played in the personality of its coach, Rahul Dravid.'
'Now, only if they can kick on and become as good as him,' says Dhruv Munjal.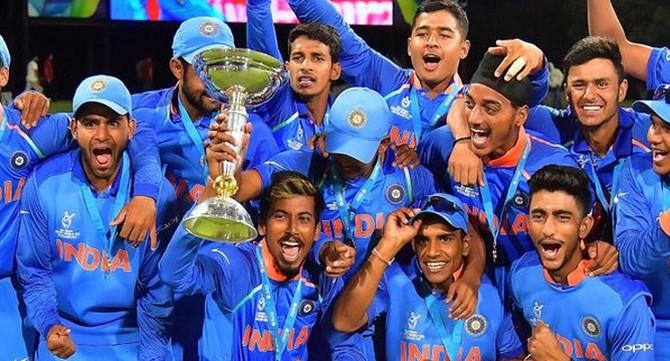 IMAGE: The Indian team after they won the Under-19 World Cup in New Zealand, February 3, 2018. Photograph: Kind courtesy Cricket World Cup/ICC/Twitter
In sport, certain teams and individuals are often accompanied by an aura of inevitability -- a firm belief among both fans and neutrals that, come a major tournament, they will not disappoint.
Examples over the years have included Rafael Nadal ahead of a French Open title defence and the all-conquering Australian cricket side of the last decade before a World Cup.
They almost always found a way to prevail -- sometimes through spectacular quality, at other times through sheer doggedness.
The Indian Under-19 cricket team would have revelled in a similar sense of invincibility during its time in New Zealand for the World Cup.
The moment the first ball was bowled and the first shot struck, one thing became startlingly apparent: India was going to take some beating.
By the end of it all, no one else came even close; all games were won with a rapier-like precision not associated with cricketers their age.
Even the final, a delectable affair on paper, rapidly metamorphosed into a parade for one team out on the field.
In parts, it was almost like watching India Under-19 playing a hurriedly assembled group of 15-year-old boys from Australia.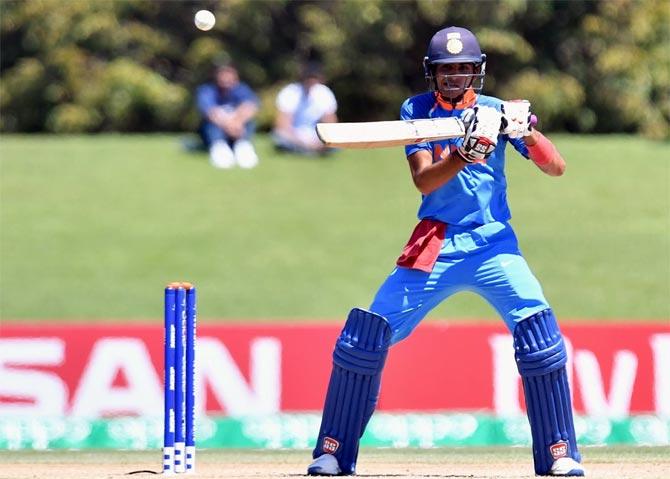 IMAGE: Shubman Gill, Man of the Tournament in the Under-19 World Cup, plays a shot. Photograph: ICC/Getty Images
Manjot Kalra and Shubman Gill, both hugely gifted stroke-makers, struck the ball with frightening crispness, and the pace duo of Kamlesh Nagarkoti and Shivam Mavi clocked speeds that Munaf Patel, in his short-lived tenure as India's fastest bowler, would have been tremendously proud of.
This was the kind of nasty stuff that would have bothered accomplished international batsmen, let alone a bunch of hapless young Aussies.
"There was never really any doubt. They romped home in all the matches; the quality and professionalism on display was of a completely different standard from the other teams," says Nayan Mongia, the former Indian wicket-keeper who played in the first-ever international Under-19 tournament, then called the Youth Cricket World Cup, in 1988.
Maninder Singh, former Indian spinner, says he was struck by the abnormally high standards that India was able to maintain in all three facets throughout the tournament.
"When you go into a big competition, you expect to be challenged. But these guys were so good that they made everyone else look very ordinary. They left me really impressed."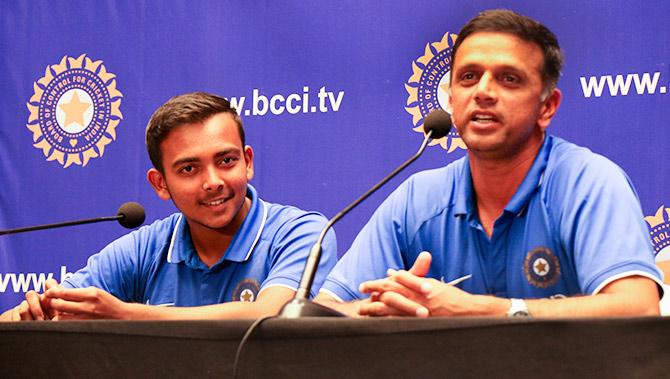 IMAGE: India Under-19 World Cup-winning Coach Rahul Dravid and Captain Prithvi Shaw at a media interaction on their arrival from New Zealand in Mumbai. Photograph: Satish Bodas/Rediff.com
India's lustrous history in the tournament -- they have won it twice in the past six years and four times overall -- is sterling testimony to the growth the country's youth cricket system has achieved.
With superior infrastructure and coaching in the last decade, all due to the Board of Control for Cricket in India's abundant riches, India is, as former captain Mohammad Azharuddin rightly pointed out, probably capable of fielding two Under-19 teams.
Moreover, given the omnipresent nature of the sport, Indian youngsters play cricket more than anywhere else in the world -- an obsession that is comparable to Brazil's love for football and China's affinity for table tennis.
Add to this fixation a degree of innate talent that players from other countries are seldom blessed with. During the World Cup, for instance, commentators routinely raved about how 'natural' India's batsmen looked.
All this has enabled India to forge a potent assembly line of talent, even as some senior international teams struggle to churn out players -- South Africa being a case in point.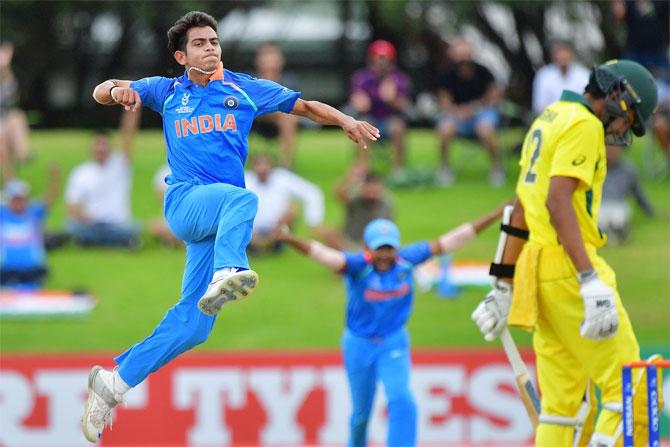 IMAGE: Kamlesh Nagarkoti celebrates after having Australian Captain Jason Sangha caught behind. Photograph: Cricket World Cup/ICC/Twitter
"Things have changed massively in the last 20 years. Players now come with outstanding quality and fitness. That they have better resources obviously helps," says Anshuman Gaekwad, who was coach of the India Under-19 team way back in 1997, three years before the country won its first world title.
Gaekwad recalls how he did not have a physiotherapist, trainer, or a batting or bowling consultant at the time.
"I did everything myself. Now you have technical guys who sit in front of laptops and supply you with data. These things come in extremely handy," he says.
Regardless of the apparent evolution of junior cricket, Gaekwad was slightly taken aback by how "unbeatable" the Indian team looked in New Zealand.
"These boys were just something else."
Performing at such a high level from a young age instils a feature that is often overlooked: The habit of winning together.
In a fascinating discussion on the UK's BT Sport network, former English footballers Rio Ferdinand, Frank Lampard and Steven Gerrard recently revealed why they thought the country's 'golden generation', which comprised a host of superstars including themselves, failed so awfully on the international stage.
While all of them represented mighty club teams and possessed evident quality, Ferdinand said they never connected on the pitch -- the camaraderie that helps successful teams blossom never really took shape.
Lampard went on to cite the examples of Germany and Spain, countries with formidable age-group teams that win global tournaments with staggering regularity, eventually feeding the senior team with players who are used to being around each other.
Results clearly back this approach. Germany and Spain have won the last two football World Cups; England hasn't won it for more than 50 years.
While the unique nature of cricket -- with three different formats -- might not allow it to be fully suitable to this thesis, it is nonetheless a system cricket can benefit from.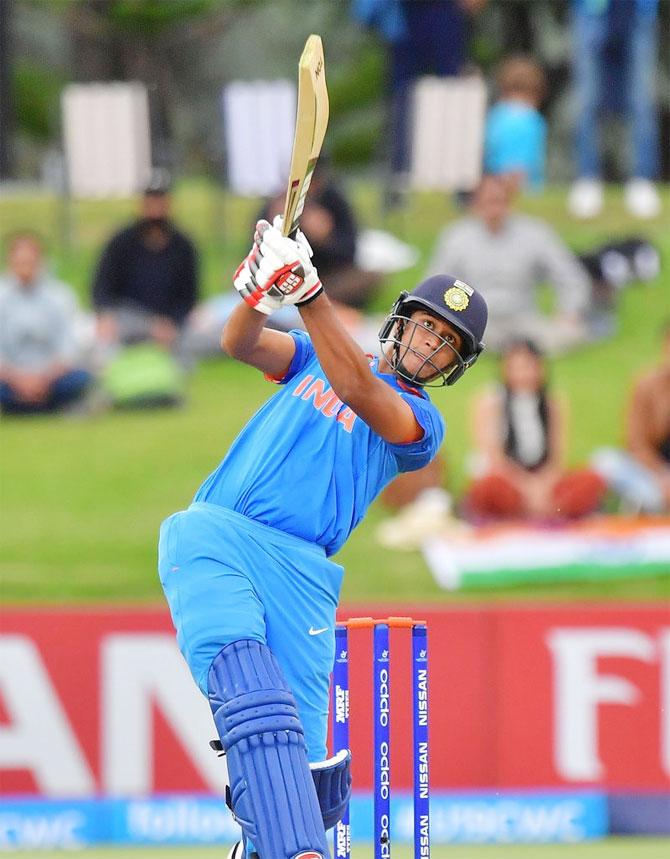 IMAGE: Manjot Kalra, who hit a century in the Under-19 World Cup final against Australia. Photograph: Cricket World Cup/ICC/Twitter
Maninder Singh expects at least four players from the current Under-19 side to graduate to the senior set-up in the next two years. This may seem like a realistic possibility, but amid all the euphoria, we mustn't forget what history has repeatedly reminded us: The climb to playing for India is a steep one that few successfully complete.
You can have sympathy for Unmukt Chand. All talk of the valorous hundred he scored -- despite batting with a broken jaw -- in the Vijay Hazare Trophy was quickly drowned in the din of India's Under-19 World Cup victory.
But he of all people will probably understand -- Chand has been there himself before. In 2012, the Delhi batsman captained India to a title win in the biennial event, blazing his way to a hundred in the final against Australia.
Touted at the time as a star in the making, six years later Chand is a damning manifestation of all that can go wrong for a cricketer who is hyped from such a young age.
Chand is not alone in failing to make the grade.
Past captains of World Cup Under-19 teams have mostly vanished from memory -- a fairly long list that includes Amit Pagnis, Ravikant Shukla, Ashok Menaria, Vijay Zol and Ishan Kishan. None of them wore -- or are yet to wear -- the India senior cap.
There have, of course, been exceptions.
India's Under-19 stable has produced greats such as Virender Sehwag, Yuvraj Singh and Harbhajan Singh. Other success stories include Suresh Raina, Cheteshwar Pujara, Rohit Sharma and Shikhar Dhawan.
Those miffed at the omission of Virat Kohli must realise that 'great' and 'success' are inadequate adjectives to explain his genius.
Kohli is, however, without doubt the most special thing to have ever come out of the Under-19 World Cup -- he is now well on his way to becoming the greatest Indian batsman to have ever stepped on a cricket field.
The transition numbers actually make for compelling dissection.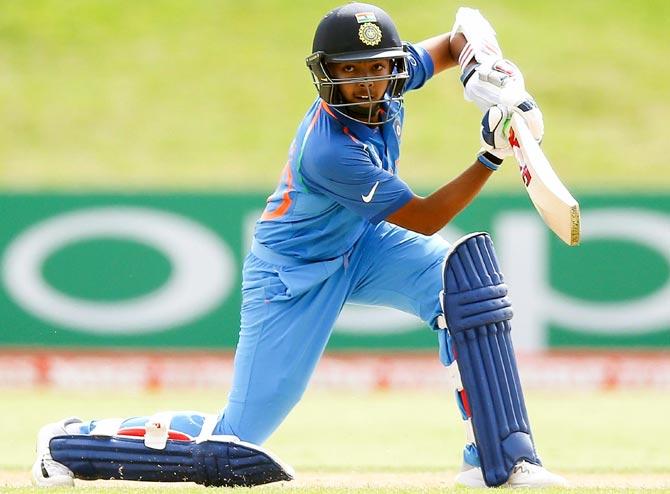 IMAGE: India Under-19 Captain Prithvi Shaw in action. Photograph: ICC/Getty Images
Between 1998 and 2016, of the 117 players who turned out for India in the Under-19 tourney, 34 went on to represent India -- a very acceptable return of one in over three making it to the senior team.
But buried under these statistics are mainly stories such as Reetinder Sodhi, Irfan Pathan, Robin Uthappa, Piyush Chawla and Saurabh Tiwary -- all examples of unfulfilled potential.
"The standard of senior international cricket is much higher. But the real challenge is tackling the pressure and expectation that comes with playing for India. That's where most young players " feels former Indian pacer Madan Lal.
Quality is an obvious prerequisite to make that leap, but what makes the transformation so gruelling is intense competition for places.
A slot in the Indian middle-order, for instance, will see Gill, 18, battle it out with Raina, 13 years his senior, and Dinesh Karthik, 32, in addition to batsmen from his own peer group.
Singh suggests that this winning squad be made to interact with Kohli on a regular basis. "After he won the World Cup in 2008, Kohli went missing for a while. But then he made a comeback. He is the ideal guy to guide them," he says.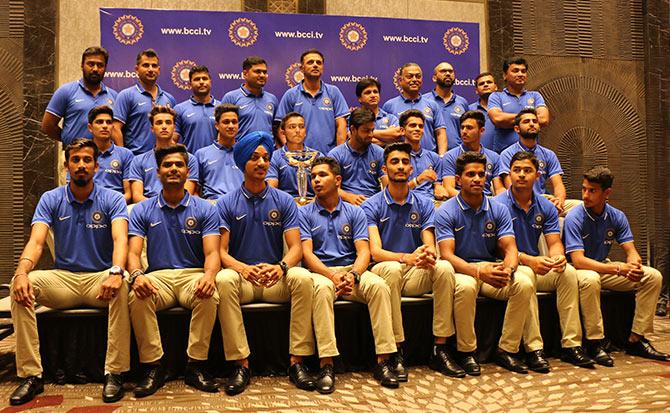 IMAGE: The victorious India Under-19 team and the support staff pose with the World Cup for a photo-op in Mumbai. Photograph: Satish Bodas/Rediff.com
More than mentorship, however, progress from here is determined by the amount of cricket you play, feel experts.
Given the BCCI stipulation that doesn't allow any player to appear in more than one World Cup, almost all the title-winning players are unlikely to play for India Under-19 again.
"They should play as much as they can. Match experience counts for a lot," feels Raina.
That is perhaps why Chand's career has not hit the heights it once promised.
For two seasons -- 2015 and 2016 -- the 24 year old spent most of his time carrying drinks for the Mumbai Indians in the Indian Premier League. Around the same time, he was dropped from the Delhi Ranji team.
To make matters worse, Chand has gone unsold in the last two IPL auctions. "Stuff like sharing the dressing room with top players is helpful, but there is no substitute for playing," emphasises Lal.
Owing to the whirlwind character of the IPL and fierce rivalry for places among players, opportunities are naturally scarce, underlining the value of competing in the domestic circuit.
"Playing in the Ranji Trophy should be a priority. The home-away format, different pitches and conditions will really put these guys to the test," says Mongia.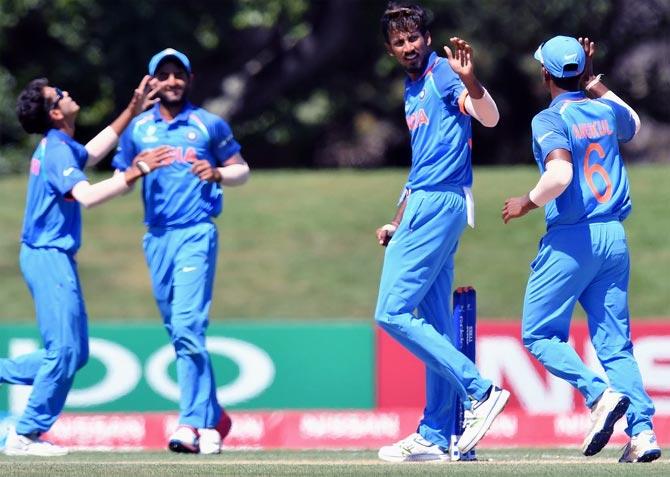 IMAGE: Ishan Porel, second from right, celebrates a wicket. Ishan bowled India to glory with an injured foot! Photograph: ICC/Twitter
Captain Prithvi Shaw is already a regular for Mumbai, while Gill and Ishan Porel made their Ranji debuts last season, for Punjab and Bengal, respectively.
"The problem is that people start judging you by how you do in the IPL. You get to play so little that you never feel fully confident," says a former Under-19 batsman who played in two IPL seasons.
"A sustained run -- no matter what the results -- in the state team is a must."
Five among the squad that triumphed in New Zealand were handed handsome contracts at the IPL auction, with Nagarkoti leading the way with a Rs 32 million bid from the Kolkata Knight Riders. Shaw, Gill, Mavi and Abhishek Sharma also made the cut.
Gaekwad hopes that the colts can keep away from the 'bad habits' that sometimes come with playing in the IPL, while Mongia says they must grab whatever opportunity they get -- in the IPL or otherwise.
"They must learn as much as they can. They also have to prepare better, physically," he states.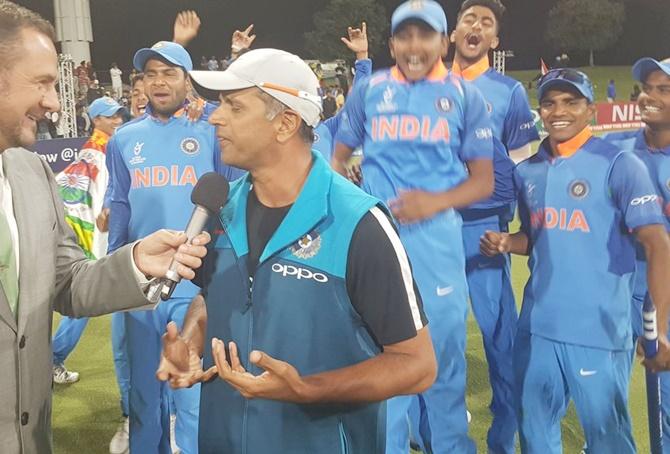 IMAGE: Rahul Dravid, the mastermind behind India's Under-19 World Cup triumph. Photograph: Cricket World Cup/ICC/Twitter
It remains to be seen how much Shaw's warriors actually go on to accomplish, but letting all the adulation go to their heads is the last thing you can expect.
Throughout its dominant streak in New Zealand, the team played in the personality of its coach, Rahul Dravid, happily embracing the pleasant humility that has forever remained its master's hallmark.
Now, only if they can kick on and become as good as him.