A Mumbai man did a cricket puzzle in three days that had troubled Don Bradman for about two decades, reveals Utkarsh Mishra.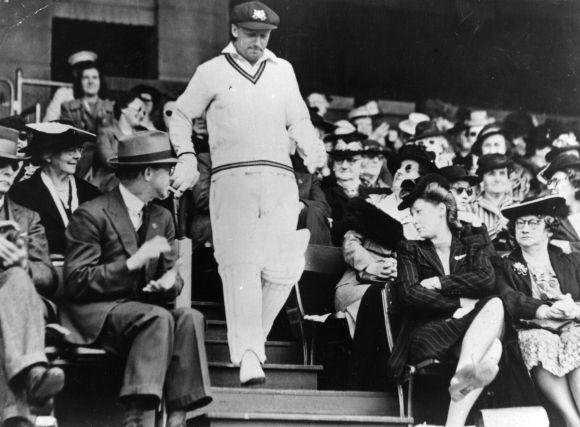 IMAGE: Don Bradman. Photograph: Keystone/Getty Images
There was something about cricket which even the great Don Bradman took 18 years to understand. He encountered it in 1930.
And since then, while bowlers all across the world were busy finding an answer to Bradman, the Don himself was scratching his head to find the answer to that problem.
It was a cricket puzzle by the well-known astrophysicist Sir Arthur Eddington, based on an 'imaginary scoreboard'. He introduced Bradman to it in 1930, about which the latter mentions in his book The Art of Cricket.
It is as follows:
An Imaginary Scoreboard
Atkins 6
Bodkins 8
Dawkins 6
Hawkins 6
Jenkins 5
Larkins 4
Meakins 7
Perkins 11
Simkins 6
Tomkins 0
Willkins 1
Extras 0
Total 60
BOWLING
Pitchwell: 12.1-2-14-8
Speedwell: 6-0-15-1
Tosswell: 7-5-31-1
CLUES:
1. The batsmen have scored only in singles and 4s.
2. All of them were clean bowled. No one was caught or run out. There were no no balls or 'short' runs.
3. Speedwell and Tosswell bowled 6 and 7 overs respectively at a stretch.
4. Pitchwell opened the bowling, with Speedwell coming in at the other end for the next over.
5. The overs were of 6 balls each.
QUESTIONS:
1. Which bowler dismissed which batsmen?
2. Who was not out?
3. What were the fall of wickets?
After trying for 18 years, Bradman finally solved it while sailing for his last tour to England in 1948.
Greatly impressed with the puzzle, and to give others a chance to try it out, Bradman included it in his book The Art of Cricket. That was in 1958.
Cut to 2016, Mumbai. While cleaning his wardrobe, 74-year-old Dattatraya B Pulekar found a very old letter.
Reading it, he remembered a long-forgotten story.
The letter, dated February 22, 1965, was sent to Pulekar by Bradman, congratulating him for successfully solving the puzzle.
And guess what, he did it in three days -- something that that foxed Bradman for about two decades.
Recalls Pulekar's son Harshal: "My father read an article about Don Bradman's puzzle in a newspaper, perhaps The Times of India. But the puzzle was not mentioned there. He is a cricket enthusiast and also likes to solve puzzles that involve intense arithmetic."
After reading about the puzzle, Dattatraya Pulekar, then a young man in his twenties, started searching for it.
"He finally found it in a Marathi magazine. He took three days to crack it, but he was not sure about the solution, especially about the tougher part of it. He then decided to write to Bradman," says Harshal.
Pulekar Sr got Bradman's address from the TOI and sent the Don his solution.
And one fine day, he received Bradman's reply, confirming that he had solved the puzzle correctly.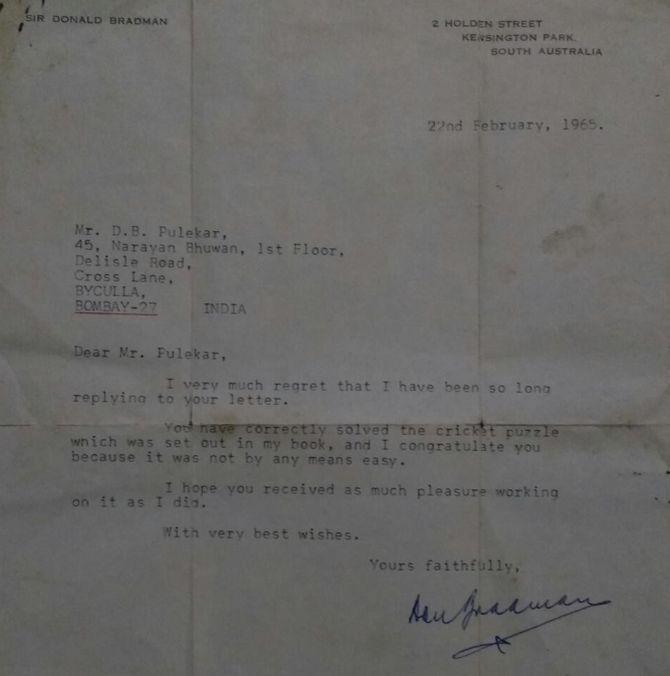 IMAGE: The letter from Sir Don Bradman to Dattatraya B Pulekar. Photograph: Kind courtesy Harshal Pulekar
'I congratulate you because it was not by any means easy. I hope you received as much pleasure working on it as I did,' Sir Don wrote to D B Pulekar.
"There must have been many others who solved the puzzle, but I personally don't know of anyone. I think Bradman wrote to my father because he was probably one of the few early ones to solve it," says Harshal.
There was no further correspondence between Bradman and D B Pulekar. He kept the letter safely and forgot about it.
"It was never the talk of the town," Harshal says.
While trying to read more about the puzzle on the Internet, I found a post by a person, claiming to have solved it and receiving Bradman's reply in this regard in 1982.
That Bradman kept writing to people sending him solutions more than two decades after the publication of his book says a lot about how much he was impressed with it.
As Sir Don said, the puzzle is by no means easy. Most of the solutions to it available on the Internet run into thousands of words.
Even by doing a ball by ball analysis of the scoreboard, one may not reach a solution because it is very hard to gauge which of the overs were maiden overs until one applies the theory of elimination.
So, do you want to give it a try?
Here's a hint, start by finding out who bowled which over using the number of maiden overs and individual scores of the batsmen.
For solution, please click HERE (external link).