Padmini Krishnakumar is a proud mother. After all, her 19-year-old son Dinesh Kaarthik has been selected to the senior India team in place of wicketkeeper Parthiv Patel.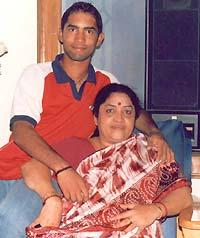 "I got a call from my son from Zimbabwe [Dinesh was with the India 'A' team there] when they had a drinks break. He said, 'It is only the first step, mom. I want to climb further and stay at the top as long as possible'."
Meet India's new teen sensation
Dinesh's father Krishna Kumar is a systems analyst in Kuwait. Padmini stayed back in Chennai, not because of her job with the Oil and Natural Gas Commission, but because Dinesh looks at her for moral support. Whenever she is around, he performs excellently with both bat and gloves.
Certainly, Padmini knows the importance of a sportsman being mentally tough, for she represented her school, college and later the Industrial Development Bank of India, where she worked first, and ONGC in table tennis till 2000.
If she was good in table tennis, her husband played cricket for SPIC when he was employed with them in Chennai. It doesn't disappoint her that her son followed in his father's footsteps and took to cricket. "He plays table tennis also very well and has won many prizes. TT helps him in his concentration and synchronization," she says.
In a chat with Contributing Special Correspondent Shobha Warrier, Padmini recounts the journey her son undertook to finally get selected to the Indian team.
As his father was a first division cricketer, Dinesh grew up playing cricket with a plastic ball first and then a tennis ball. As we were staying in the IDBI quarters, there were my colleagues' children to play with. All the kids used to play cricket and my husband would be bowling to them. He was the umpire and their coach, I would say.
When Dinesh was seven years old, he won his first award in a summer coaching camp: the Under-10 Promising Cricketer award. At that time, he was a batsman and a right-arm spin bowler. When he was nine years old we moved to Kuwait. Till he was 12, he represented the Under-19 Gulf Indian team. And he won quite a few best batsman awards in those days.
When he was in the eighth standard, I decided to come back to Chennai so that his cricket could improve. All our friends in the Gulf used to tell us we are spoiling Dinesh's future as a cricketer by keeping him there. So, under pressure, he was enrolled in the Don Bosco school in Chennai.
Dinesh becoming a wicketkeeper was accidental. For one match, the wicketkeeper did not turn up and Dinesh was forced to keep wickets. Mr C S Suresh Kumar of India Pistons, who watched him play, felt Dinesh was more a born wicketkeeper than a bowler.
After that, ex-India wicketkeeper Bharat Reddy happened to see him and took a lot of interest in grooming the youngster as a wicketkeeper. I cannot forget the role of T A Sekhar and Senthil Nathan of MRF. Though Dinesh was with the MRF Globe Trotters, Reddy used to watch him and advise him on his wicketkeeping. He was also a pillar of support for Dinesh. Whenever there were international cricketers at the MRF, Dinesh was called to do the wicketkeeping and also face the batting. Of course, all of us, and that includes the driver and the servants at home, would be bowling to Dinesh all the time so that he could practice wicketkeeping.
Even as a small child, he aspired to be in the Indian team. But there were times he was down when he was not performing to his expectations. Then he would give me a call and I would catch the next flight to be there with him, to give him support. Once I was there, he started performing, and his coach and friends would ask him, 'Is your mother here? You perform well when she is here.'
This time also, he asked me to come down from Kuwait. The day I reached here, the MRF first division league match started. He got centuries in both the games he played. Then he went to Zimbabwe and there also he scored 92 and 52.
I felt so elated when I heard the news that my son has been selected for the Indian team, though I was anticipating it. He has been performing well for quite some time.
For so many years we have been working to achieve this. This has been our objective; he should be a cricketer for India, and he should have a long innings.