Teams emerging from the brink of defeat to win an improbable victory. Rajneesh Gupta highlights six memorable Tests.
Sri Lanka were down and out on the first three days of the first Test at Galle and India winning the game seemed a formality. What transpired in the morning of Day 4 stunned spectators.
Chasing 176 for victory, India looked set for an easy victory before the Sri Lankans staged an unbelievable comeback when they shot out the visitors for 112 and won by 63 runs.
Six improbable comebacks from the brink of defeat: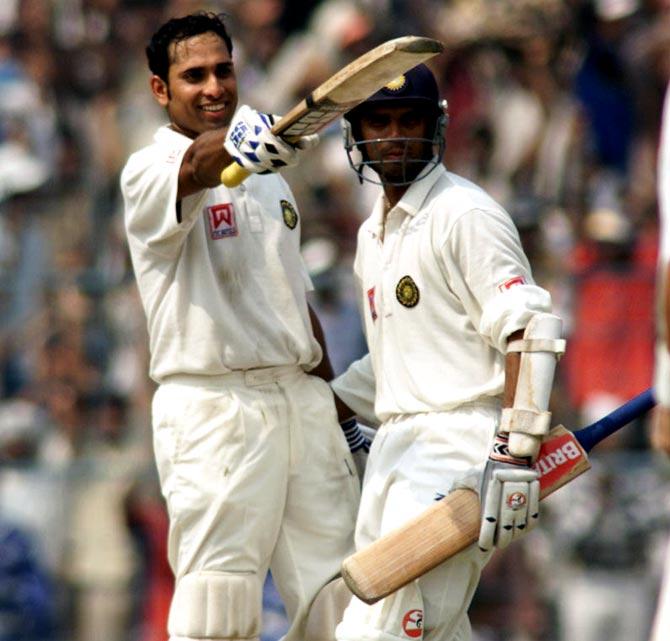 IMAGE: V V S Laxman, with Rahul Dravid, celebrates after completing his double century against Australia in the second Test at Eden Gardens, Kolkata, March 2001. Photograph: Hamish Blair/ALLSPORT
India vs Australia, Kolkata, 2001
Inarguably, India's finest Test triumph.
V V S Laxman and Rahul Dravid led one of the most remarkable fightbacks at the Eden Gardens in Kolkata.
India followed on after being bowled out for 171, in reply to Australia's first innings total of 444.
Laxman amassed 281, then the highest Test score for India, and his partnership of 376 with Dravid was an Indian fifth-wicket record.
Their batting overshadowed the outstanding performance of off-spinner Harbhajan Singh, who took India's first Test hat-trick while capturing a career-best seven wickets in the first innings, and followed it up with a match-winning six-wicket haul in the second.
After following on, India lost their third wicket with only 115 runs on the board, and Australia's 17th consecutive Test win seemed certain.
But Steve Waugh's side had not reckoned with a very very special player. Laxman had already scored an unbeaten 59 from 83 balls in the first innings, that prompted his promotion from No 6 to No 3 when India batted the second time.
First, Laxman forged a century partnership with skipper Sourav Ganguly, but the Indians ll hadn't cleared the deficit when Dada was dismissed.
Dravid joined Laxman in the middle and together they scripted a miracle.
The pair batted for the rest of the third day and the whole of the fourth!
It was only after 104 overs and 376 runs that the partnership was broken. By that time it was the second-highest partnership for any Indian wicket, behind the opening stand of 413 between Vinoo Mankad and Pankaj Roy against New Zealand at Madras in 1955-1956, and the third best by any country for the fifth wicket.
Over ten hours and 31 minutes, Laxman produced a flawless display of batting during which he faced 452 balls, scoring 44 fours with a wide range of exciting shots, and surpassed India's previous best, 236 not out by Sunil Gavaskar against the West Indies at Madras in 1983-1984.
Dravid was eventually run out for a chanceless 180 from 353 balls in seven hours, 24 minutes, with 21 fours.
When Ganguly declared with a lead of 383, India had equalled the second-highest Test total by a side batting second, 657 for eight by Pakistan at Bridgetown in 1957-1958; only New Zealand, with 671/4 against Sri Lanka at Wellington in 1990-1991, had scored more runs batting second.
Australia had to bat out 75 overs for a draw. Their prospects looked good, as Matthew Hayden and Michael Slater stayed together for 23 overs. Once the openers were separated, wickets fell at regular intervals.
Harbhajan, the wrecker-in-chief in the first innings, worked his magic again. Sachin Tendulkar chipped in by taking three crucial wickets with his leg-spin. Australia were all out in the 69th over, giving India the most famous win in its Test history.
India won by 171 runs.
England vs Australia, Sydney, 1894
The first Test to involve six playing days. It also provided the first instance of a side winning a Test after following on.
Batting first, the Australians made a poor start, losing three quick wickets. George Giffen and Syd Gregory then put the innings back on the track.
Giffen first added 171 runs for the fourth wicket and then he and Gregory put on 139 for the fifth. Gregory scored the first double century in Australia and added 154 runs for the ninth wicket with wicket-keeper Jack Blackham.
This still remains the highest ninth-wicket partnership in England-Australia Tests. Australia ended up with a mammoth total of 586.
England, like Australia, had a dismal start. There were some useful knocks, but England's innings folded at 325 and they were forced to follow-on.
England performed better in the second dig, scoring 437, leaving Australia with only 177 to get.
Australia knocked off 113 runs by the close of the fifth day, losing only two wickets, and the match looked all but over.
Drenching rain in the night followed by bright sunshine completely altered the conditions of the ground. Bobby Peel and Johnny Briggs took full advantage of the 'sticky' pitch and were unplayable.
Australia lost their last eight wickets for 36 runs, handing England an astonishing victory.


England won by 10 runs.
Australia vs South Africa, Durban, 1950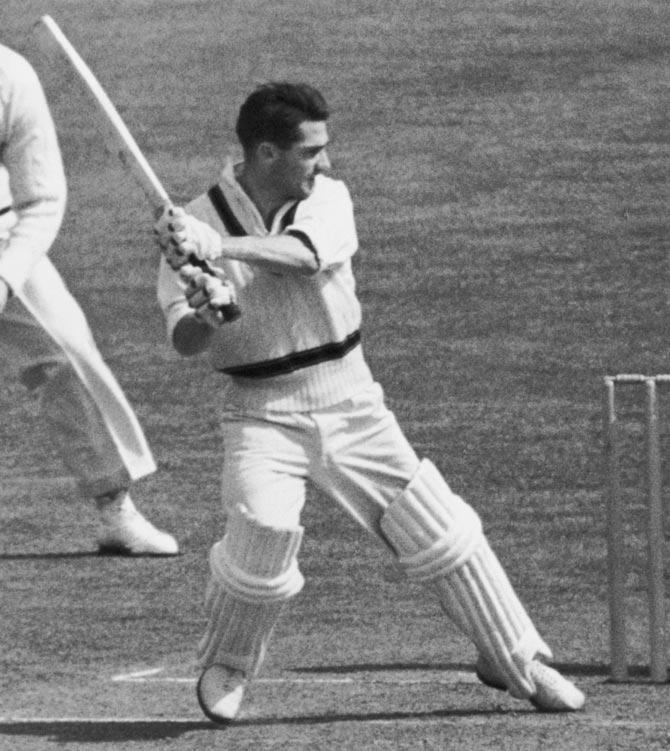 IMAGE: The incomparable Aussie, Neil Harvey. Photograph: Central Press/Getty Images
After looking certain to suffer defeat, Australia staged an amazing turnaround, clinching a famous victory with only 25 minutes to spare.
South Africa scored easily on a good pitch after winning the toss. When the second day ended, the South Africans had a lead of 236, Australia having been dismissed for 75 -- their lowest total in a Test against South Africa.
The player responsible for this astonishing collapse was Hugh Tayfield, a newcomer to Test cricket. The off-break bowler from Natal province troubled all the batsmen and took 7/23 in 8.4 overs.
Skipper Dudley Nourse had the weekend to ponder and decide whether to enforce the follow-on or not. Probably, influenced by the threat of rain, he decided to bat a second time, and though the turf now aided spin, the failure of the South African batsmen was difficult to understand.
South Africa were all out for 99, leaving Australia a victory target of 336.
Australia began the final day needing 256 to win, with seven wickets in hand. The odds favoured South Africa, but Neil Harvey refused to be deterred by the immensity of the task.
Helped by Sam Loxton and Colin McCool, Harvey adopted a dogged style, unlike his normal game, and spent five hours and 30 minutes without making a mistake to finish unbeaten on 151. His innings of extraordinary patience and skill enabled Australia to register a remarkable win.
Australia won by 5 wickets.
Australia vs England, Leeds, 1981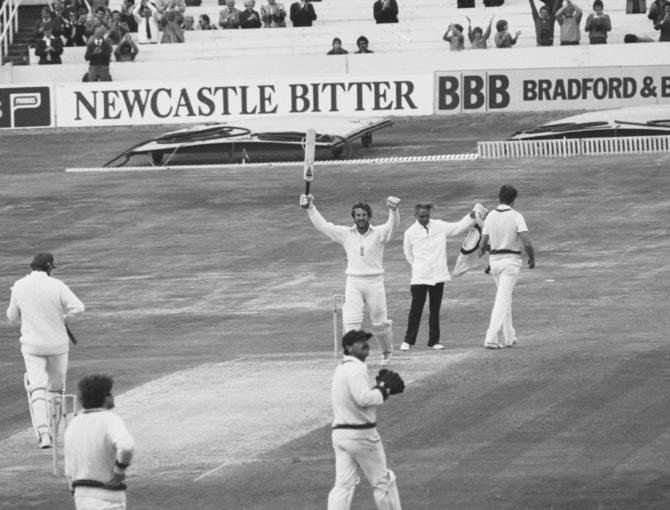 IMAGE: Ian Botham celebrates at Headingley. Photograph: Central Press/Getty Images
The Ian Botham Test, as it is fondly referred to.
For the most part, England looked out of the contest, so much so that a betting firm set an offer of 500 to 1 for an England win.
Australian heroes Dennis Lillee and Rodney Marsh -- enticed by the astronomical odds -- placed a bet against their own team! There was furore in the Australian camp when this fact came to light, but following on, at 135 for seven, still 92 behind, even the die-hard English fan would have lost any hope of a change in fortunes in the Test.
Most of the English players decided to check out of their hotel at the fall of the seventh wicket. That seemed a sound move as the match seemed to get over soon. Three hours later, the registration desks around Leeds were coping with a flood of re-bookings!
Together with Graham Dilley, 'Beefy' destroyed the Australian bowling adding 117 runs in just 80 minutes for the eighth wicket. Dilley departed after scoring 56 precious runs, but Chris Old arrived to add 67 more with Botham, who still had Bob Willis as a partner at the close, with England 124 ahead.
It took Botham only 87 balls to reach his hundred. Beefy advanced his unforgettable innings to 149 not out before losing Willis the next morning. Australia, needing 130 for victory, were still the clear favourite.
The score was 56/1 when Willis changed ends to bowl with the wind. Immediately he dismissed Trevor Chappell with a rearing delivery and a staggering turnabout was under way. It was not uncommon to see Willis perform as if his very life depended on it, but this was something unique. It was a phenomenal display of swing bowling.
Willis took 8/43, the best of his career, as Australia's last nine wickets tumbled for 55 runs, despite a stand of 35 in four overs between Ray Bright and Lillee. It was the first time since 1894-1895 that a side had won a Test after following on.
Botham was Man of the Match, but a joint award with Willis would have been more appropriate.
England won by 18 runs.
Australia vs Sri Lanka, Colombo SSC, 1992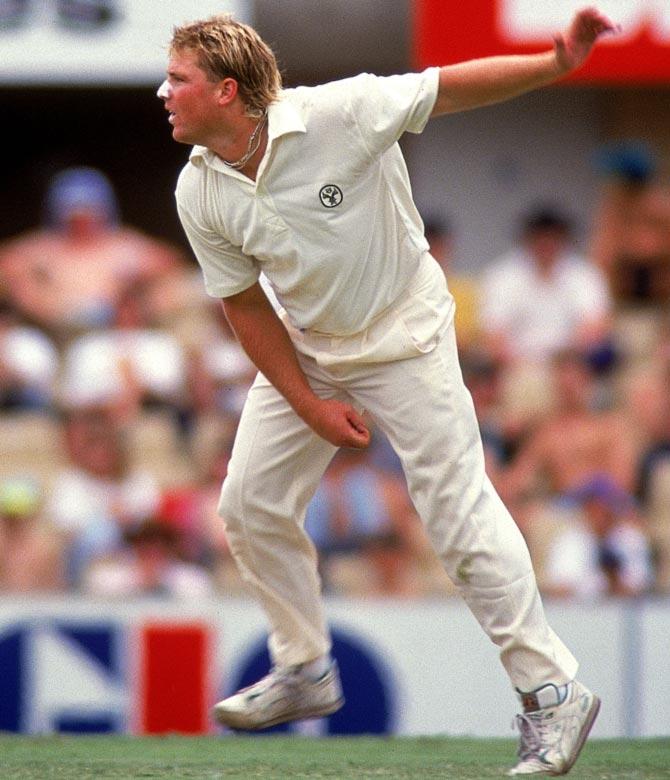 IMAGE: Shane Warne in action. Photograph: Getty Images
Sri Lanka dominated the proceedings so much so that the result seemed a foregone conclusion.
For the first three days, Arjuna Ranatunga's team did not make a single false move. Ranatunga won the toss and put Australia to bat first on a damp pitch under overcast skies. Occasional seamer Chandika Hathurusinghe exploited the conditions to claim the wickets of David Boon, Dean Jones, Allan Border and Mark Waugh in just 24 balls. Australia were dismissed for 256 on the first day.
Roshan Mahanama laid the foundations for Sri Lanka's large total on a more docile pitch and under clear skies the next day.
Asanka Gurusinha batted patiently for eight hours, 45 minutes to score 137. With Ranatunga, he added 230 for the fourth wicket.
Ranatunga and Romesh Kaluwitharana, on his debut, changed the tempo with audacious hundreds. Ranatunga scored 127 from 192 balls, with 15 fours and three sixes. Kaluwitharana, supposedly chosen as a specialist wicket-keeper, batted with breathtaking arrogance for an unbeaten 132 from 158 balls with 26 boundaries.
Ranatunga declared the innings at 547/8. None of the Australian batsmen scored a century, but almost everyone made useful contribution as they entered the final morning 102 ahead with three wickets in hand.
A final total of 471 set Sri Lanka 181 to win in 58 overs.
Sri Lanka looked set to register their third, and most famous, victory since entering the Test arena in 1982, but a careless hoick by Aravinda de Silva spoiled the party.
With 54 runs needed from nearly 25 overs, De Silva, who had taken 37 from 32 balls with seven fours, attempted to strike Craig McDermott over Border at mid-on. Border, at full stretch, ran 25 metres and held a magnificent catch over his shoulder.
That was the turning point as Sri Lanka collapsed, losing their last eight wickets for 37 runs.
Greg Matthews took 4/76 and with Shane Warne, who claimed three wickets in 13 balls without conceding a run, engineered an improbable victory.
Australia won by 16 runs.
Australia vs Pakistan, Sydney, 2010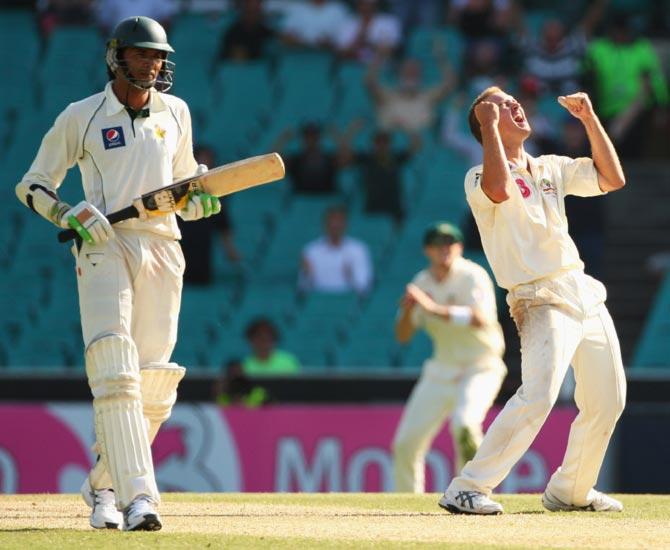 IMAGE: Nathan Hauritz, right, celebrates taking Umar Gul's wicket during the Sydney Test in January 2010. Photograph: Cameron Spencer/Getty Images
Australia opted to bat on a green-top at the Sydney Cricket Ground with a thick cloud cover giving a lot of encouragement to the fast bowlers.
The Aussies were shot out for a paltry 127, Mohammad Asif (6/41) doing most of the damage.
Pakistan replied with 333, all the top-order batsmen making useful contributions.
Australia were reeling at 257/8, a lead of just 51, when Peter Siddle came to the wicket.
Michael Hussey (134) and Siddle turned the game on its head with a 123-run stand for the ninth wicket, allowing Australia to set Pakistan a challenging target of 176.
Off-spinner Nathan Hauritz ran through the Pakistan batting, taking 5/53, while Mitchell Johnson claimed 3/27.
There was a controversy later that year with allegations of the game being fixed doing the rounds. Some alleged that Pakistan skipper Mohammad Yousuf set a defensive field during the Hussey-Siddle stand, allowing the pair to score some easy runs.
Wicket-keeper Kamran Akmal dropped three catches off Hussey and one off Siddle. He also failed to run out Shane Watson by not removing the bails with the batsman well short.
No foul play was ever proven, so the game can easily be ranked as one of the greatest fightbacks in Test history.
Australia won by 36 runs.